2012 MHA Annual Meeting
Russian Rocket with Alex Chernov
Photo Credits: Norbert Senf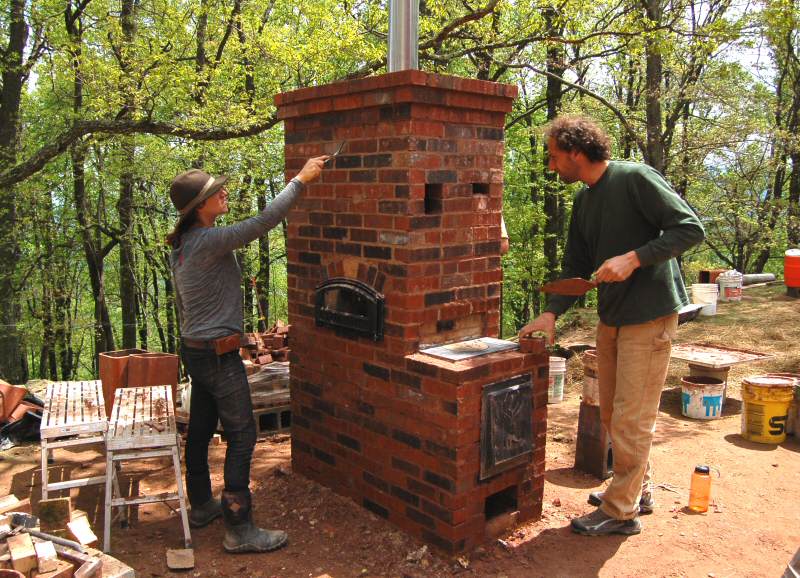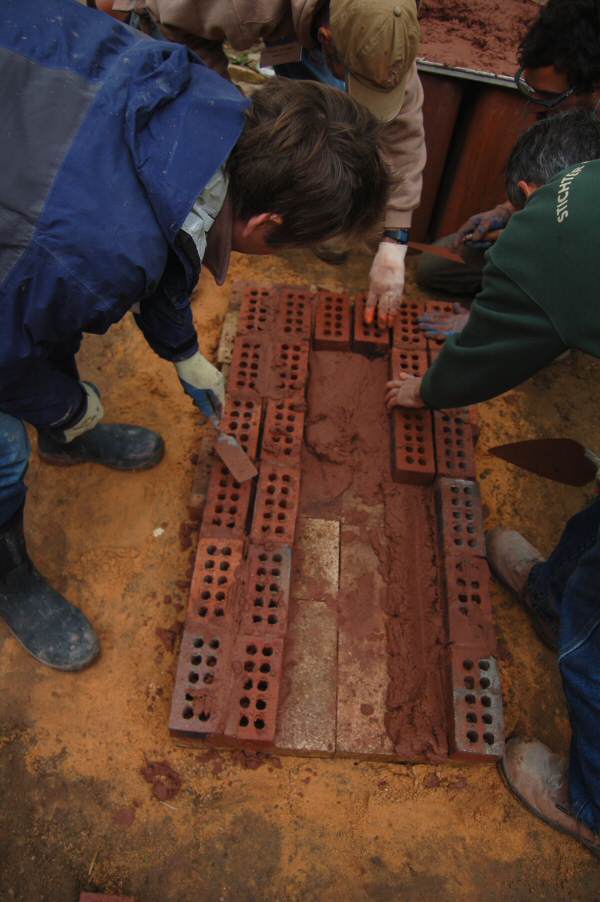 This design is based on simple multi-purpose stoves that have been built for over a thousand
years. In Russian they use a standard 5"x10" solid clay brick, with clay/sand mortar.
They use almost
no metal, and can be built with nothing more than a brick hammer.
This is a modernized version, using a double bell design, with a black oven and a cooktop.
A modern, tested air system is used to achieve a clean burn.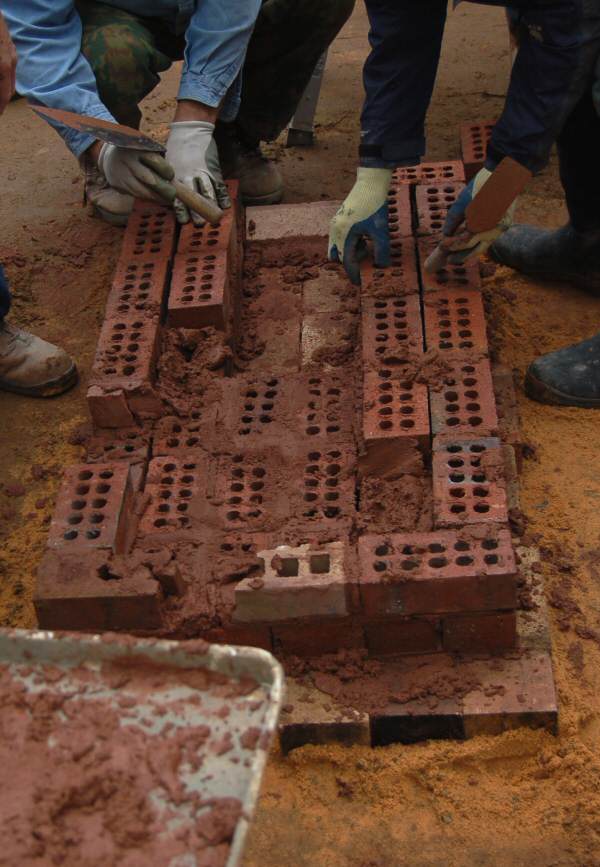 Note cleanout openings at left and bottom of photo.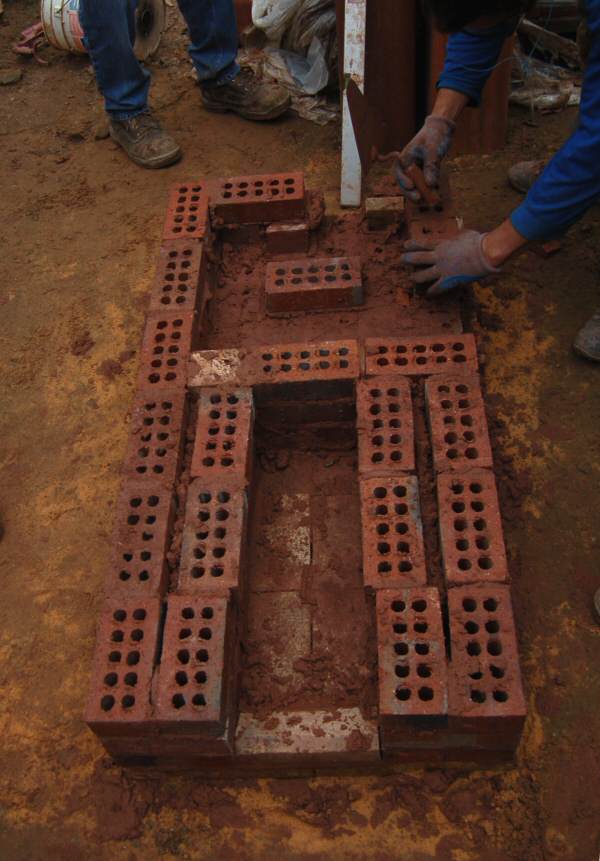 Ash space at front. At the rear there is an updraft channel at the rear right, with the
the rest of the space being a bell that leads out of the black oven.

Note the various bridging techniques used in this build that need no metal.
Note the bridging on the front face, with angle cut bricks.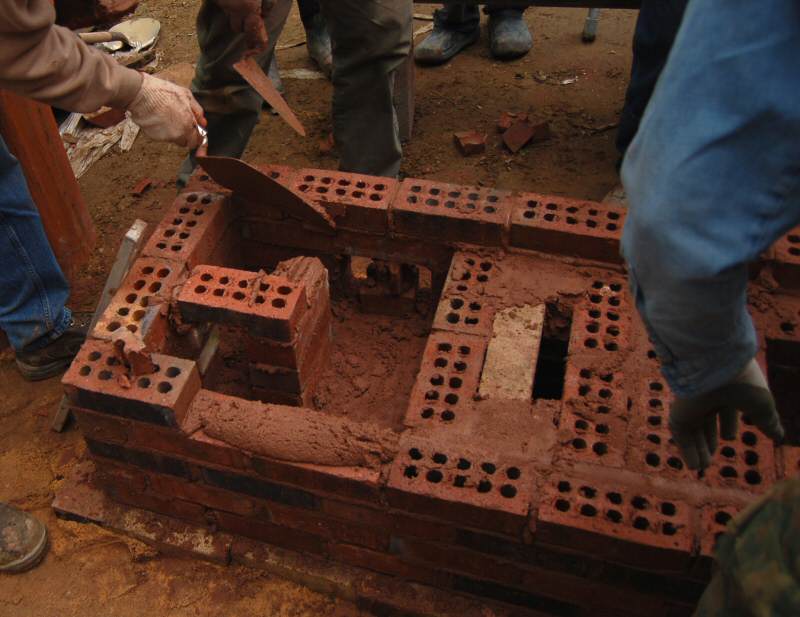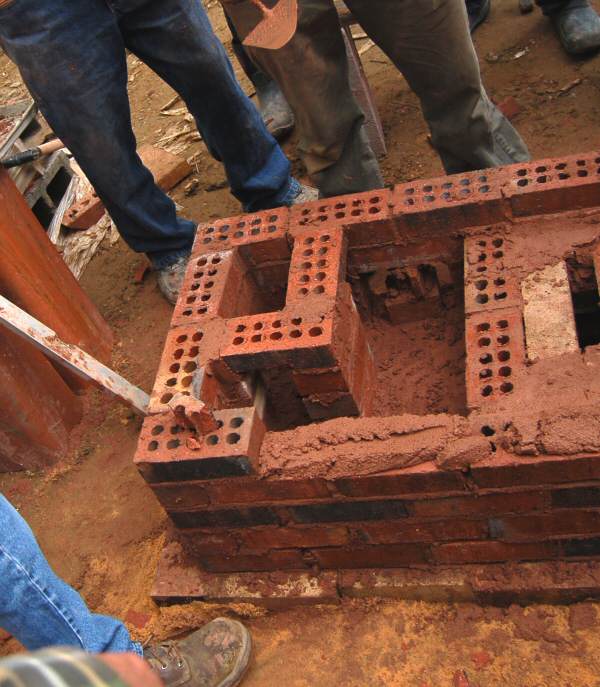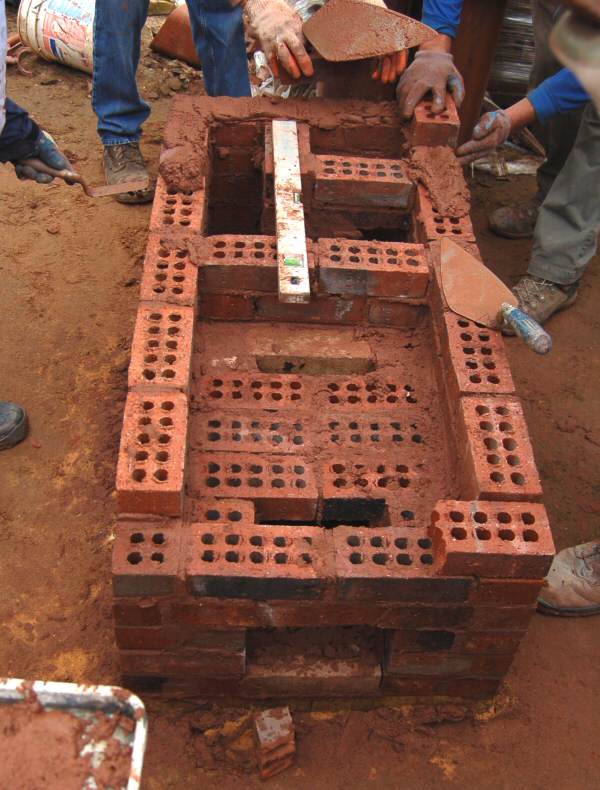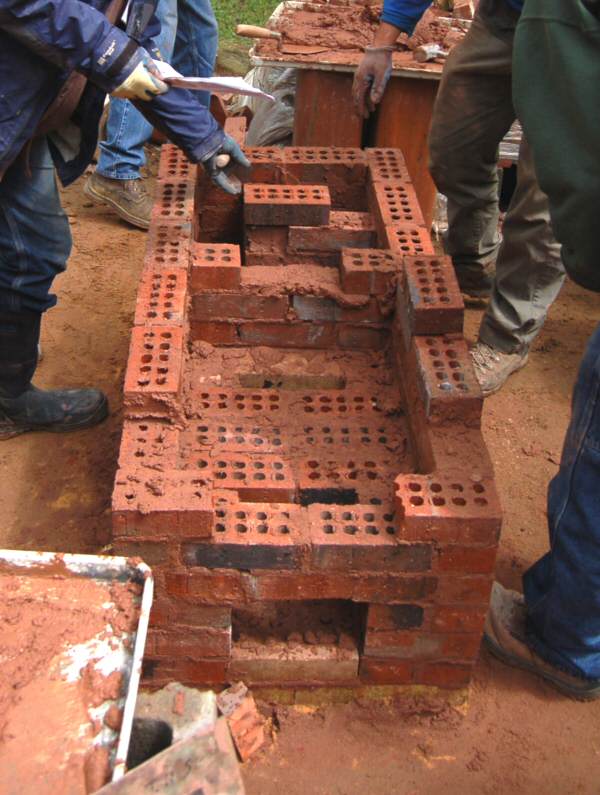 Firebox in front.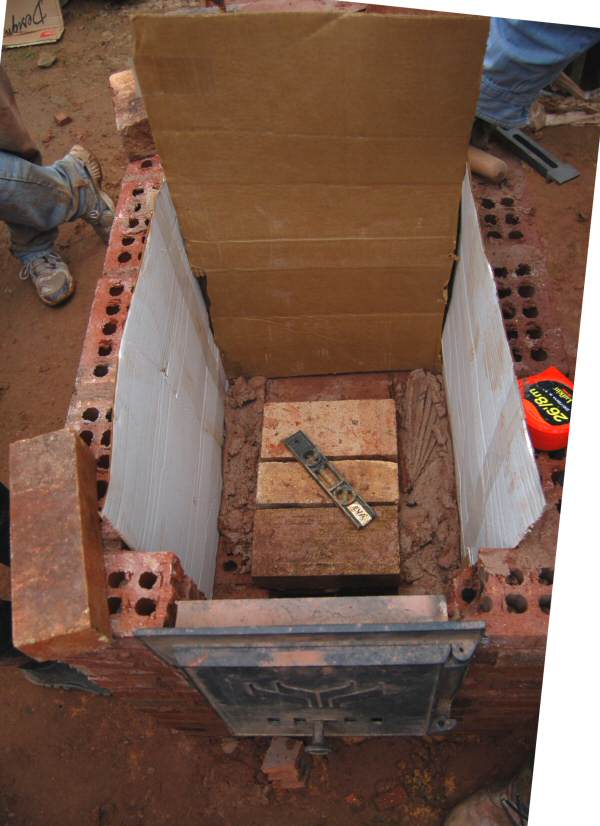 Firebrick floor.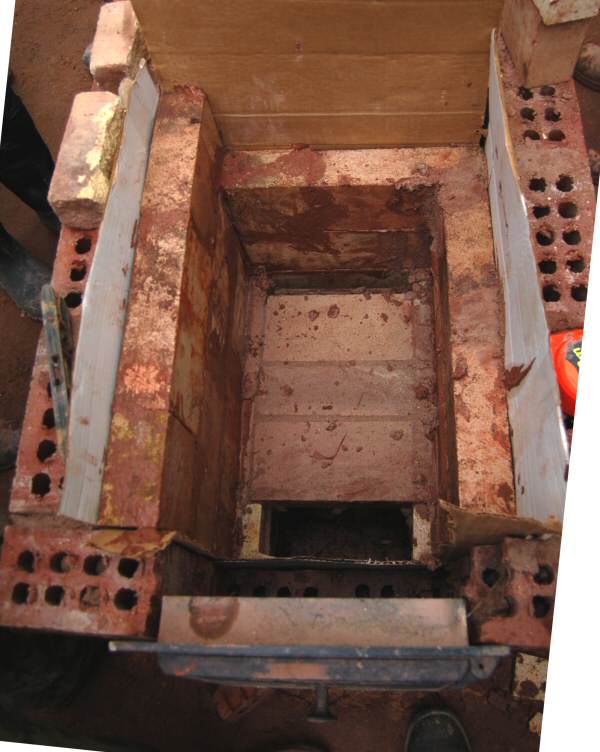 Firebrick lining in the firebox, with cardboard expansion joint.
This is a major upgrade from the more primitive stove, which needed to be rebuilt
every few years.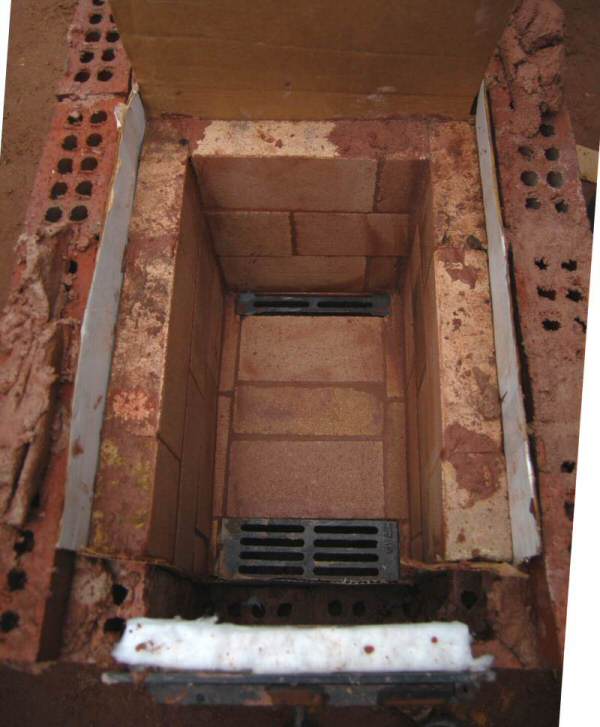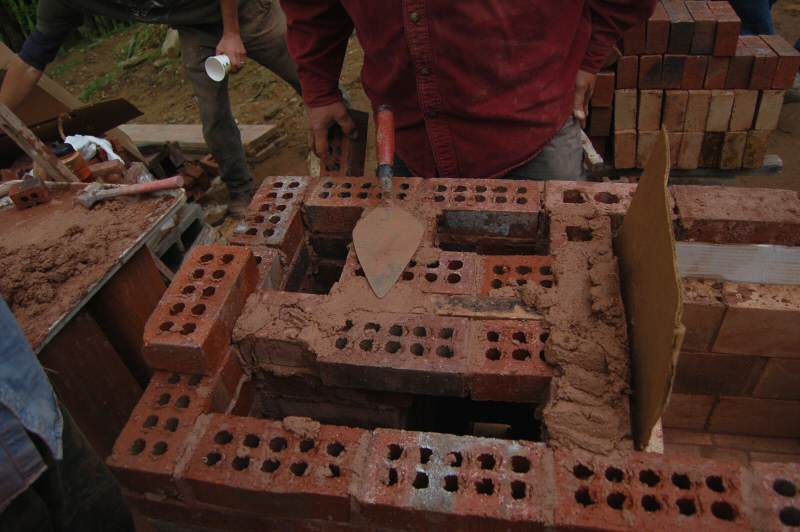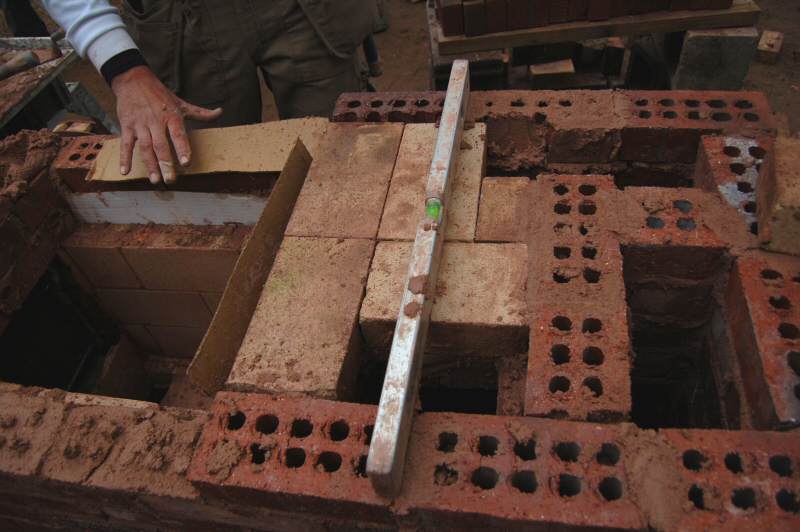 Firebrick bake oven floor.
Note that there are two downdrafting exits into the first (lower) bell, to even out the heating of the oven.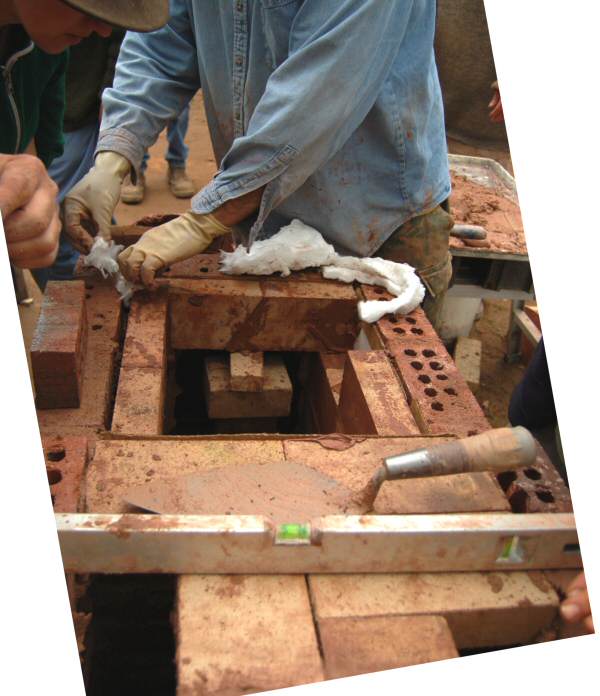 Note the angled head joint where the two firebricks span the firebox at front.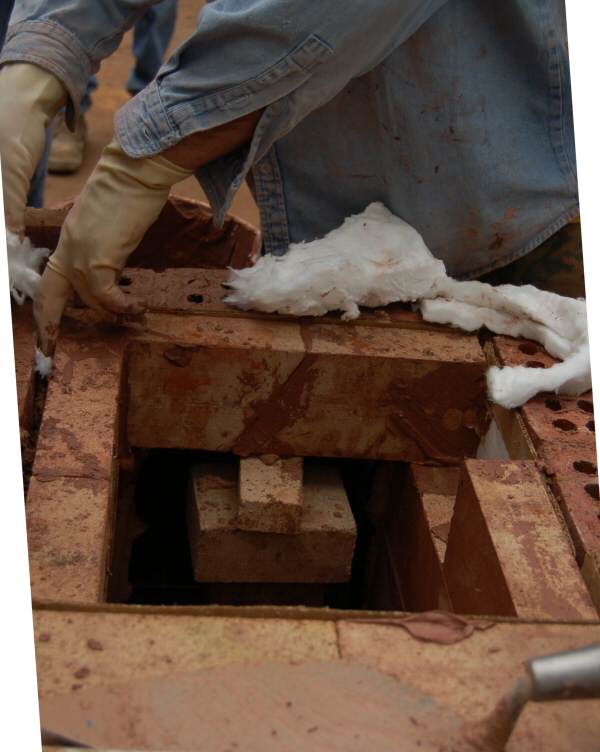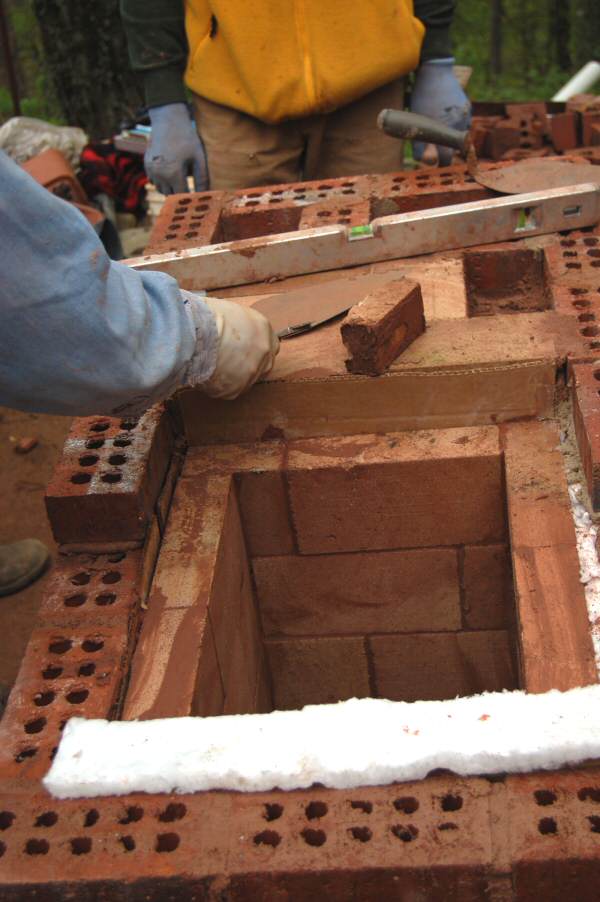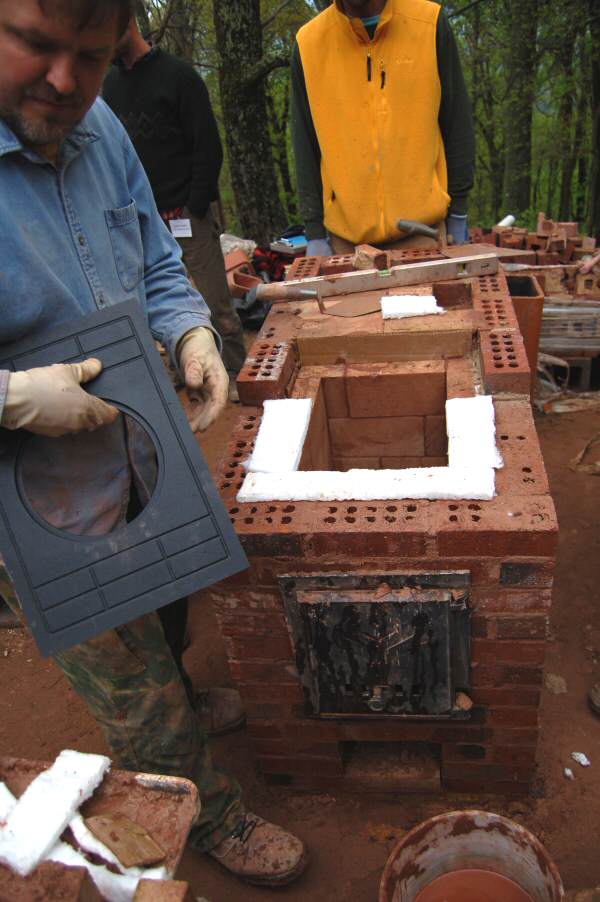 The cooktop sits on a ceramic blanket gasket.
The rear of the cooktop will be used to bridge the facebricks across the firebox,
avoiding the need for a steel lintel.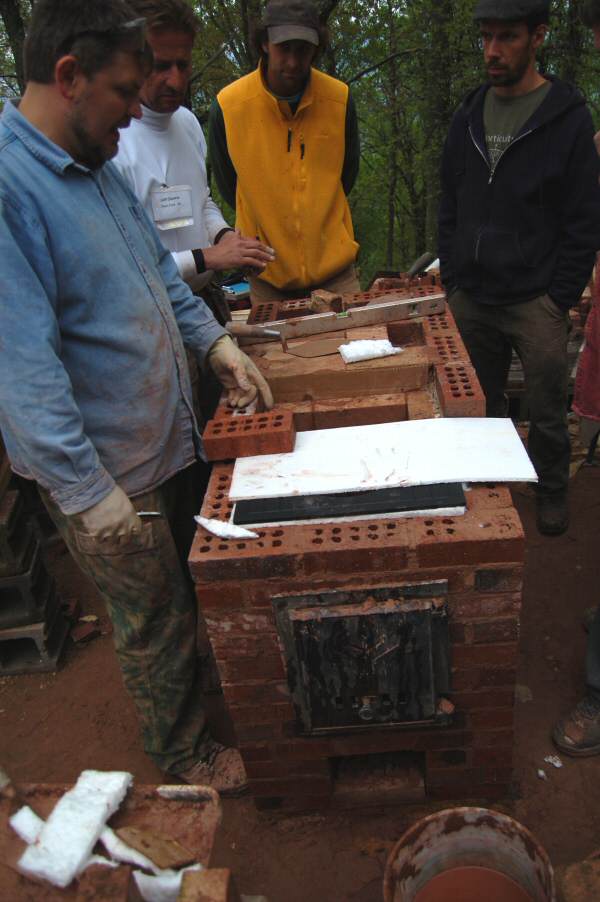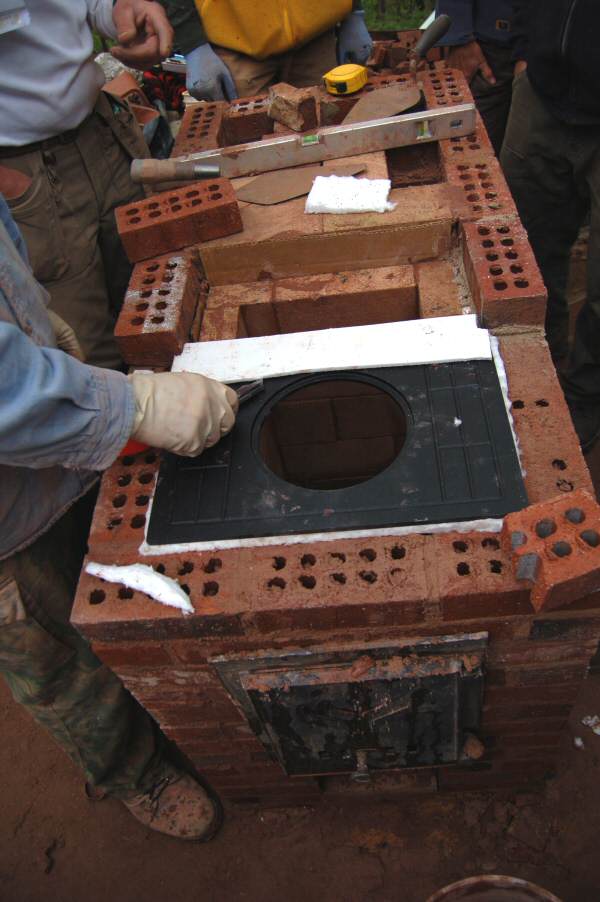 Ceramic paper expansion joint between the cooktop and the front facing.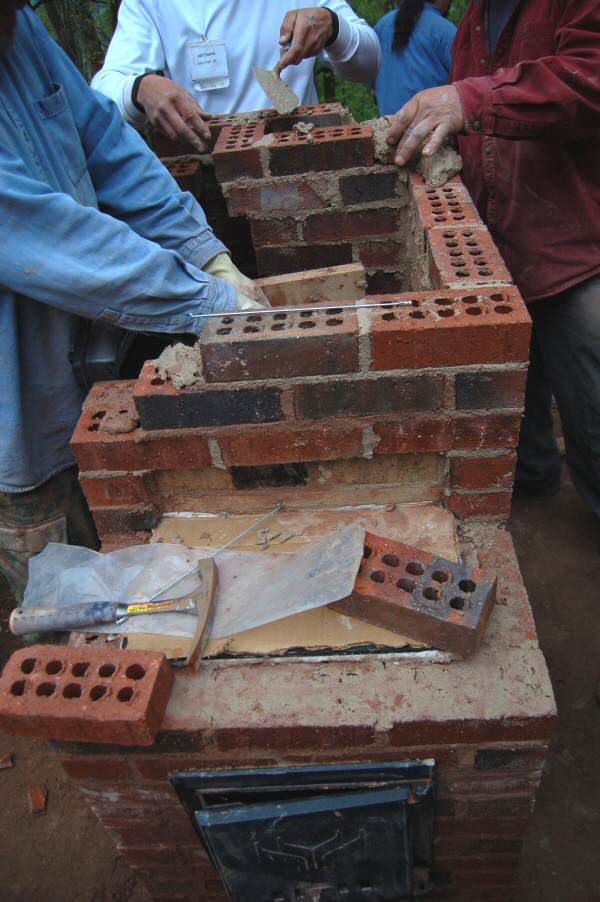 Note the motorcycle spoke, which is used to anchor the doors to the masonry.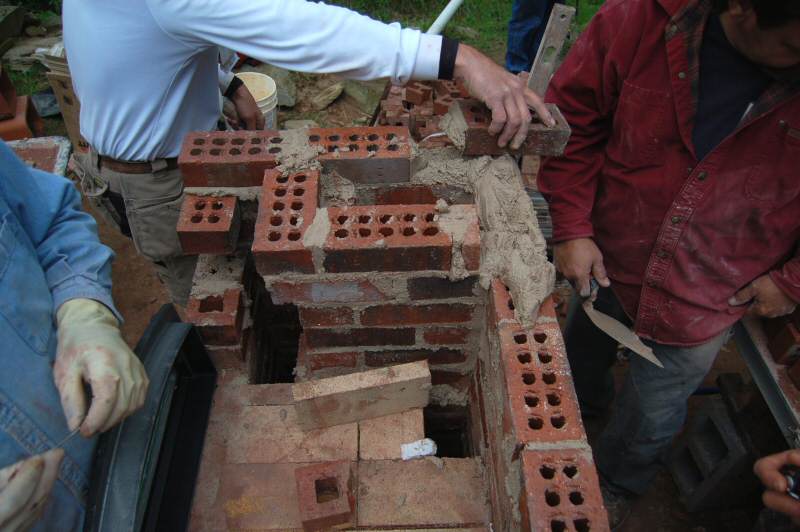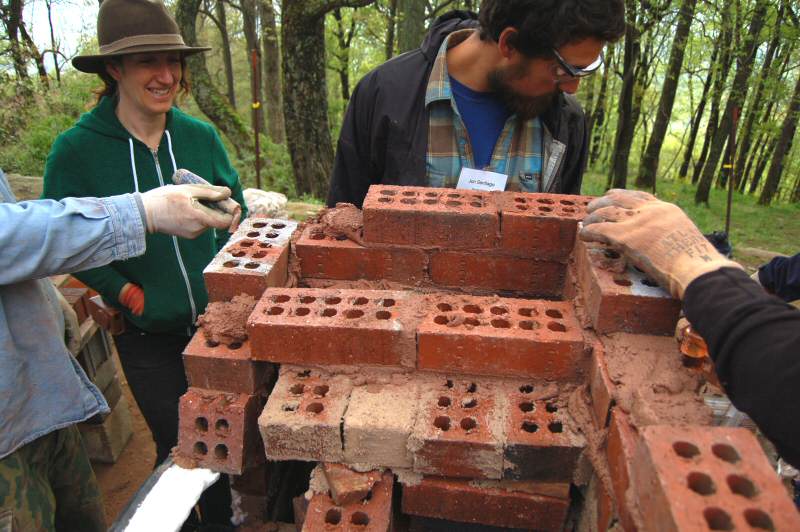 Bridging.
Note the temporary supporting bricks.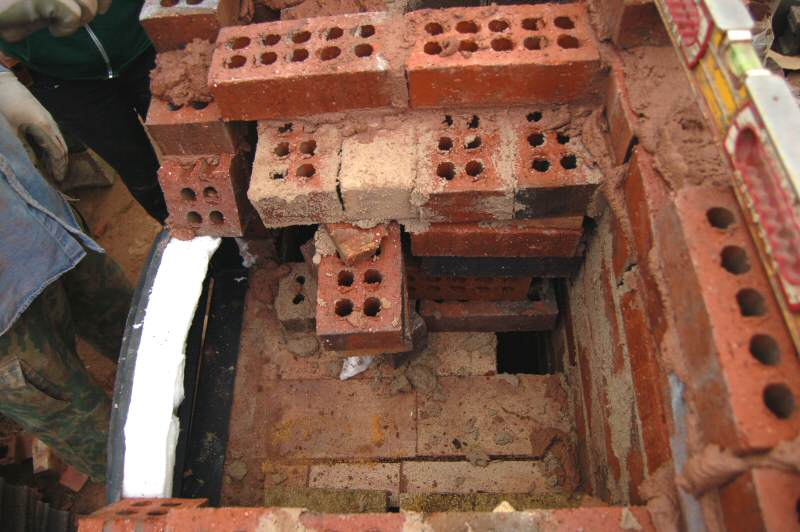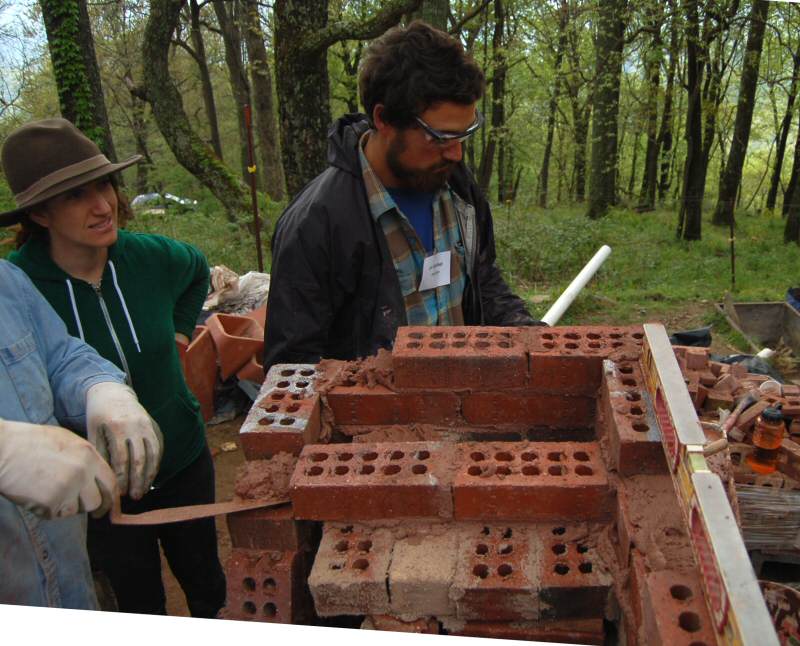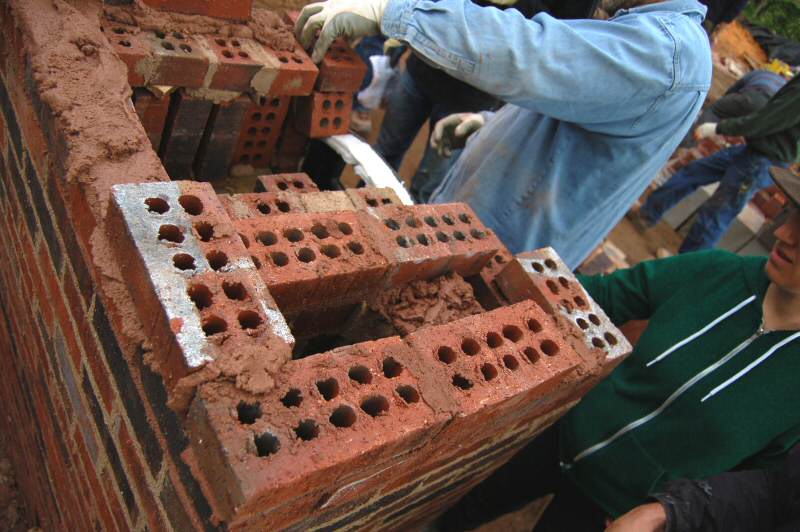 Updraft channel into the upper bell.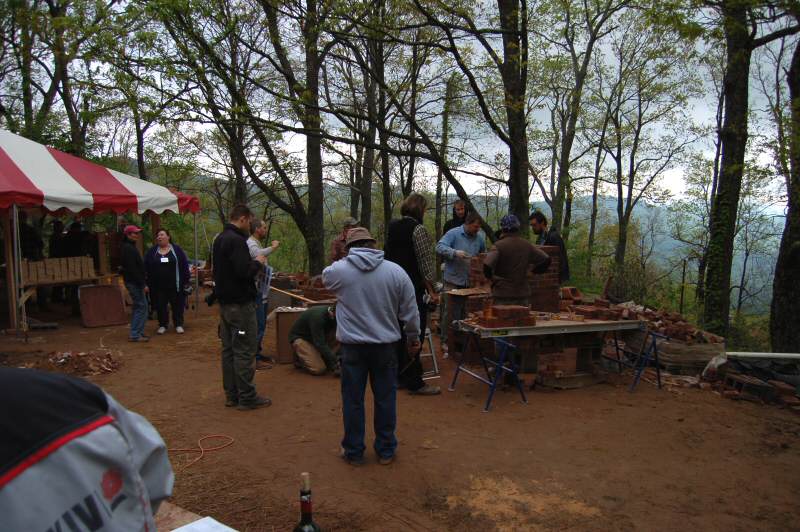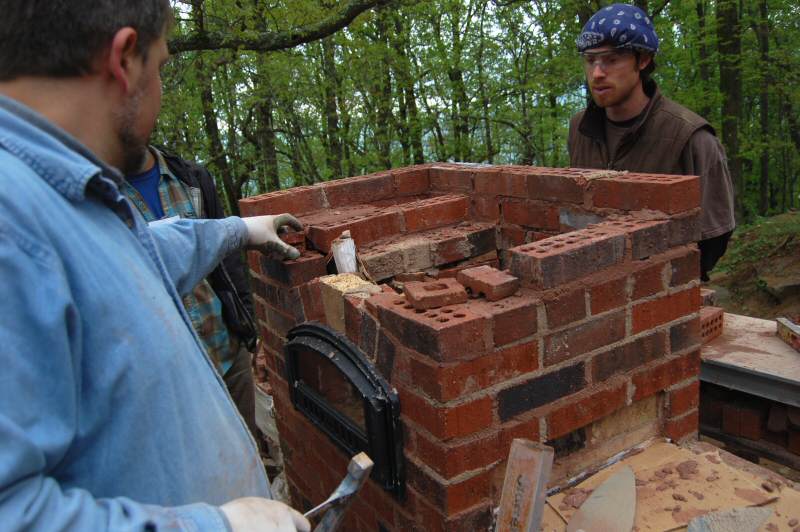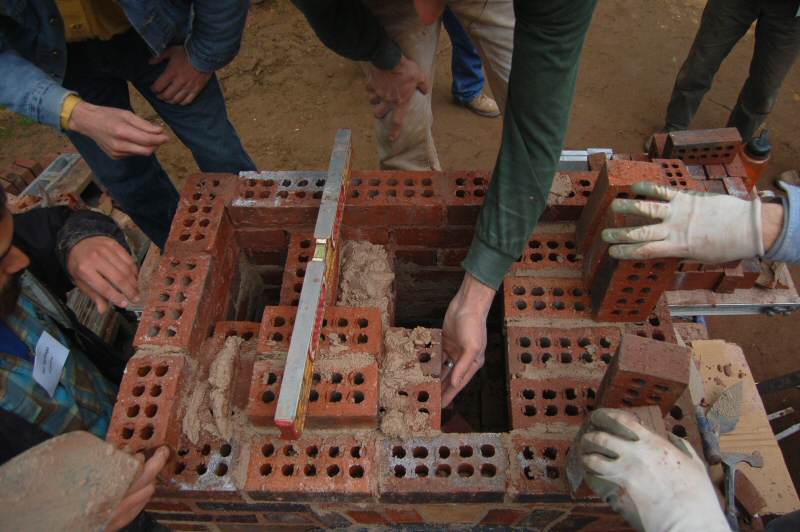 Bridgin across the bake oven. Solid bricks would be a lot better.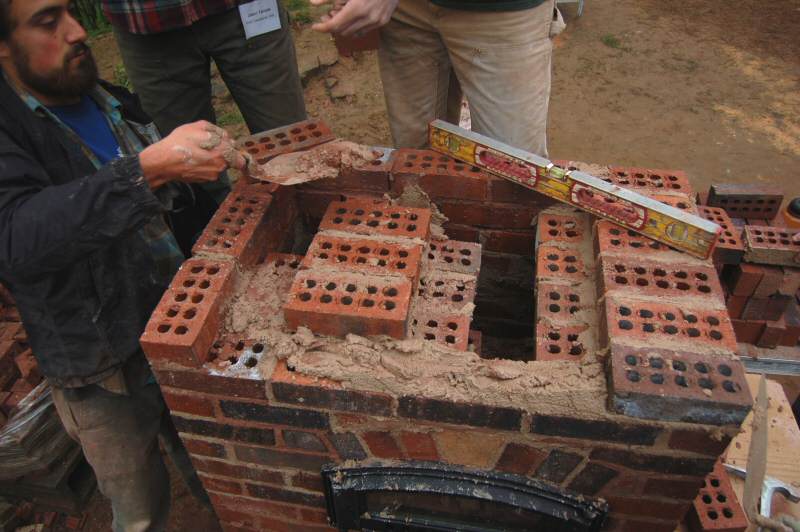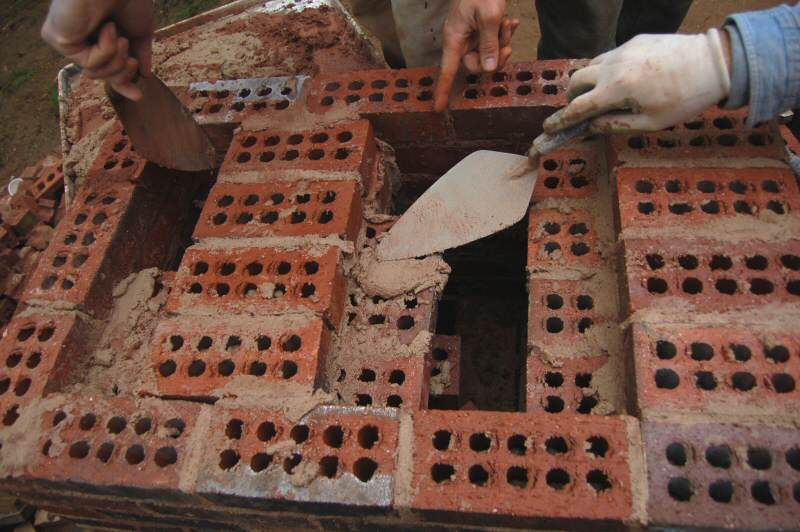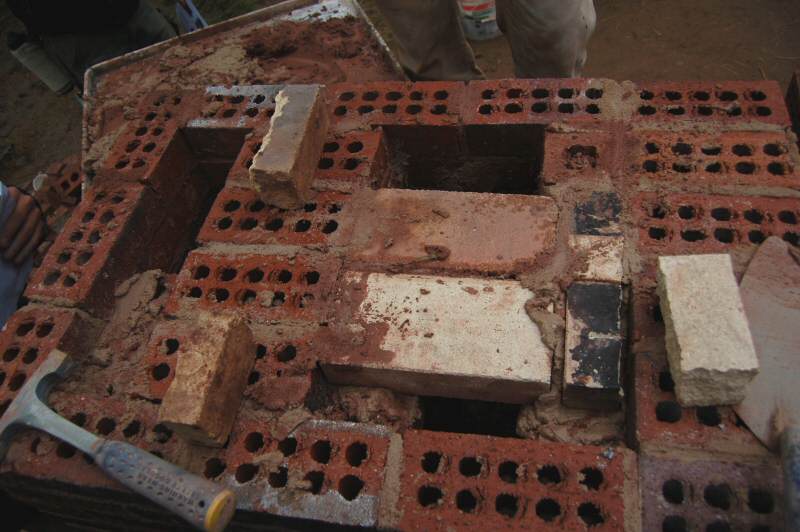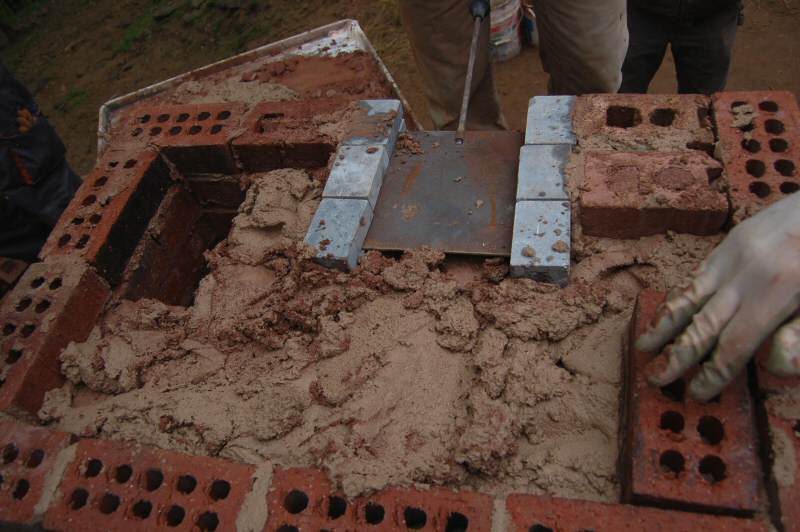 Bypass damper for cold starts, or summer use of the cooktop.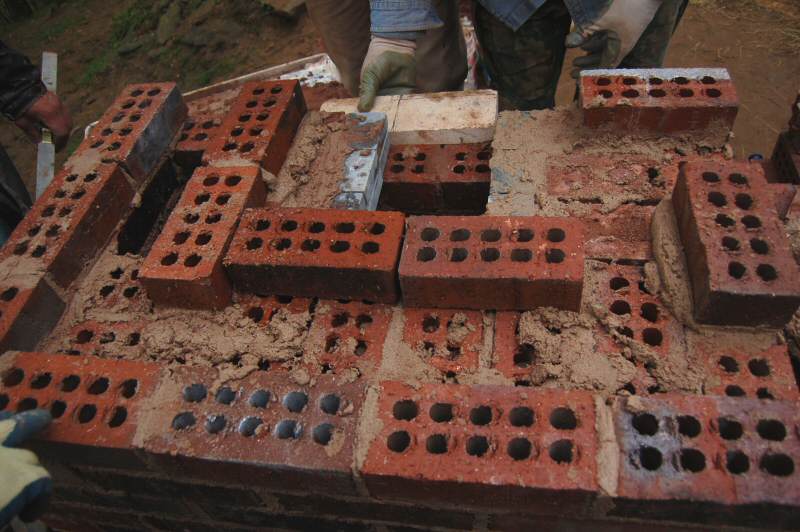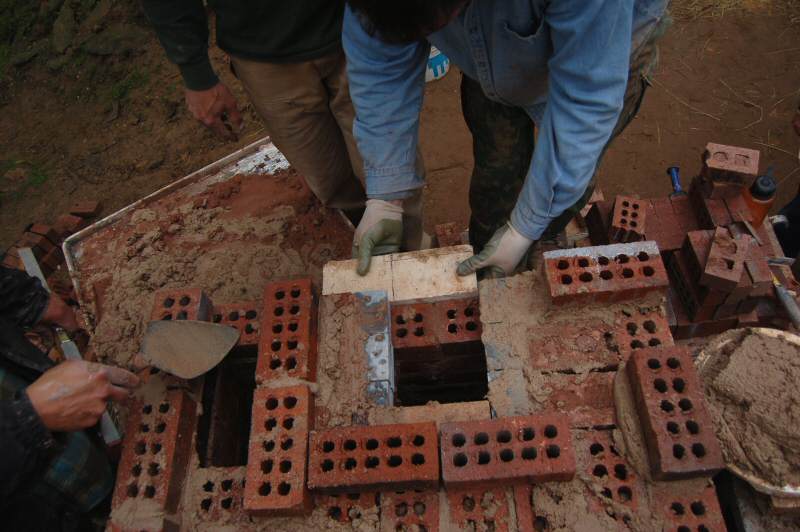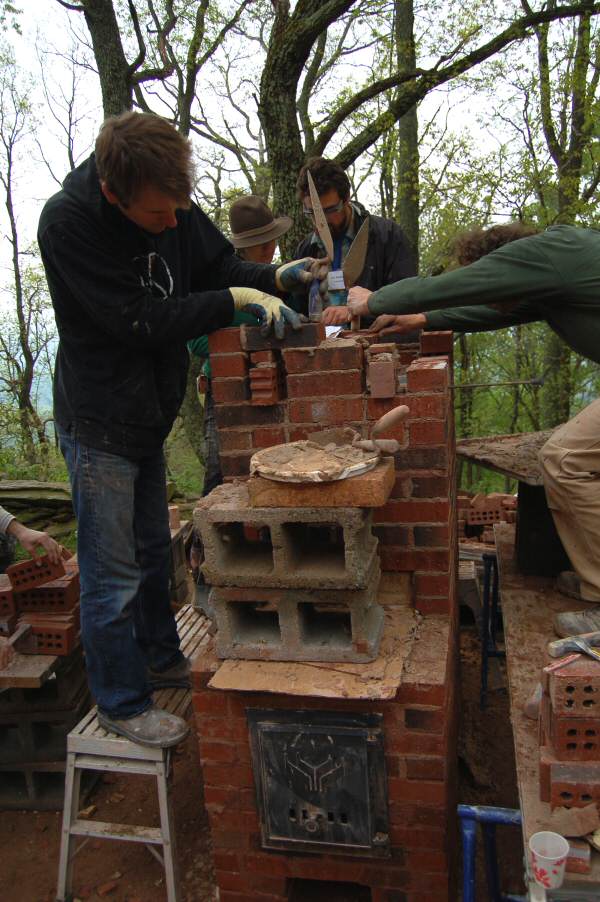 Cleanout openings. They will get filled in with a removable brick, avoiding
the need for cleanout doors.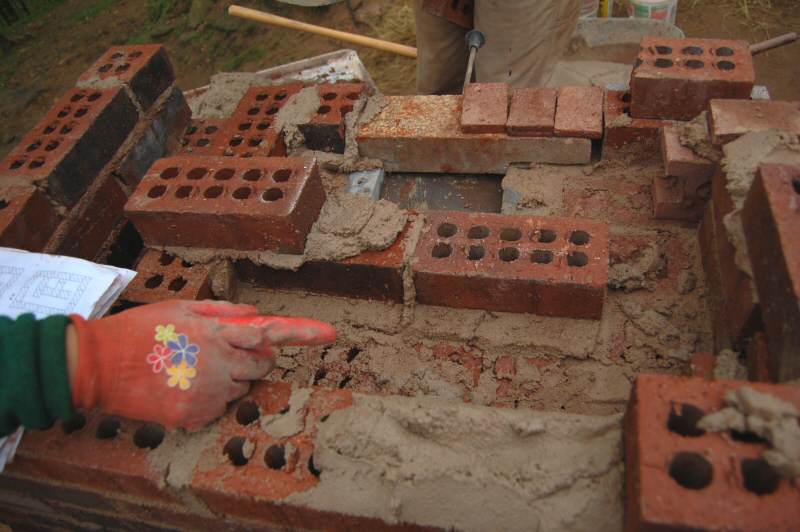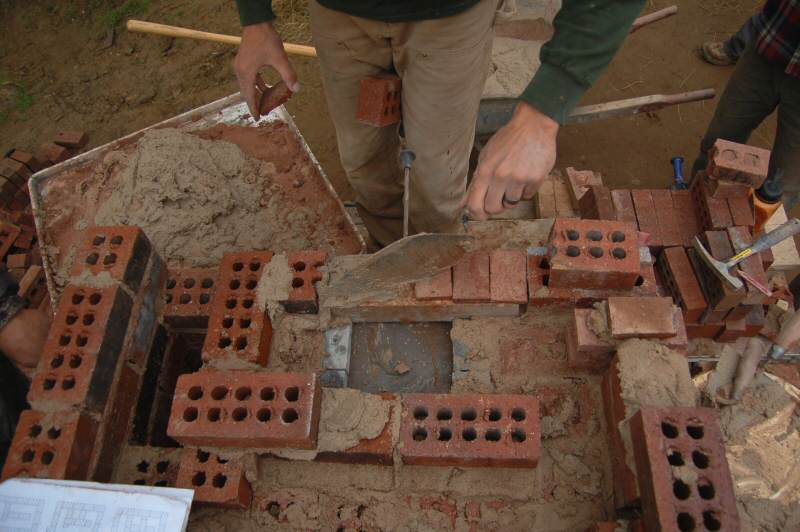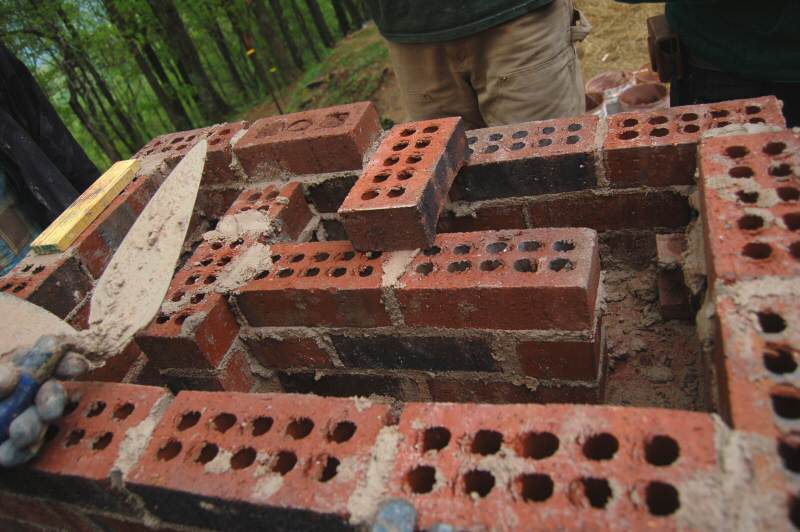 Upper bell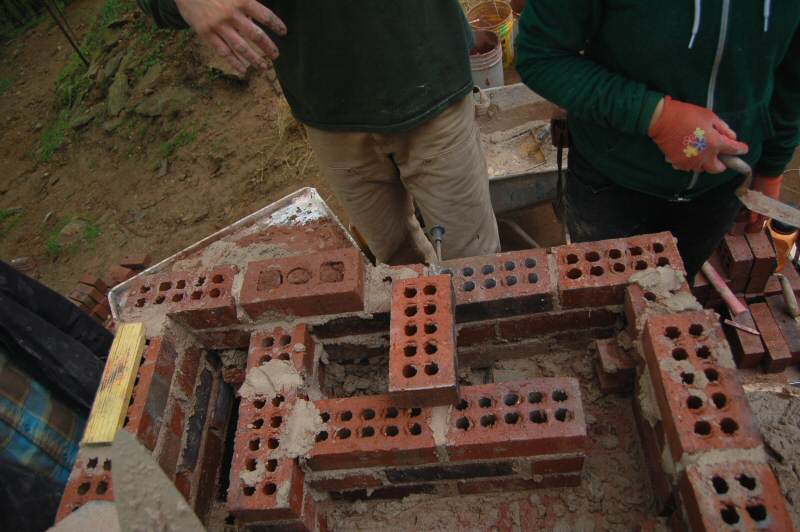 Chimney opening at center rear.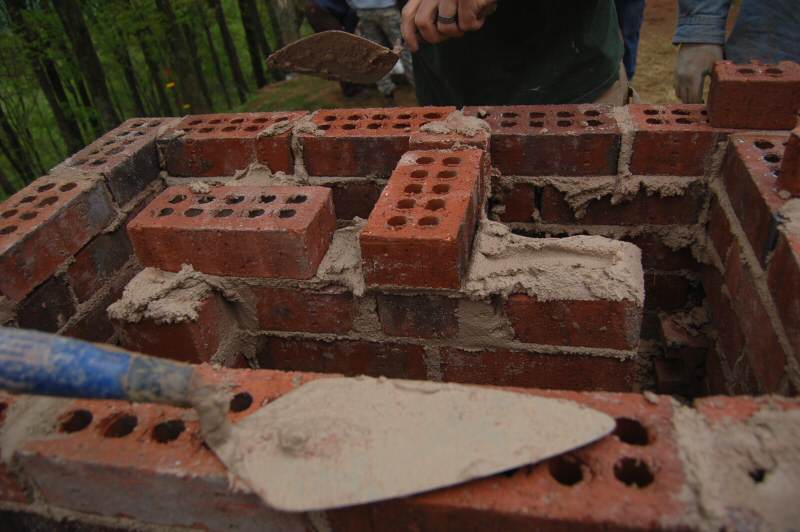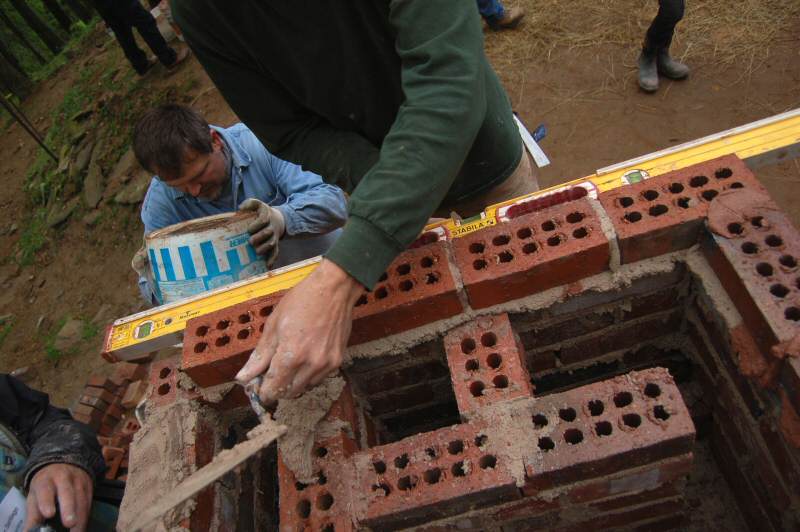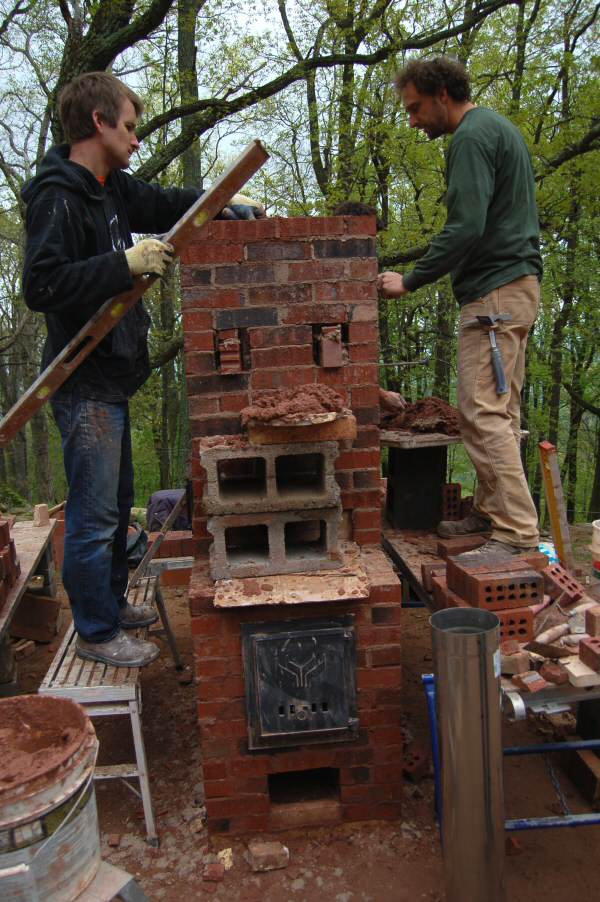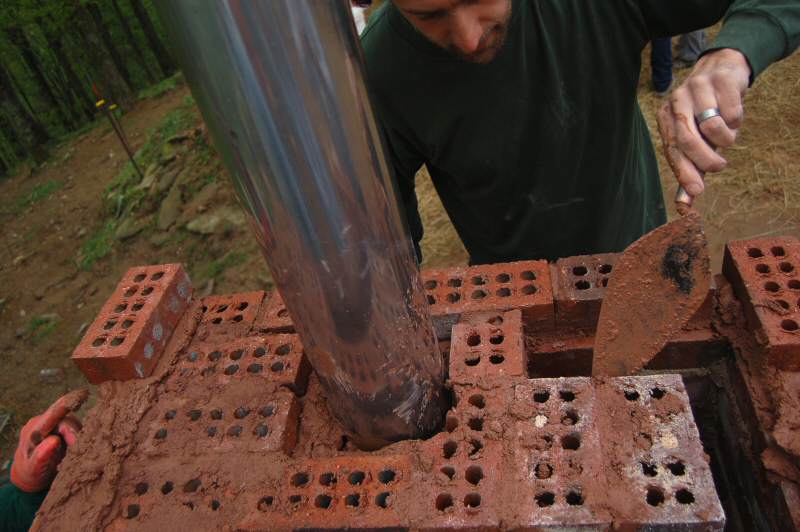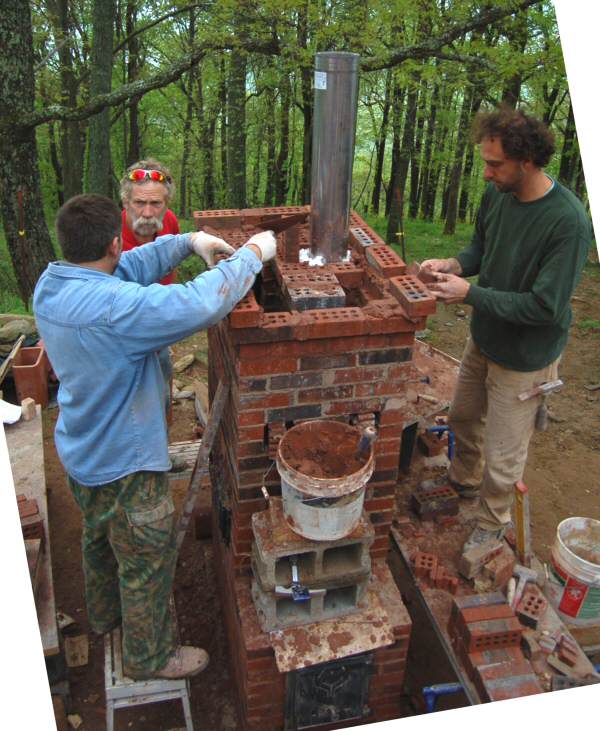 View of upper bell.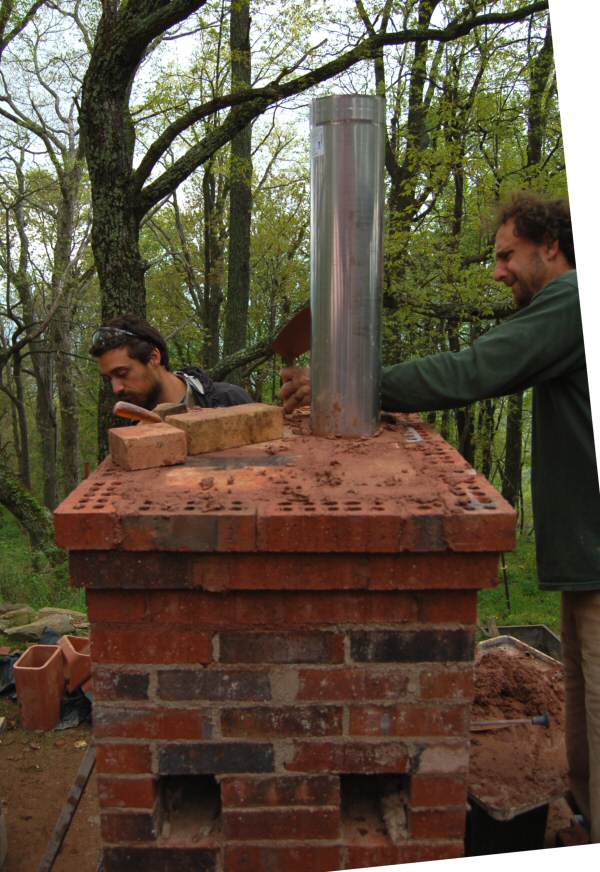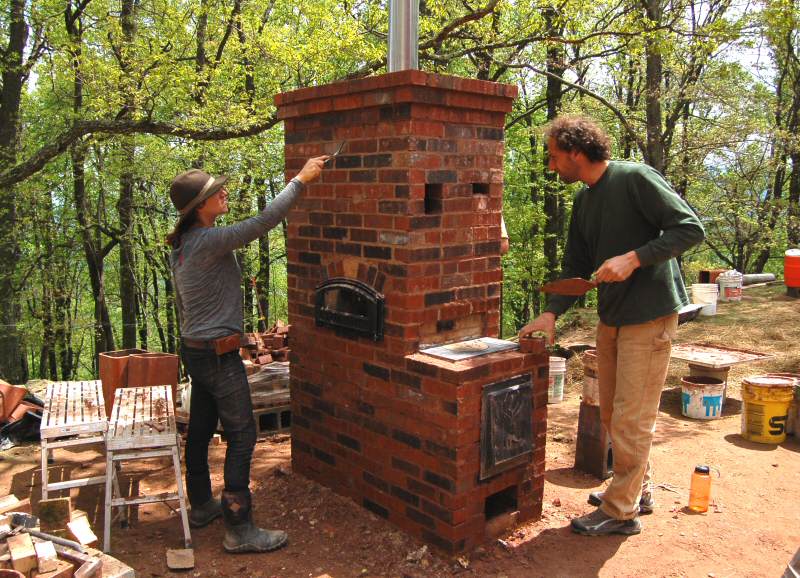 Tooling the joints.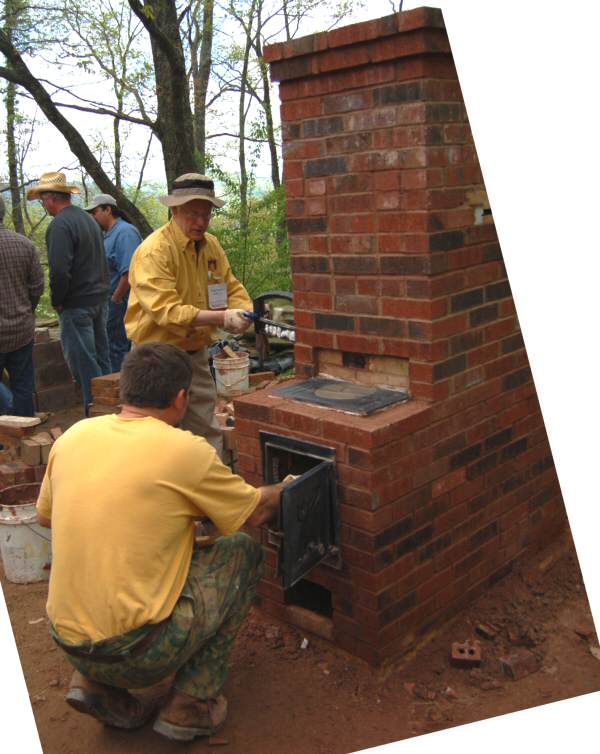 Lighting the stove.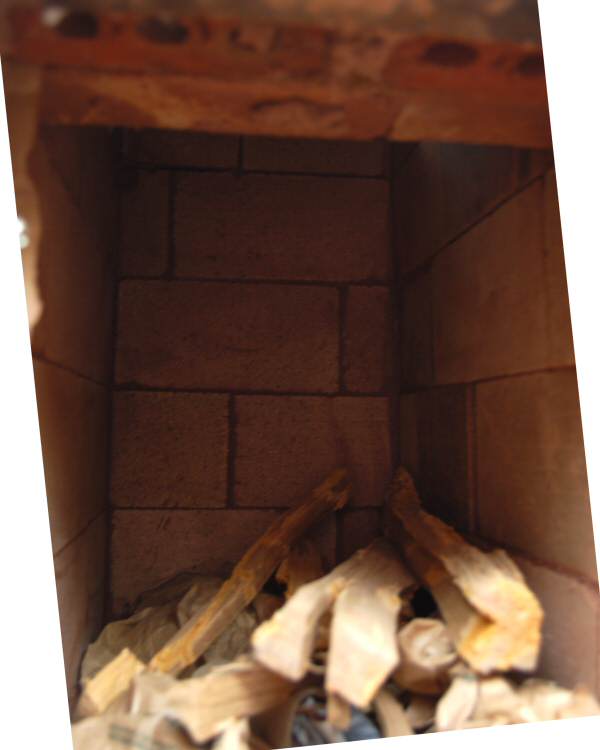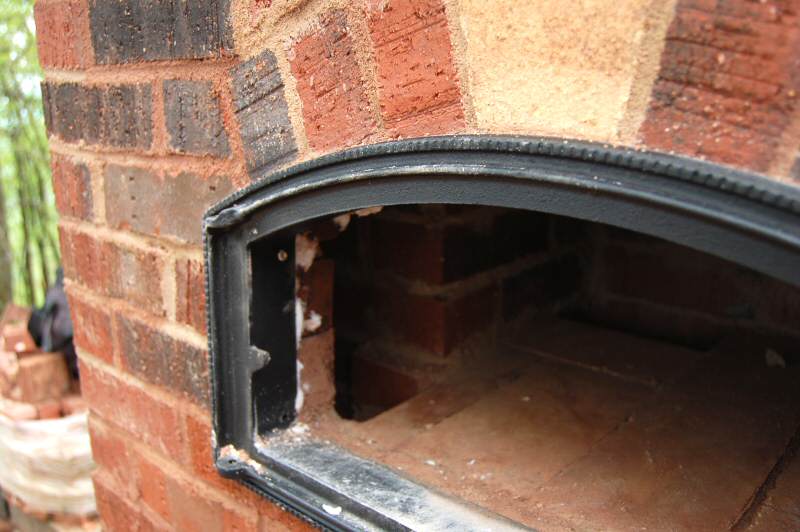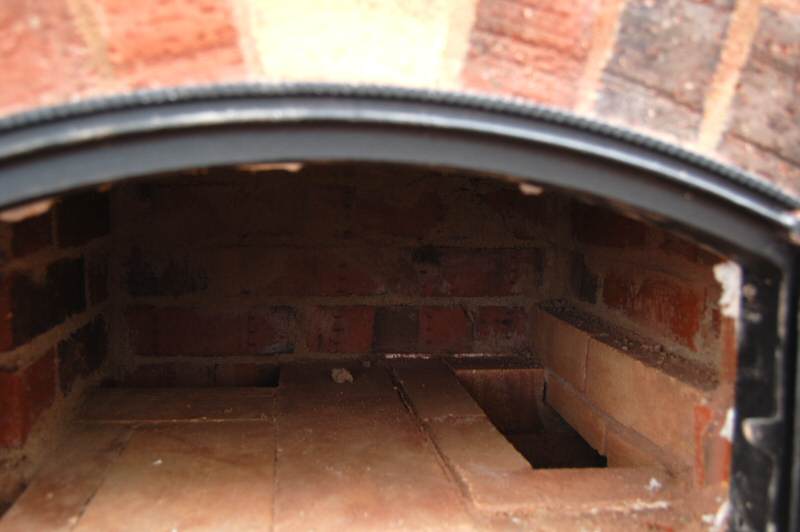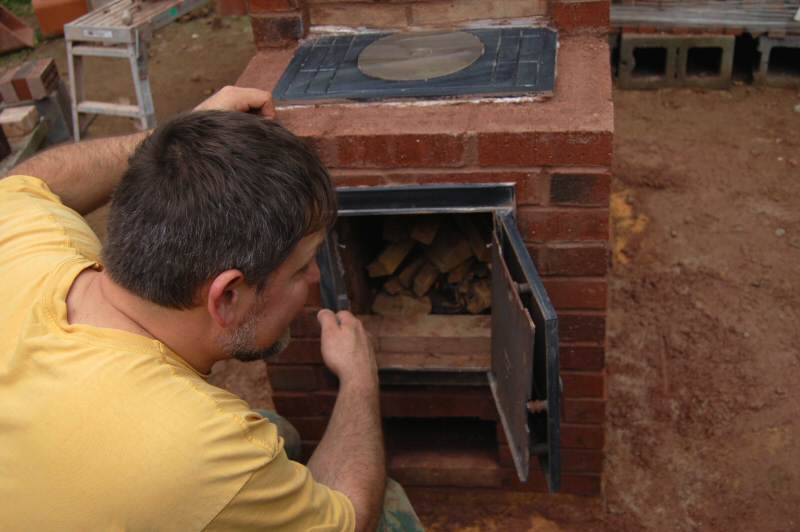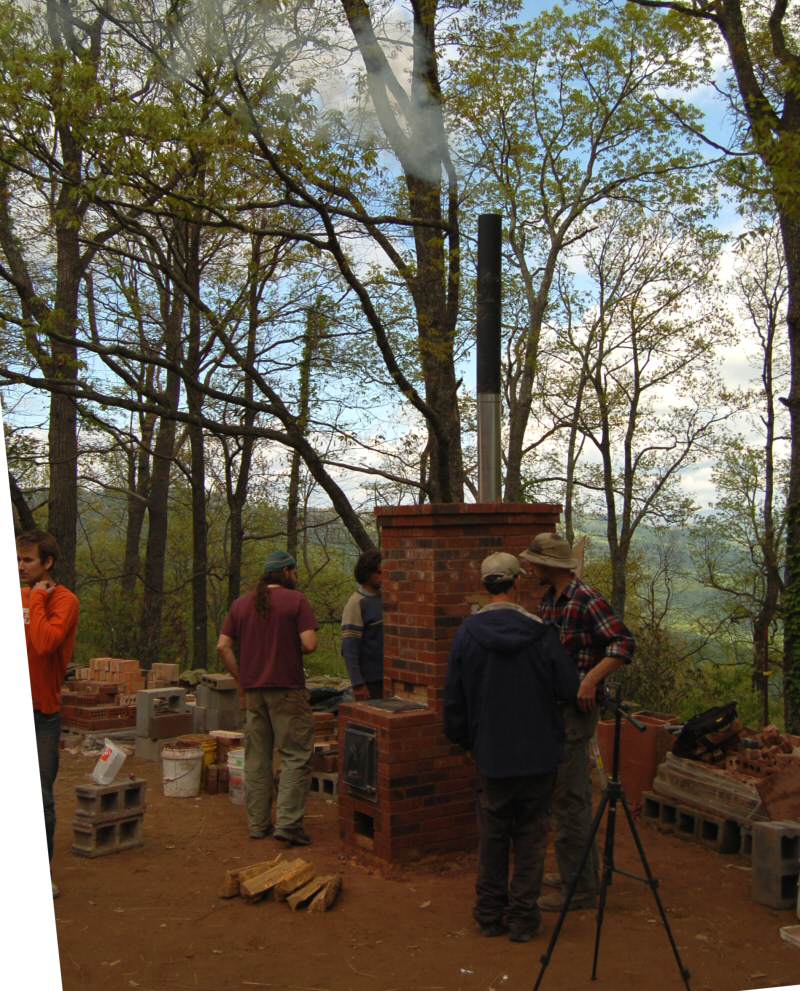 It drafted right away.
The lower bricks at the top of the lower bell got hot quite quickly. The upper bell took a long time to get warm,
indicating good heat transfer at the bottom. The chimney pipe was warm to the touch, but not hot.
Although the face temperature varies with height, it is even around the perimeter at any given location.
This results in a quite crack resistant heater, although it is only single skin.
Single skin heaters don't meet the ICC code or ASTM 1602, and therefore can't get building permits
in the US. The MHA technical committee may examine whether there are any safety issues involved
in building single skin heaters. For example, are special skills or knowledge required? Certainly,
the correct use of clay mortar is a key element.
In Russia, central district heating is used in the cities, however many houses in more remote rural areas are heated
by single skin heaters. There are millions still in use.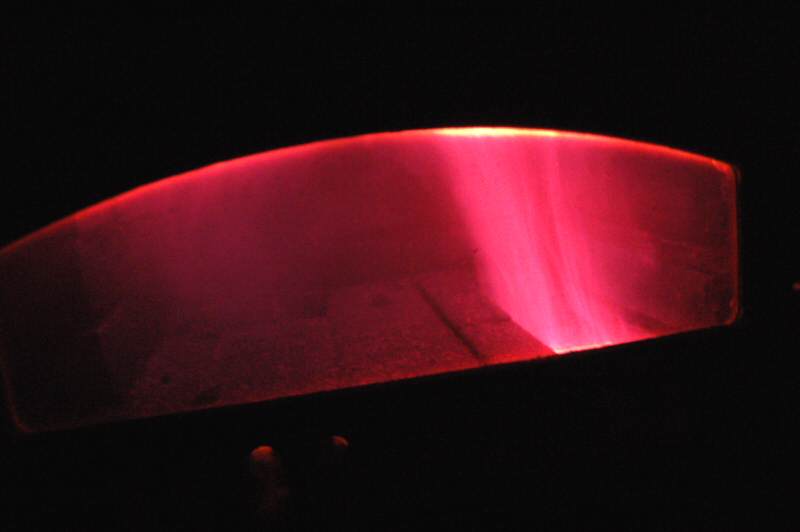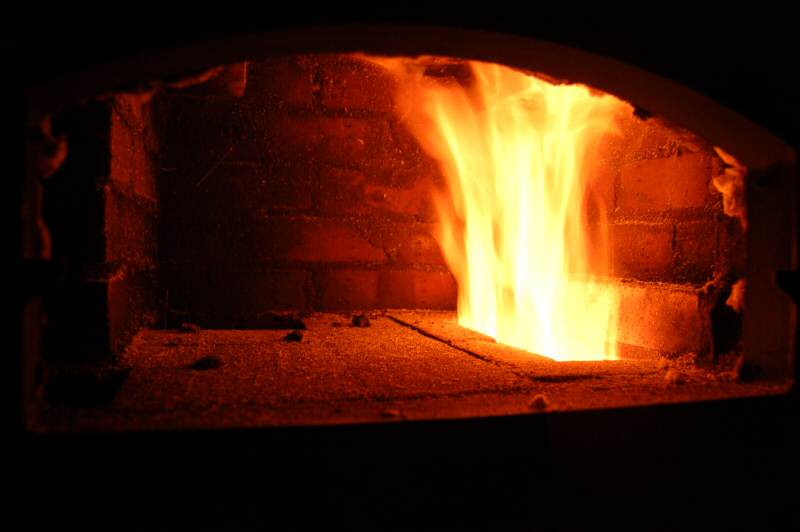 Bake oven door open.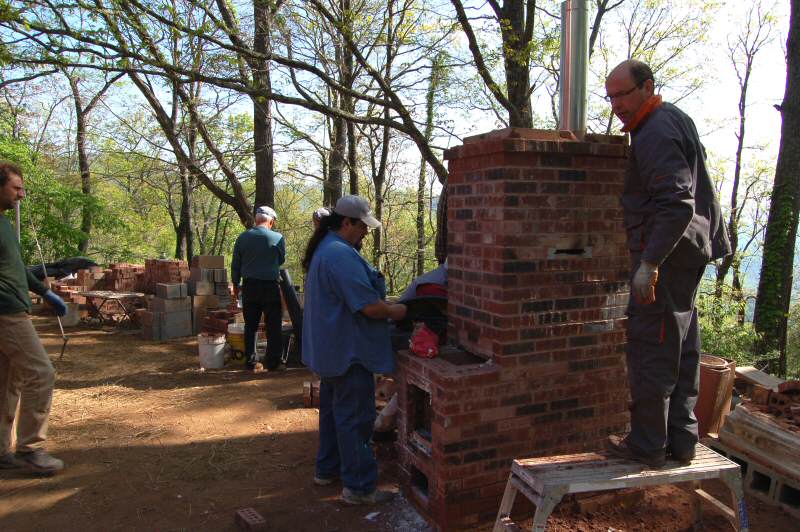 Dismantling the stove.
See also,
2007 Photo Report
2006 Photo Report
2004 Photo Report
2003 Photo Report
2002 Photo Report
2001 Photo Report
2000 Photo Report
1999 Photo Report
1998 Photo Report
1997 Photo Report
This page was last updated on January 3, 2013
This page was created on April 27, 2012
Back to: