2002 MHA Annual Meeting
April 12-18, 2001
at Wildacres Retreat,
Little Switzerland, North Carolina
Photo Report
by Norbert Senf
photo credits: Norbert Senf, Patrick Blackaller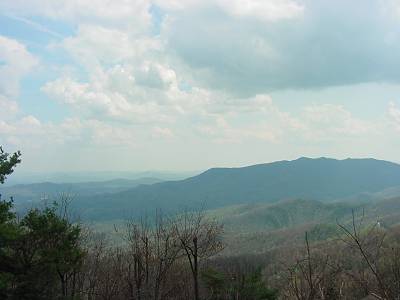 View of the Smokey Mountains from Wildacres. The deciduous trees
are just about to leaf out.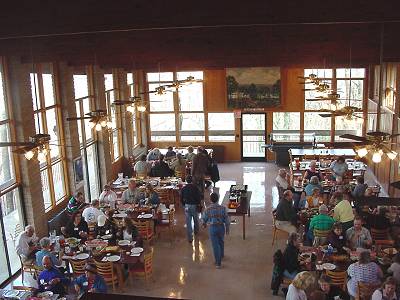 The dining hall. MHA tables are the two far ones on the left. We shared
the space with a lapidary group.Three excellent meals per day made for
a relaxed atmosphere.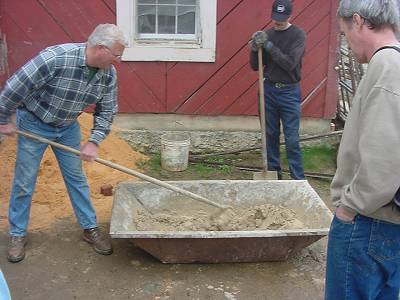 Starting hands on workshops, Friday. Jerry Frisch and Rod Zander
were still at the HPBA meeting in Anaheim, CA, and would not join us
until Sunday. We put off business meetings to the end of the session and
started hands on right away. David Moore and Richard Allen mix a batch
of clay mortar.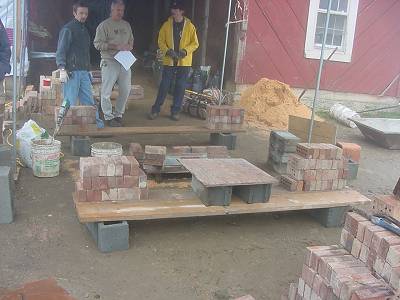 Setup for a 3' x 2' heater. This was the same heater we built last year,
and is the one that MHA is preparing a set of plans for. In order to
debug the draft plans, we used them to build this heater.We also needed
some more clearance testing data on this heater for ongoing ASTM
standards development.
Next year, the workshop will be a brick Swedish heater that MHA is
developing plans for.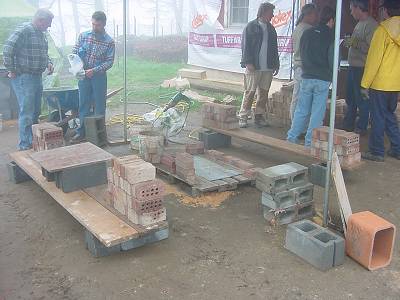 The weather started out cool and foggy, and threatened rain. Wildacres
provided us with an outdoor tent to cover the work area.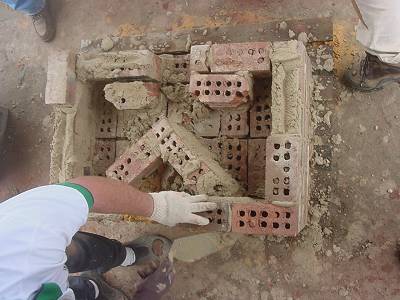 Bottom end for the 3 x 2 heater. One task was to get course-by-course
assembly photos to go with the plans.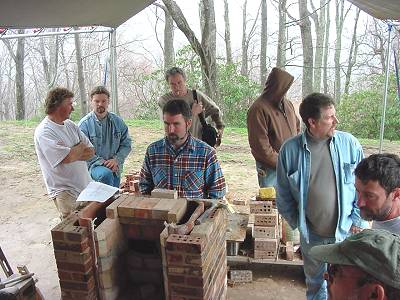 Ken Matesz works on the throat as everyone else takes a break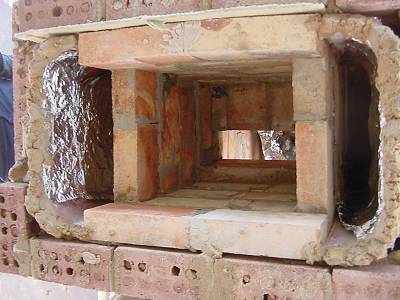 View at the heater top, below the ceiling slab. The tinfoil liner is an
experiment.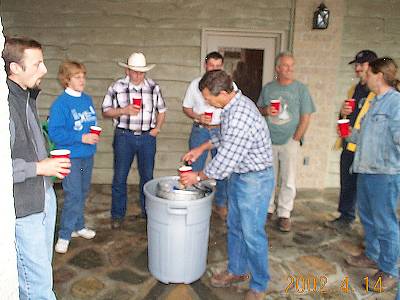 Time to relax with the annual keg.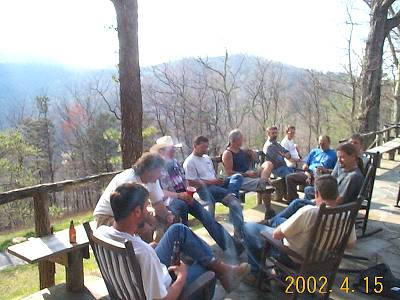 Discussions on the deck. We had 24 registered this year, and an
actual turnout of 20.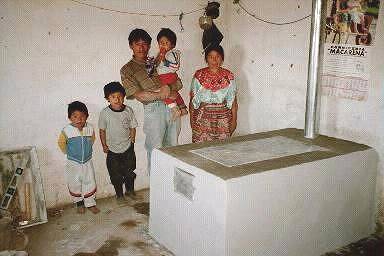 In the evening, Pat Manley gave a slide presentation on his Masons
on a Mission project to build cookstoves in Guatemala and also showed
an excellent video made last year. This project has built several hundred
stoves so far, and is helping many families to eliminate the health problems
from wood smoke. Donations go directly to purchasing materials in
Guatemala and hiring local labor. MHA Members are a major source
of support. Click here to learn more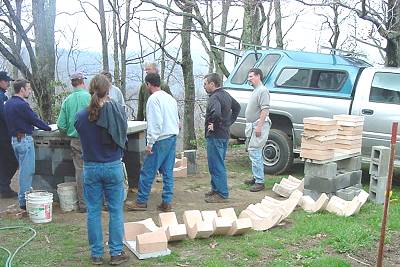 Albie Barden presented a Le Panyol bake oven workshop.
The clay oven components can be seen on the ground.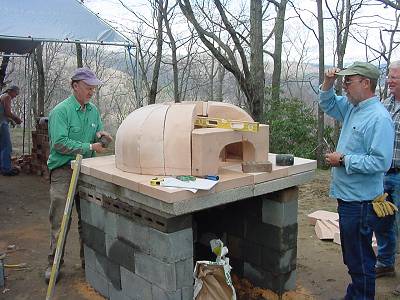 Albie Barde, Gary Hart, and David Moore work on finishing the oven
dome.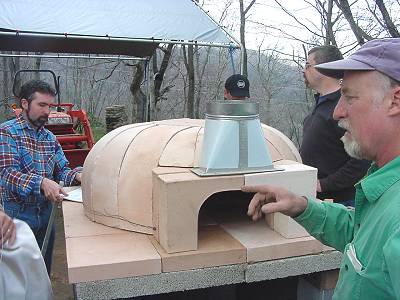 Custome chimney transition manufactured for Maine Wood Heat Co.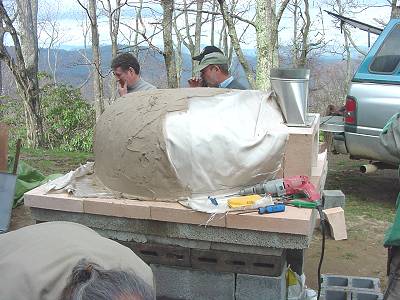 The oven was wrapped with heatproof fiberglass cloth prior to receiving
a coat of clay mortar.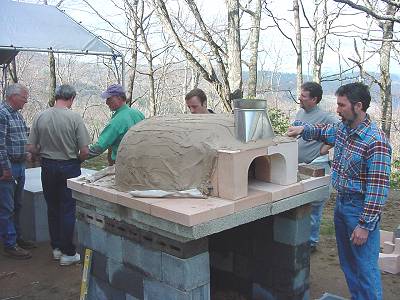 Next step was to install a sheet metal cladding and insulate the oven.
Check out last year's Le Panyol workshop.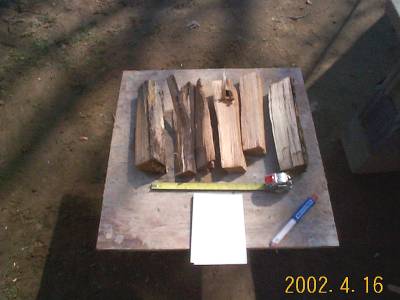 The burn test on the heater this year used small 5lb charges of wood,
in accordance with the new European CEN standard. We wanted to
see how realistic it was. Check back soon for the tabulated data.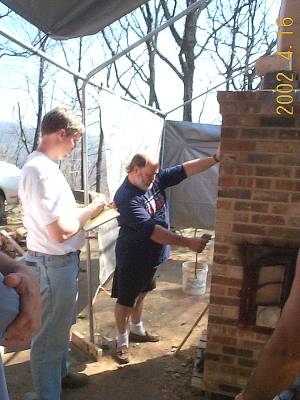 Patrick Blackaller and David Thomen check surface
temperatures.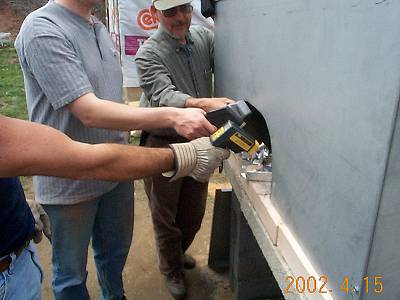 Baking firebricks wrapped in tinfoil. The effect of multiple layers of
tinfoil on the firebrick temperatures was studied.
The sheet metal cladding for the oven is in place.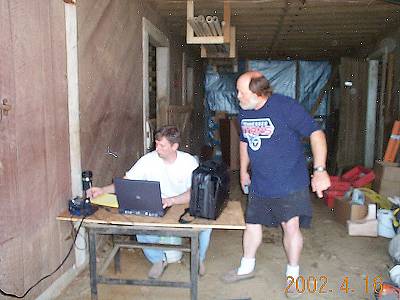 Patrick Blackaller tabulates data on his laptop as David Thomen looks on.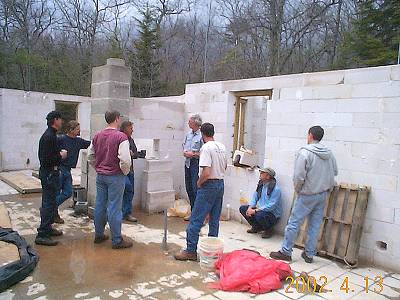 Tom Trout took us on a tour of his new Hebel autoclaved aerated
concrete (AAC) block house, under construction.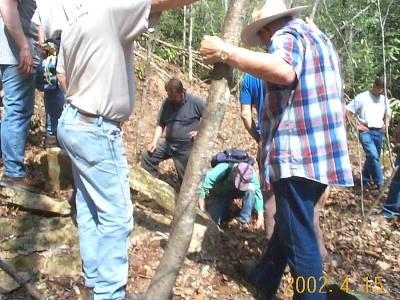 Field trip to a local soapstone deposit.
Six foot diamond blade intended for slabbing soapstone.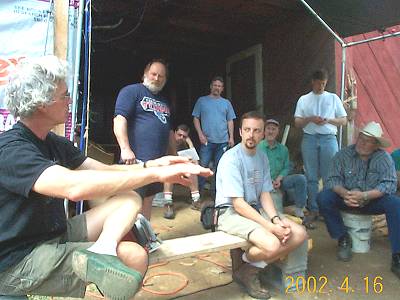 Question and answer session.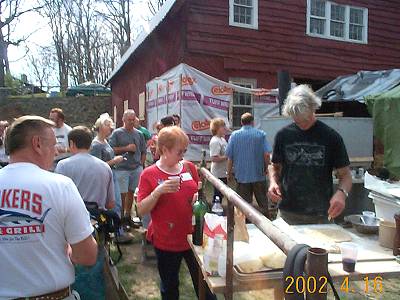 We invited the lapidary folks down for a pizza party. This has become
an annual tradition. Tom Trout made the dough, and is seen preparing
one of about 50 pizzas. We squeezed the pizza party in between lunch
and supper.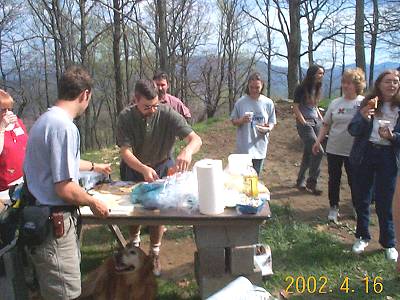 John Rousseau prepares toppings.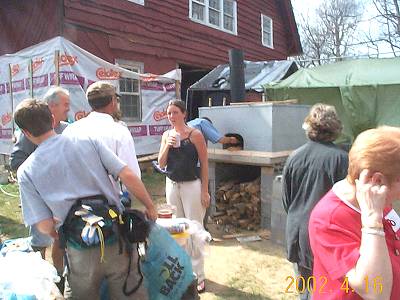 The weather turned sunny and warm by Tuesday.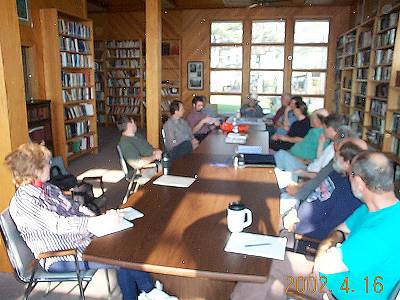 Business meeting on Wednesday. Jerry and Rod reported on the recent
HPBA and ASTM meetings. MHA plans for the 3 x 2 heater, the brick Swedish
heater, and the Blacksburg Grundofen were analyzed. Earlier, Albie had
put together a photo exhibit of his visit to an extremely interesting heater
pre-casting operation in Holland.
See also,
2001 Photo Report
2000 Photo Report
1999 Photo Report
1998 Photo Report
1997 Photo Report
This page was last updated on April 21, 2002
This page was created on April 21, 2002
Back to: