1999 MHA Annual Meeting
June 3 - 10
at Wildacres Retreat,
Little Switzerland, N.C.
Summary
See also: Report by Jay Hensley
Photo Report
by Norbert Senf
I drove down from Shawville, Quebec. On day two, I stopped for a
couple of hours and checked out the Luray caverns in Virginia.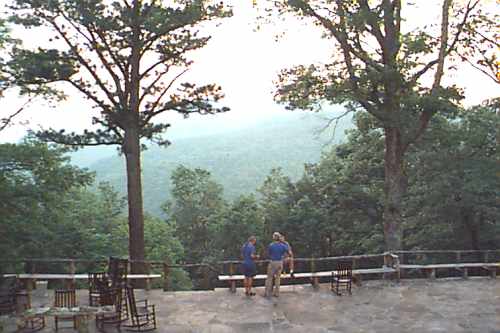 Pat Manley, Tom Trout, and Wildacres manager Mike House discuss business
on the patio. Tom lives about 15 minutes from Wildacres, and was MHA's
original connection there.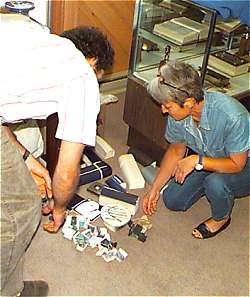 Maria Kiesling shows her handmade Kachel samples to Stephen Bushway.
Maria and Ernst Kiesling moved to Halifax from Austria four years ago. They build stoves
from scratch, starting with the raw clay.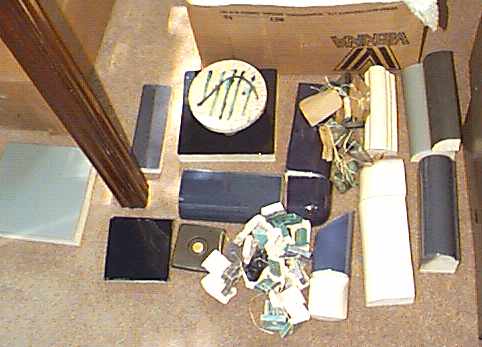 Closeup of Maria's Kachel trim pieces.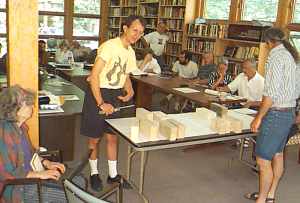 Rod Zander leads a workshop on heater layout and design. Pat Manley
helps him demonstrate different firebox layouts as Jay Hensley taps on
her laptop.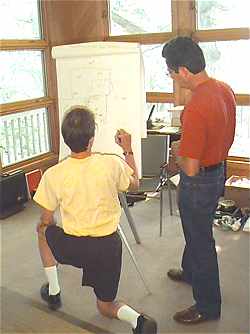 Frank Sotero's house was chosen as a design project for discussing heater layouts.
Frank clarifies some features of his floorplan so that a heater retrofit can be planned.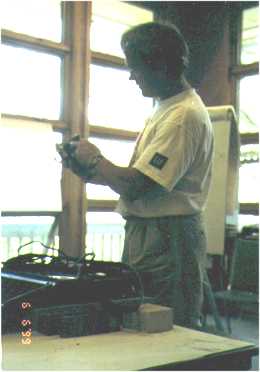 Your intrepid editor presents a seminar on designing heaters for low emissions.
A portable flue gas analyzer sits on the table, and I'm holding a Lego Mindstorms
"robotics invention system", which will be prototyped into an electronic air controller.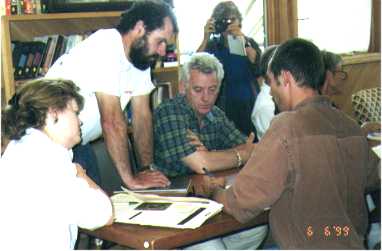 John Fisher sketches while Rebecca Carnes, Steve Bushway, and Marcel
Ouellette look on.

Gary Hart, Jim Sanders, Frank Sotero and Johnny Zamkotowicz writing their MHA Certified Mason exam.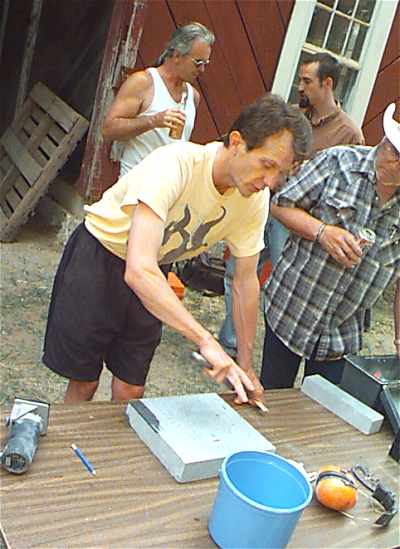 Rod Zander demonstrates various soapstone machining techniques in
the outdoor work area as Jerry Frisch looks on. Pat Manley and John Fisher
in deep discussion behind.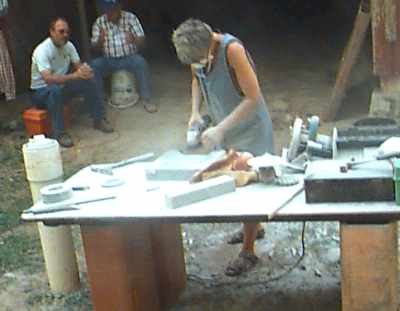 Maria Kiesling tries her hand at shaping soapstone with a diamond wheel.
An accomplished clay artist, this was her first time working soapstone.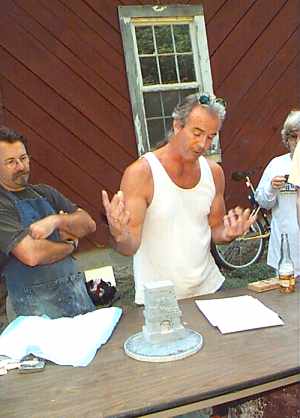 Soapstone carver Pat Manley leads a soapstone fabricating and finishing workshop. Jim Sanders
looks on, ready to try his hand.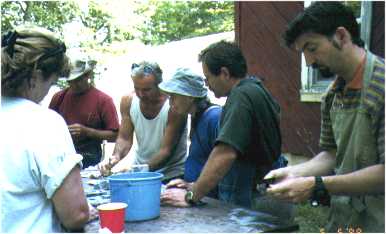 Gerald Fischer (right), from Austria, examines the finish on a piece of soapstone.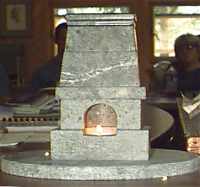 Pat Manley brought one of his hand carved, working, miniature masonry heaters.
It was used as an altar for the newly formed "masonry heater cult". Contact Pat for details ;-)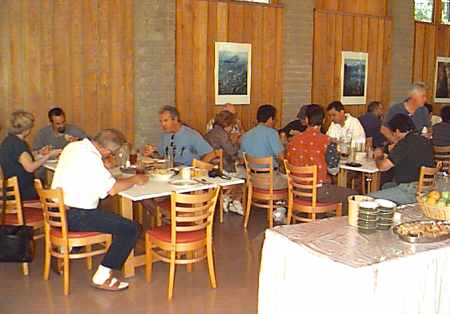 Food, as usual, was first class. Ernst Kiesling, Pat Manley, John Fisher and Trudy Champney
at first table. Dining hall was expanded since last year. MHA may add
a woodfired bakeoven next year (stay tuned for details)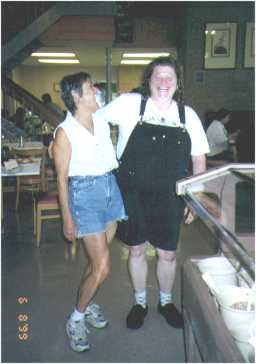 Manager Annie and chef par excellence Debbie.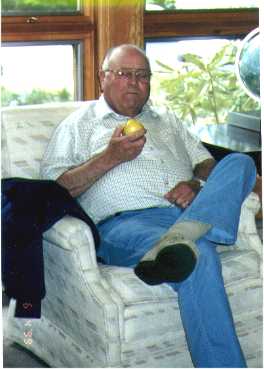 Gene Hedin relaxes in the lounge.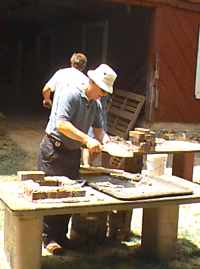 Marcel Ouellette does his hands on test for MHA Certification
in the outdoor work area by the barn. Marcel drove down from Halifax
in his new GMC pickup. It has the coolest truck cap anyone had ever seen.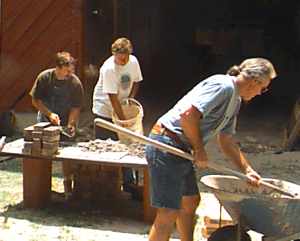 Pat Manley mixes mud as Jim Sanders takes his certification test,
aided by Jersey Johnny Z.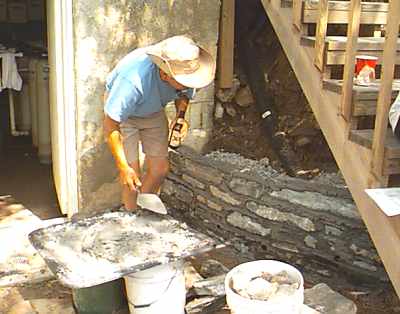 Jerry Frisch's stone laying workshop. Frank Sotero demonstrates his
"two hand" technique on a stone retaining wall rebuild.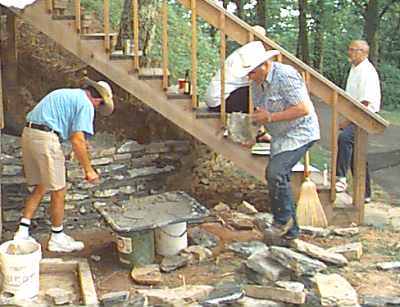 Jerry Frisch and Frank Sotero.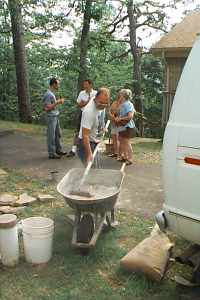 Gary Hart mixes mud.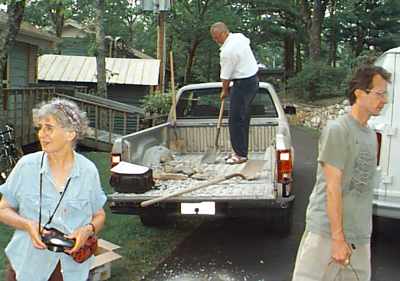 Ernst Kiesling shovels backfill, Rod Zander hauls it in a bucket as Jay
Hensley searches for photo ops.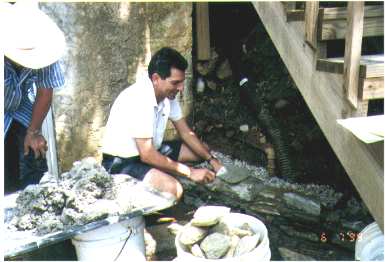 John Lagamba setting stone with Jerry Frisch
providing guidance.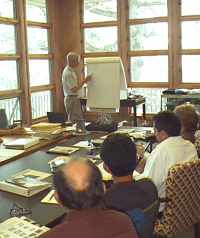 Dennis Jaasma from the Combustion Lab at Virginian PolyTech
spent an afternoon and a morning with us. Here he lectures on emissions sampling methods.
Dr. Jaasma is one of North America's top experts in the field of residential wood
combustion emissions.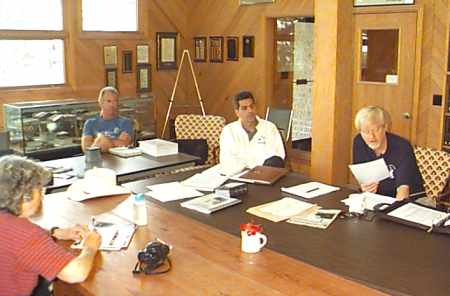 Pat Manley, John Lagamba, and Jay Hensley look on as John Crouch, HPA's
government relations specialist, updates us on the current regulatory climate and issues.
Wildacres provides a perfect setting, as we were able to have John's attention for a whole day.
At HPA meetings, John's responsibilities usually require him to do about 50 things simultaneously.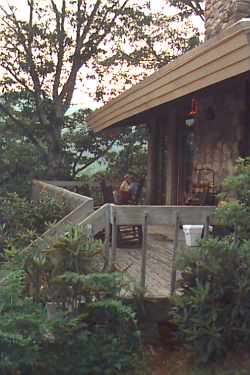 Marcel Ouellette shows Jay Hensley his portfolio on the deck of the lounge, overlooking
the patio.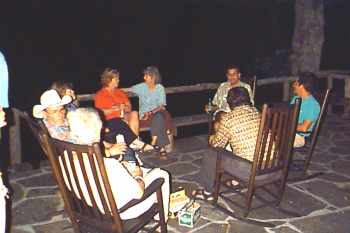 Relaxing on the patio in the evening with a couple of cold ones.
Clockwise from the cowboy hat: Jerry Frisch, Rebecca Carnes, Bev Marois,
Jay Hensley, John Lagamba, Frank Sotero, Dann Carnes and Marcel Ouellette.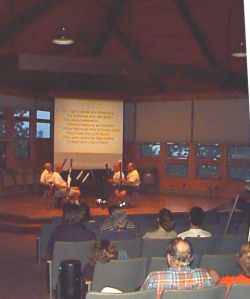 A rare shot of Jerry Frisch without his cowboy hat, watching the
bassoonists' grand finale, a sketch from their annual concert. For the last three years, we've
shared this slot in Wildacres' calendar with an international group of bassoon players.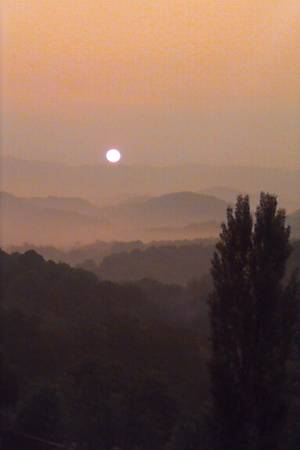 On the drive home. I left Wildacres about 5:30 am, and was
rolling through Tennessee's Daniel Boone country at sunrise. I was home by
noon the next day, with an overnight in Scranton. Total drive was about 3200 km.
See also,
1998 Photo Report
1997 Photo Report

This page last updated on March 26, 2000
Back to: