2007 MHA Annual Meeting
Wildacres, North Carolina
Photo report by Norbert Senf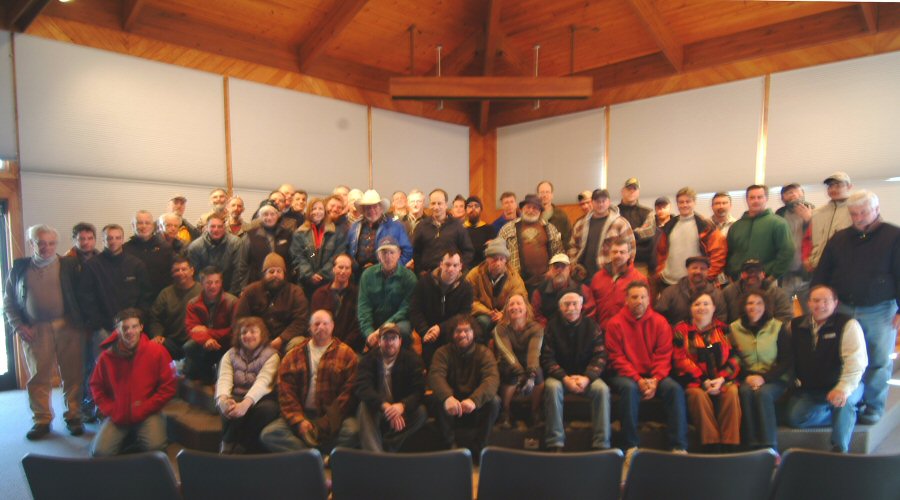 Group photo in the auditorium. We had 65 attendees this year.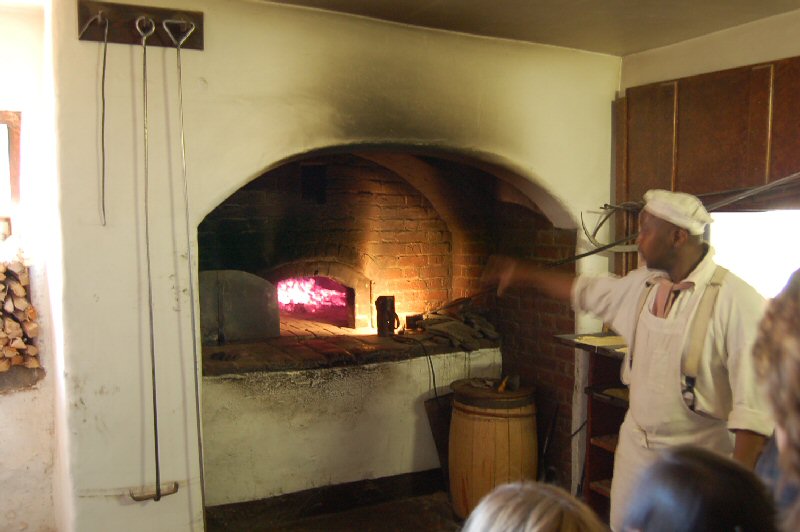 I drove down from Ottawa with Colin Coveny. We stopped at Old Salem, North Carolina, to check out the bake ovens.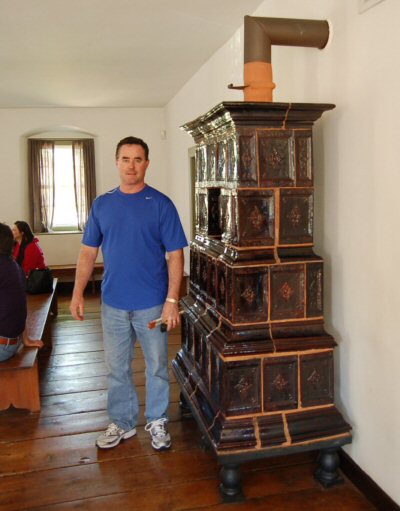 Kachelofen knowledge was brought over by the Moravians and
Kachelöfen were made at Old Salem, including the Kacheln.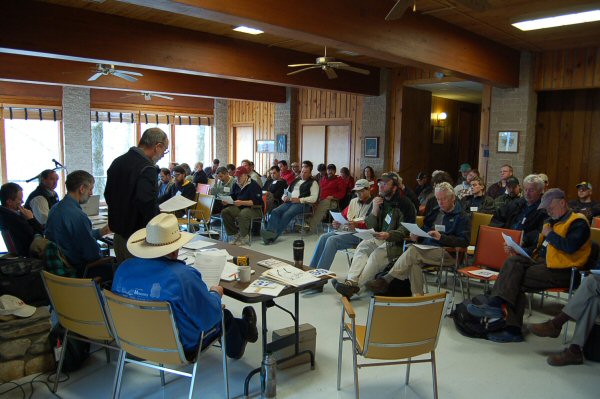 Wildacres. First day was the Annual General Meeting. A new Board was elected.
The new officers are:
President ------ -------Norbert Senf
Vice President- -------William Davenport
Treasurer-------------- Doug Hargrave
Secretary--------------Marge Padgitt
2nd Vice President ---- Joe Parris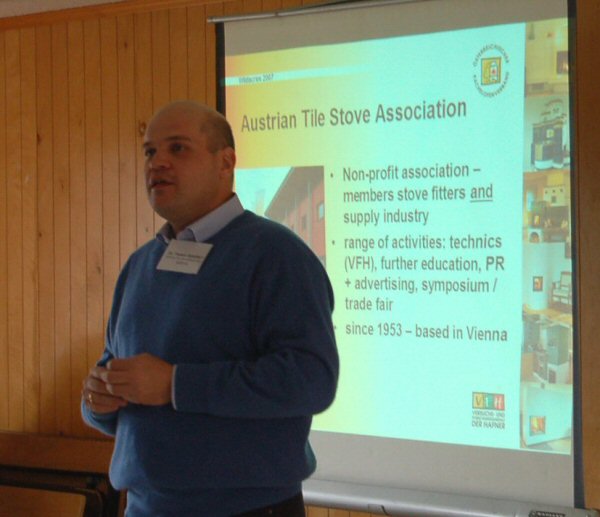 Dr. Thomas Schiffert, Director of the Austrian Tile Stove Association, was a special guest for the
week. Accompanying Dr. Schiffert was Stove Master Richard Jussel.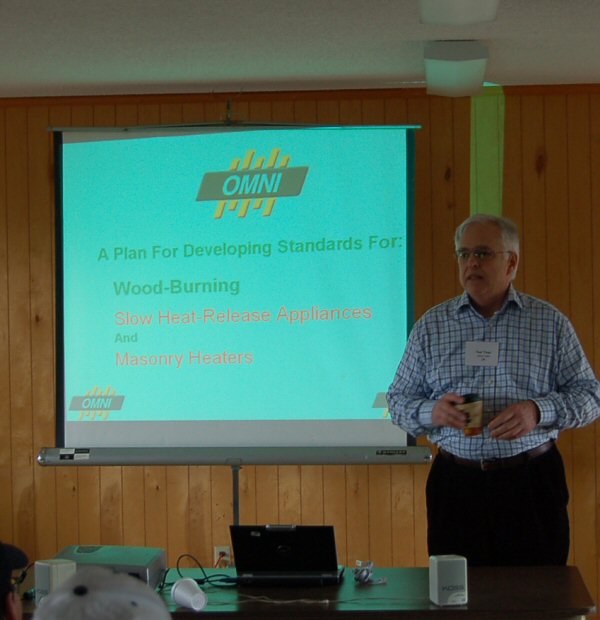 Paul Tiegs from OMNI-Test updated us on the current state of the ASTM fueling protocol,
and the regulatory prognosis for emissions.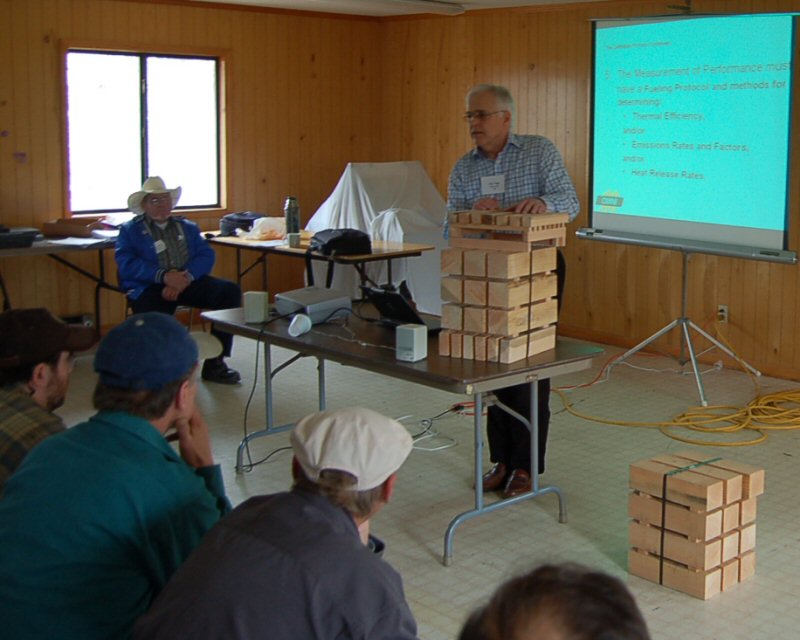 Paul brought along an official ASTM fuel crib.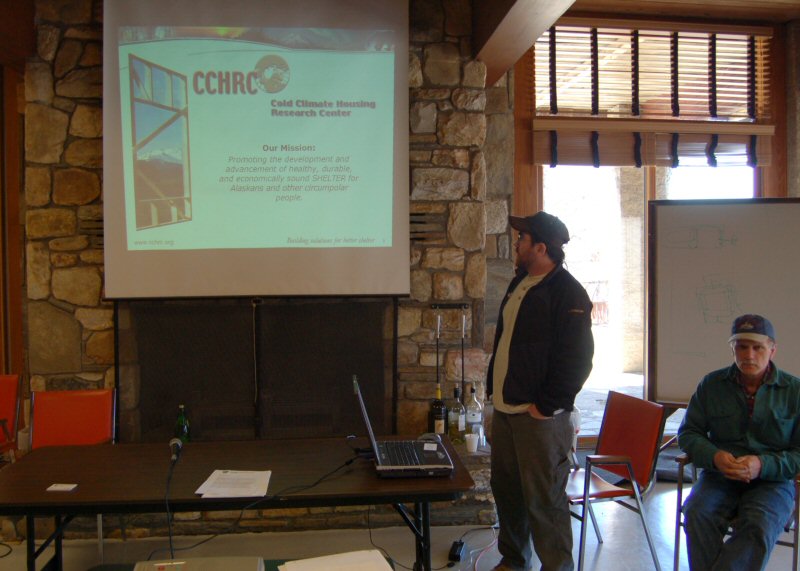 MHA member Dan Givens brought David Misiuk, of Cold Climate Housing Research Centre (CCHRC), Fairbanks, Alaska.
David is a professional engineer heading their new combustion research laboratory, and came down specifically to form a working
relationship with MHA. He presented MHA President Jerry Frisch with a letter from CCHRC President Jack Hèbert.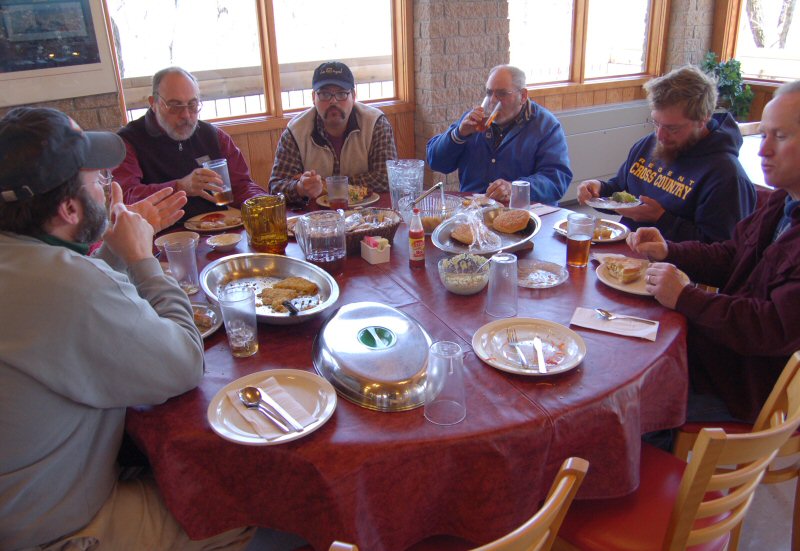 The meals for the week were outstanding.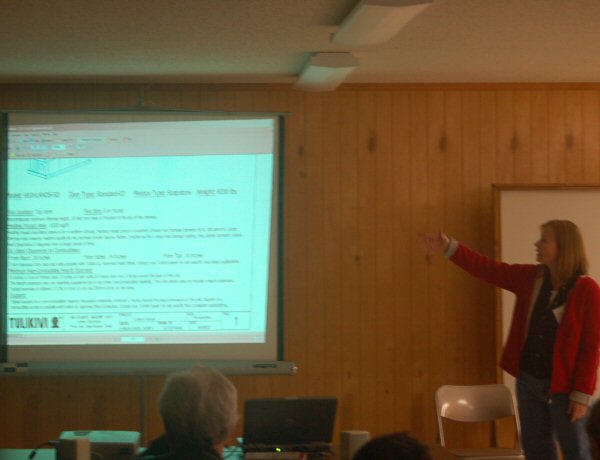 A marketing seminar presented by Mid-Atlantic Masonry Heat was very thorough and well received.
Deborah Byram shows off her CAD work, which allows detailed proposals to be easily drawn
up and modified.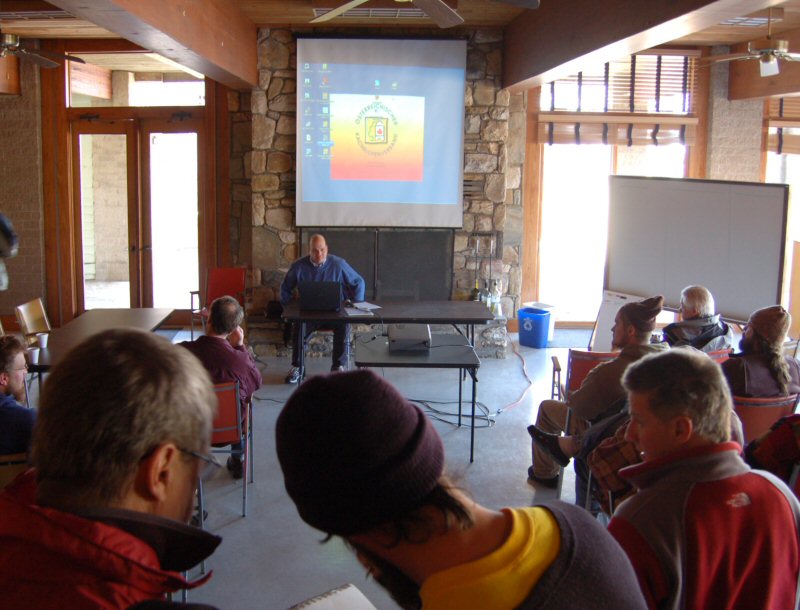 Dr. Schiffert presented a special session to demonstrate the Austrian stove calculation software.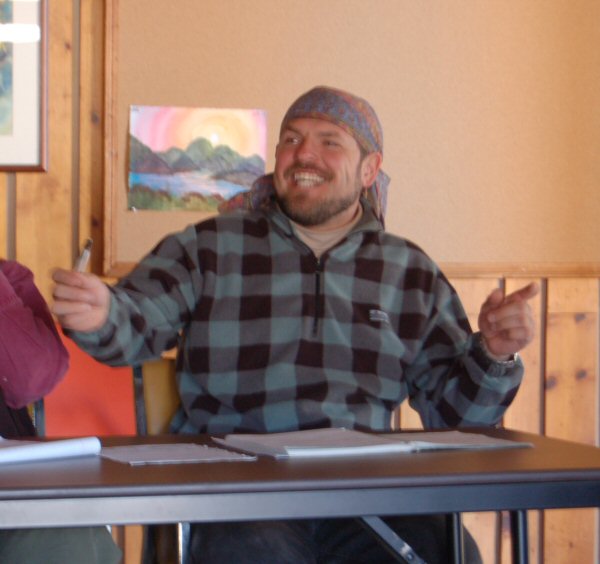 It was a lively session.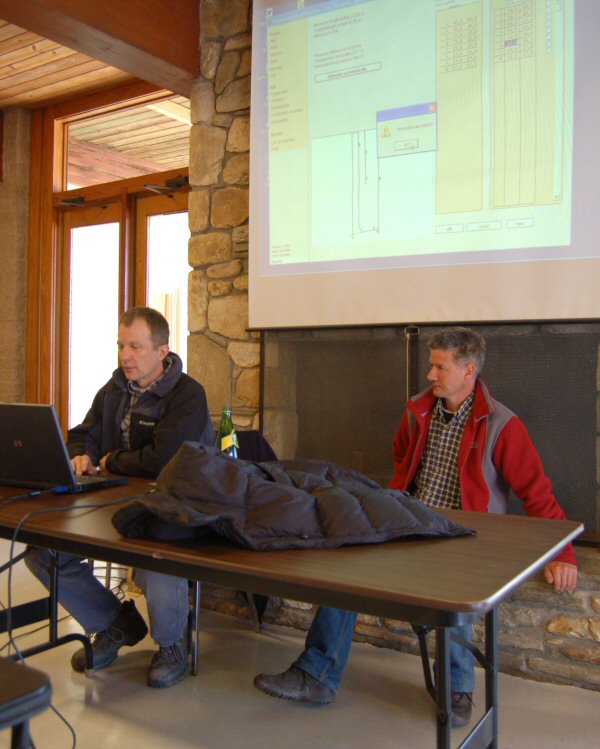 Rod Zander did a sample calculation for a contraflow heater.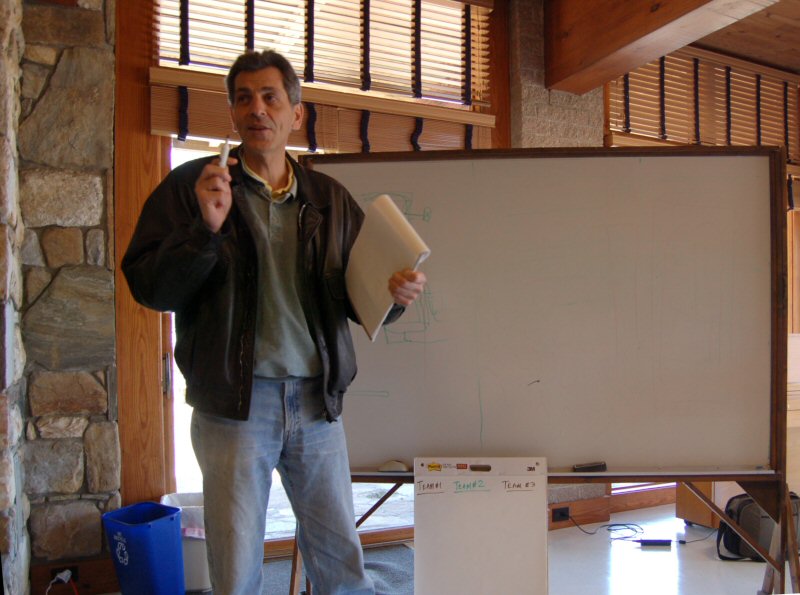 John Lagamba presented the membership with a pro-forma summary of our finances. John chairs the new fundraising committee,
and presented some enthusiastically received proposals for new fundraising efforts.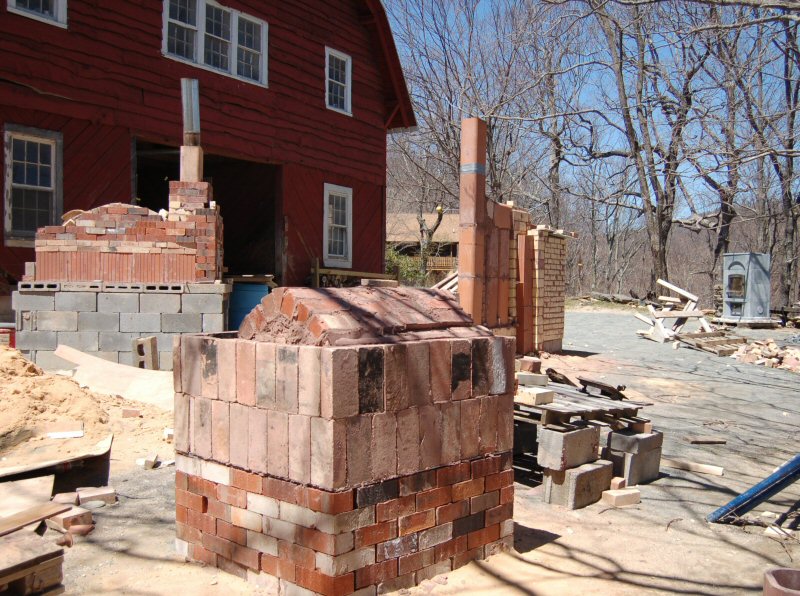 Workshop area, day 3, with 4 projects finished and oven about to be fired for pizza party.
From left to right: experimental pizza oven by Alex Chernov, calculated Austrian stove by Richard Jussel, experimental research heater
by Norbert Senf, and soapstone heater by Glenn Overk.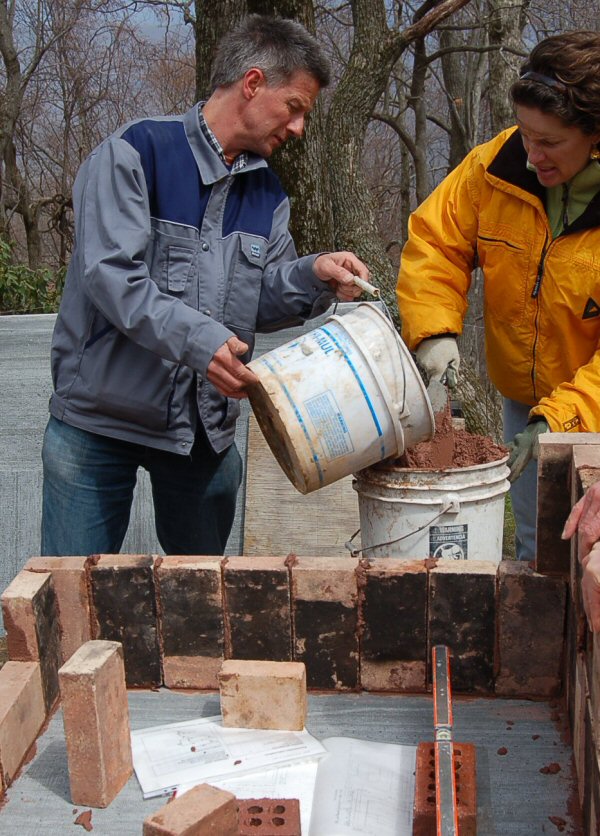 Richard Jussel and Donna Parris work on the Austrian stove. More details.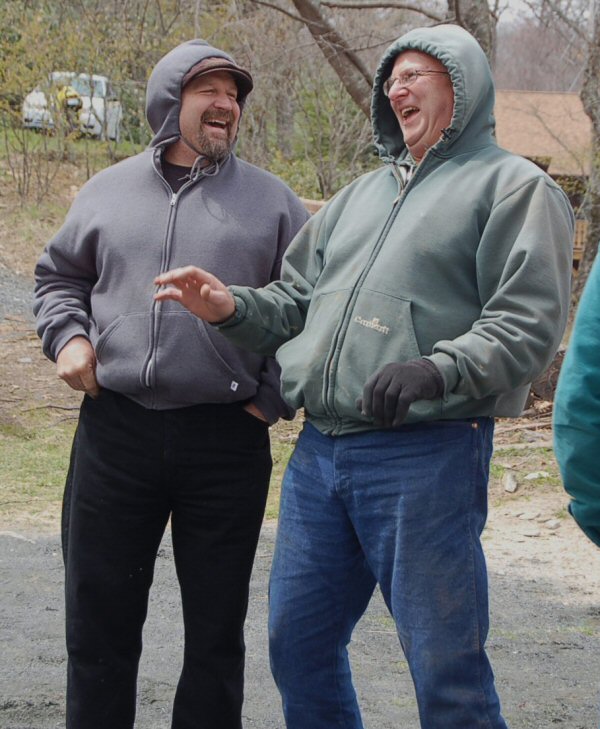 Gene Padgitt and Dave Moore shooting the breeze.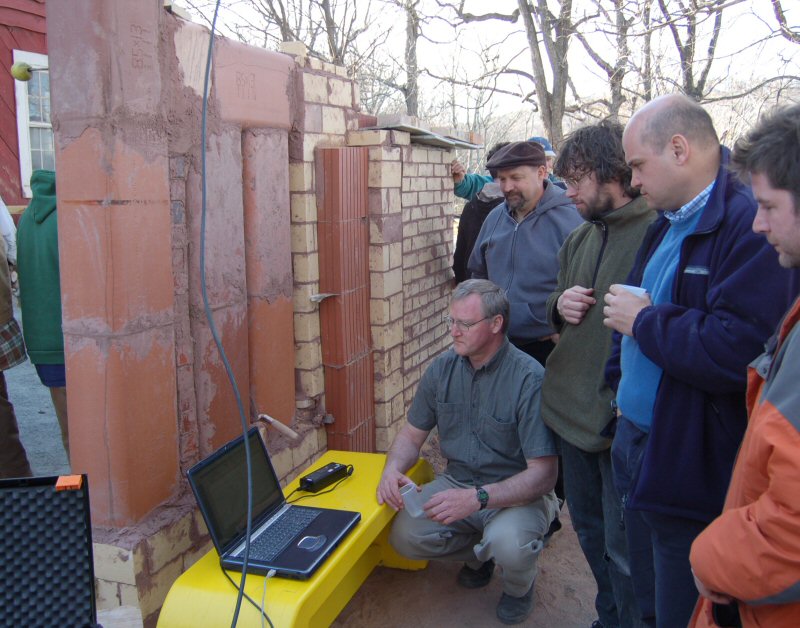 Gas analyzer set up on the research heater. More details.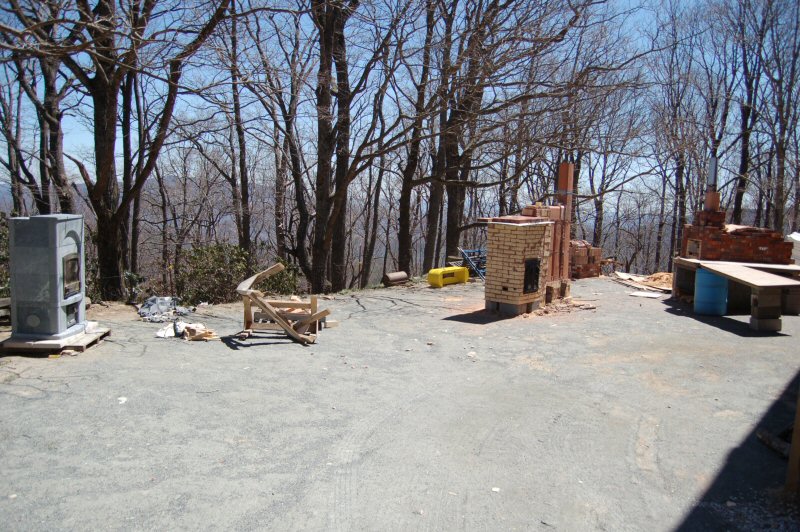 View of workshop area.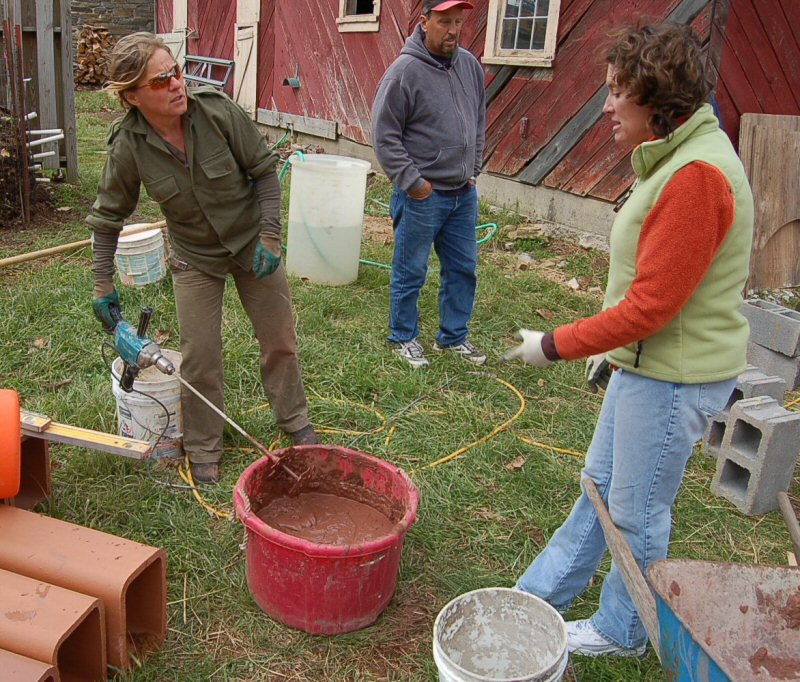 MHA's two woman masons are both named Donna. Interestingly, in several southwestern native cultures,
fireplaces were traditionally built by woman masons.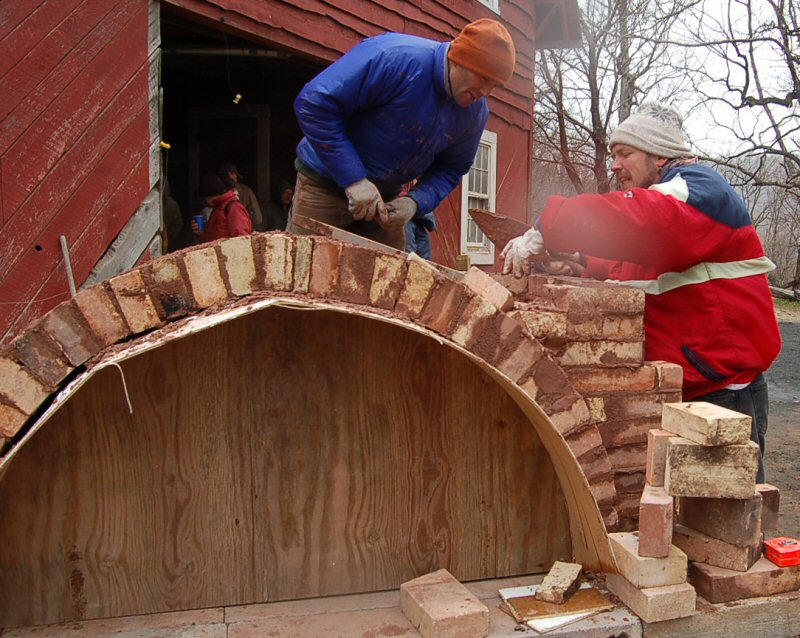 Joe Prinzivalli and Alex Chernov try to complete the oven during some very extreme weather, with rain and hurricane force winds, and
snow predicted. More details.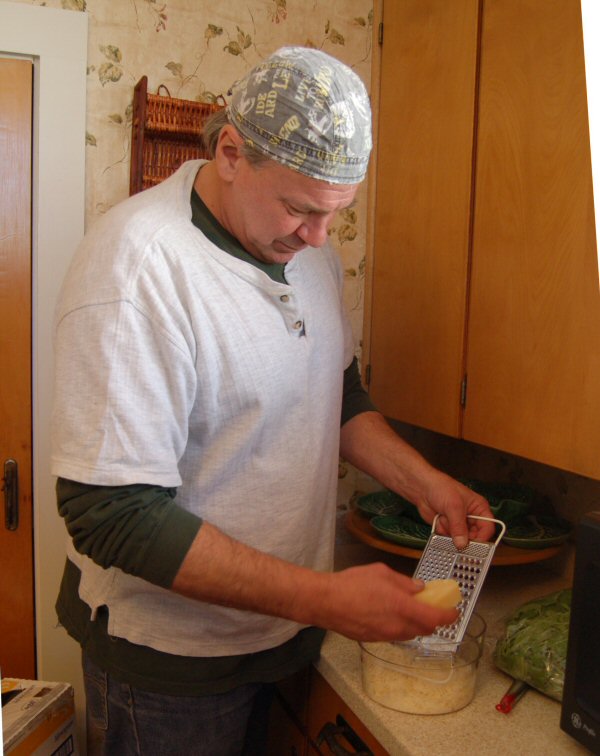 Tom Hagelund helps with the pizza prep.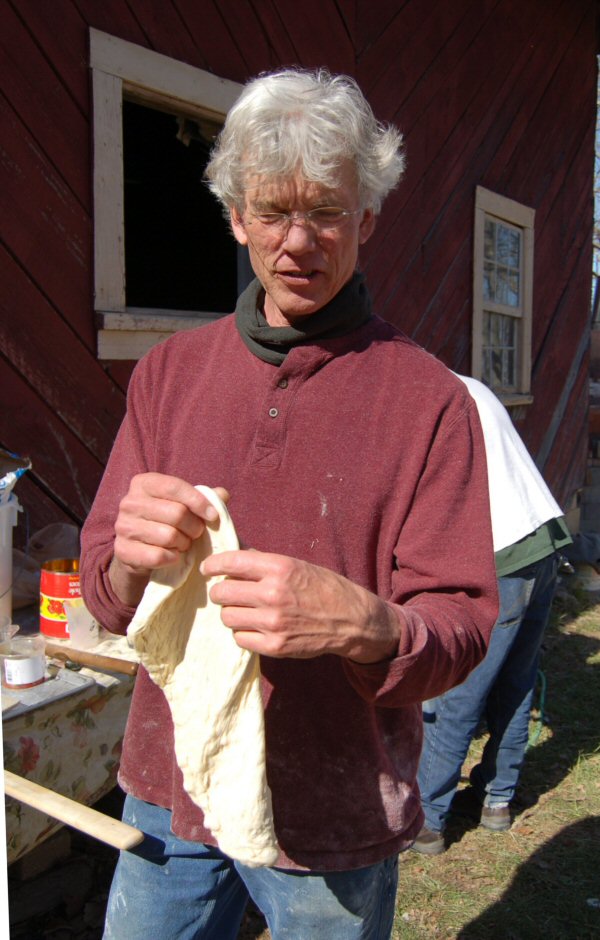 Tom Trout was the pizza master this year.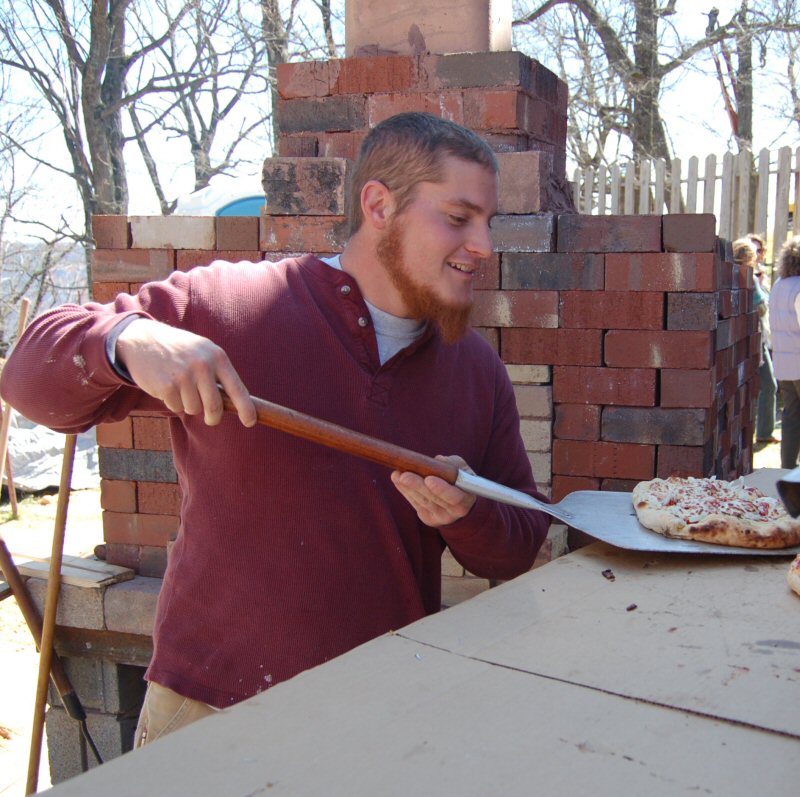 Jonathan Steele was one of the pizza chefs.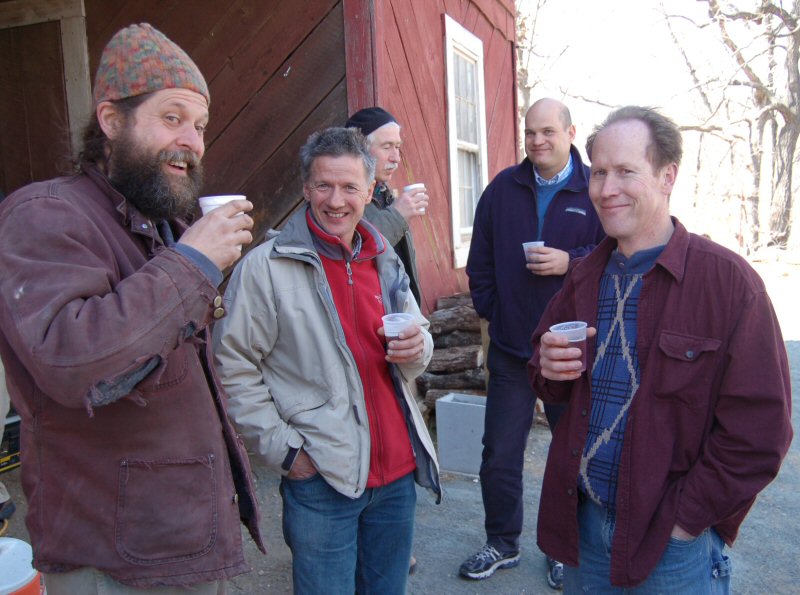 Oven + pizza + beer = fun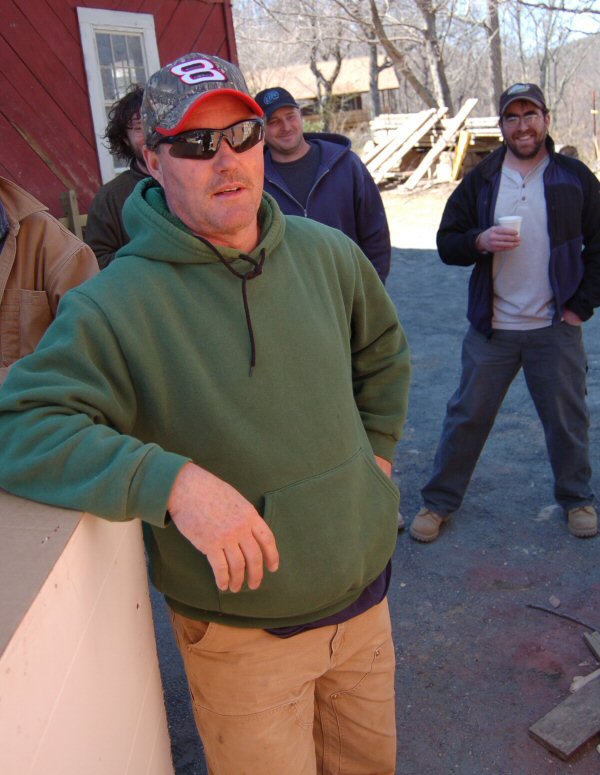 Colin Coveny from Carleton Place, Ontario. About 1.5 hours from my house.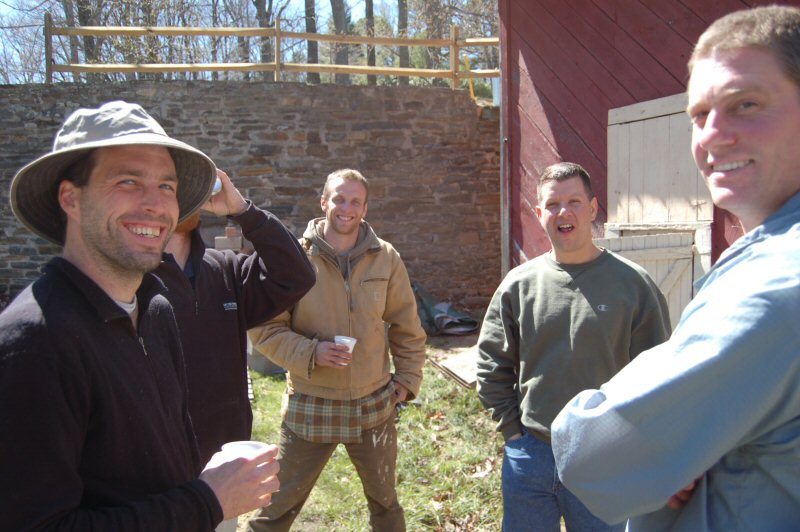 Feeling no pain. More party photos.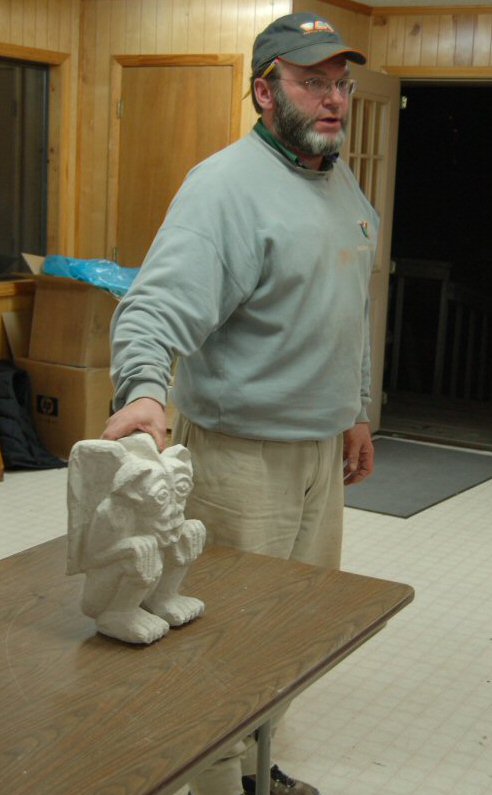 Auction. Dale Demary did a fantastic job as auctioneer, and we raised over $9,000.00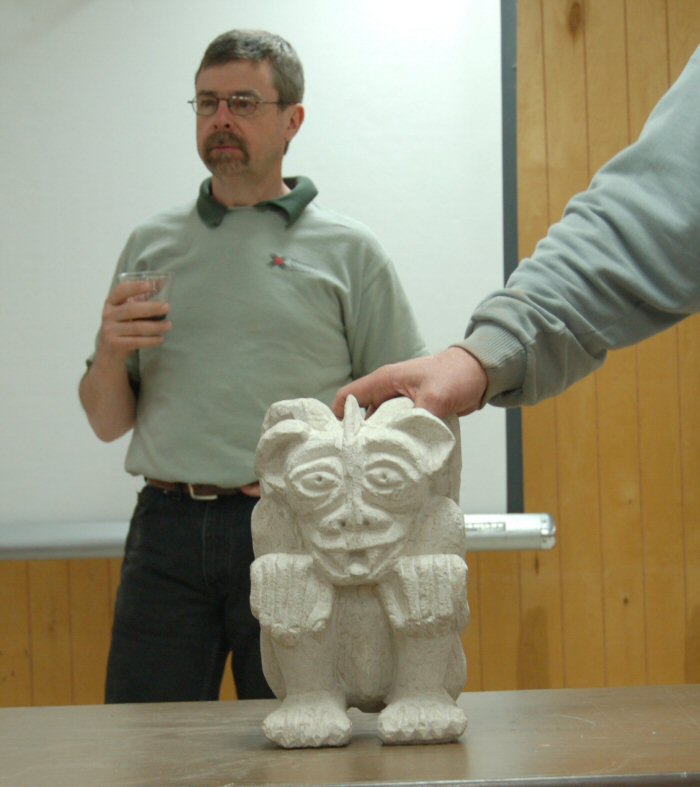 Limestone gargoyle, hand carved and donated by John McDougall.

Alex Chernov donated an authentic Russian wool felt sauna hat.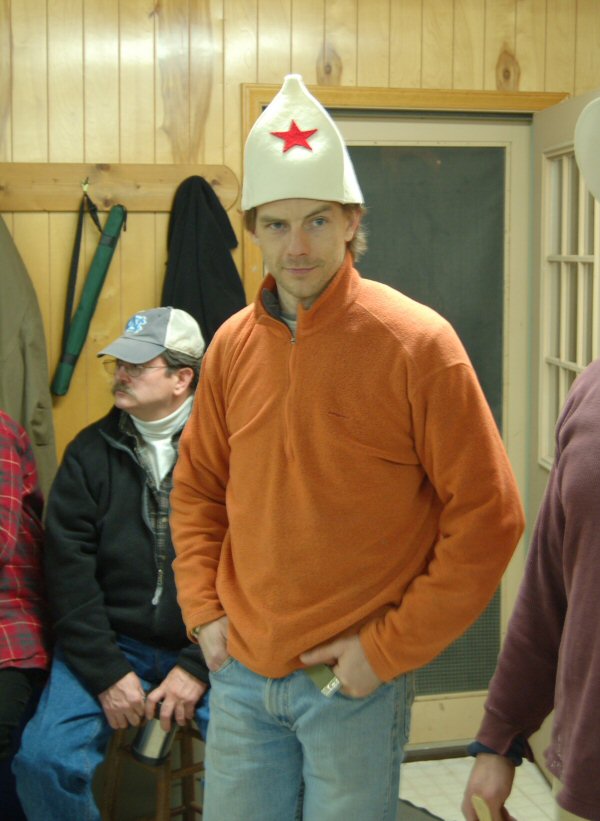 It had William Davenport's name written all over it, and he bid it up in excess of $100.00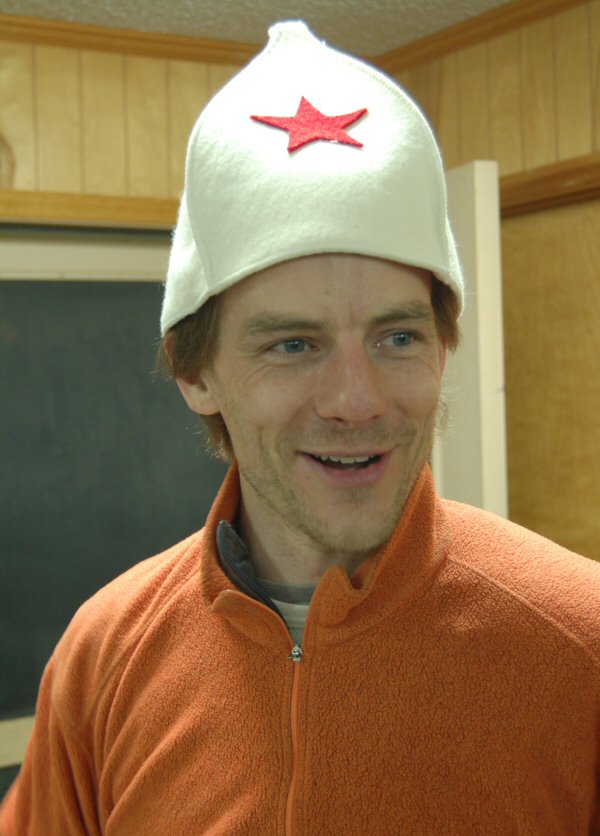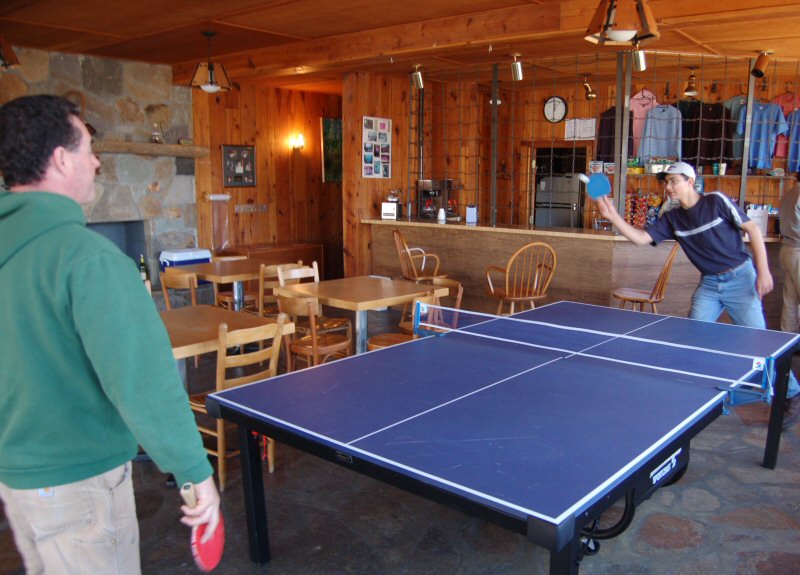 André Demary challenges Colin to a ping pong tournament in the canteen. At 15, André is MHA youngest member, and also
youngest voting member. Colin gave him pointers on technique in the bricks and mud session. We think André has "the knack".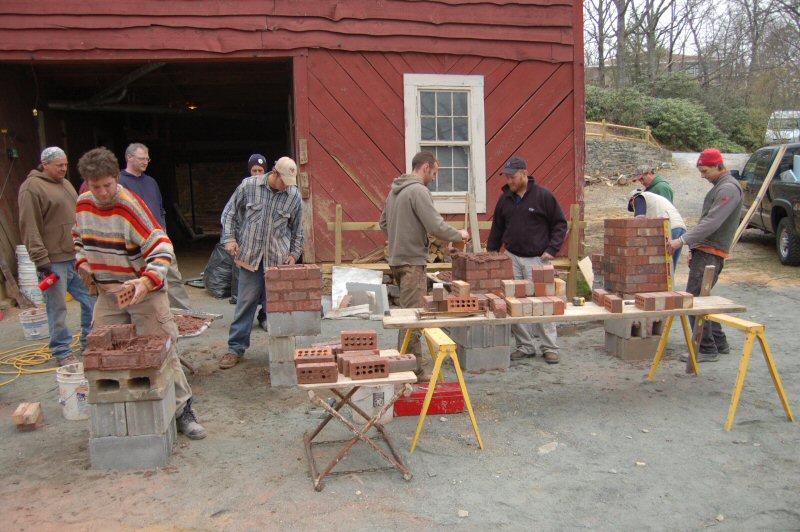 Hands-on portion of MHA's certification test.
MHA's new Vice-President William Davenport is in charge of education and certification. He is judging a finished test piece for plumb.
More certification photos.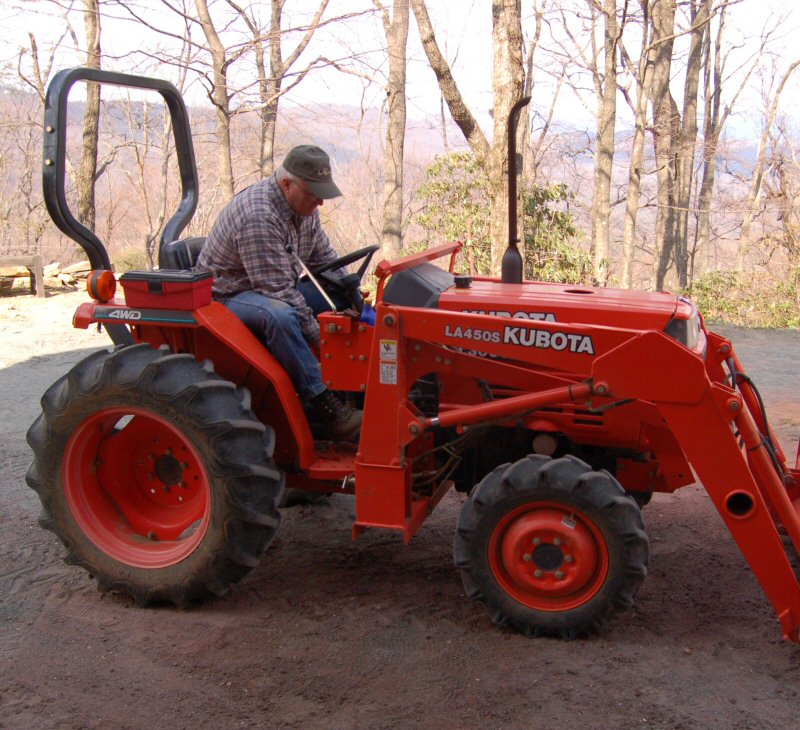 Cleanup. Dave Moore fires up the tractor.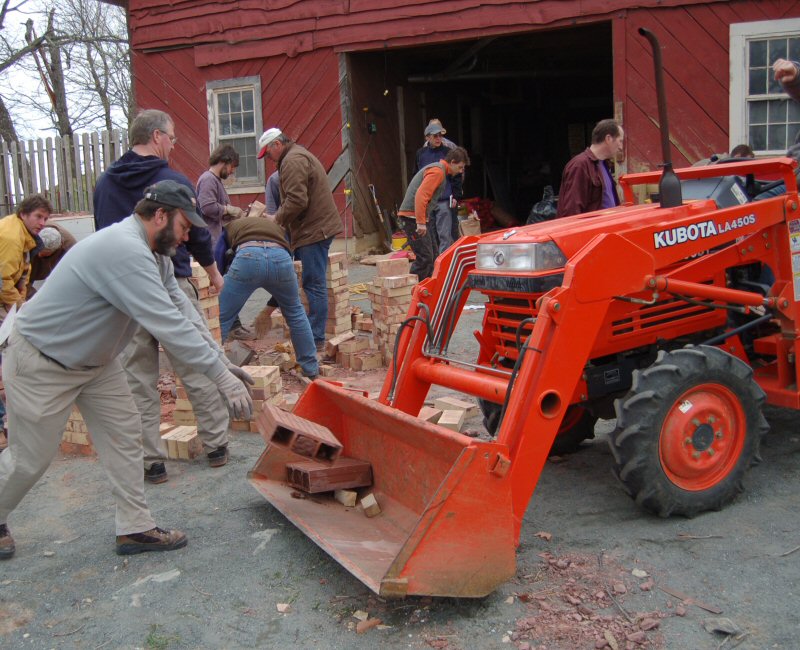 With a yearly cycle, cleanup gets more and more organized. This year was the smoothest and fastest ever.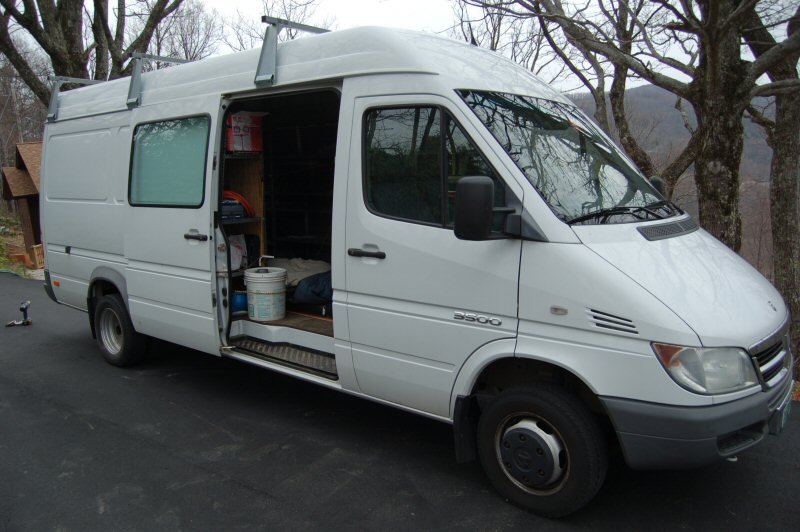 David Toalston is the second member of MHA's Sprinter Club. Are we seeing a trend away from the Dodge Cummins?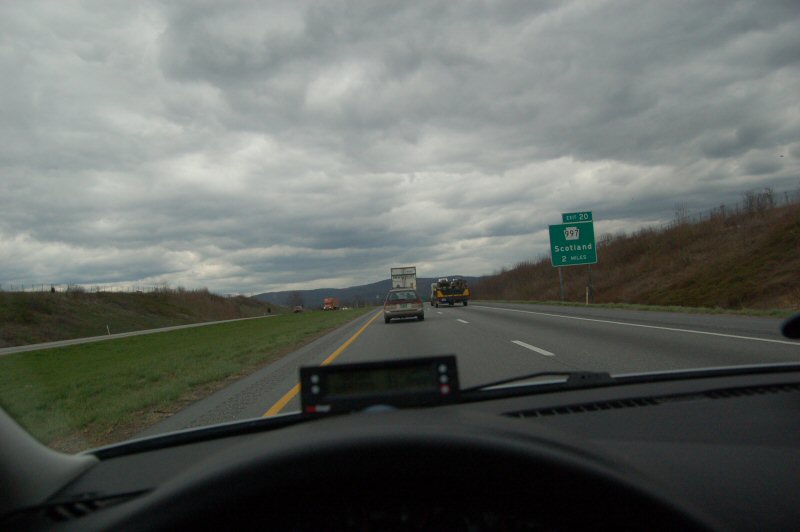 Heading out. On the way home, Colin and I spent the night at William Davenport's family hunting compound in PA. It looks to be
perfectly suited as a permanent MHA workshop location for, for example, skills training for newer masons. Check it out.
See also,
2006 Photo Report
2004 Photo Report
2003 Photo Report
2002 Photo Report
2001 Photo Report
2000 Photo Report
1999 Photo Report
1998 Photo Report
1997 Photo Report
This page was last updated on April 22, 2008
This page was created on April 22, 2007
Back to: