2003 MHA Annual Meeting
April 14-22, 2003
at Wildacres Retreat,
Little Switzerland, North Carolina
See also,
Swedish Heater Workshop with Jerry Frisch
French Bake Oven Workshop with Norbert Senf
Hikari Fukazawa's Presentation on Japanese Forestry
Field Trip to Tom Trout's Heater Showroom

Note: This is a long page with many graphics. If you are on a dialup connection and the page does
not fully load, hit the "Reload" button on your web browser.
Photo Report
by Norbert Senf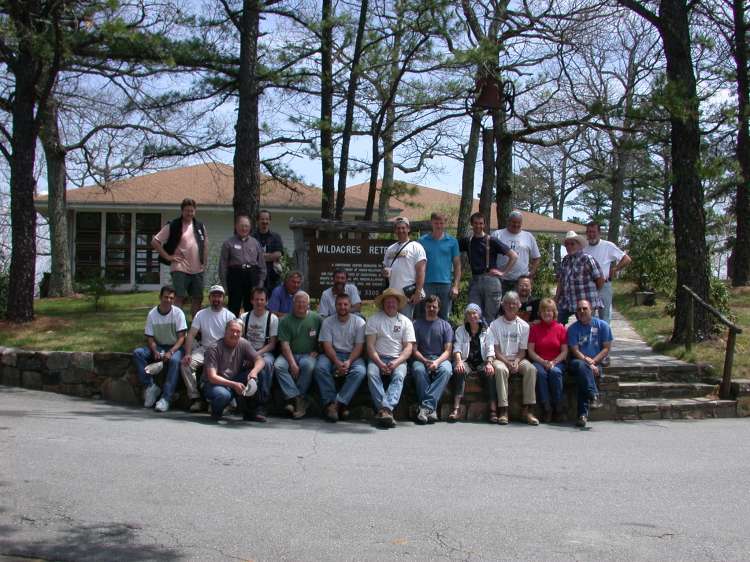 Group photo - 25 of the 33 attendees this year - a record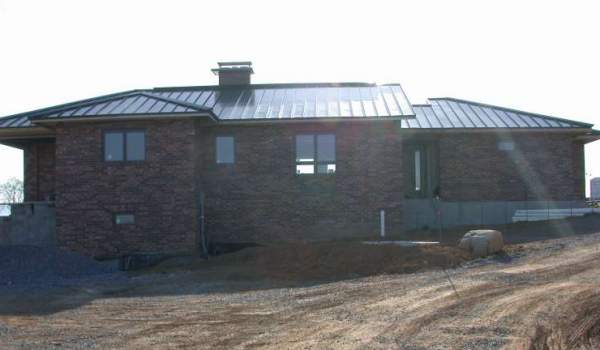 I drove down from Shawville, Quebec and stopped in Hagerstown, Maryland, to check out David Moore's new house.
David is a Frank Lloyd Wright fan, and his house reflects this.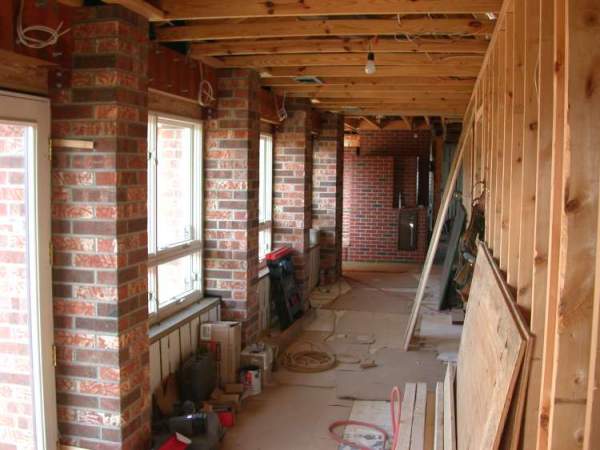 South facing atrium space. Masonry heater complex is visible.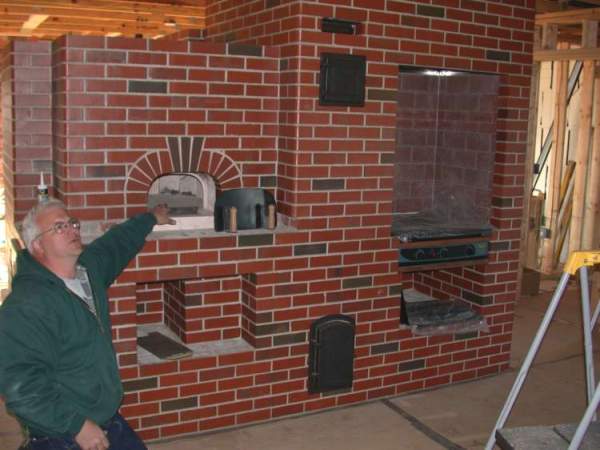 Central masonry heater complex. This is the kitchen side and features a Le Panyol bake oven and a
built in gas grill.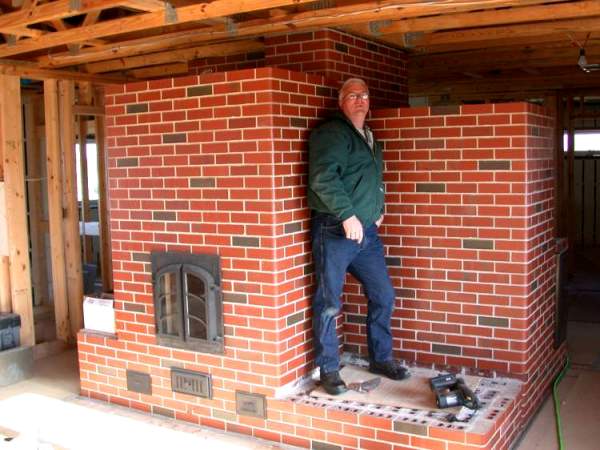 Heat-Kit masonry heater with heated bench in front. Note the bullnosed corner bricks.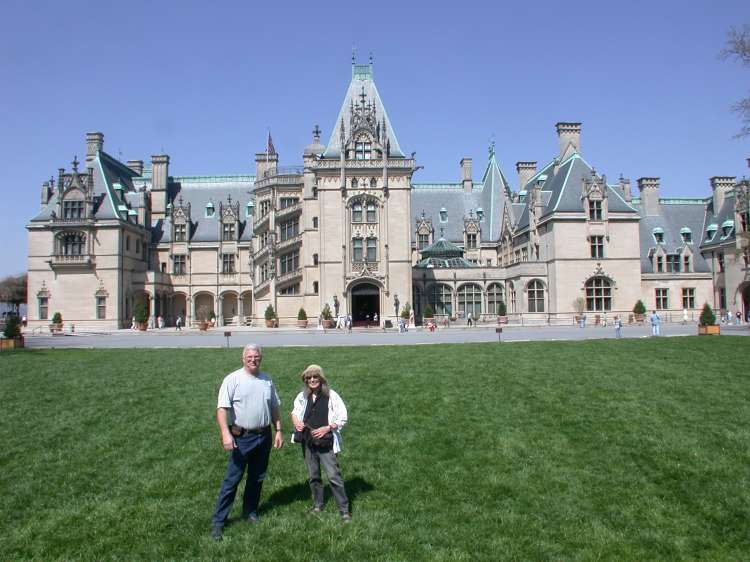 Dave and I arrived at Wildacres a day early, as did Jay Hensley.
We went to Asheville and toured the Biltmore Estate - highly recommended.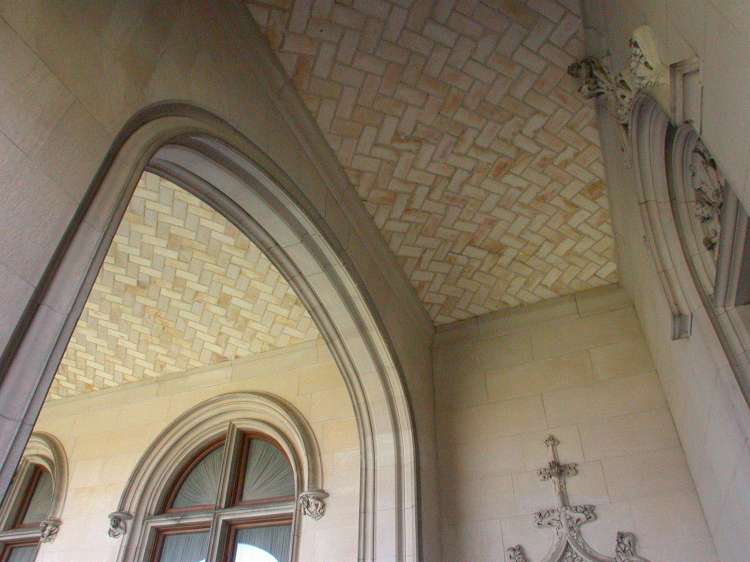 Detail of Gustavino tiled vaulting work.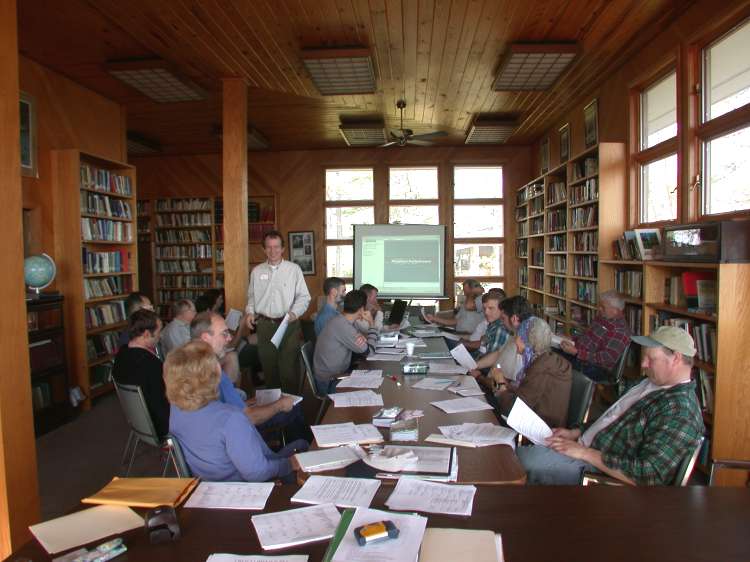 Wildacres library.
We got down to business on Tuesday morning.
MHA treasurer Rod Zander presents his financial report.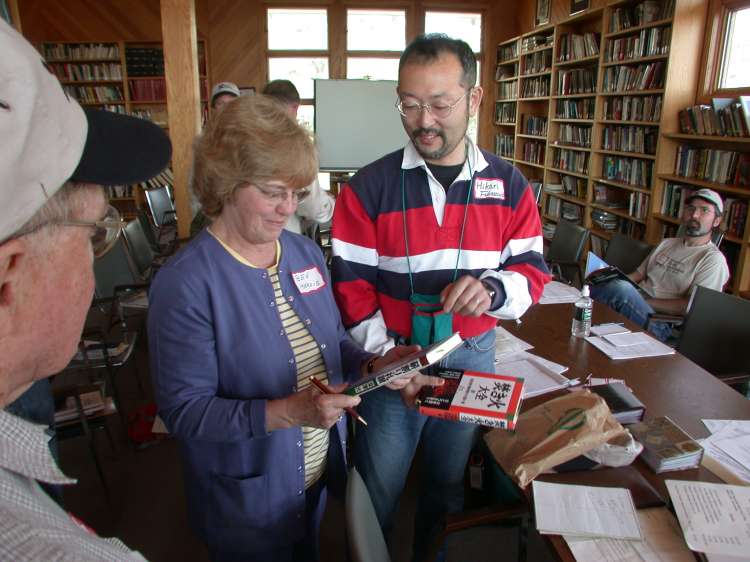 Hikari Fukazawa is a Japanese professional forester interested in appropriate use of firewood.
He presents MHA administrator Bev Marois with copies of his two books as Bill Derrick and Ken Matesz look on.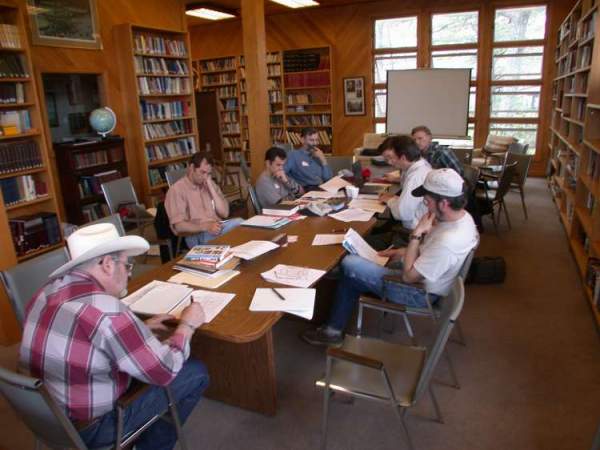 For the afternoon session, we had an ASTM meeting. The other half of the group built the base for
the French bake oven workshop


Panorama of the dining hall at Wildacres.
As we've now come to expect after seven years, the food was top notch - 3 meals per day.
We shared the facilities with a group of lapidary enthusiasts (gems and minerals)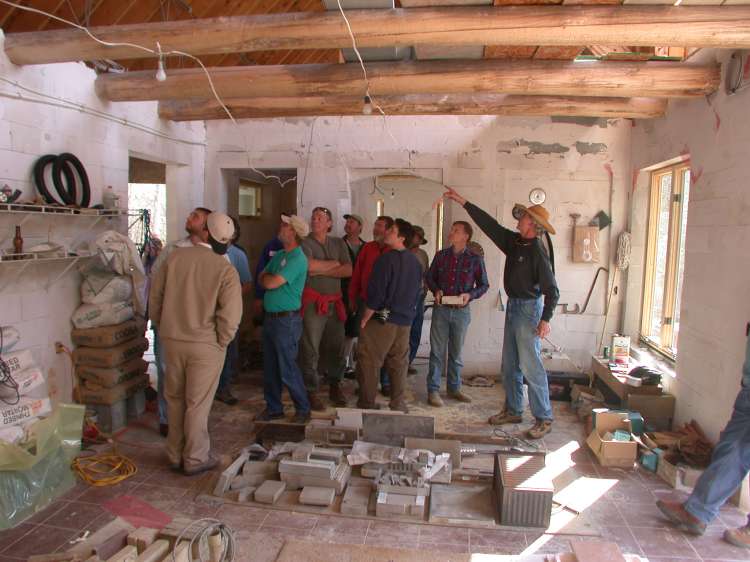 We organized a field trip to Tom Trout's new showroom, which is built from AAC (Aerated Autoclaved Concrete) blocks.
The highlight was dismantling and then dry stacking a Tigchel precast heater from Holland, with many innovative features.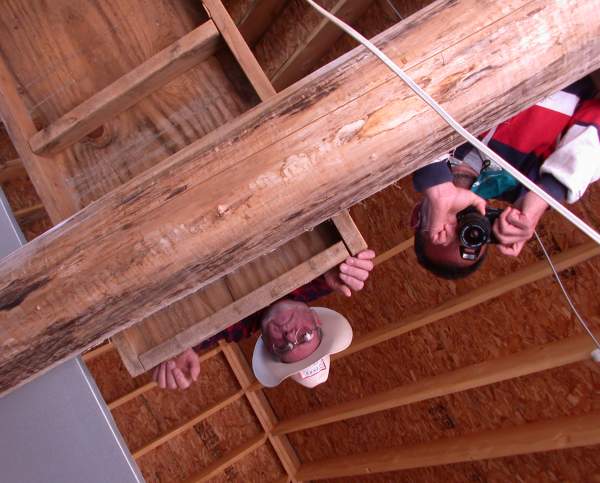 Jerry Frisch and Hikari Fukazawa get a bird's eye view of the excitement.
Click here for the full field trip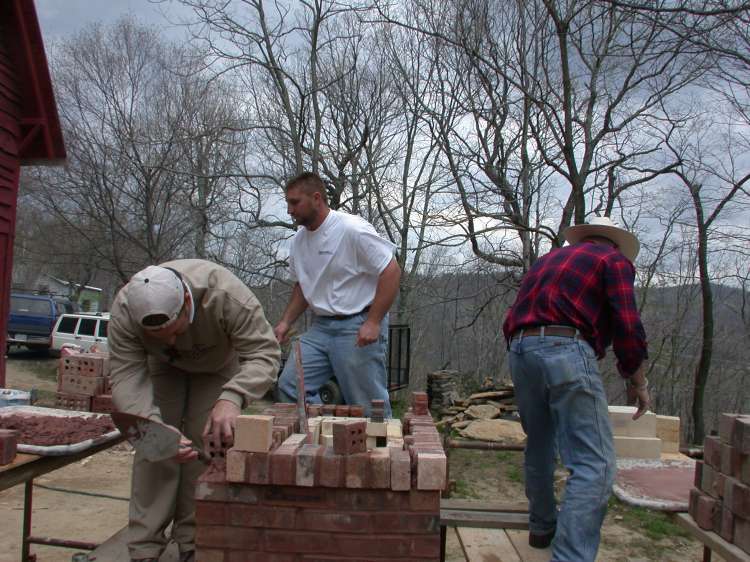 Back to our workshop site behind the barn at Wildacres.
Gregory Mason and Scott Helms demonstrate their skills on the Swedish heater.
Click here for the full Swedish Heater Workshop.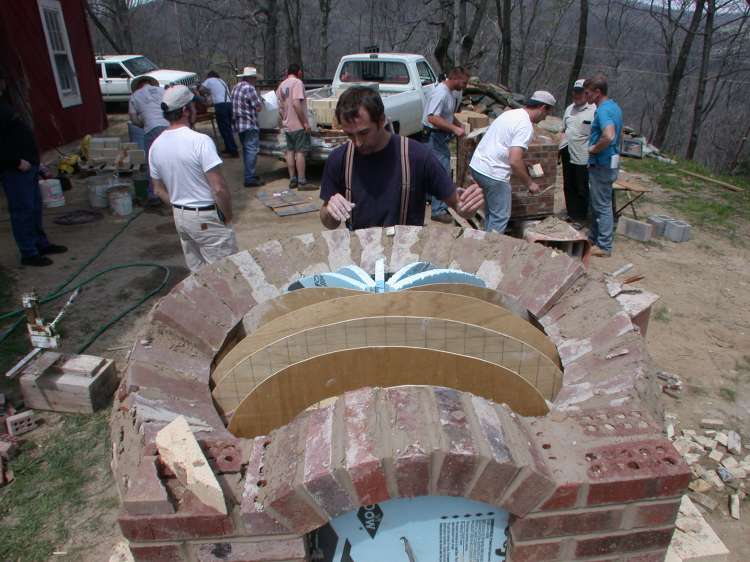 I presented a workshop on traditional French oven construction.
Here John Fisher lays up firebricks.
Click here to see the full workshop and pizza party.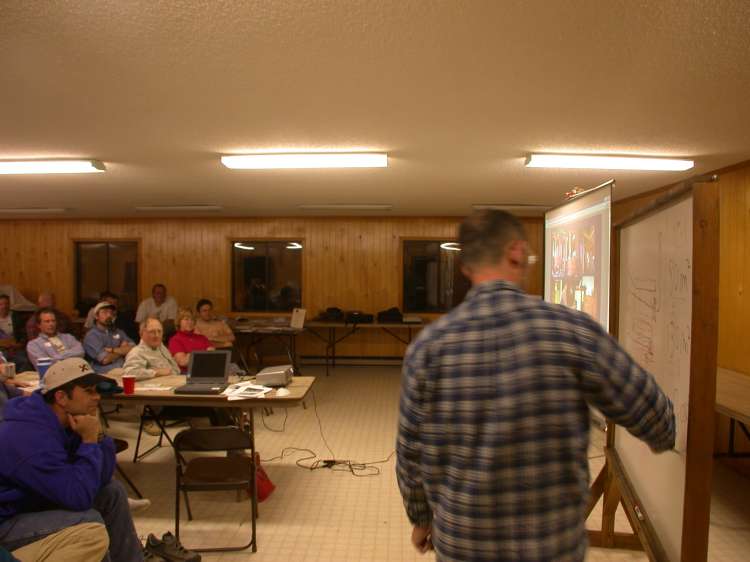 Hikari Fukazawa travelled from Japan to attend the MHA Meeting.
He gave us an excellent presentation on Japanese forestry practices and firewood use.
Click here for Hikari's presentation.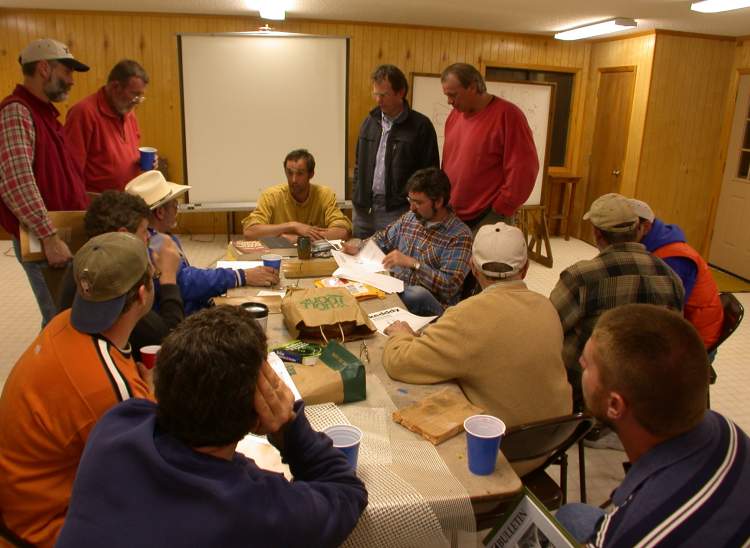 John Fisher lives in Sweden now and builds and repairs traditional heaters.
He gave a presentation on Swedish techniques and practices.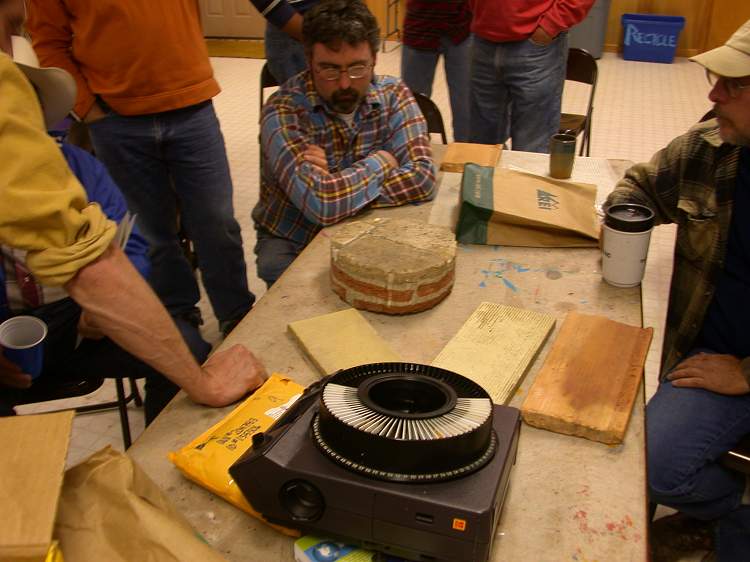 Historian Peter Austin gave a presentation on the Gustavino tiled masonry vaulting technique.On the table are
samples from actual historical Gustavino work.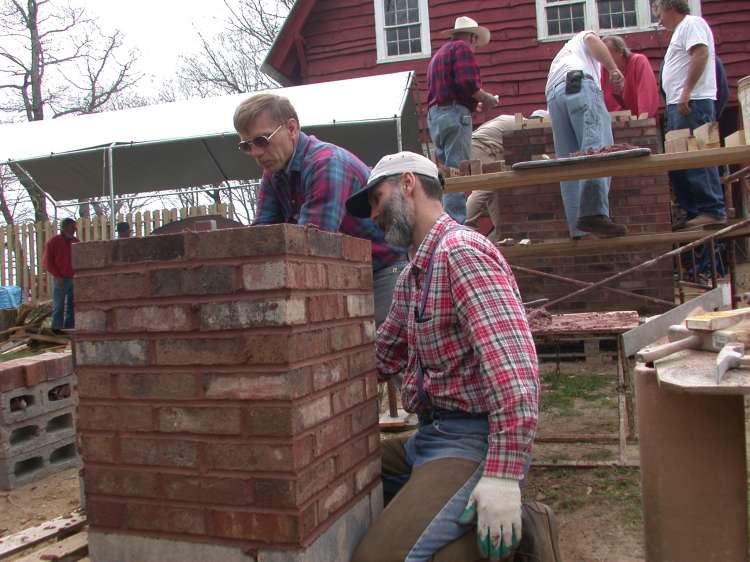 Dan Givens and Tim Seaton both did their hands-on test for MHA Heater Mason Certification
Swedish heater project is behind.
To the left is the French bake oven project. It was threatening to rain,
so we got out the tent to protect the pizza party area.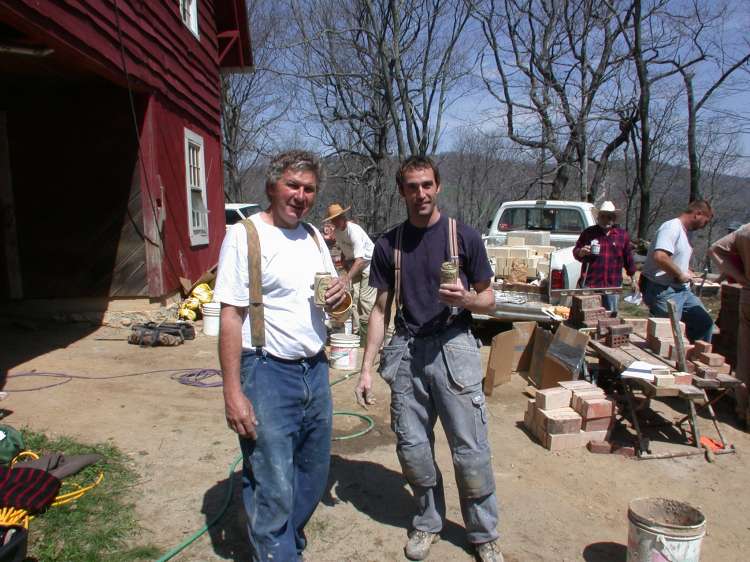 Jersey Johnny Z and Gothenburg Johnny F gave us a fashion show.
Johnny F lives in Sweden now and sports the latest in mason's casual wear.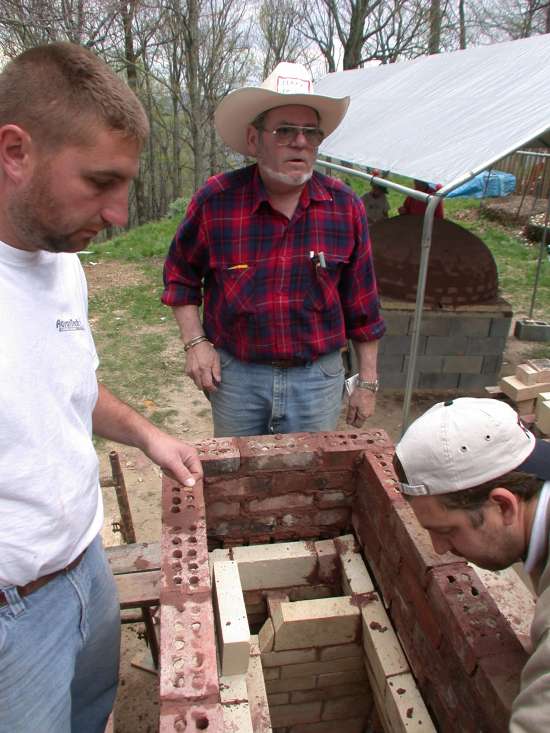 Jerry Frisch leads the Swedish heater build.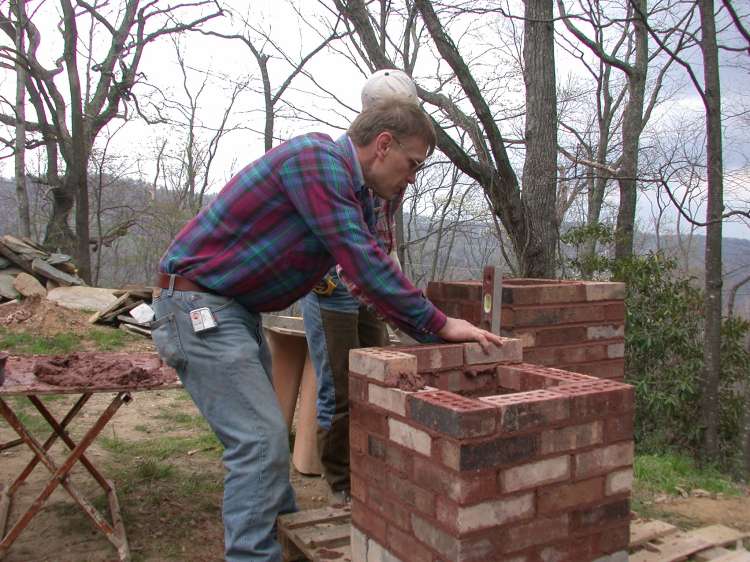 Dan Givens, who travelled from Alaska, demonstrates his bricklaying skills on the test chimney section.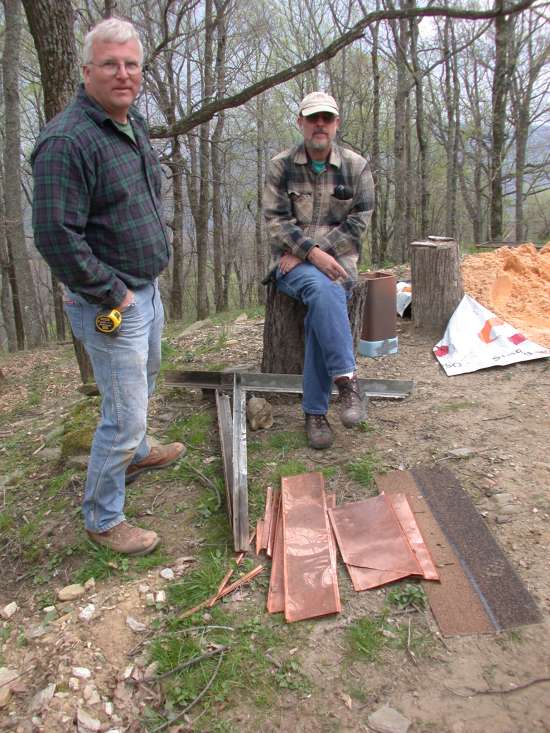 David Moore and MHA secretary Gary Hart take a break. Gary is preparing copper flashing
and chimney crown molds for his chimney flashing workshop.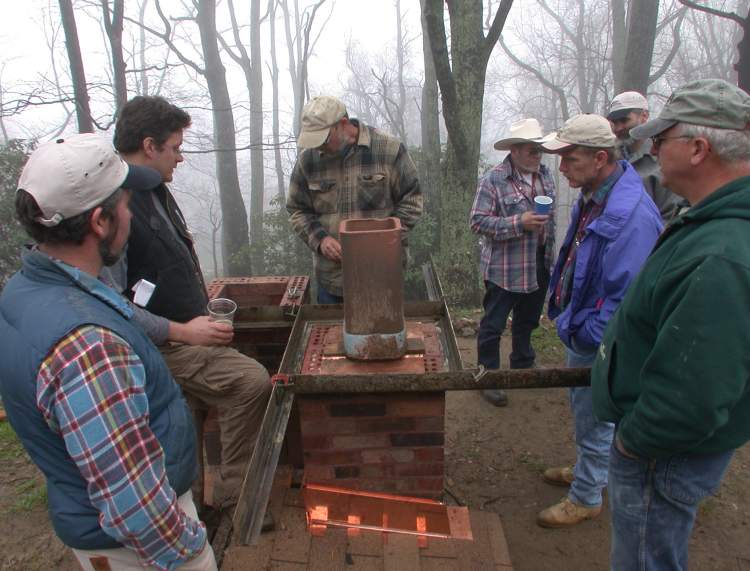 Modular form in place for casting chimney crown. Note expansion joint around flue liner.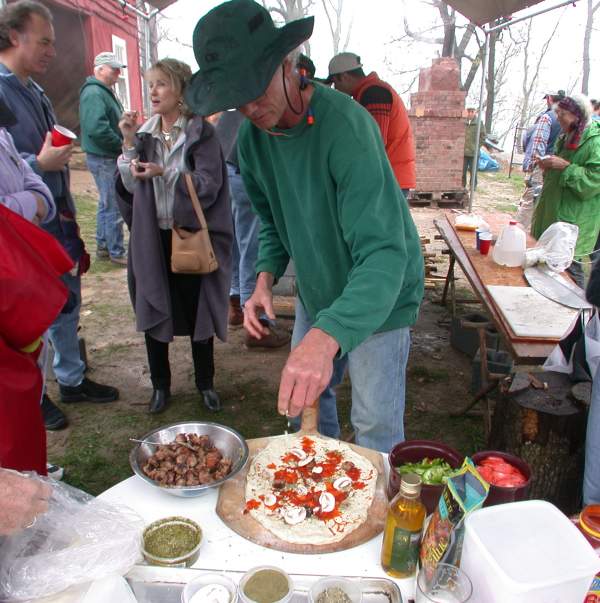 Tom Trout displays his wood fired pizza culinary skills.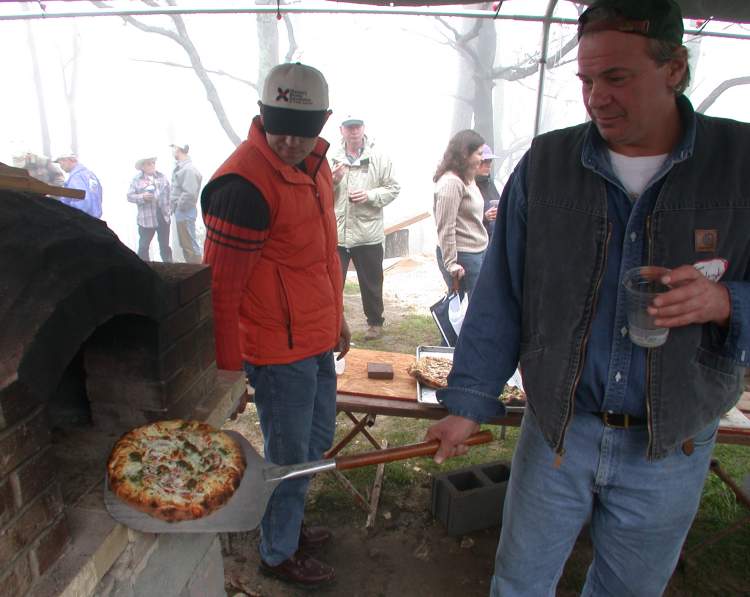 Perfect pizza.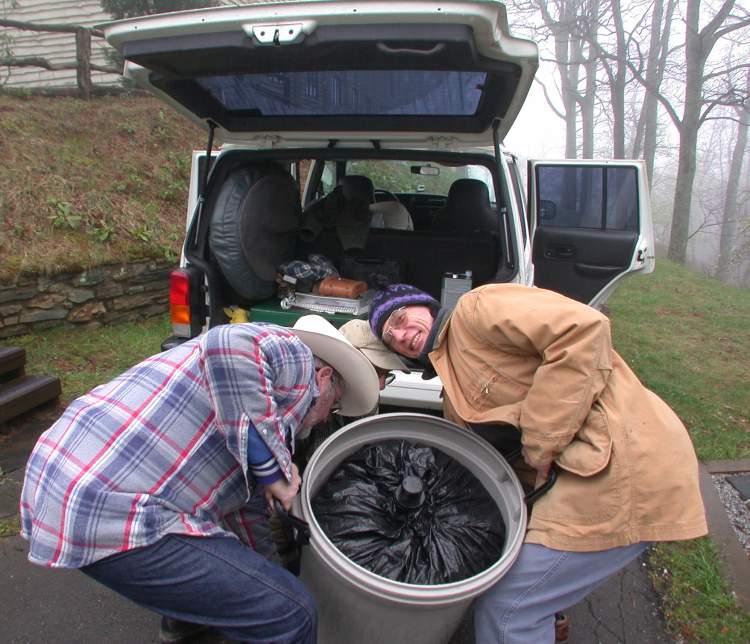 MHA executives take care of important business - the beer keg.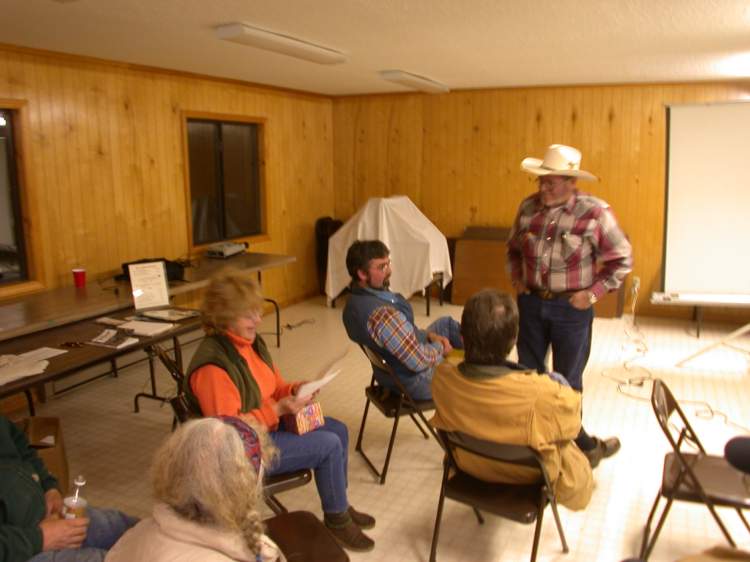 Jerry presents Bev with a token of MHA members' appreciation of her dedicated work on our behalf.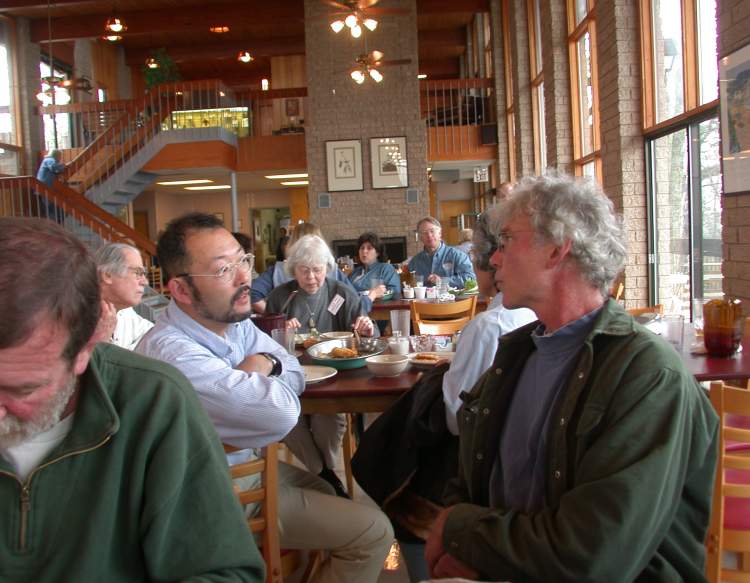 Tom Trout and Hikari Fukazawa in deep discussion after lunch.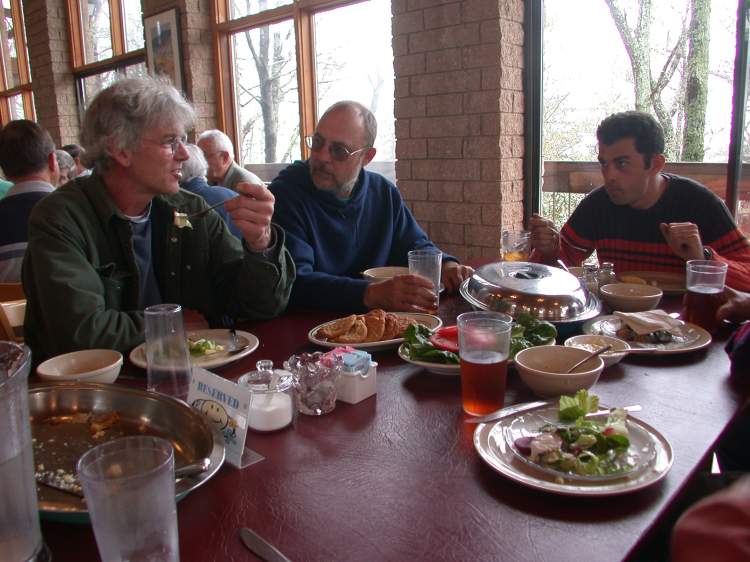 Tom Trout, Gary Hart and new member Eduard Breuer. Eduard is a second generation stove mason originally from Bosnia.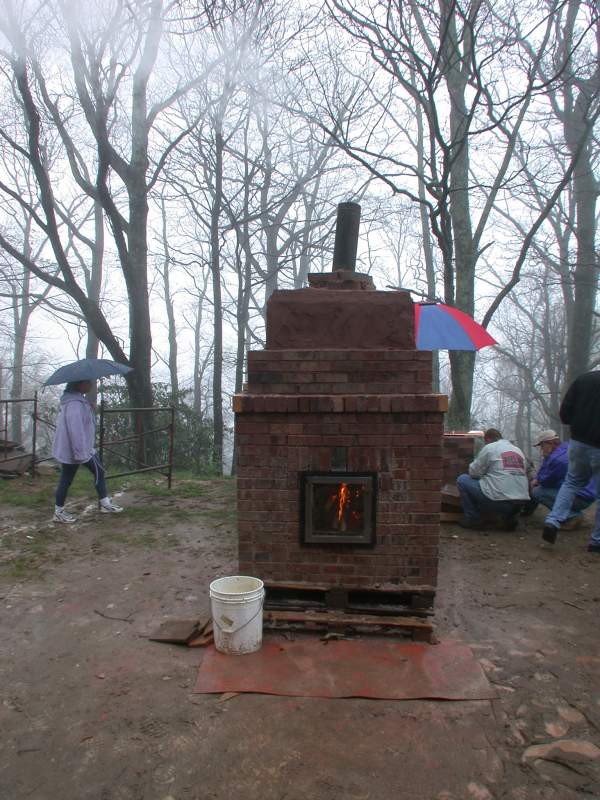 Drying theSwedish heater out in the rain. Clay mortar is washing out of the exterior brick joints.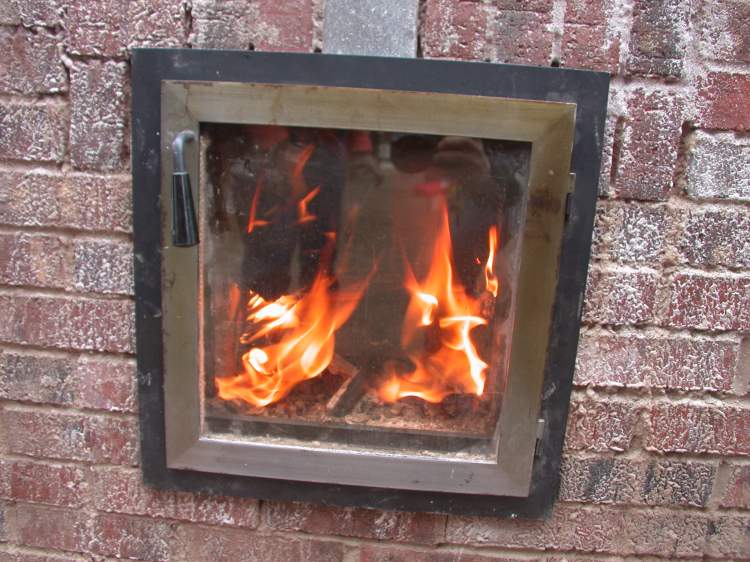 Nice clean fire. Note the washed out mortar jonts.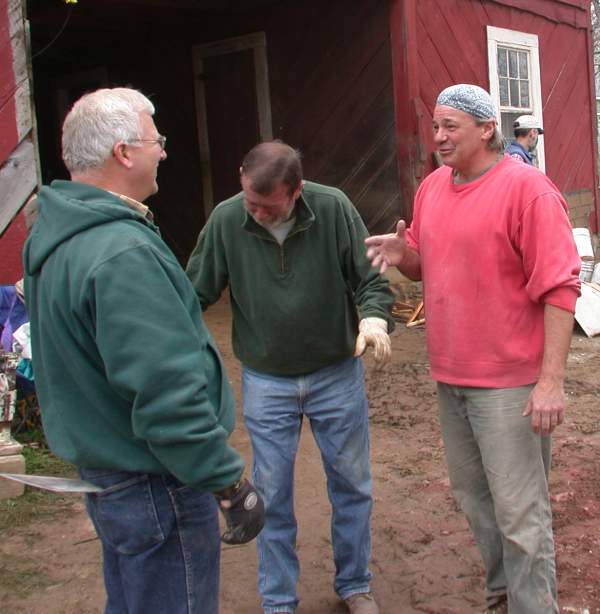 David Moore, Jim Purvis and Tom Hagelund share a joke during teardown and cleanup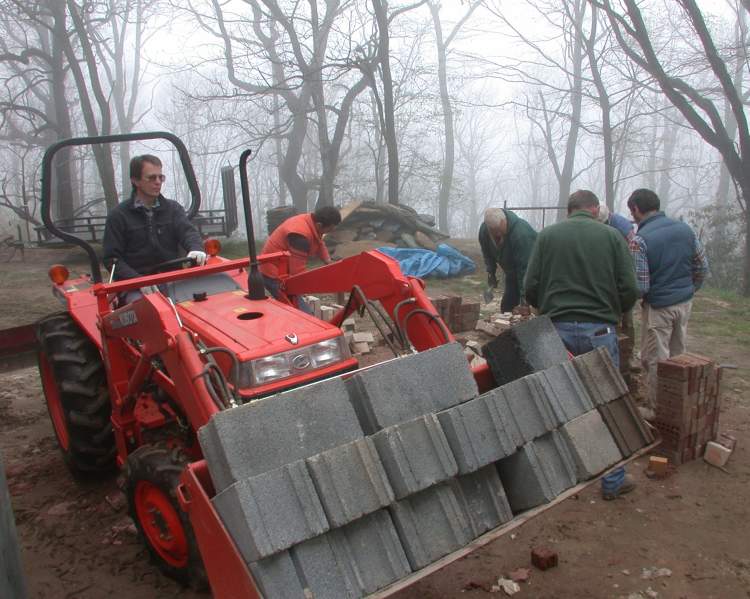 Rod Zander on his concrete block farm.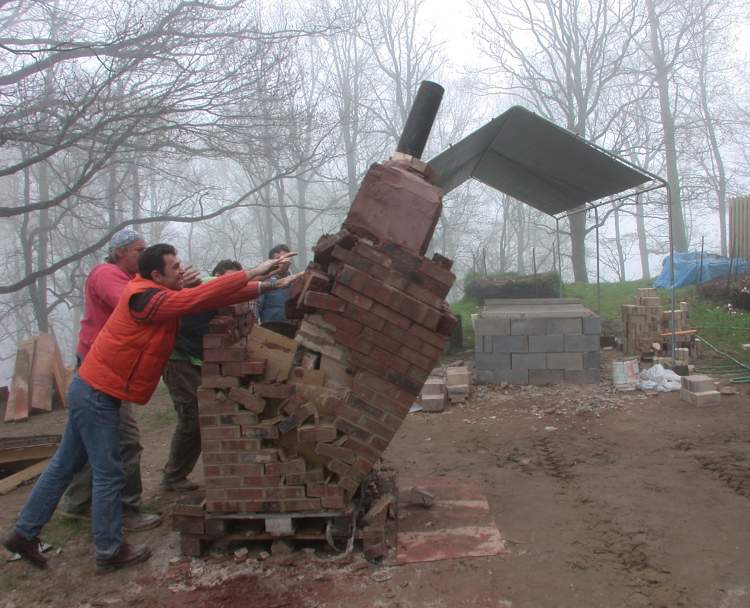 Guys just wanna have fun.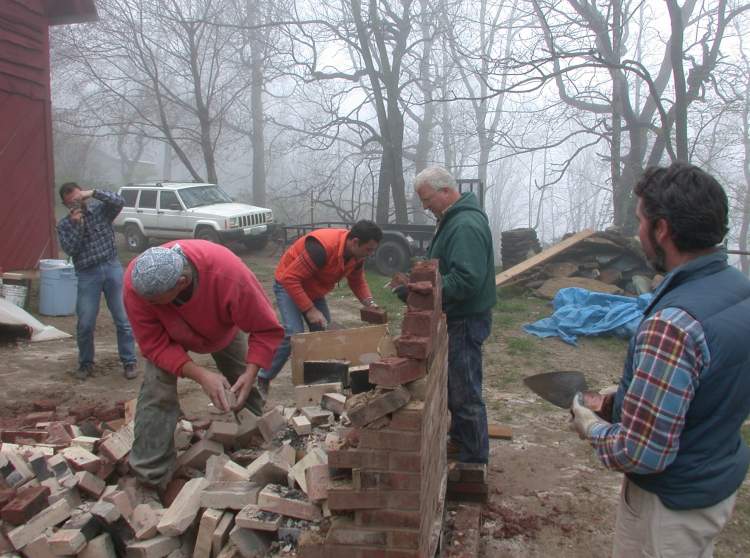 Teardown and cleanup.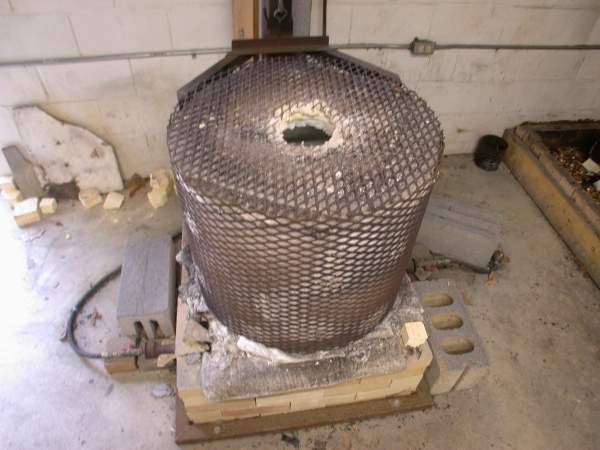 Our "hanging out" room was located above the pottery studio.
This is a raku kiln in the studio.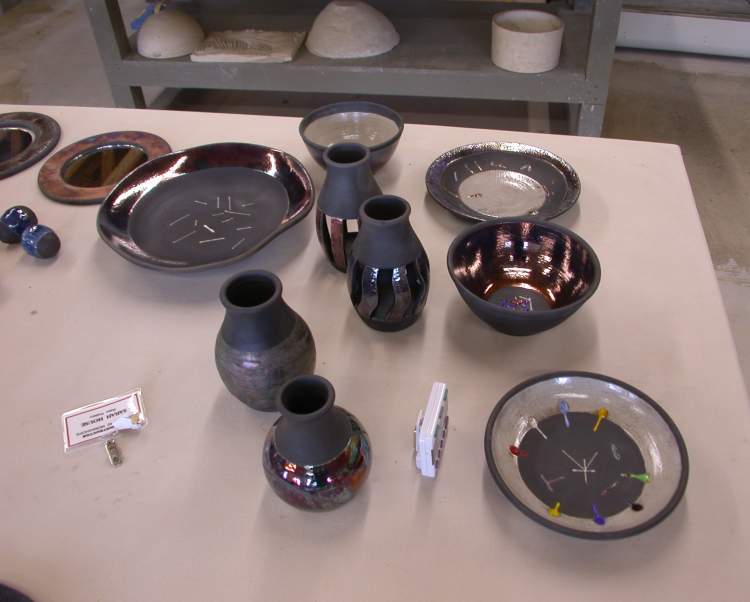 Raku pottery by Sarah House fresh from the kiln. Sarah's dad Mike keeps Wildacres running smoothly.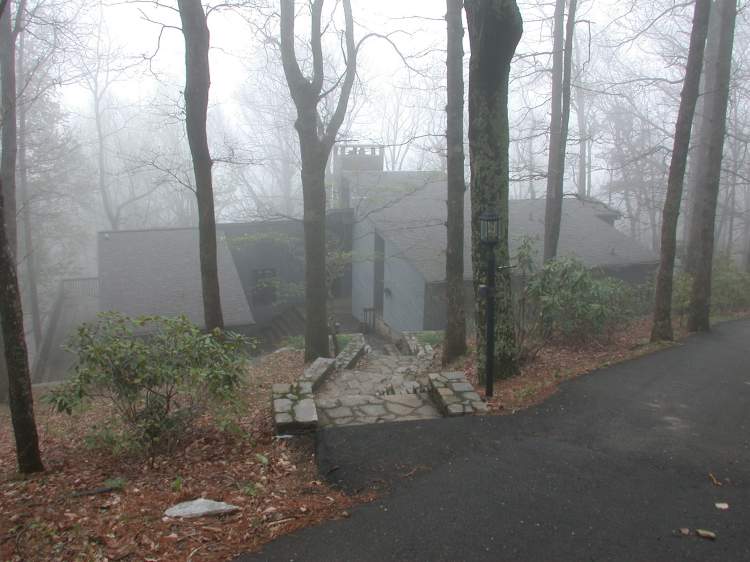 Phillip Blumenthal's house at Wildacres. He is the newphew of I.D. Blumenthal, who acquired Wildacres and created a
conference centre dedicated to the betterment of human relations. It's a great story.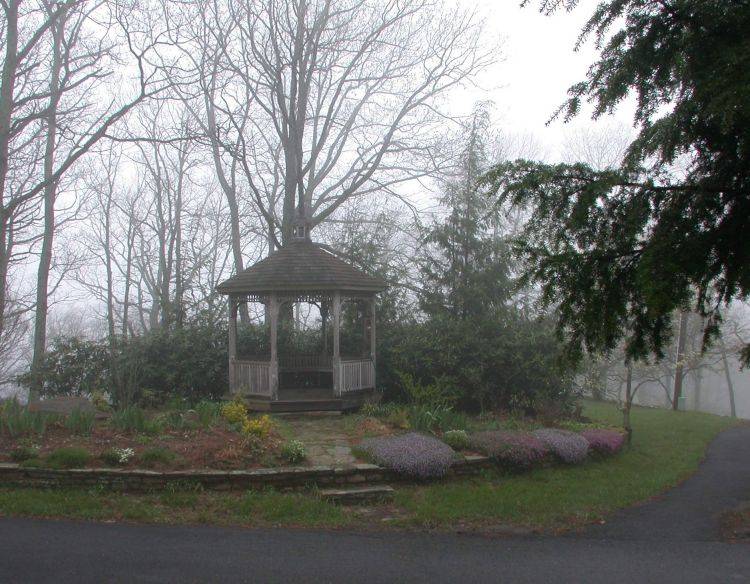 The Gazebo offers a quiet place to relax when the weather is nice.
See also,
2002 Photo Report
2001 Photo Report
2000 Photo Report
1999 Photo Report
1998 Photo Report
1997 Photo Report
This page was last updated on March 17, 2006
This page was created on April 18, 2003
Back to: