2012 MHA Annual Meeting
48" Dome Pizza Oven with Pat Manley and Marty Pearson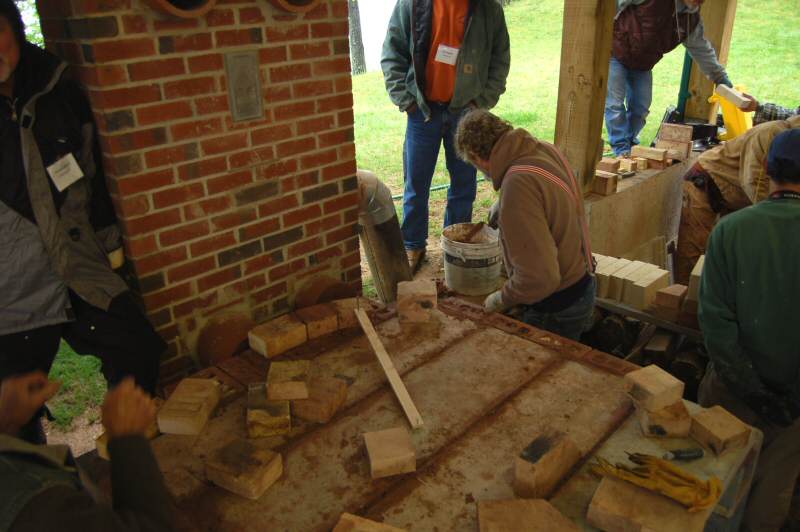 The base is in place.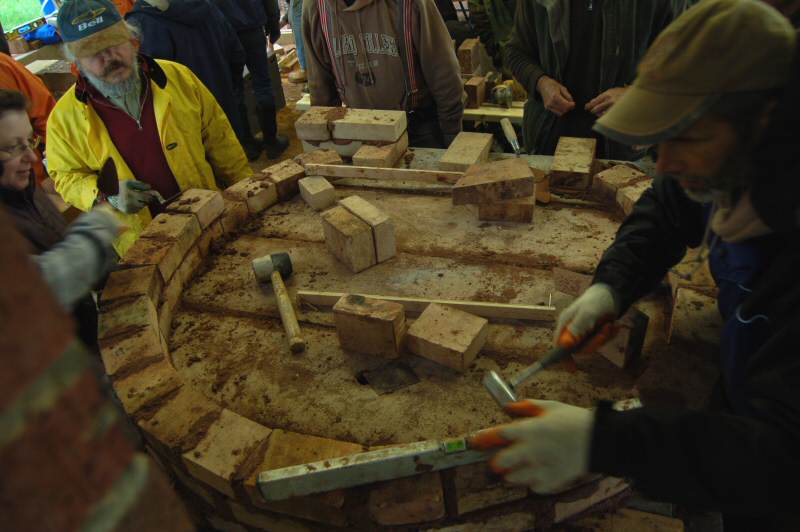 The half dome is started with a 48" circle to mark out the inside oven floor.
Half firebricks (bats) 4.5" x 4.5" are used.
The mortar is 3-4 parts sand plus 1 part Redart clay.
The joints are wedge shaped.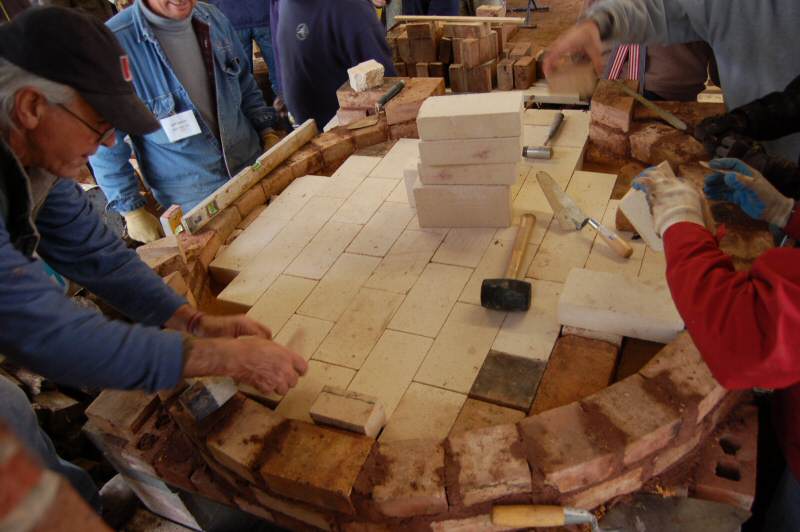 The firebrick floor is installed onto a bed of mortar. There are dry joints between the firebricks.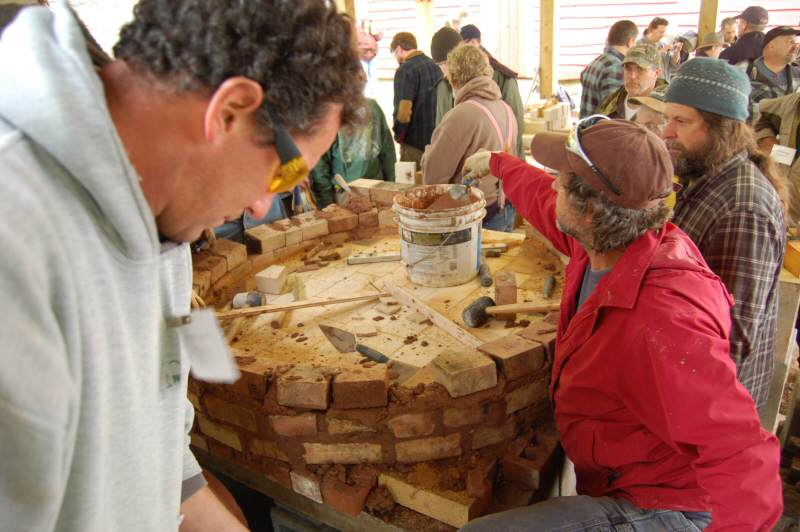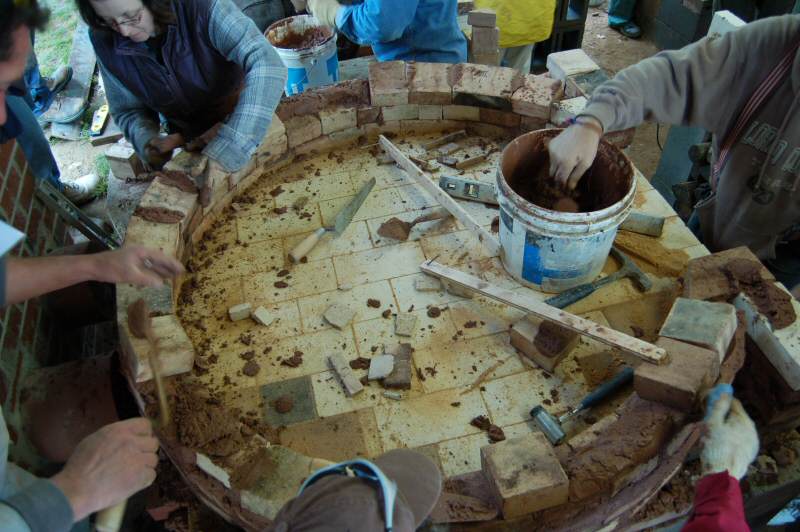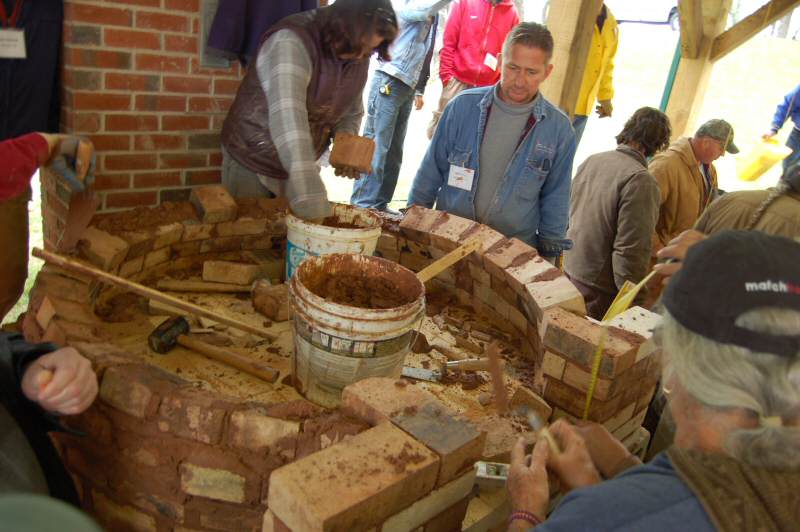 There is a holed drilled at the centre of the circle on the floor. The wooden guide stick visible at the right top of the
bucket, is used to maintain the hemishphere shape.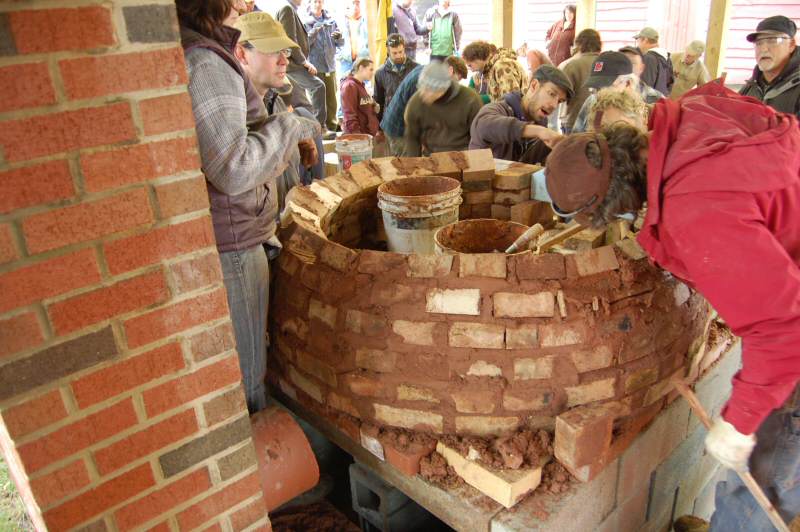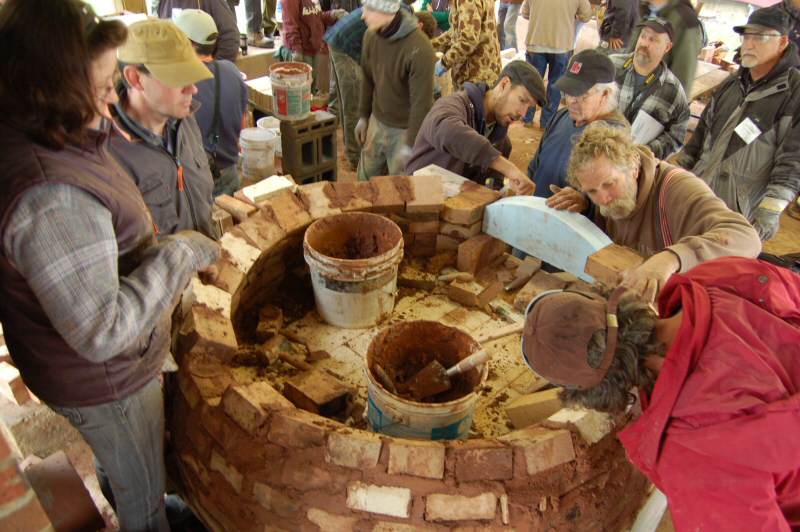 Arch form for the door opening.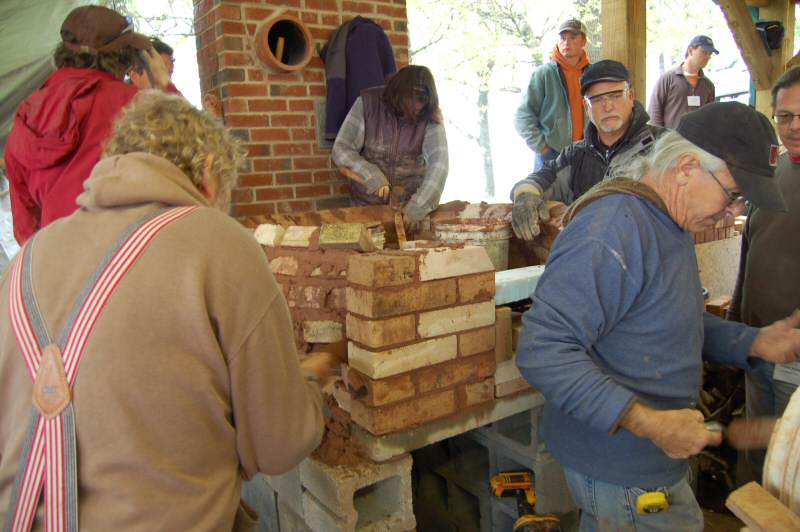 Door jamb.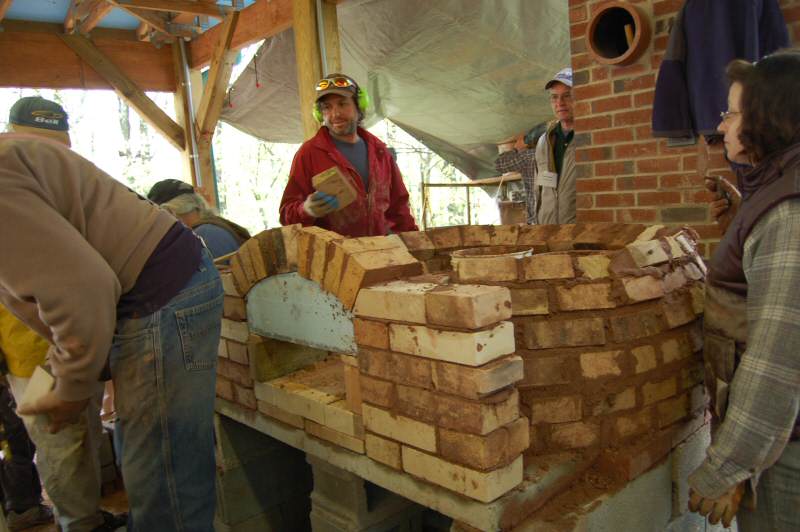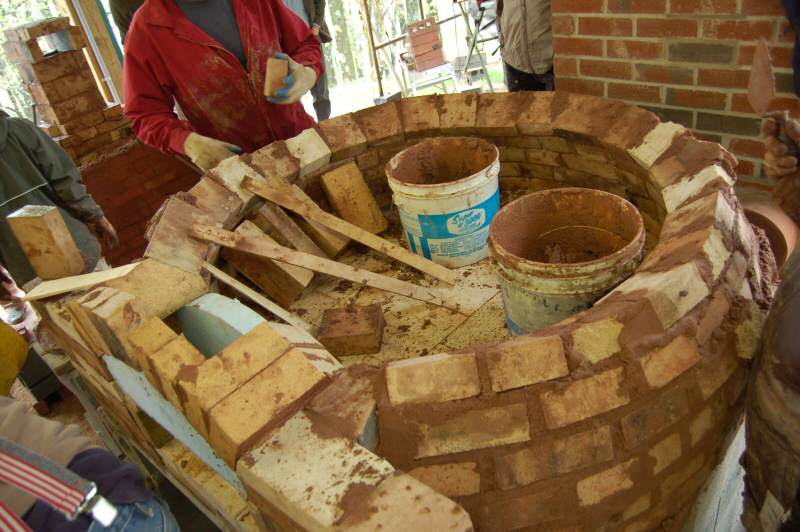 The exhaust throat formed in the door arch.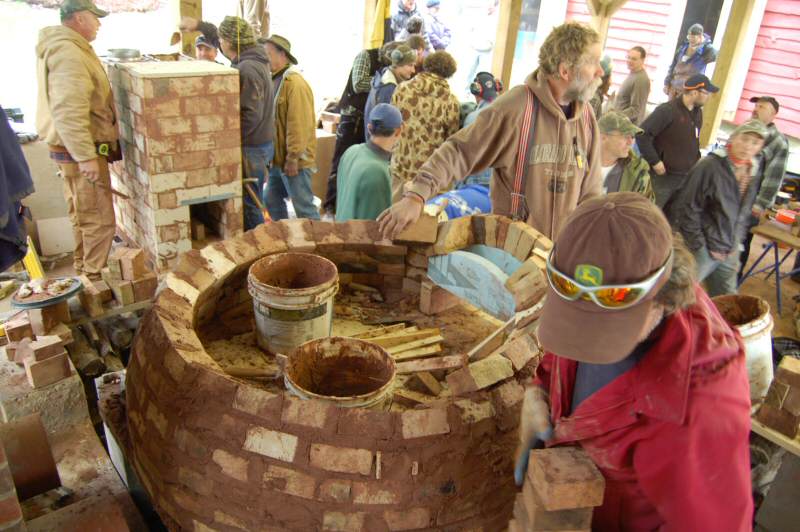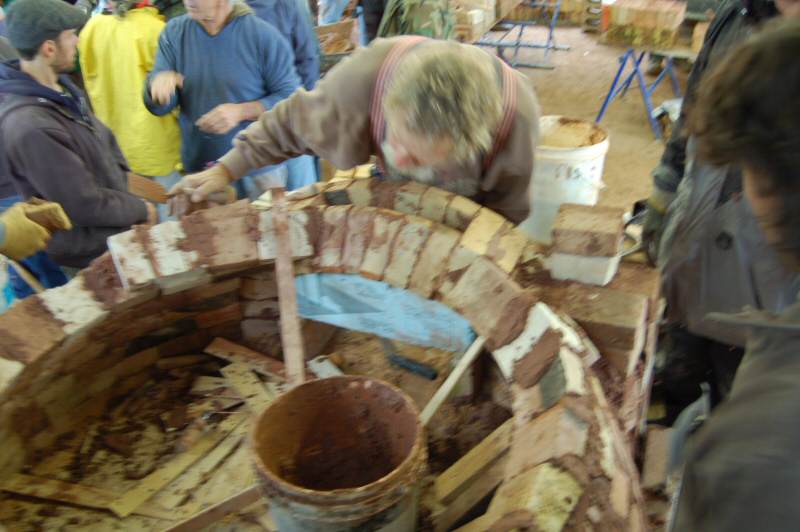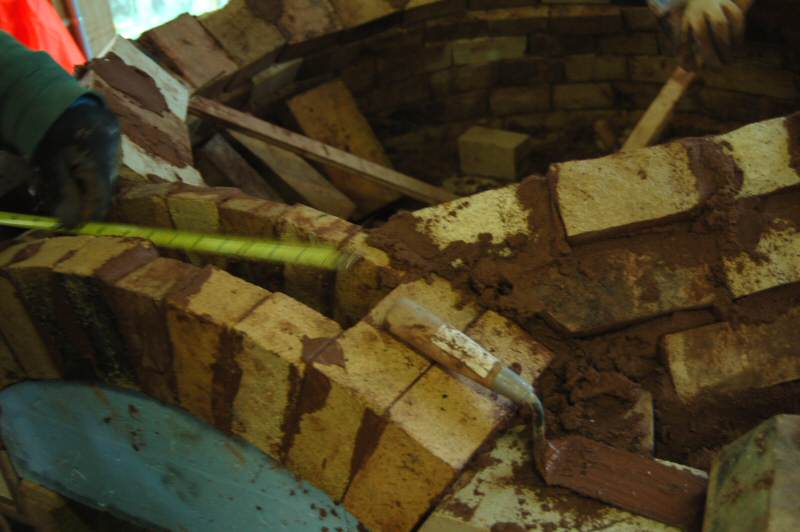 Throat.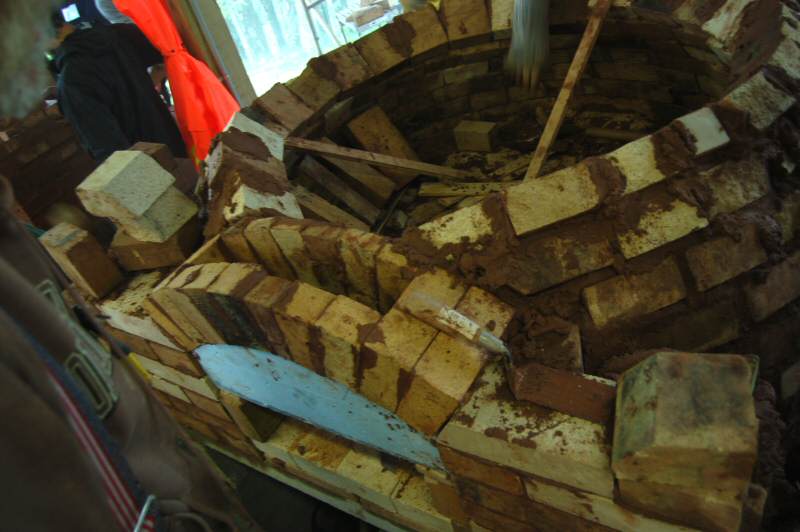 Some of the firebricks are wet, and don't have enough suction to dry out the clay for an initial set.
Bricks and sticks are used as temporary props.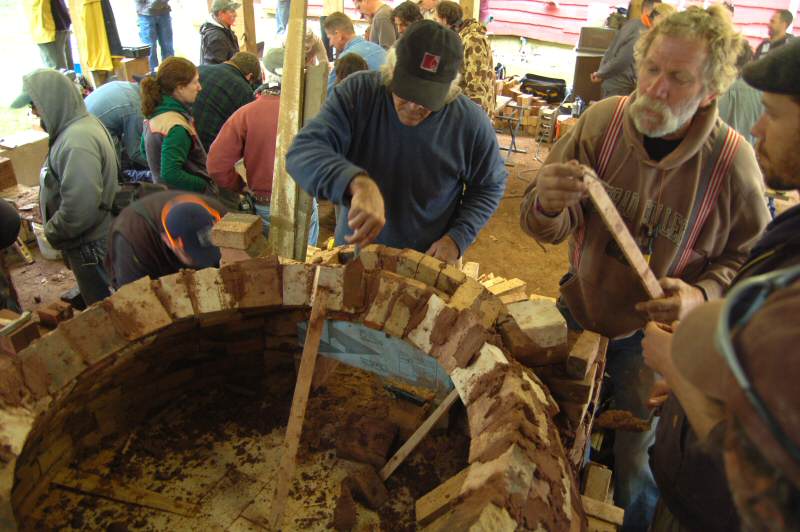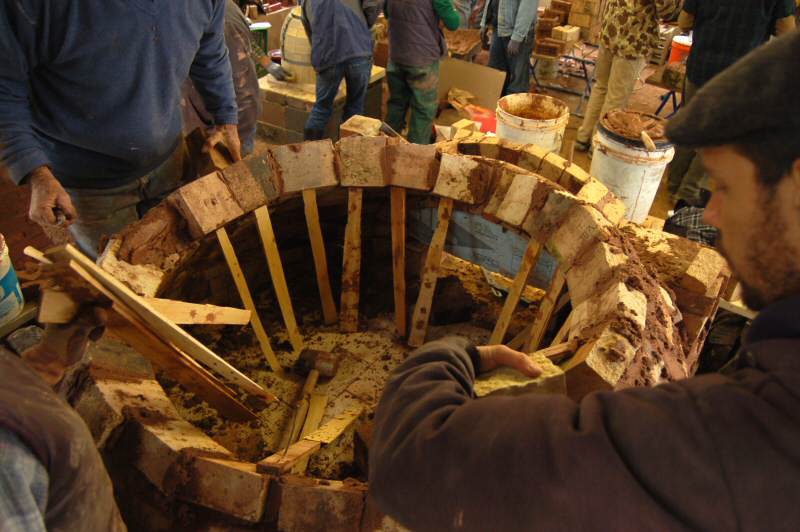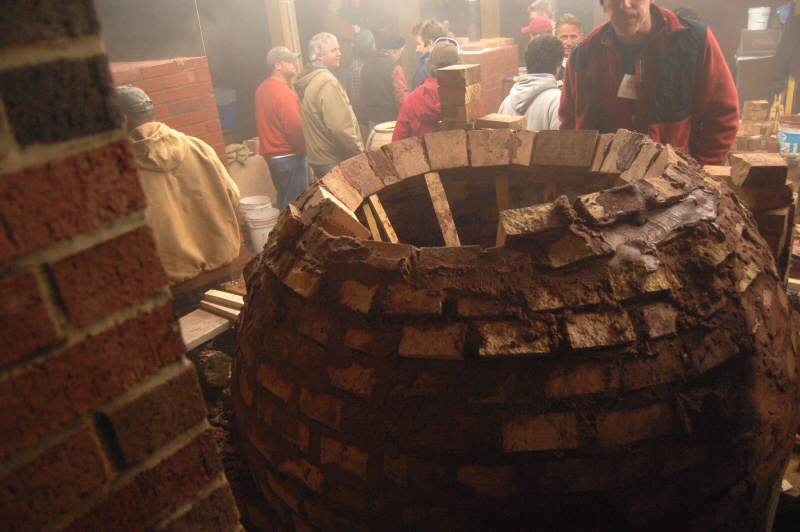 Continuing work after supper. Fog has rolled in on the mountain.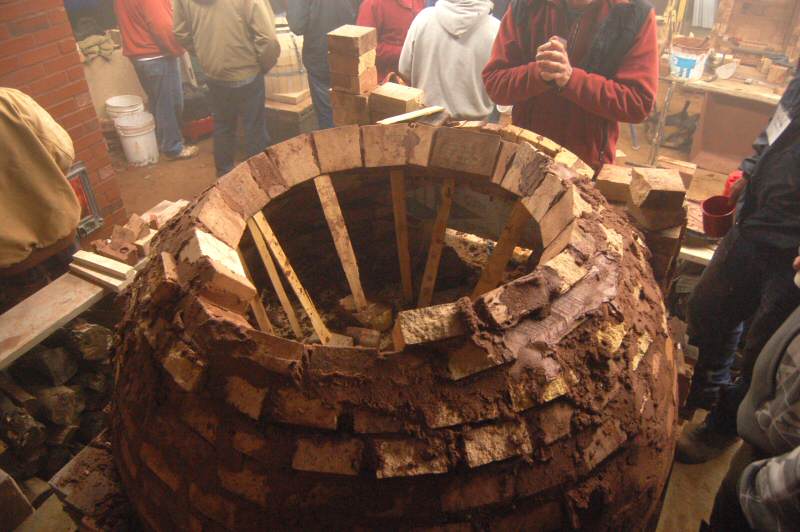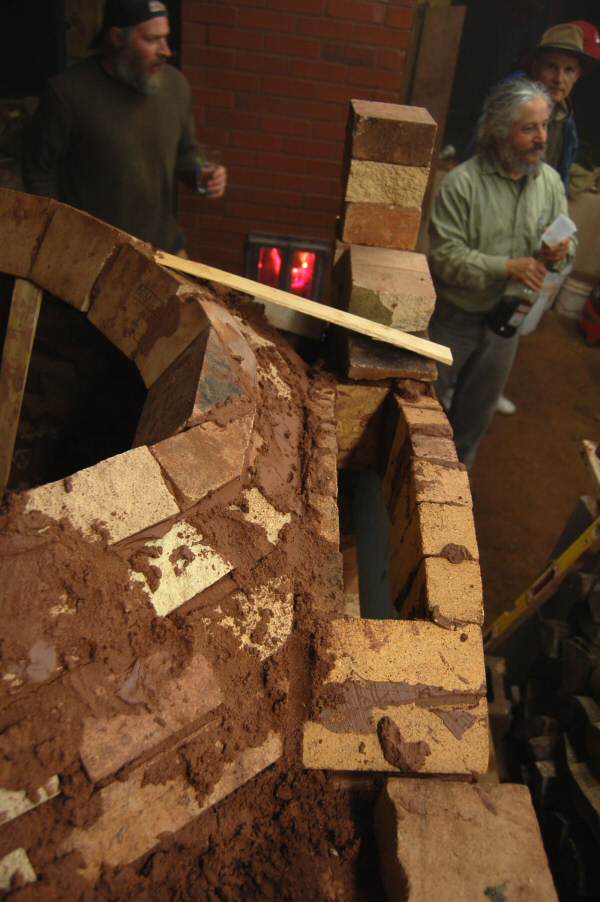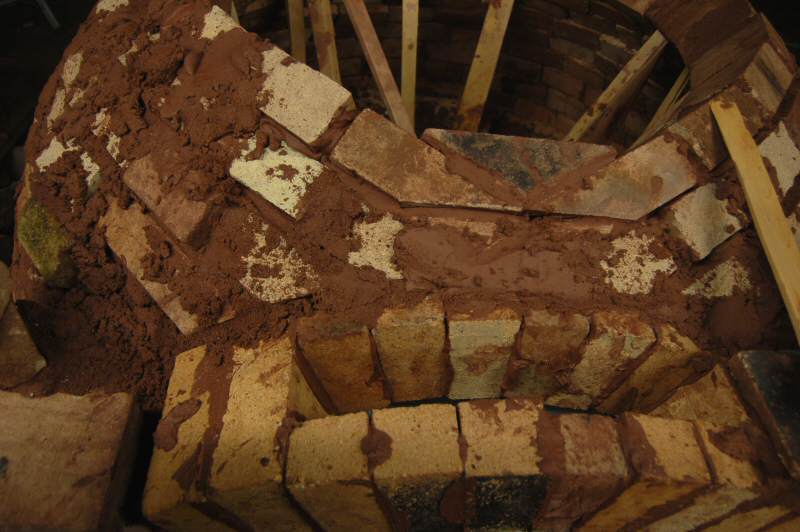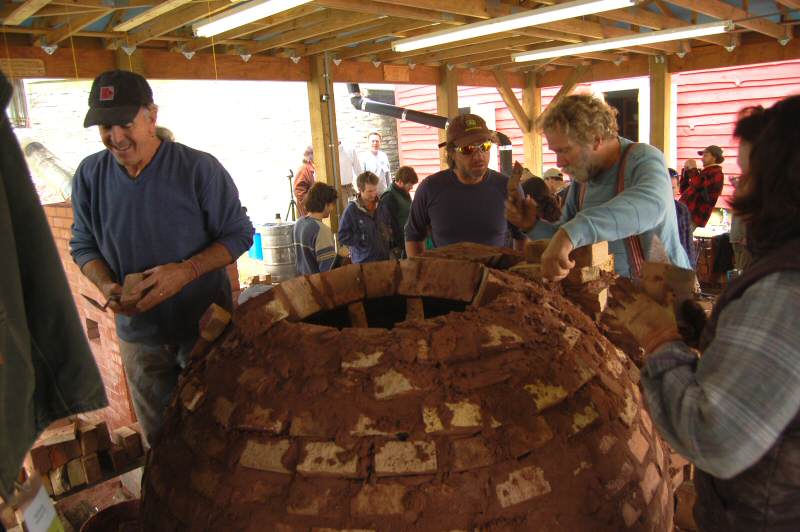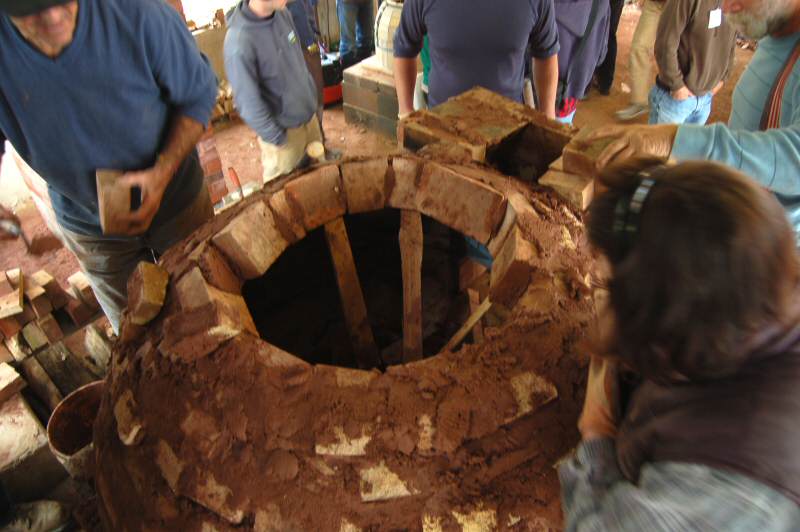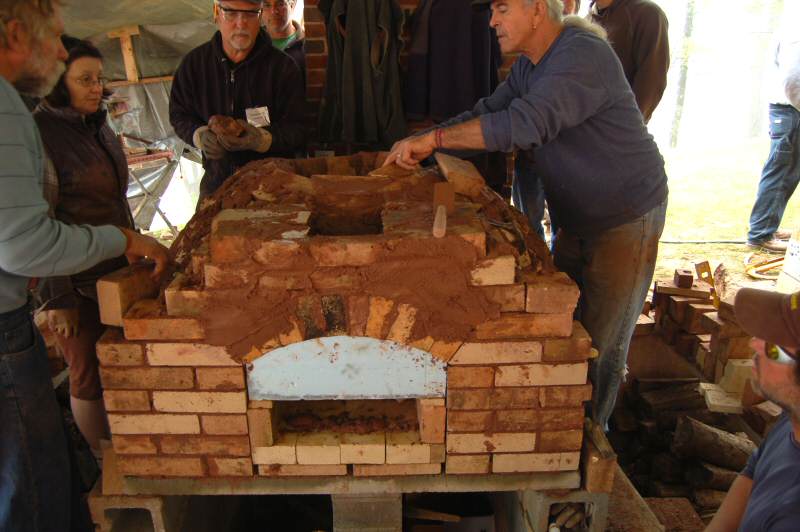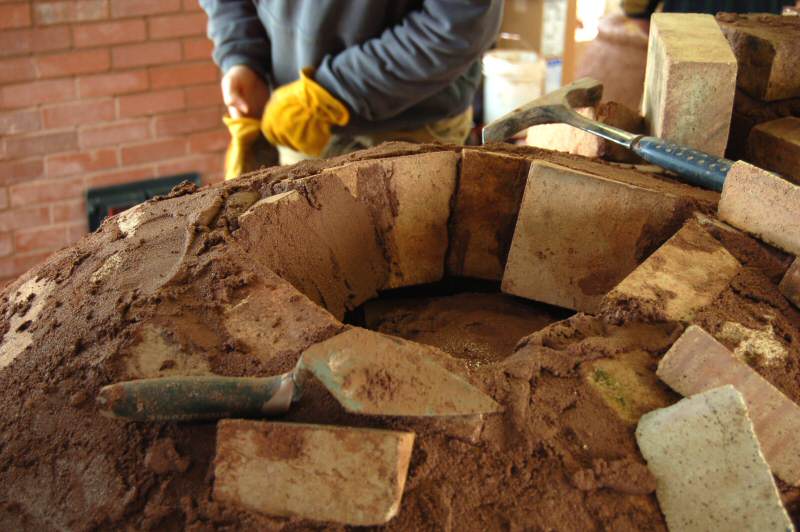 Getting close. This is the hardest part.
There is a temporary support underneath, with mud built up to get the right height.
Once the final brick is in place, the support can be removed.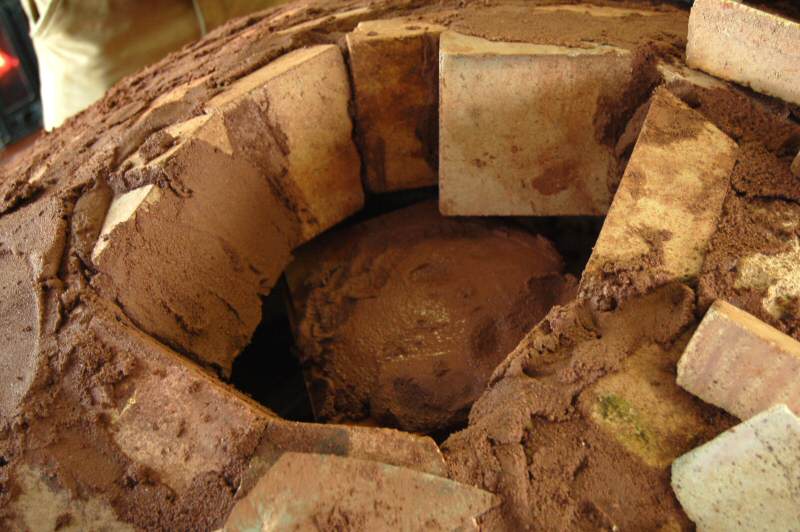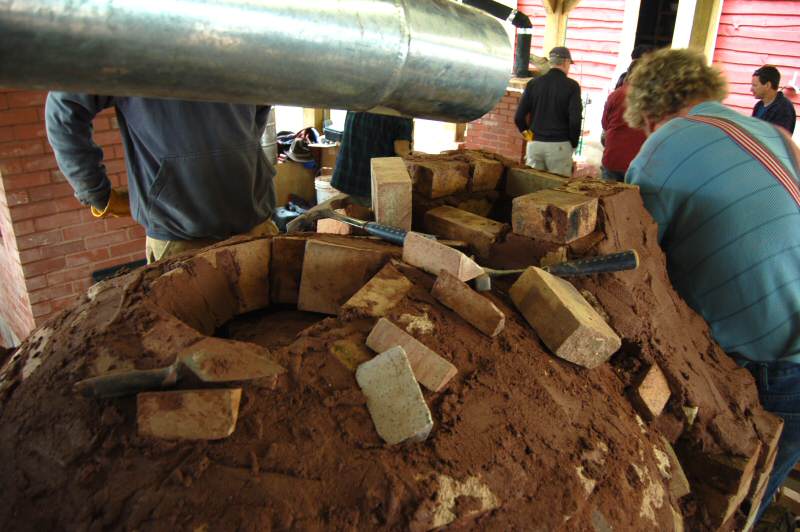 The throat slot is built up to transition to the chimney connector pipe.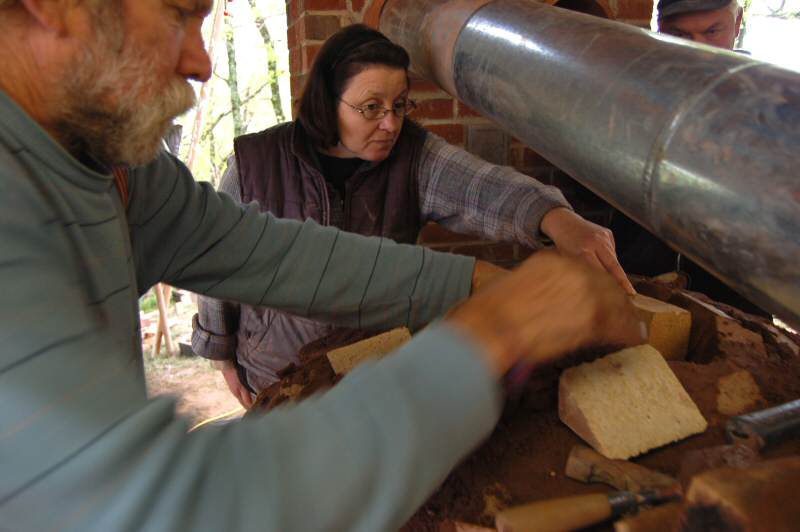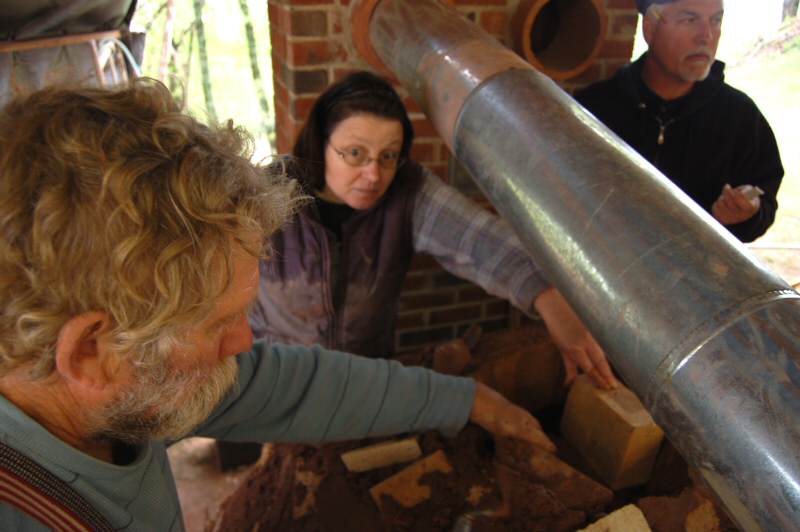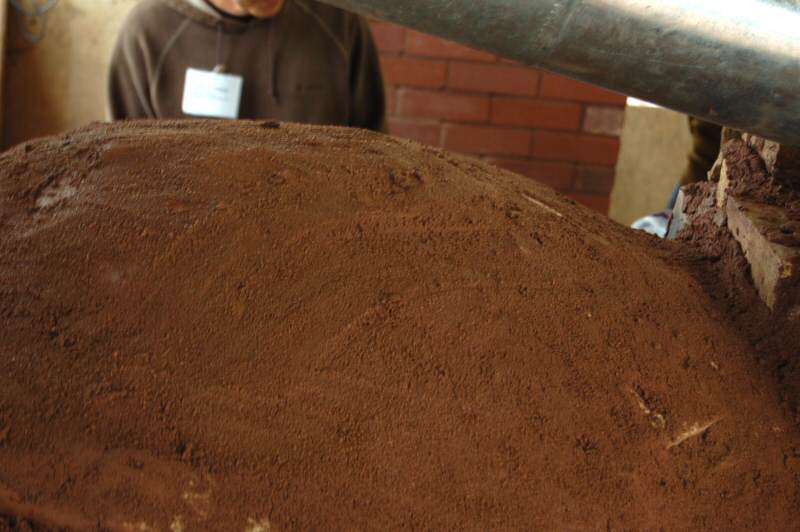 Finished dome.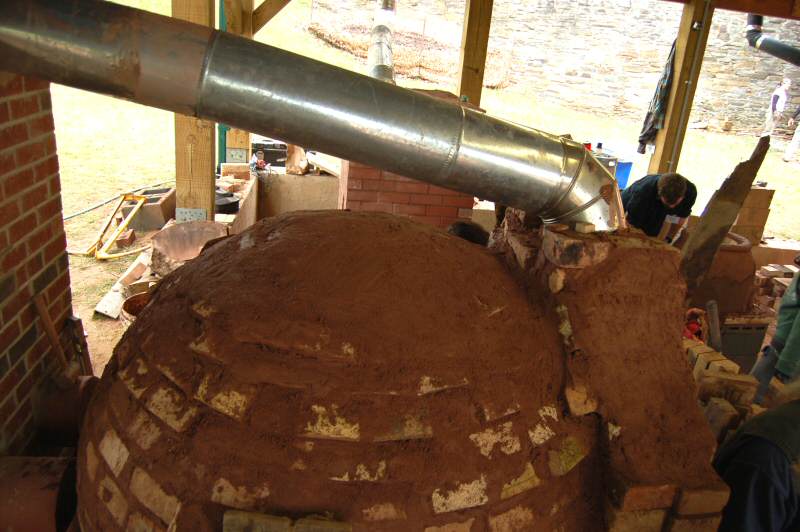 A small curing fire is started right away.
There is a lot of water to dry out.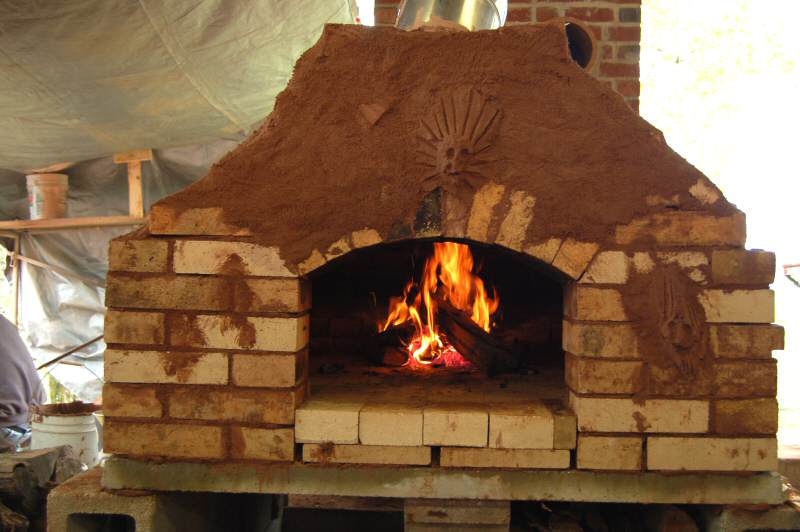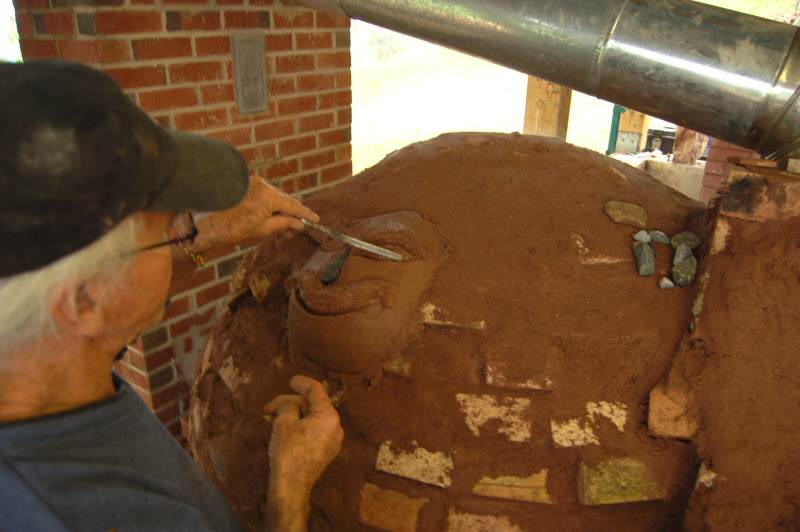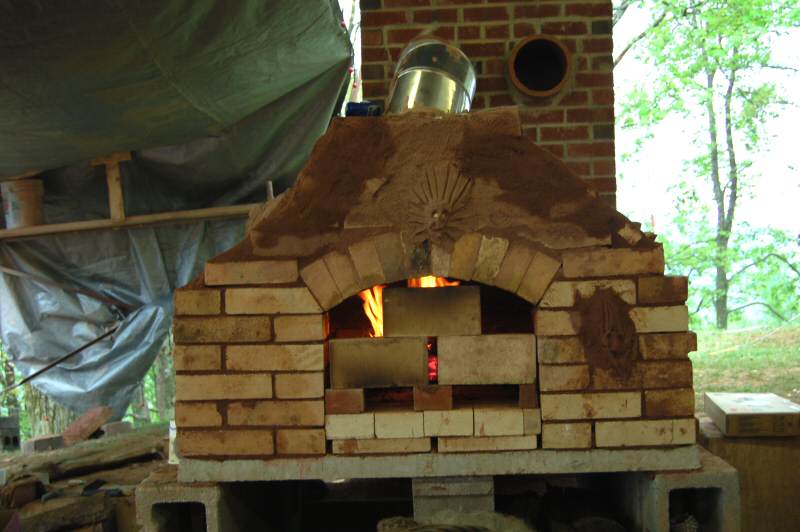 The oven is starting to dry out nicely.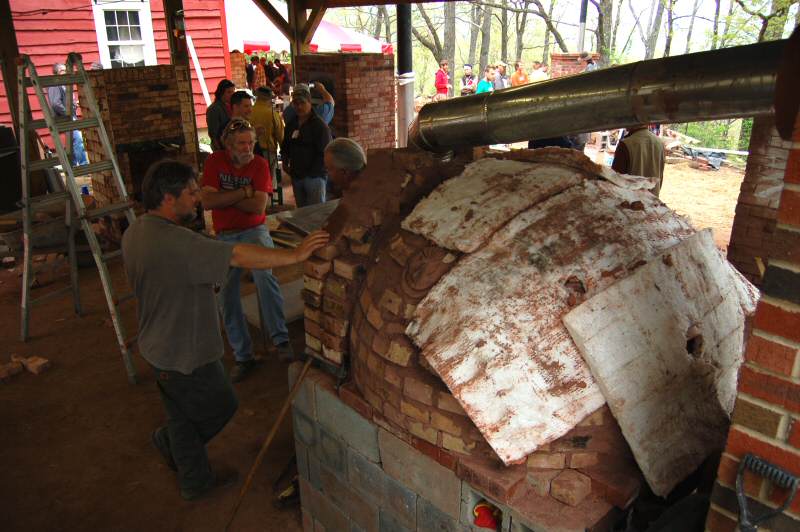 Ceramic fiber insulation is added.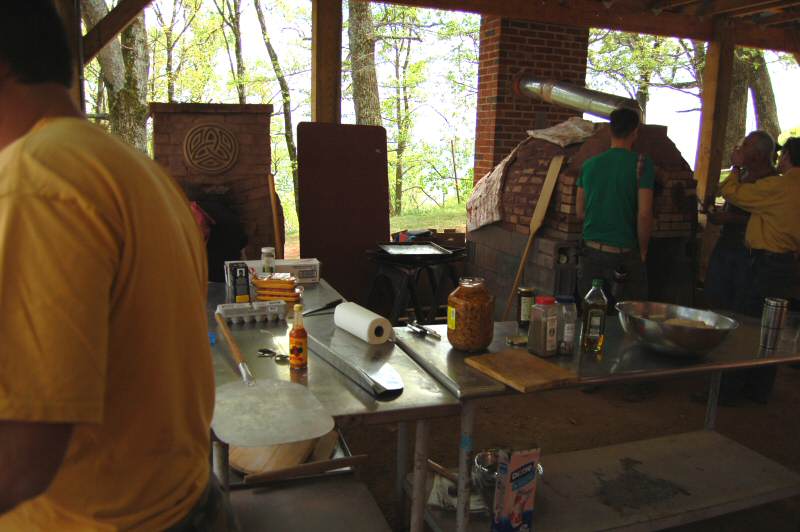 Getting set up for the pizza party.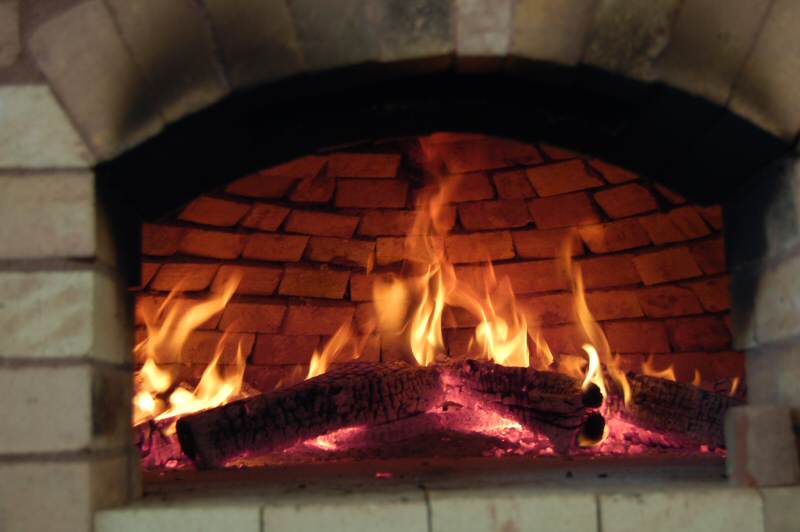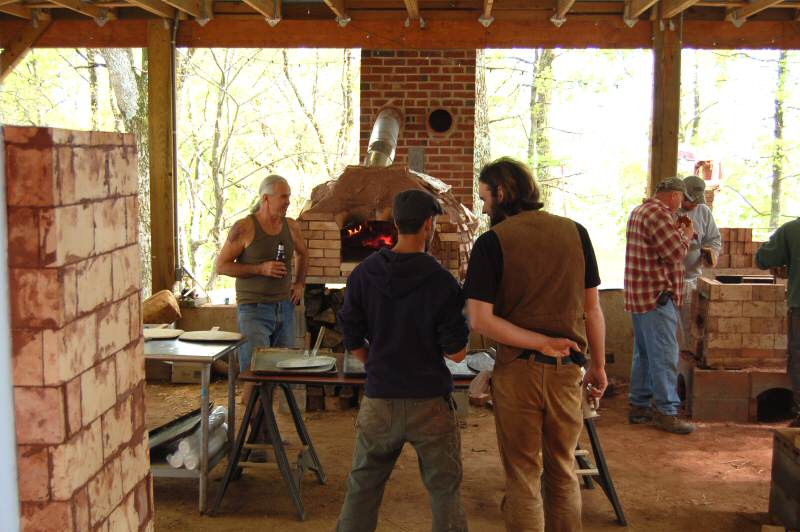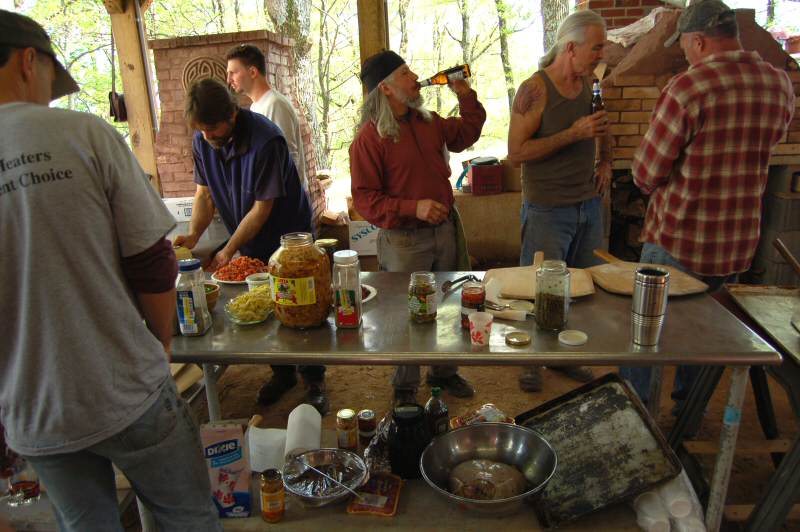 Frank Giamaria, owner of Pizza Il Focolaio in Montreal sent down some of his extra special ingredients,
such as truffles.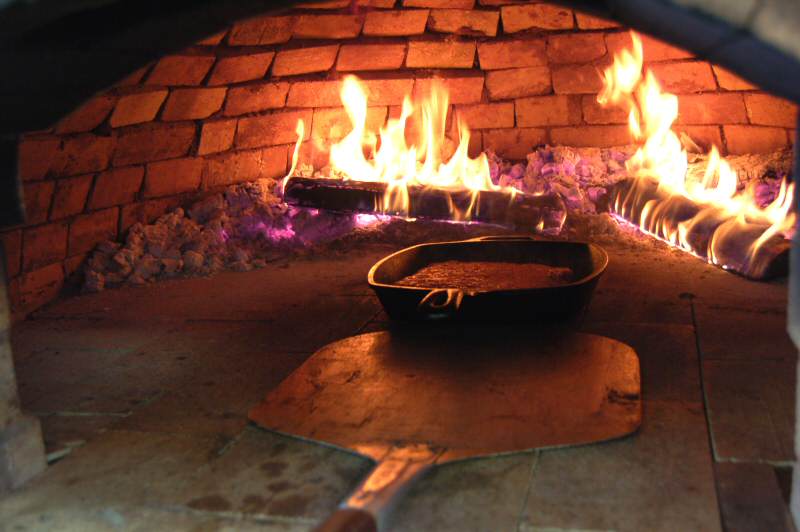 Sausage (without the casing) in a griddle pan.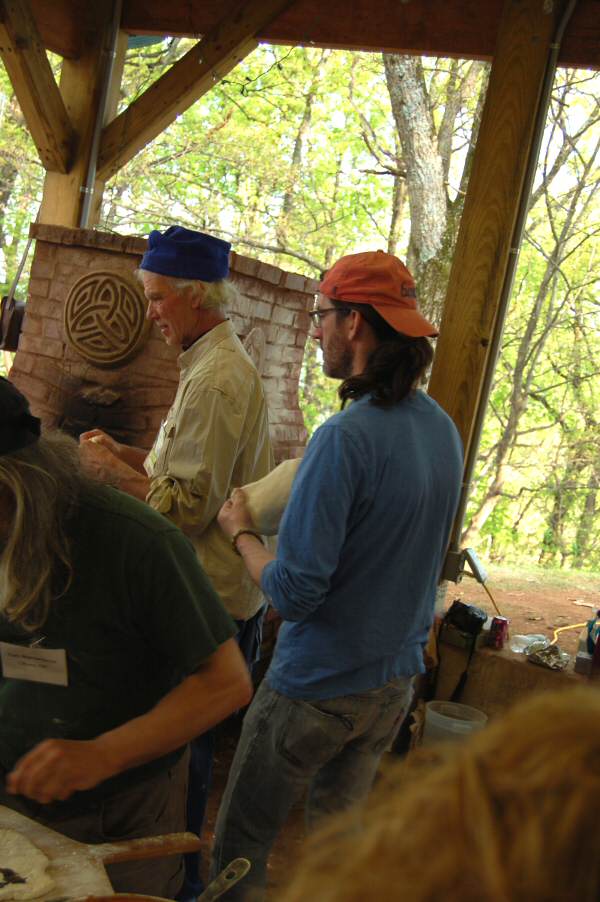 Tom Trout and Richard Miscovitch stretch out dough.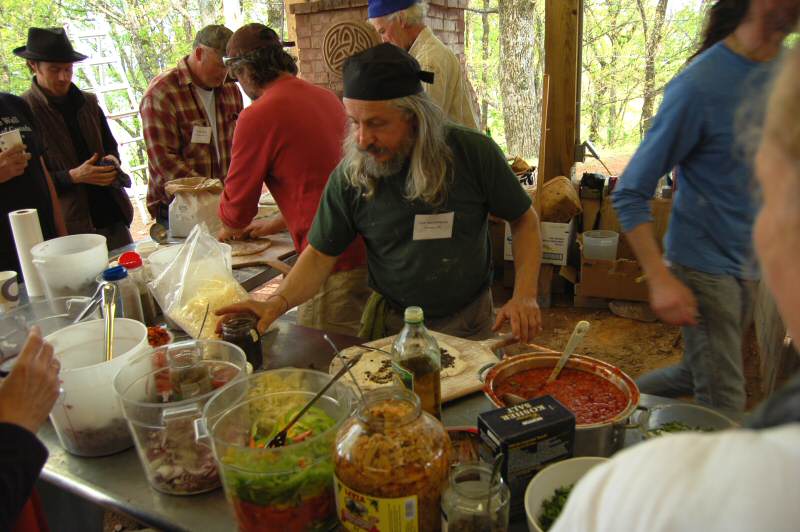 Tom Marcantonio dresses the pizzas

Pat Manley handles the oven.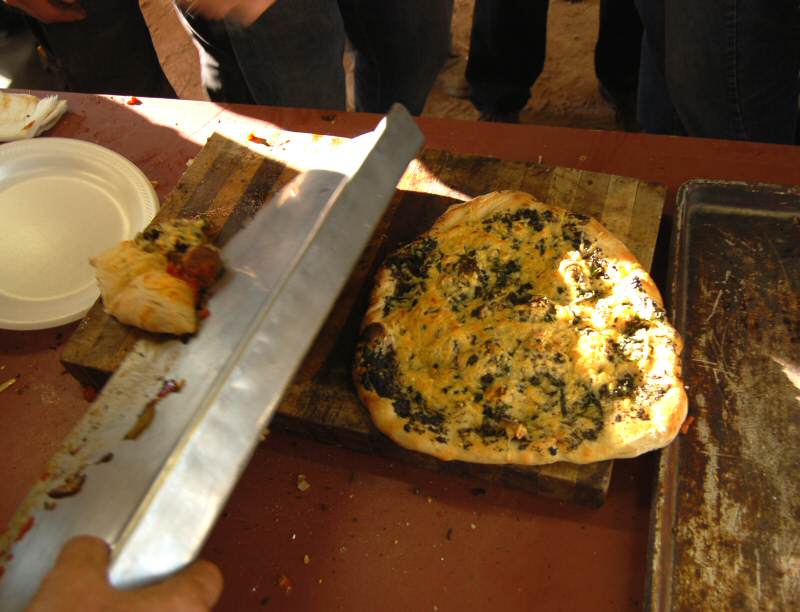 Yum.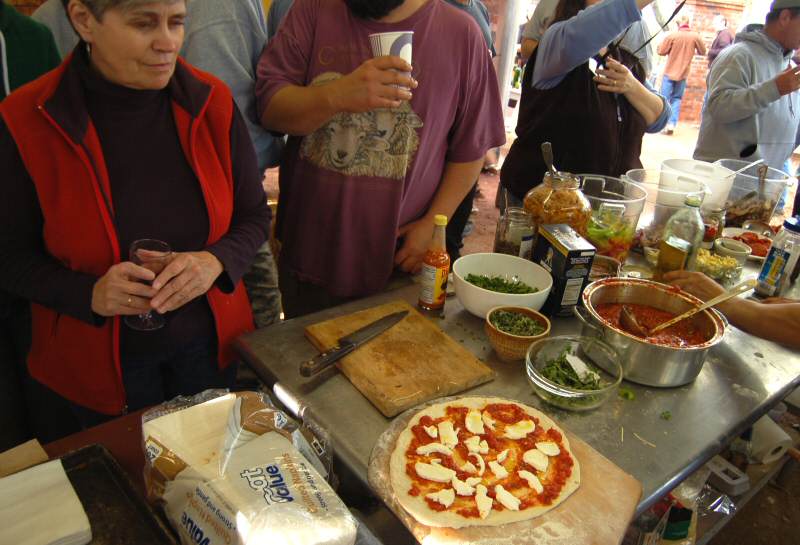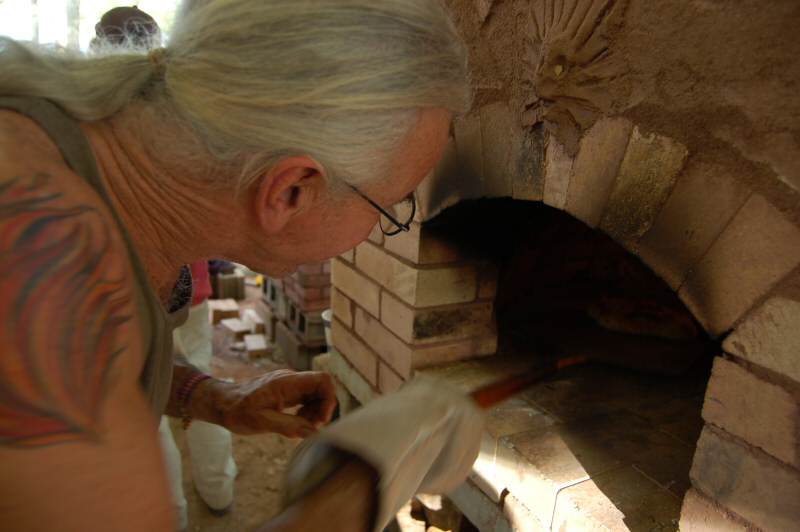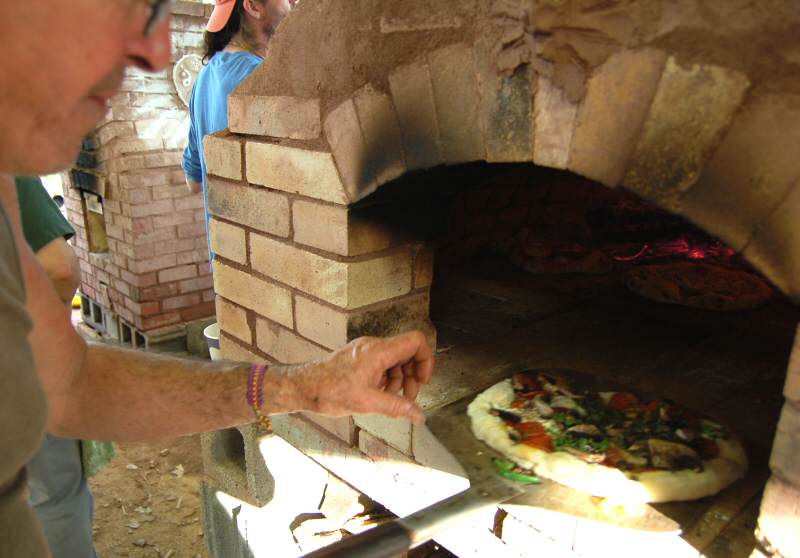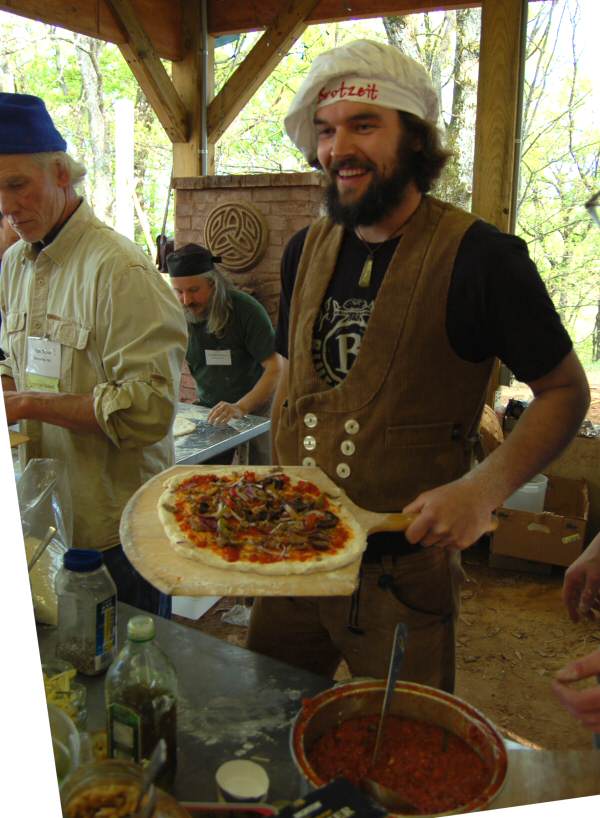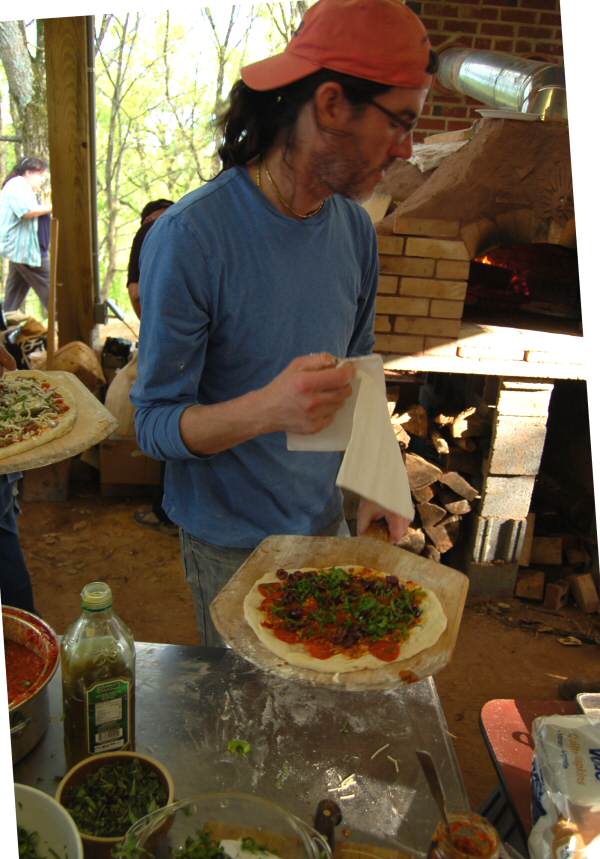 Richard Miscovitch, well known baker and teacher.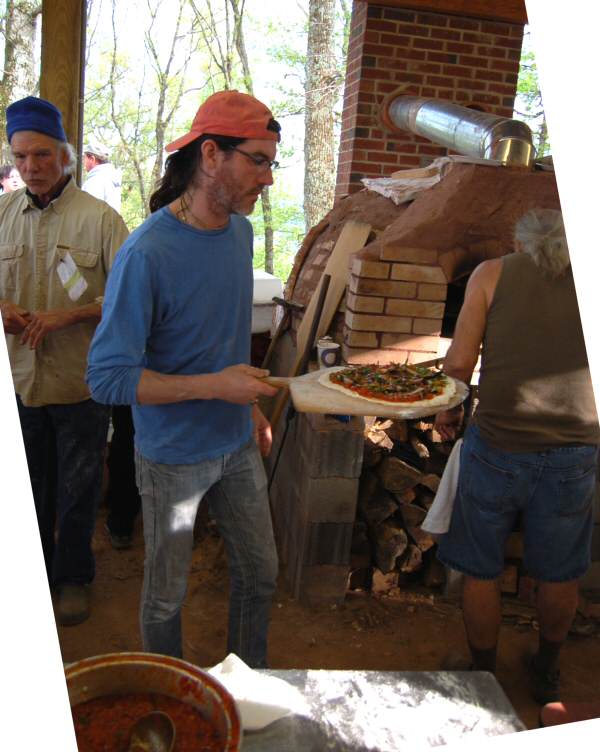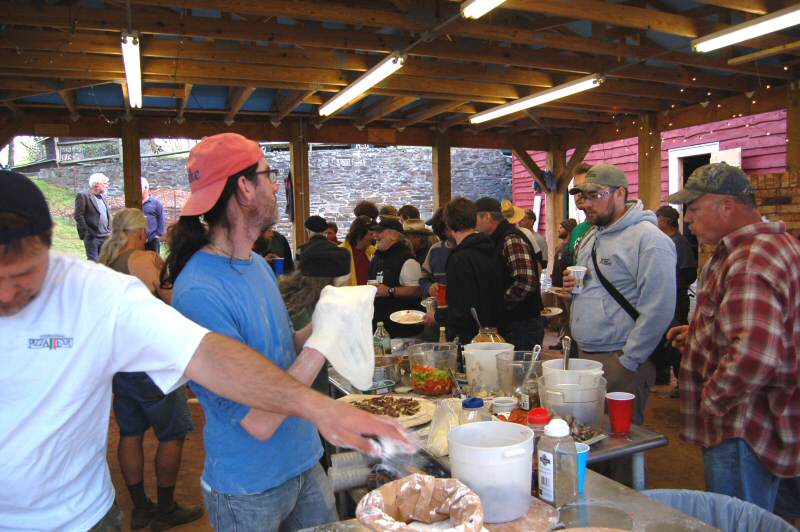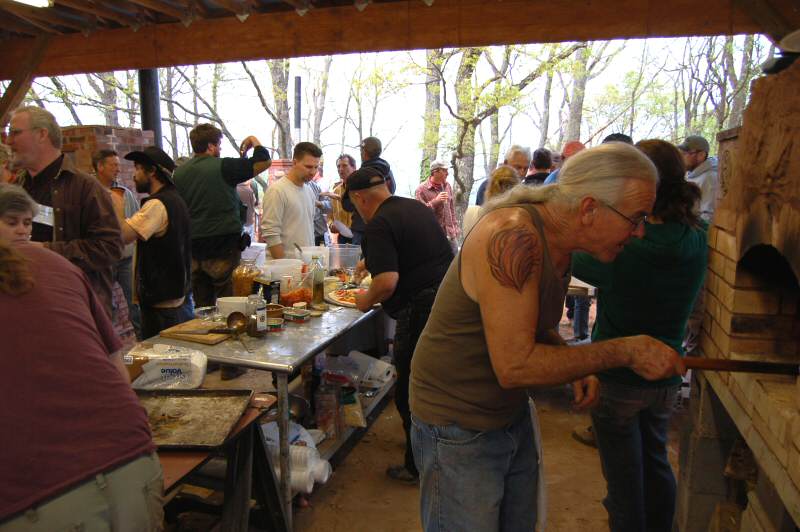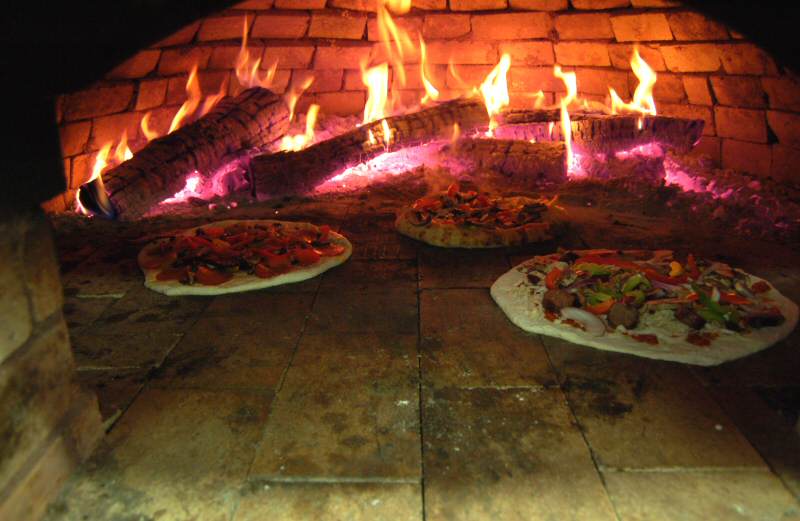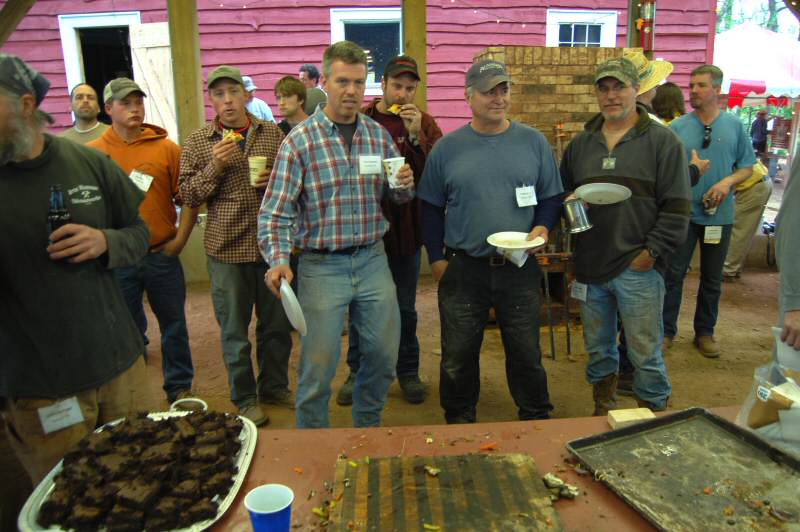 In position.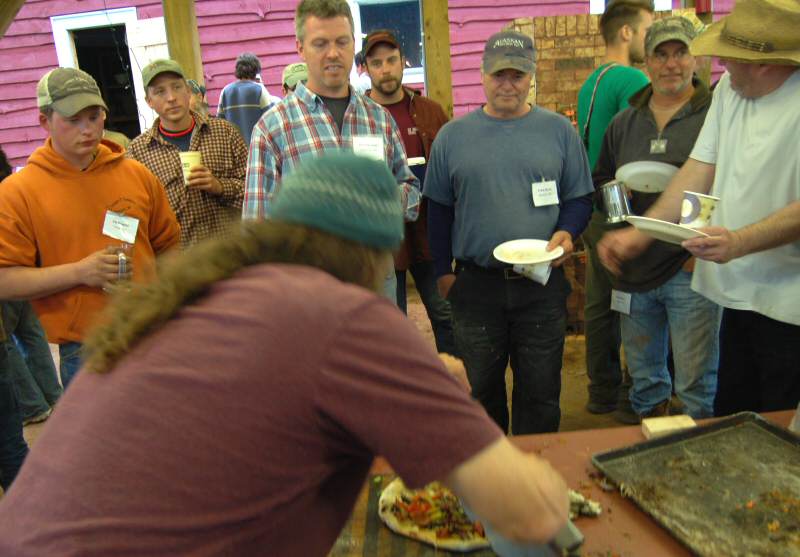 Getting close.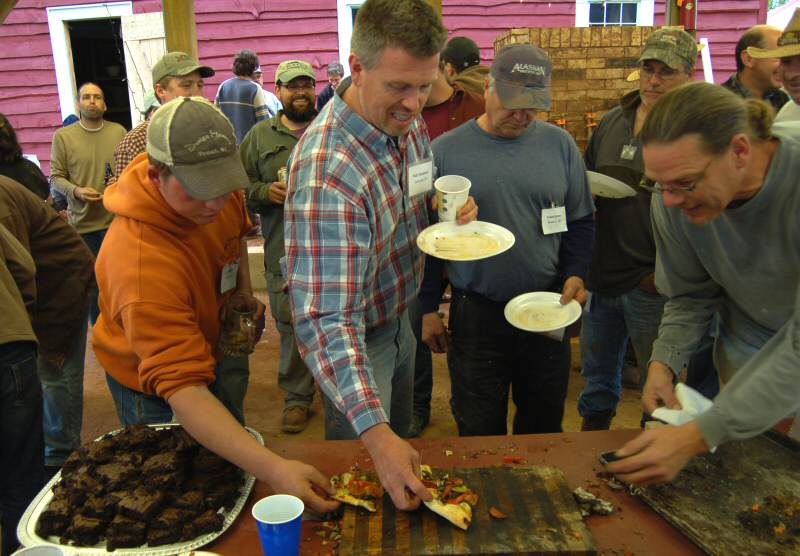 Yeah.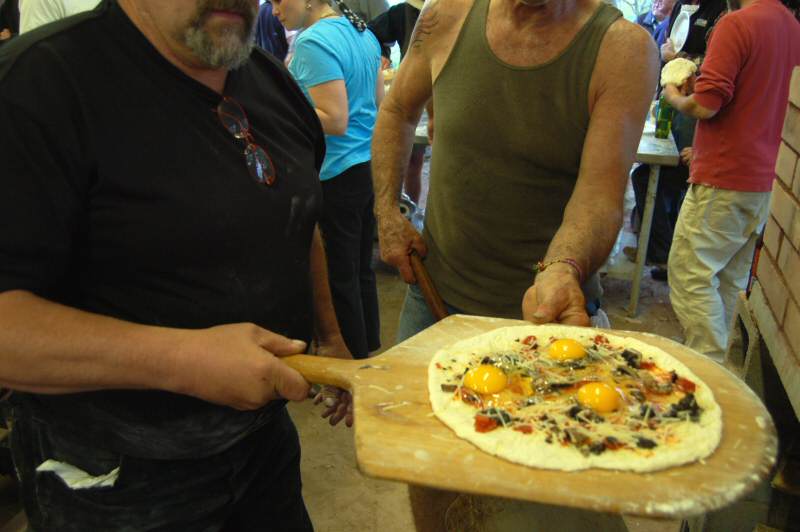 Gene Padgitt's signature pizza.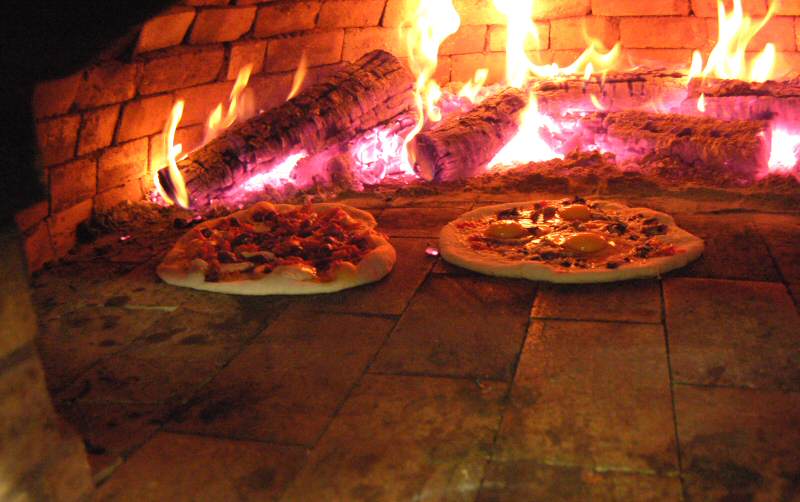 160 pizzas were cooked. Everybody had lots. Needless to say, Wildacres staff didn't need to cook supper.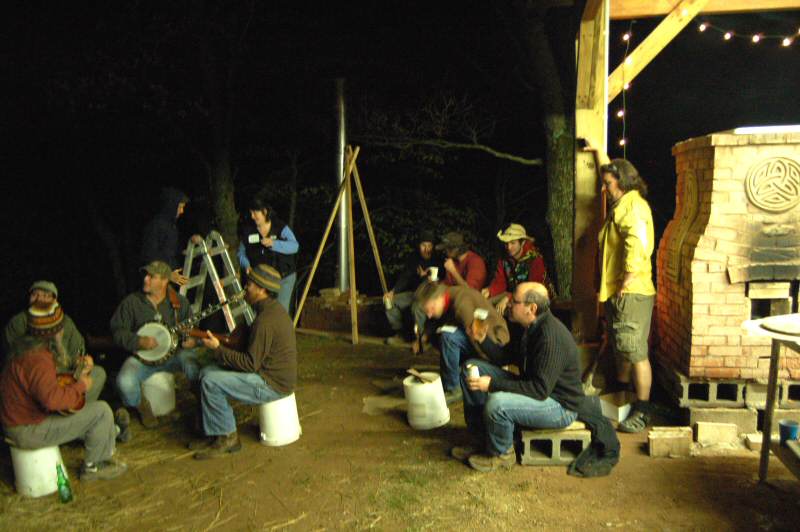 Breaking out the musical instruments.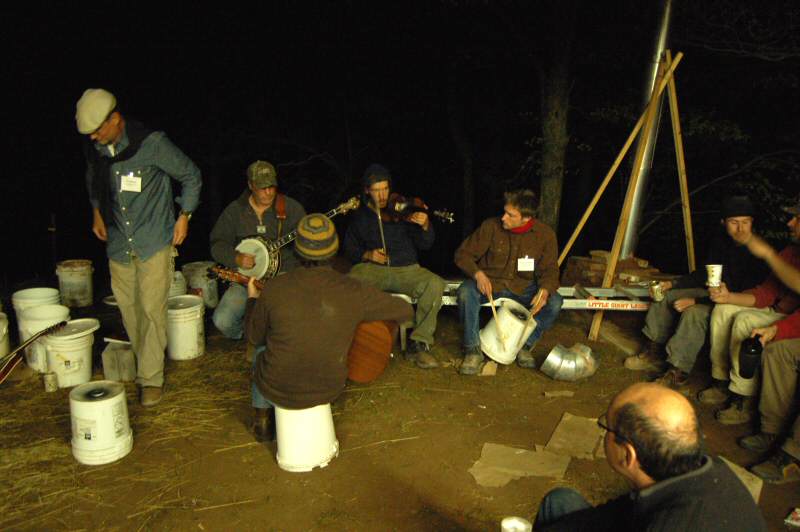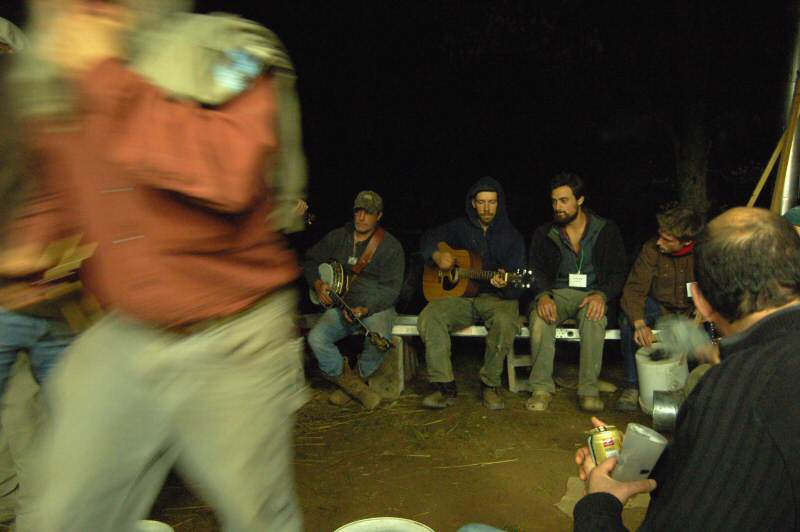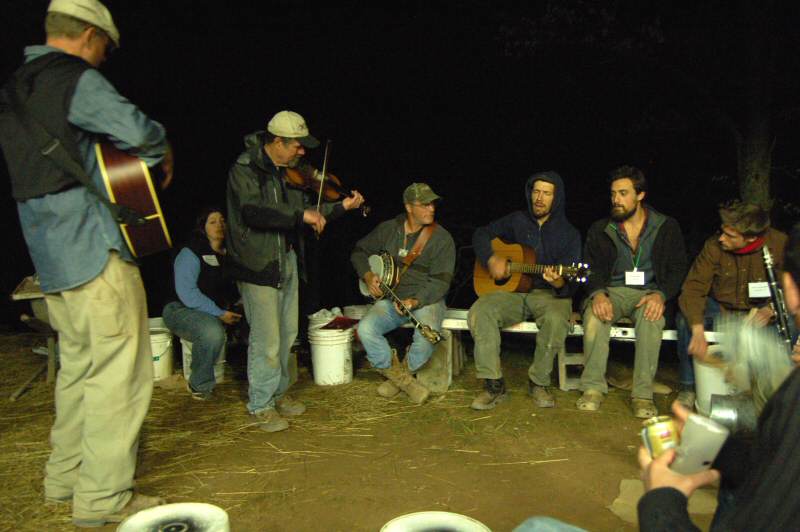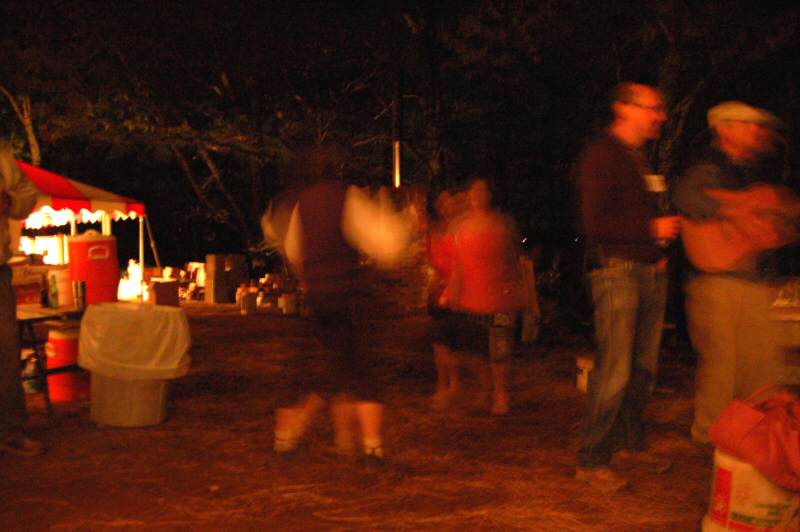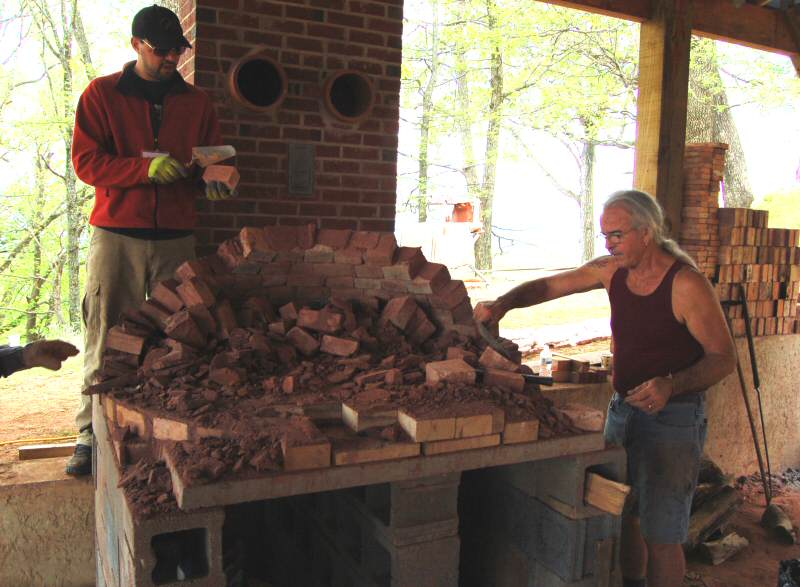 Teardown the next day. The bricks were still hot.

See also,
2007 Photo Report
2006 Photo Report
2004 Photo Report
2003 Photo Report
2002 Photo Report
2001 Photo Report
2000 Photo Report
1999 Photo Report
1998 Photo Report
1997 Photo Report
This page was last updated on April 30, 2012
This page was created on April 27, 2012
Back to: