2009 MHA Annual Meeting
Lime burning, slaking and mortar making hands on
with Frederik Stevenson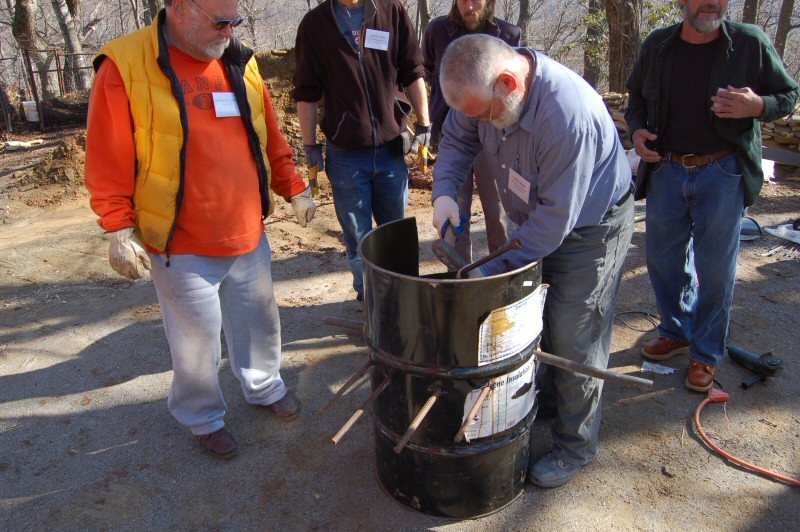 Chris Prior modifies the barrel by adding rebars for a grate, plus a firebox cutout under the grate, and a limestone loading door above
the grate.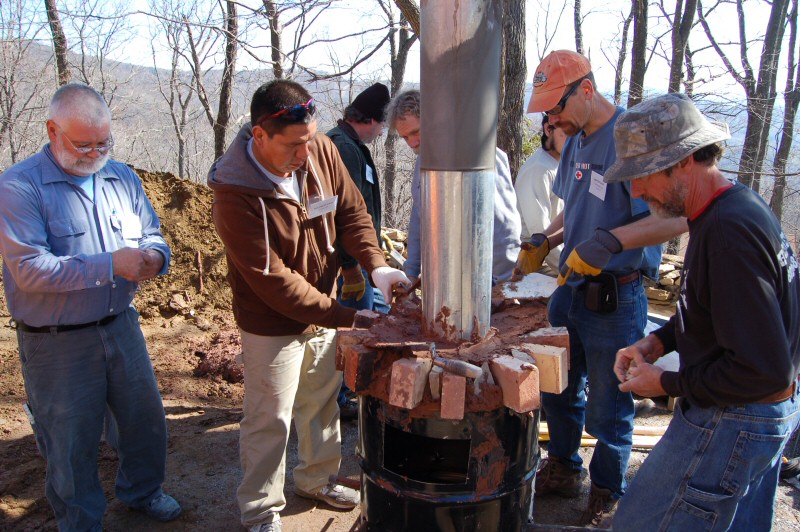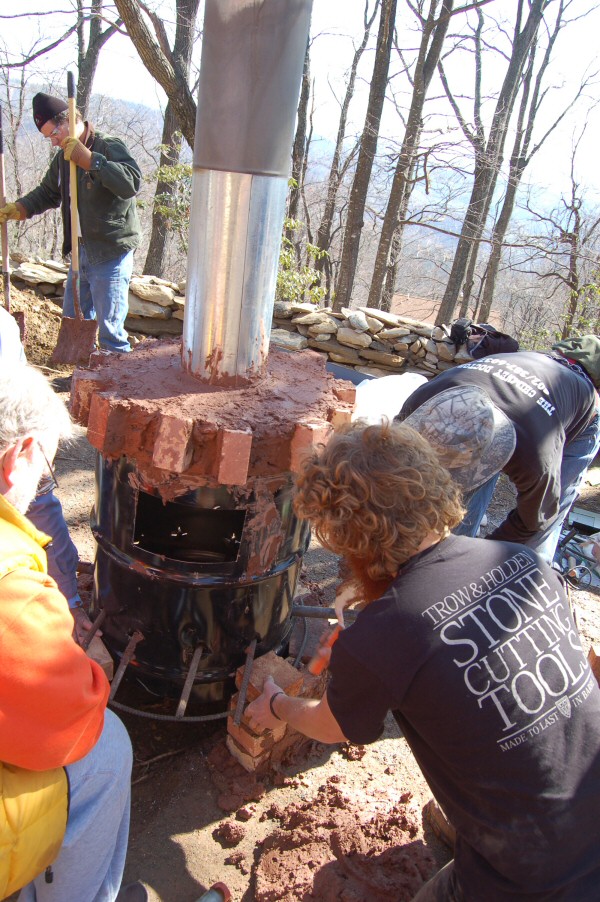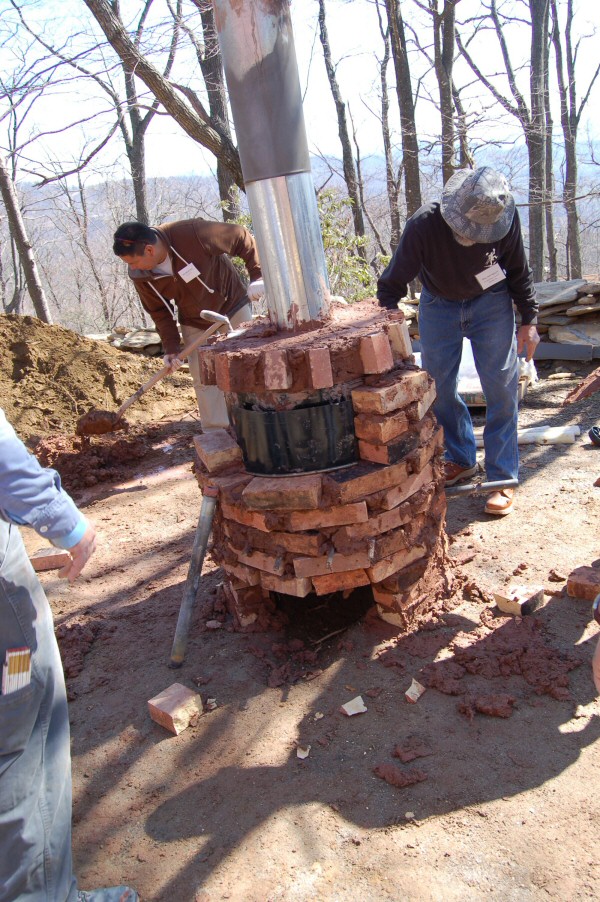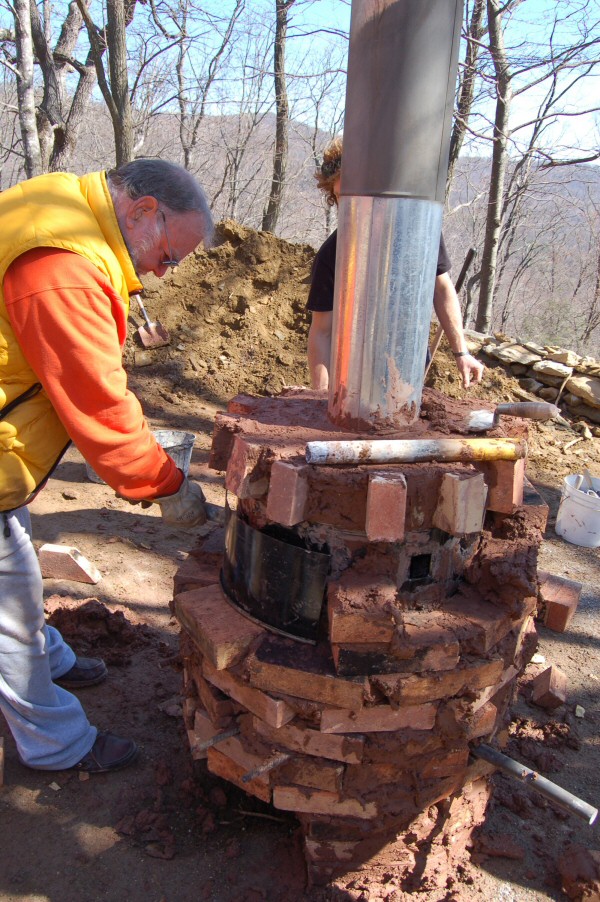 Secondary air tube and sight hole.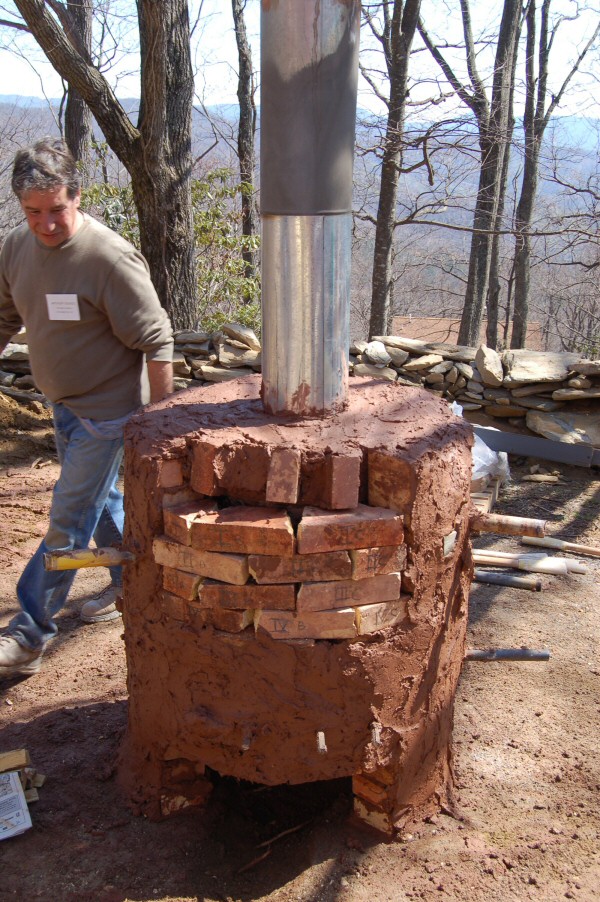 Bricks for the loadin door are stacked dry.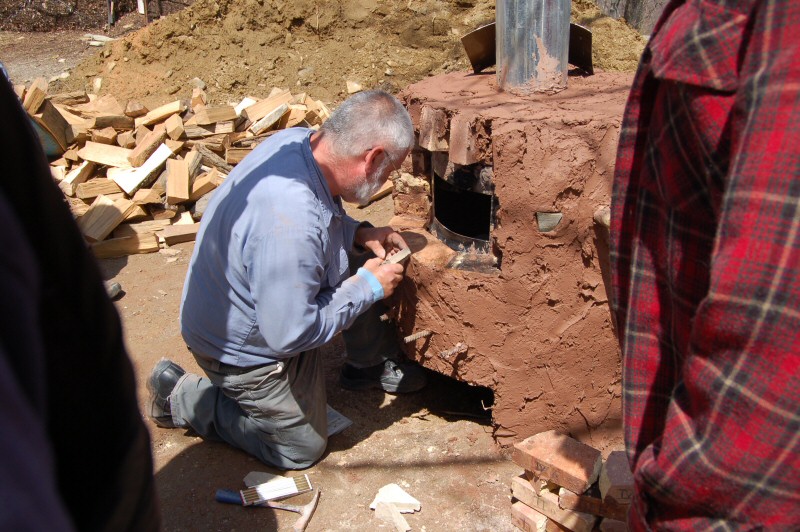 Charging pieces of limestone. John McDougall brought down some cutoff scraps from Indiana limestone sills, slabs, etc.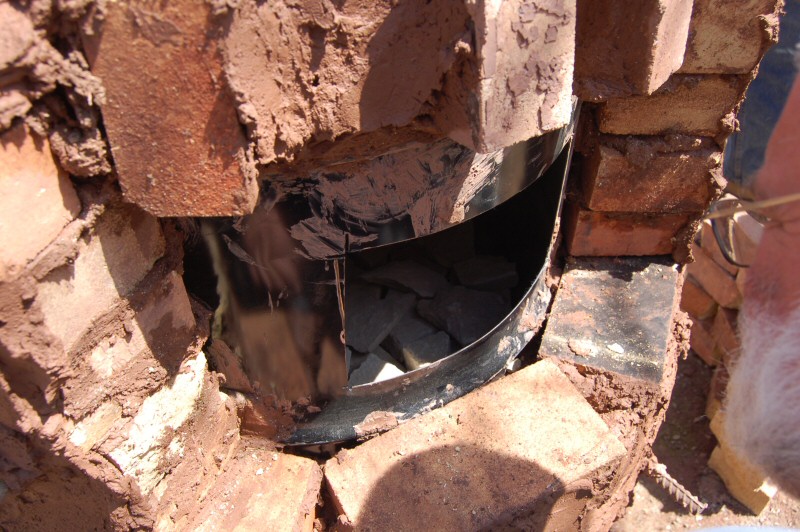 Limestone stacked on the grate.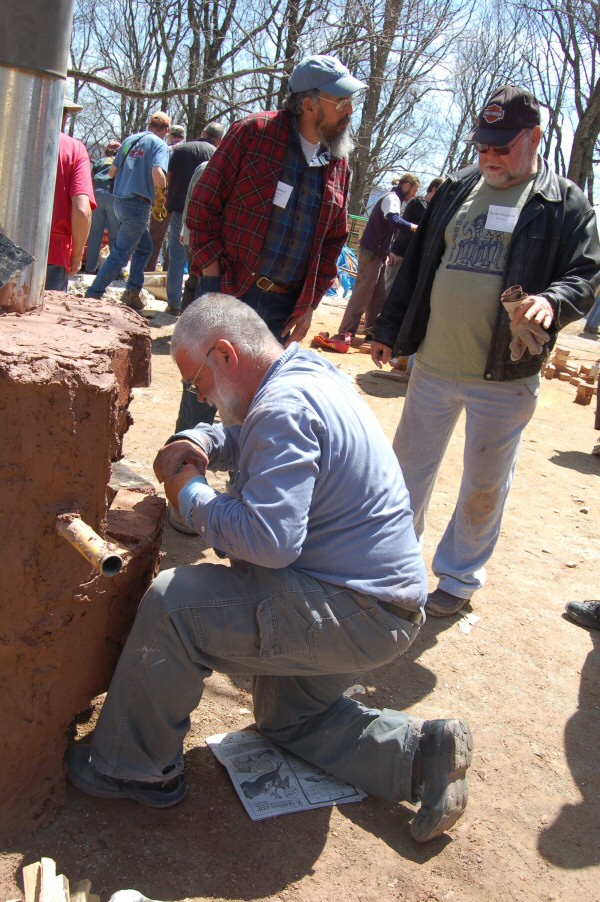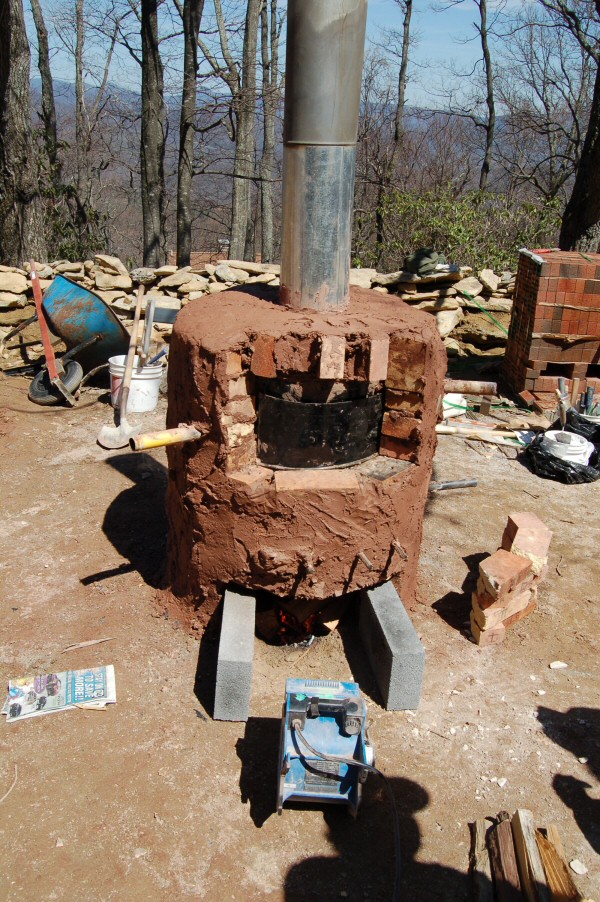 Starting the fire. The blower didn't work too well, and was eventually modified to provide an air
injection tube from the rear.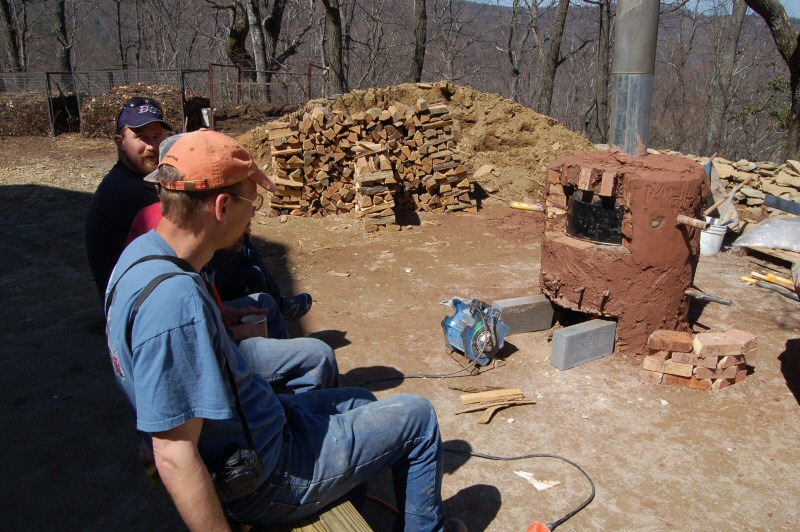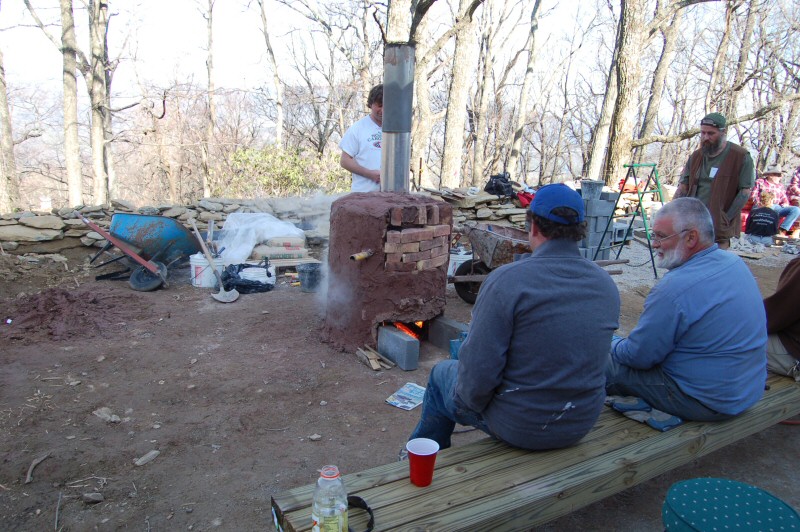 Evening shift. People signed up to keep the fire going in shifts overnight. Approximately 1 cord of 12" wood was burned.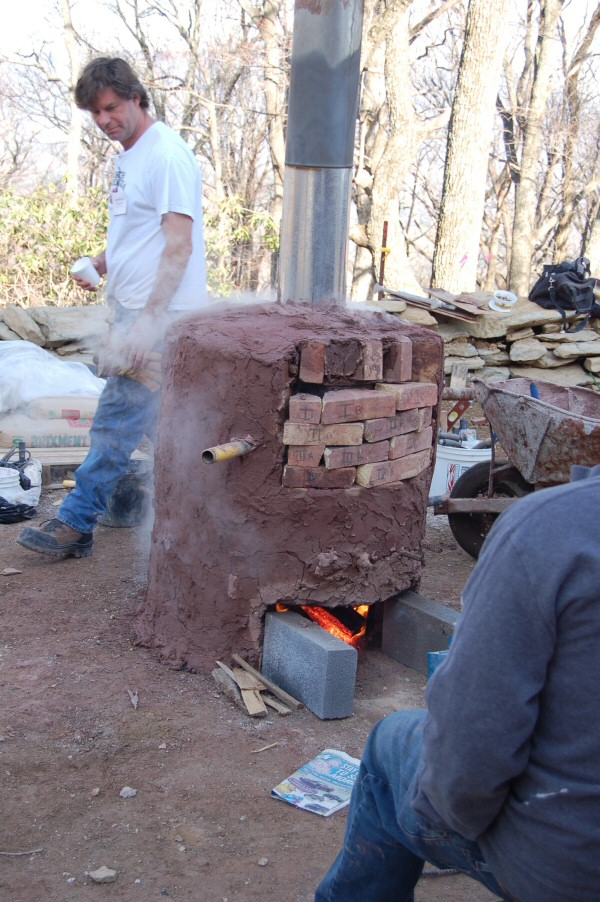 Clay plaster is drying out.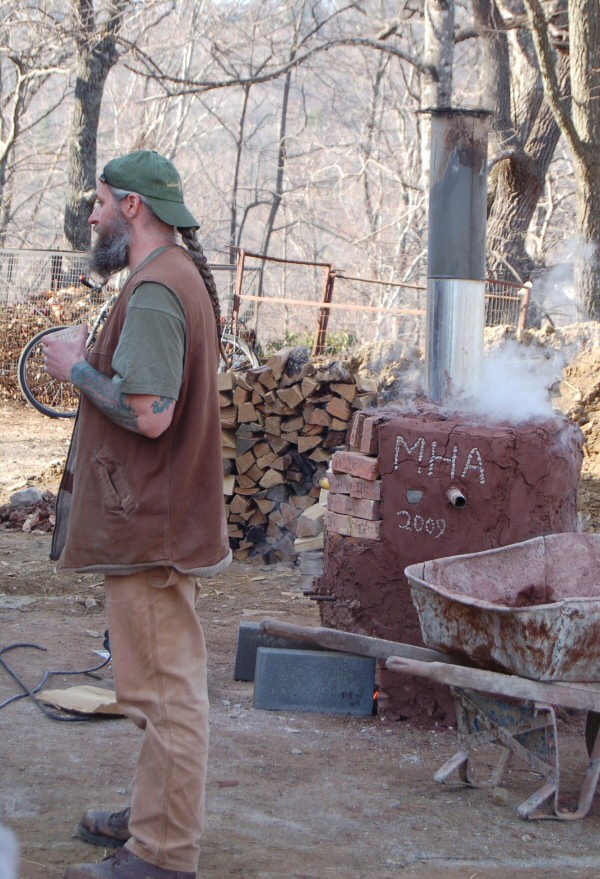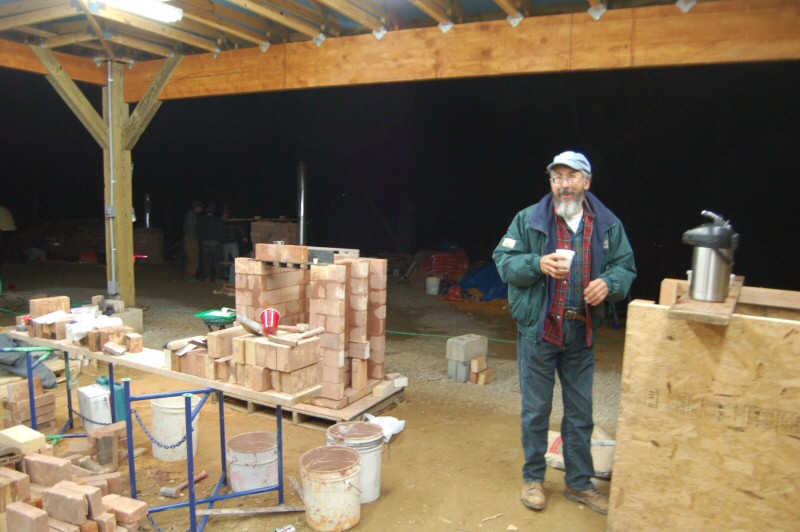 Night shift. I was wandering around at 4:30 am and ran into Dave Gibble, who had signed up for the very early shift.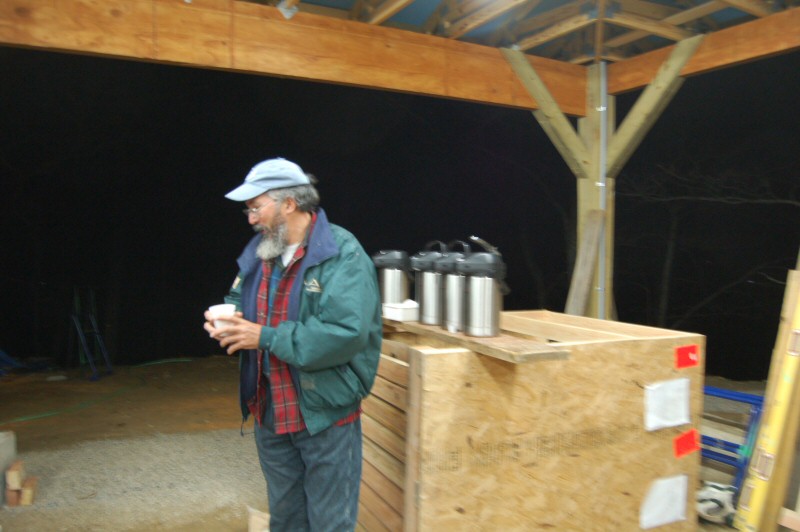 Plenty of coffee is part of the deal.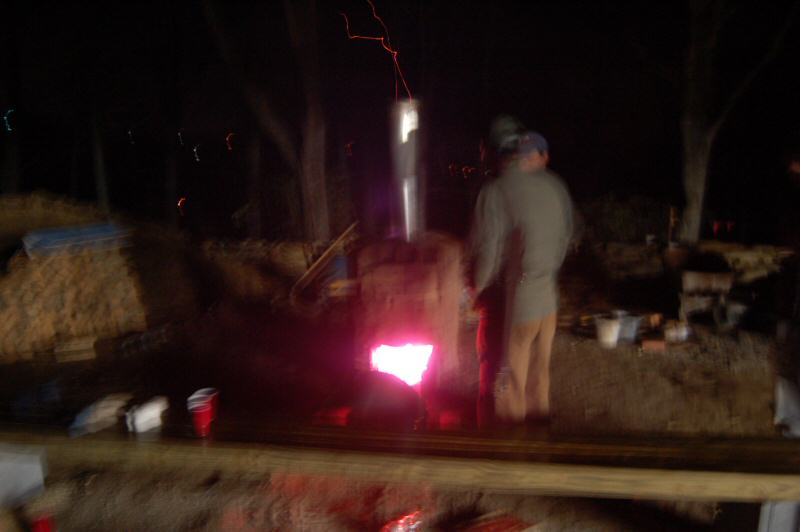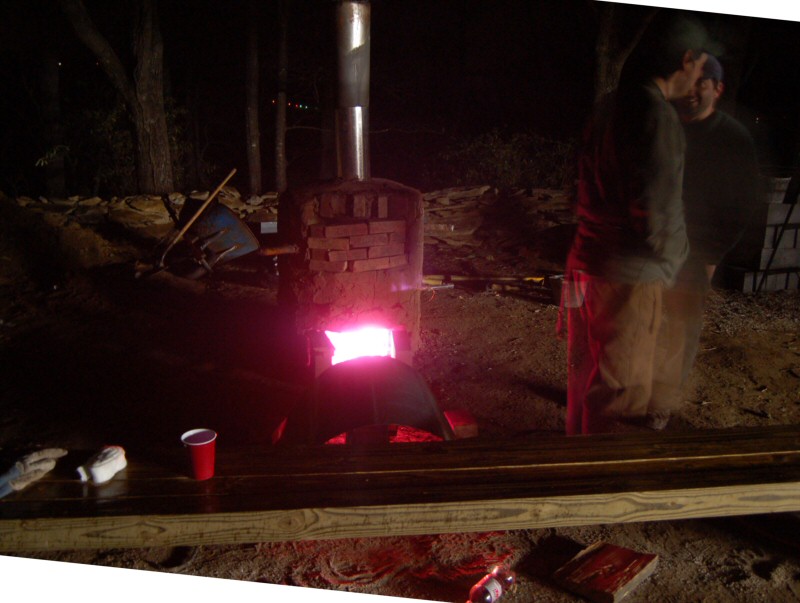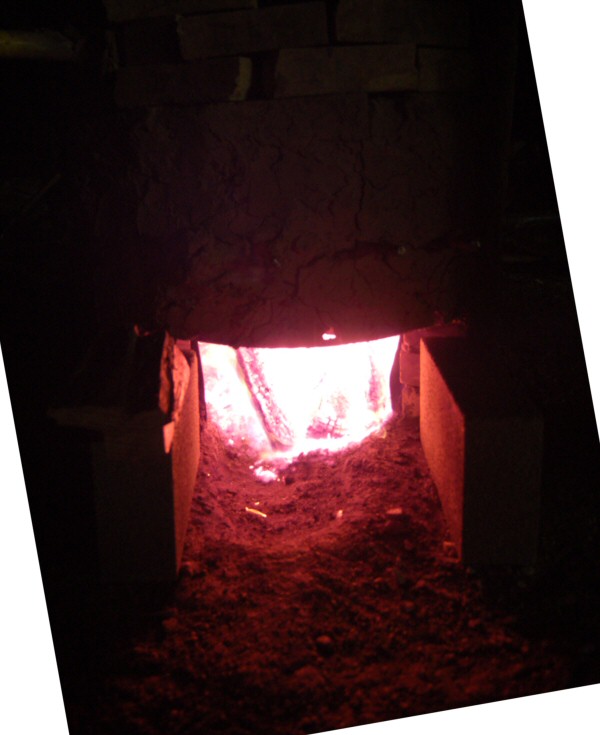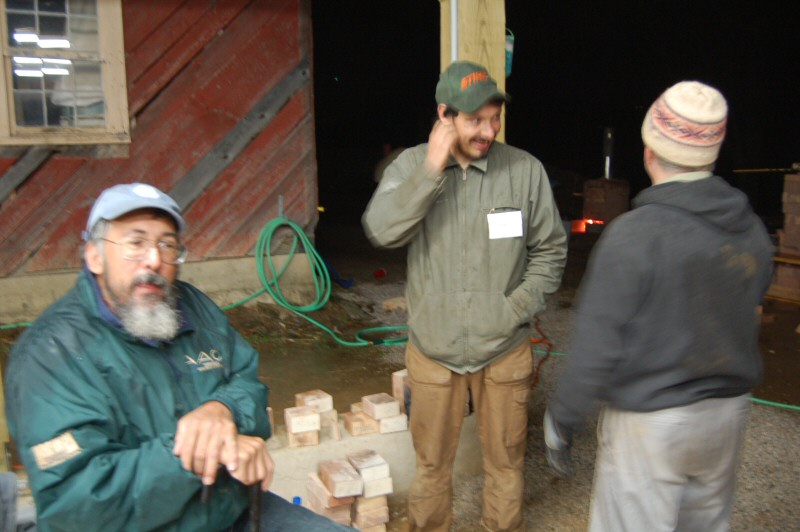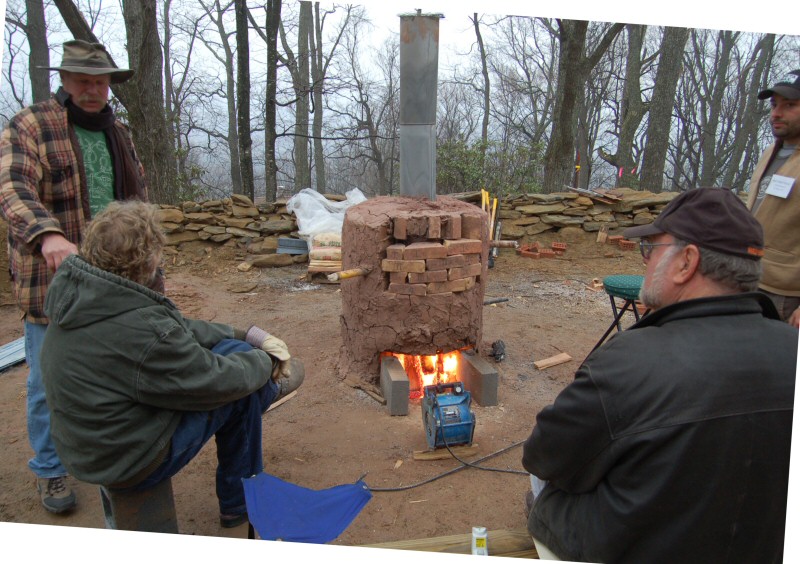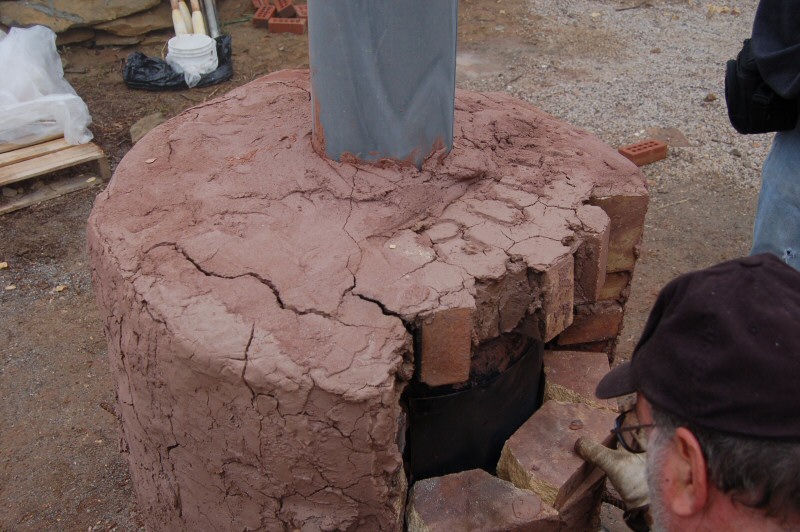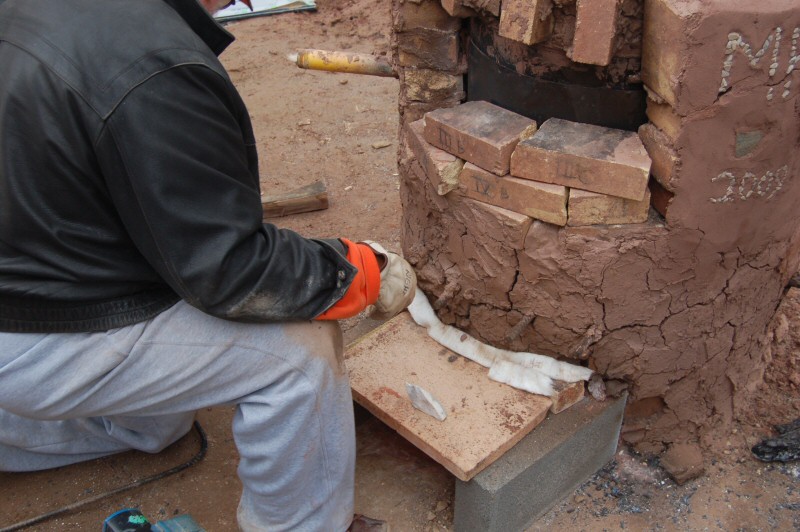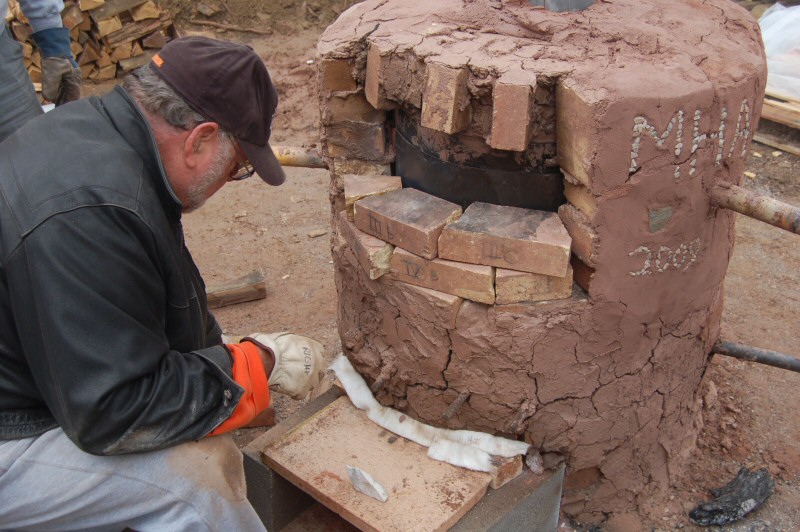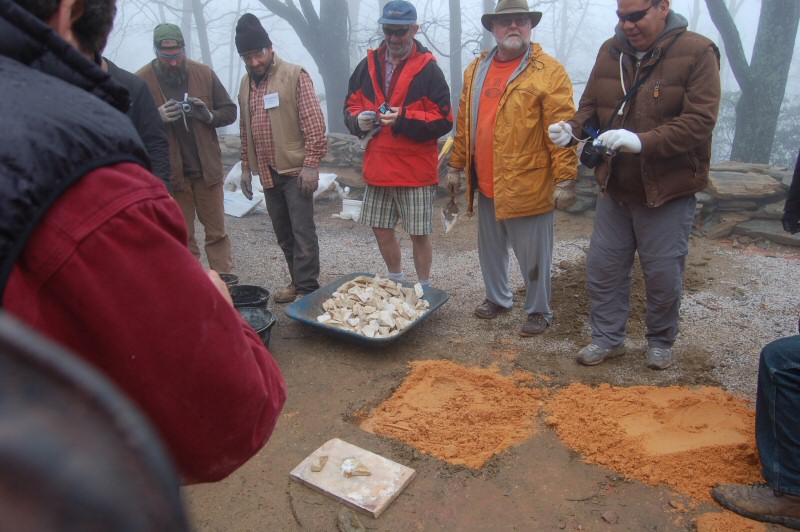 Freshly burned lime in the mortar pan. Looks like the original limestone, but will alkali burn your fingers if they are moist.

If you add a small amount of water, the stone turns to powdered hydrated lime and dries back out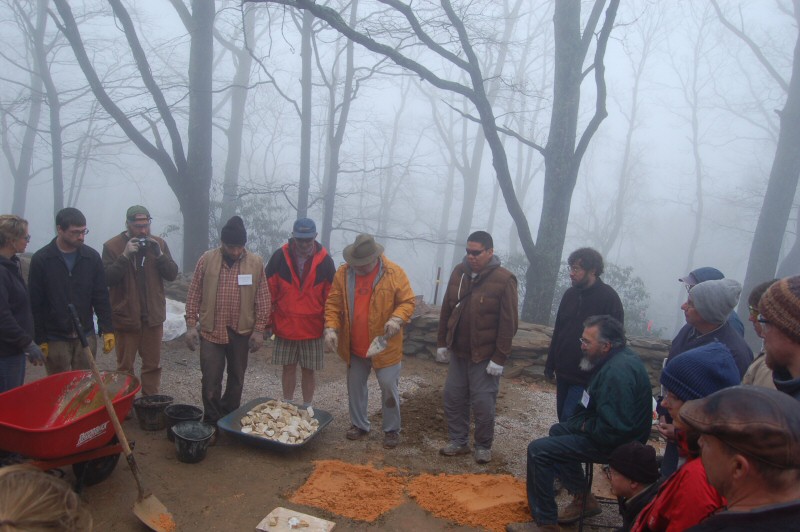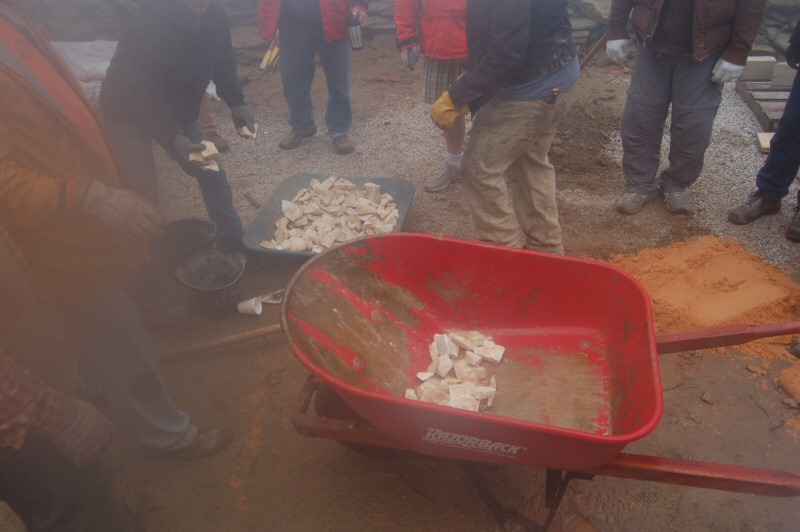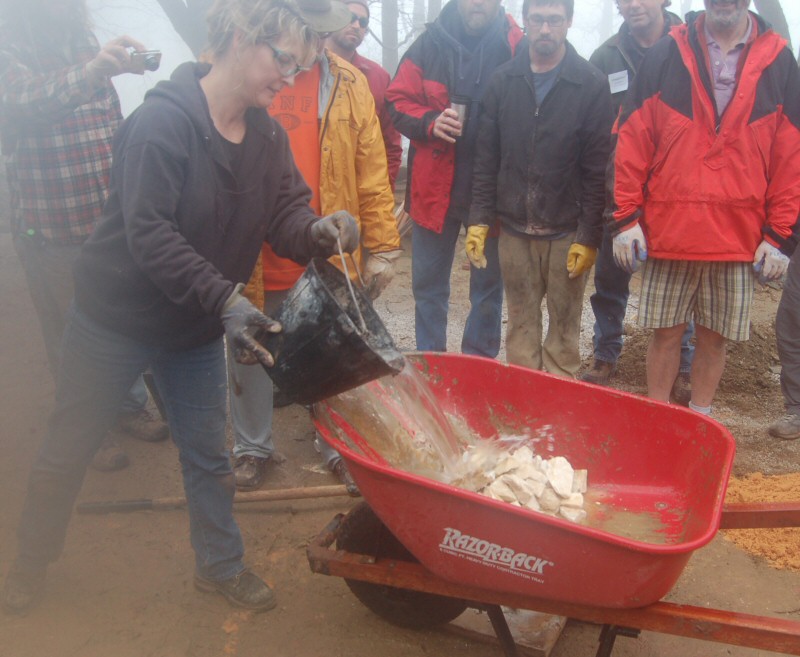 Starting the slaking process by adding water to the quicklime.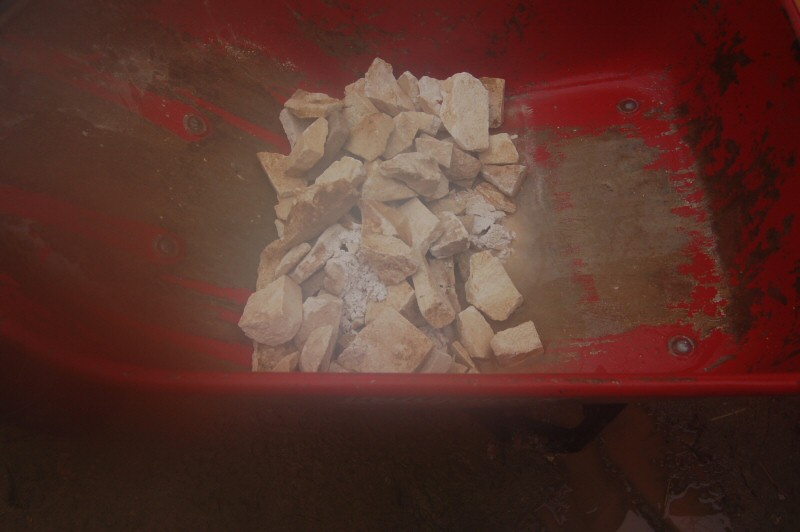 All of the water is used to produce slaked lime, and heat and steam are generated.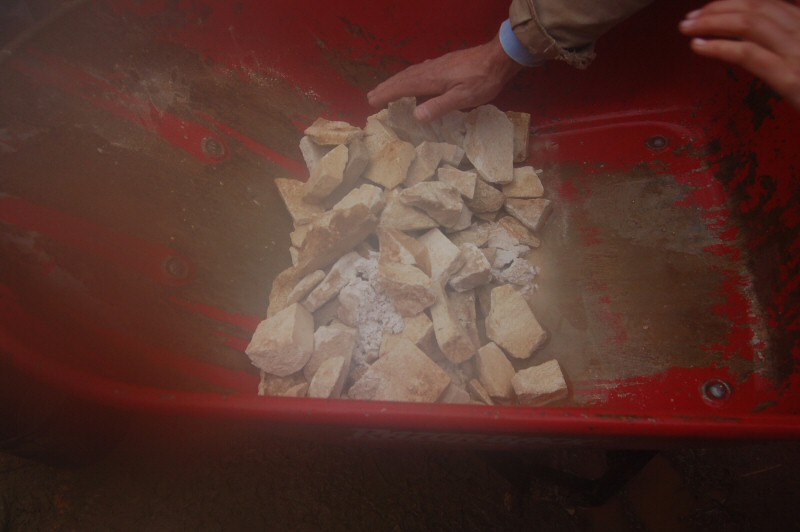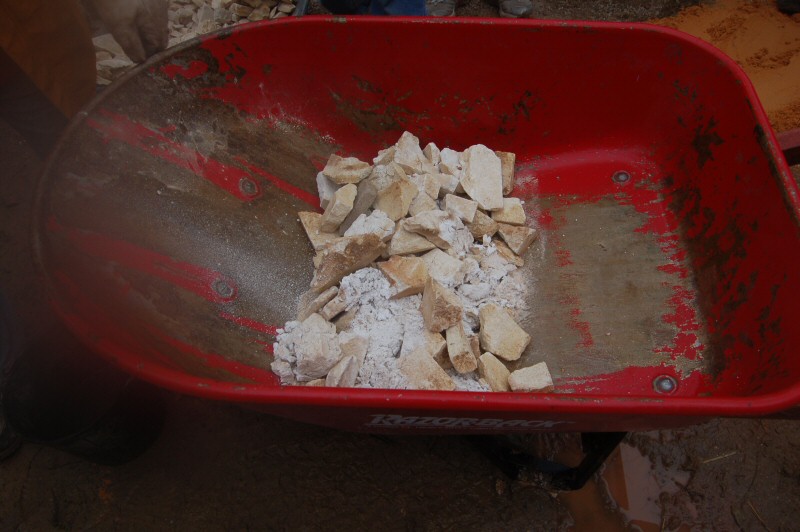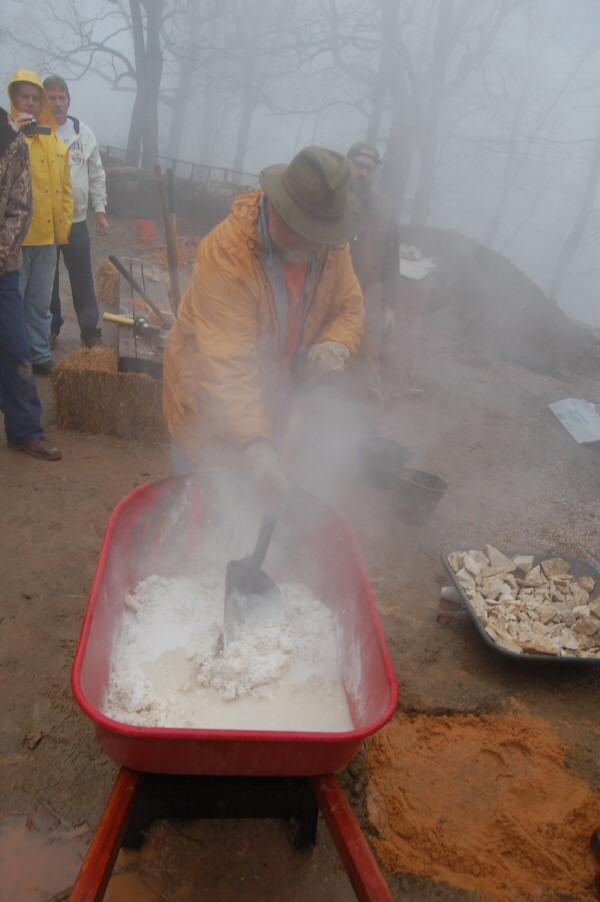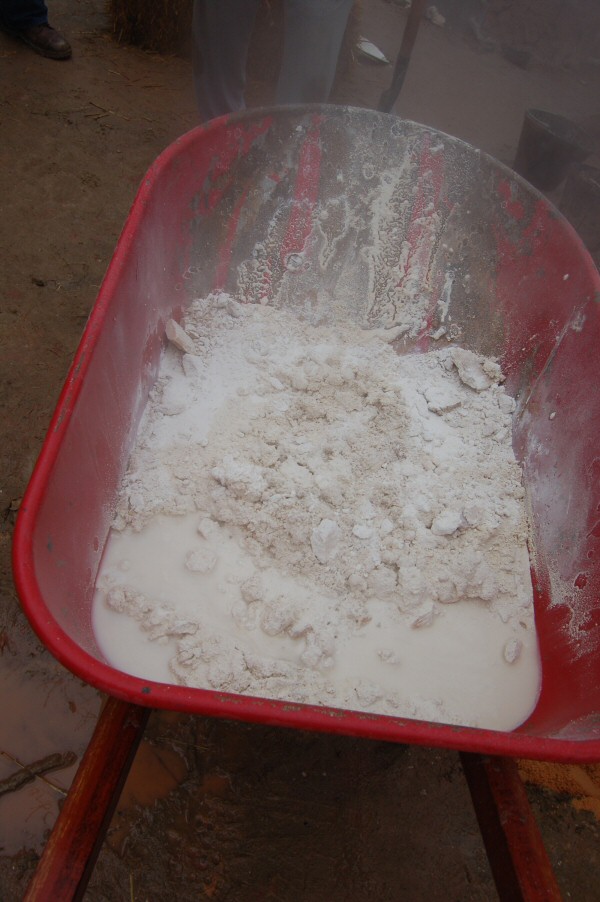 Making lime putty. It is better aged. The Roman building codes required that it be aged 3 years, to
make sure all the free lime is converted.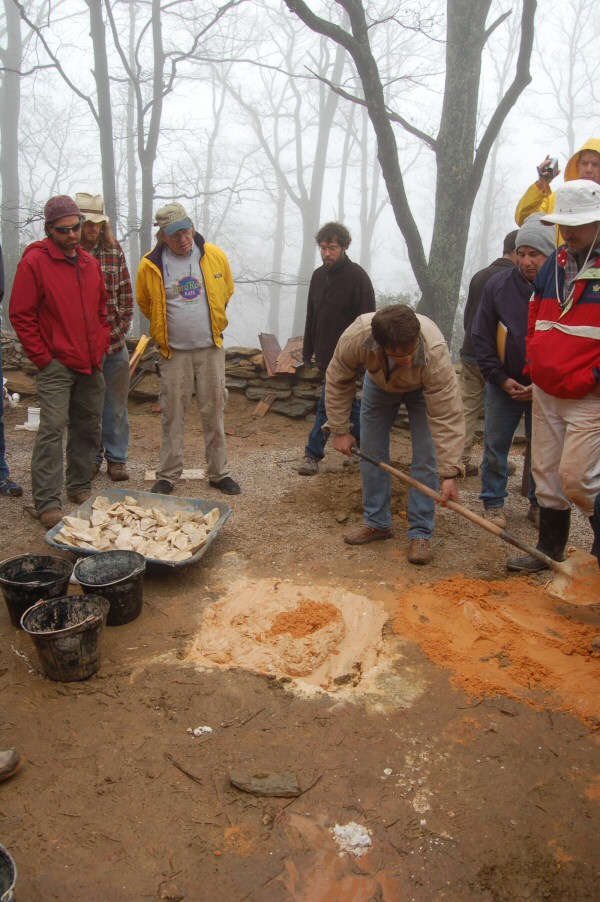 Beating in sand to make lime mortar.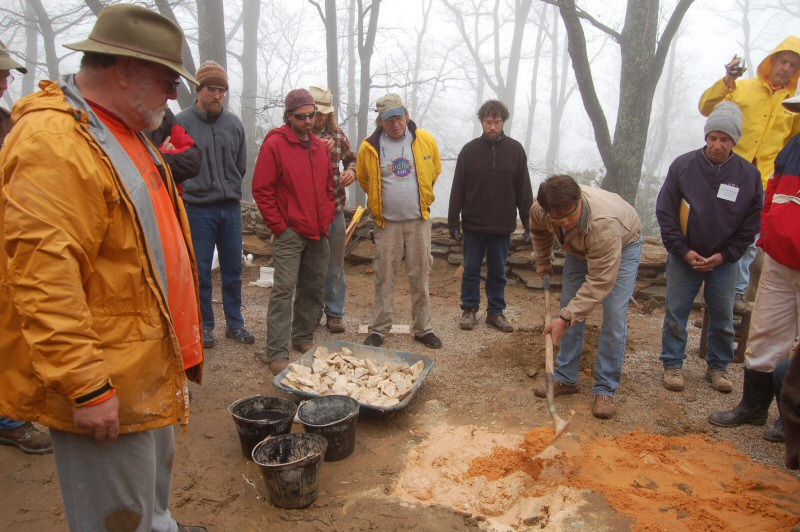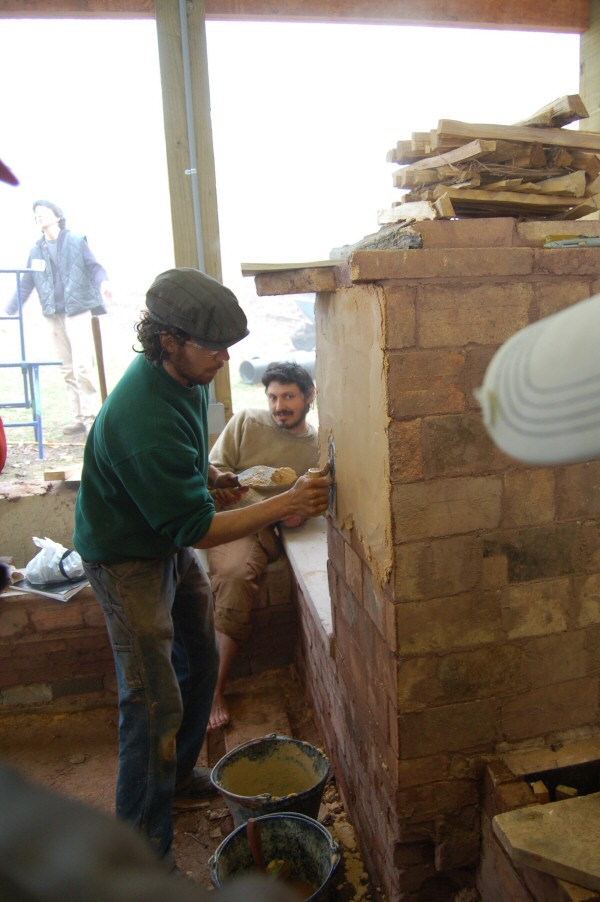 Using the lime mortar to plaster the Rocket/Bell.
Fred said it was the best lime he has ever made, and estimated the conversion at 98%.
It made a beautiful plaster, that was applied to a hot stove and didn't crack.
Not extremely surprising, however, since lime mortar is the traditional plaster material for heaters,
and it was usually applied to a warm heater.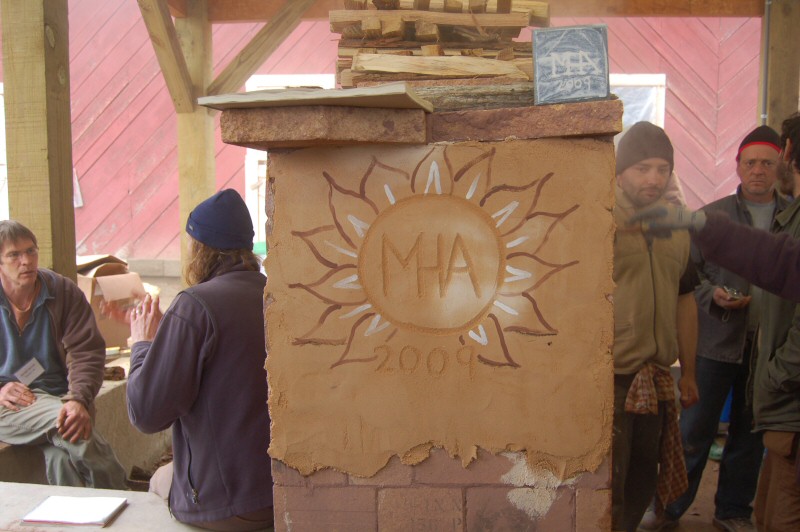 The local orange sand made for a lovely natural mortar color. White patches of dry plaster are starting around the "A".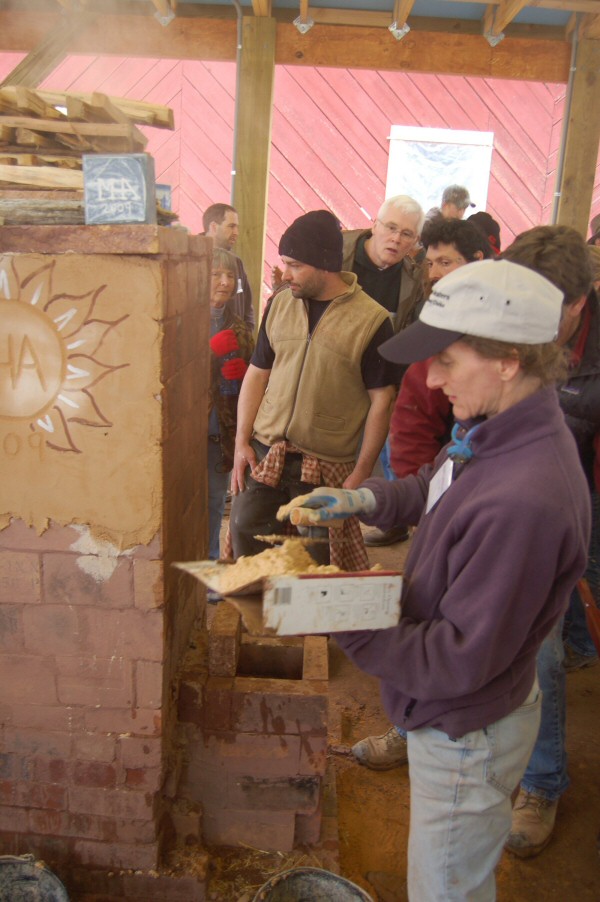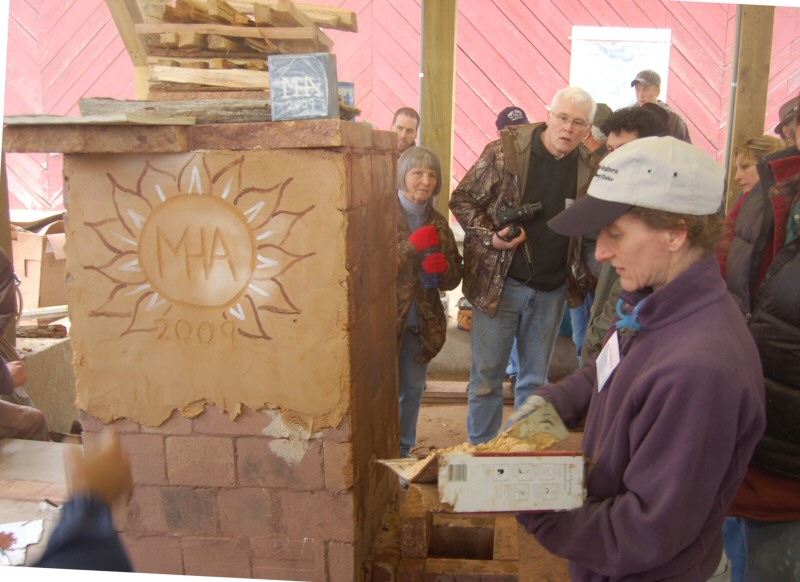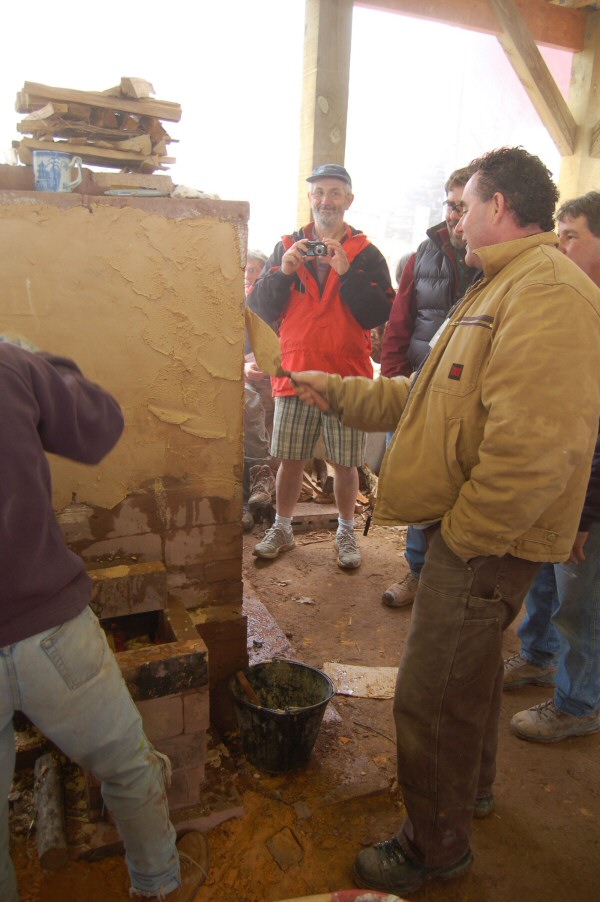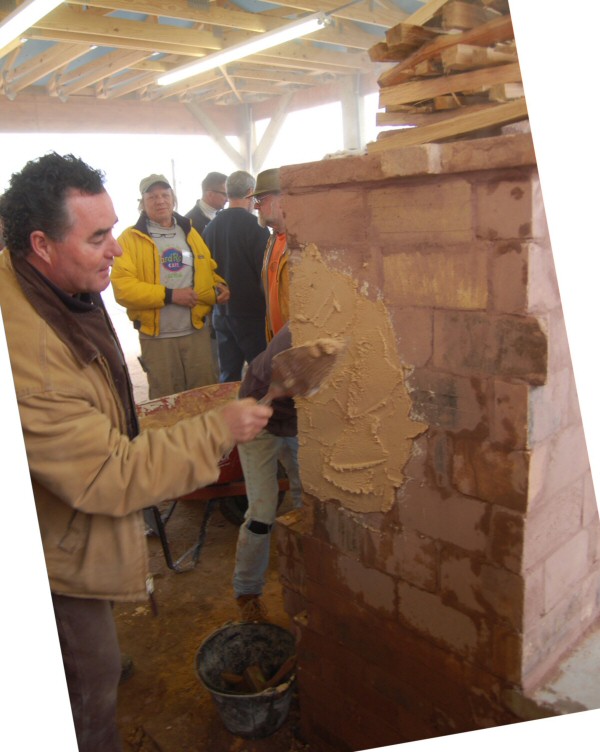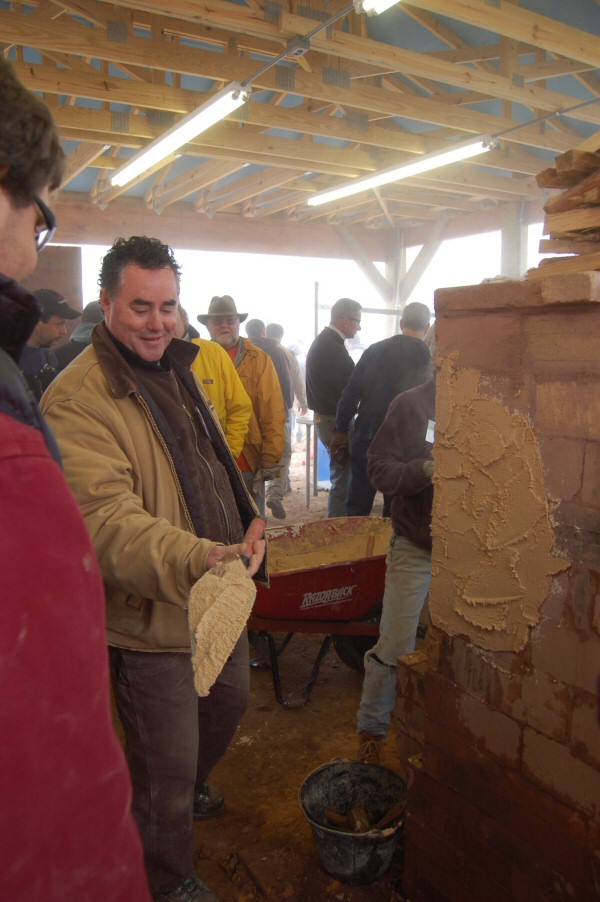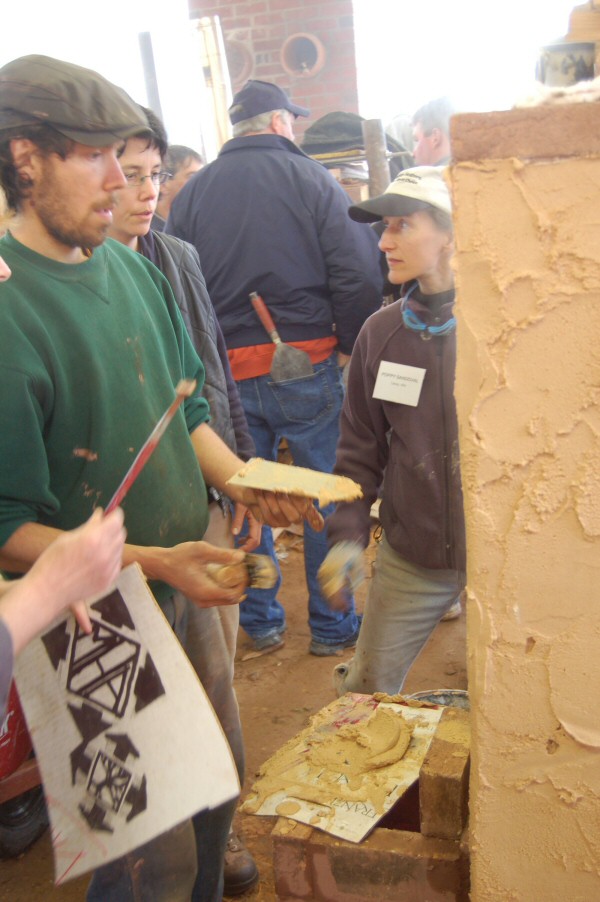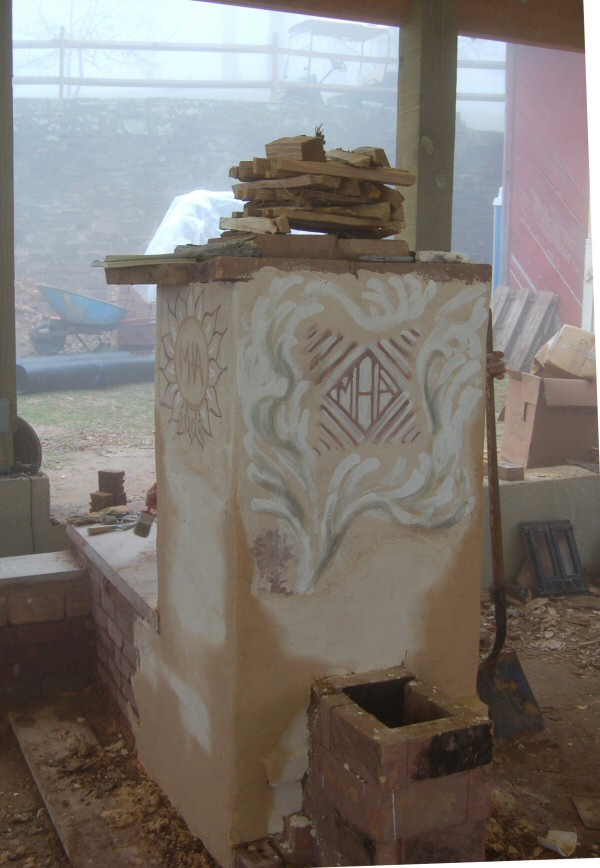 Frescoes.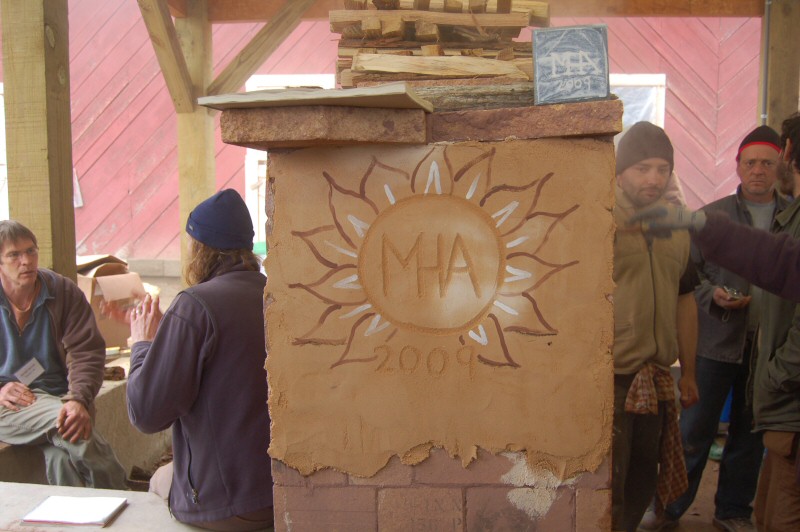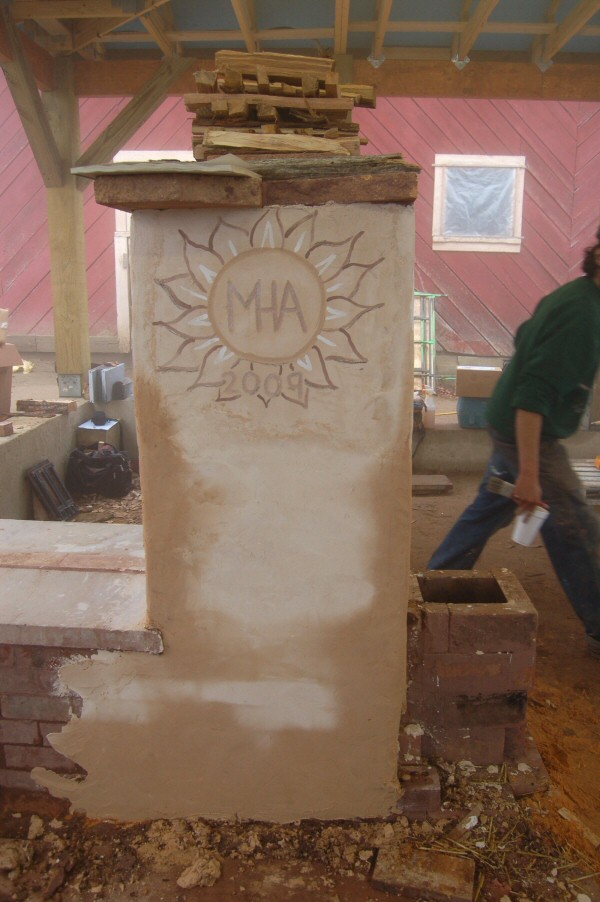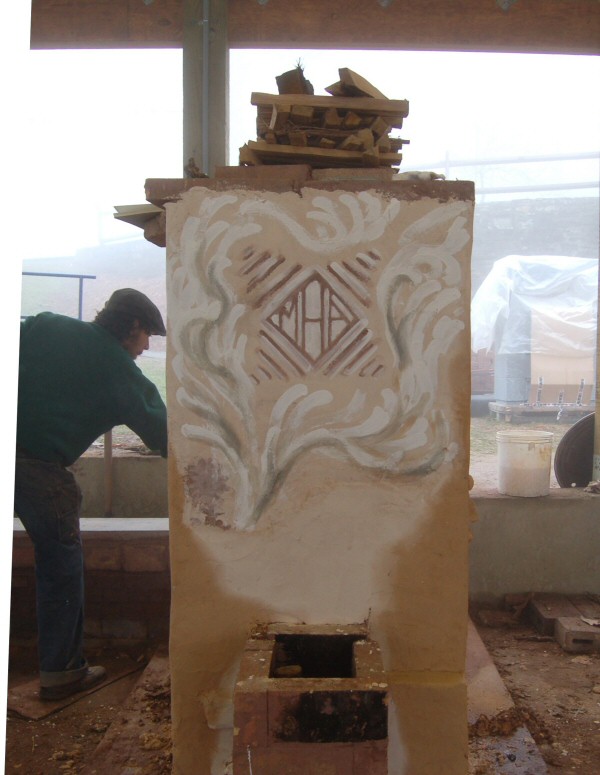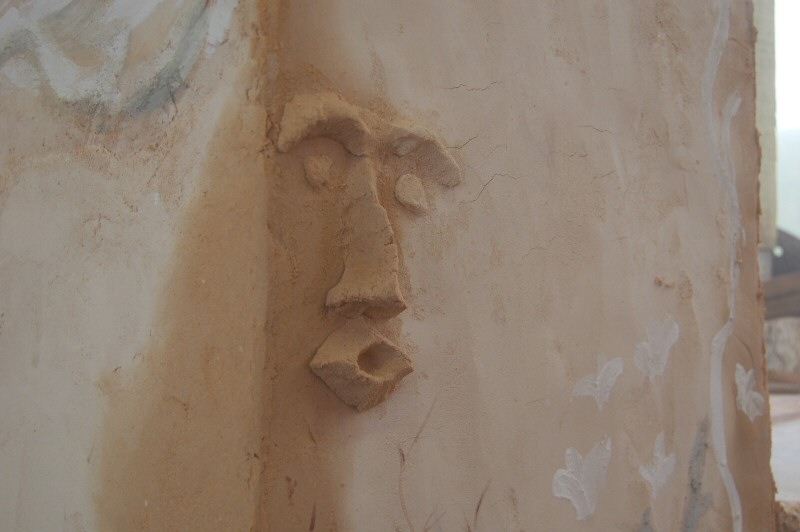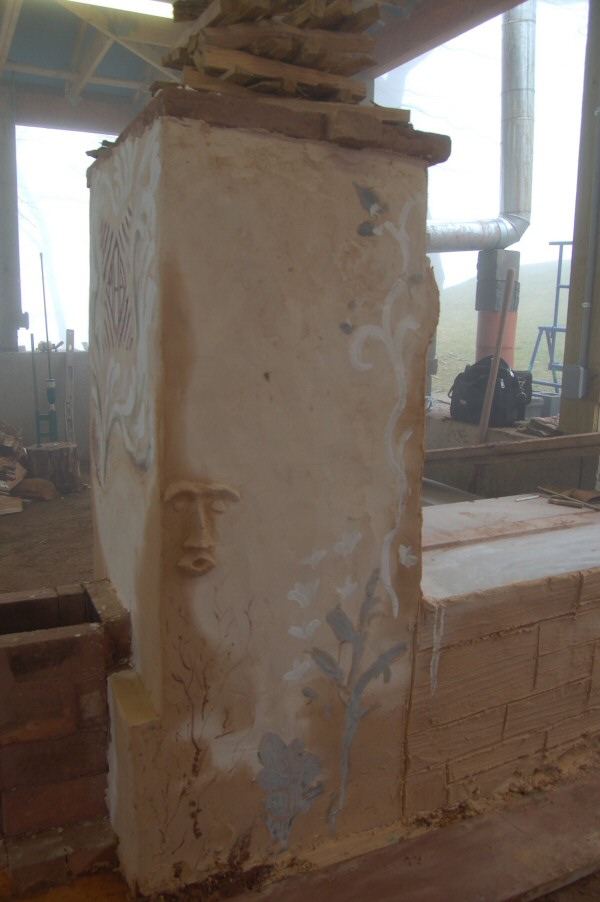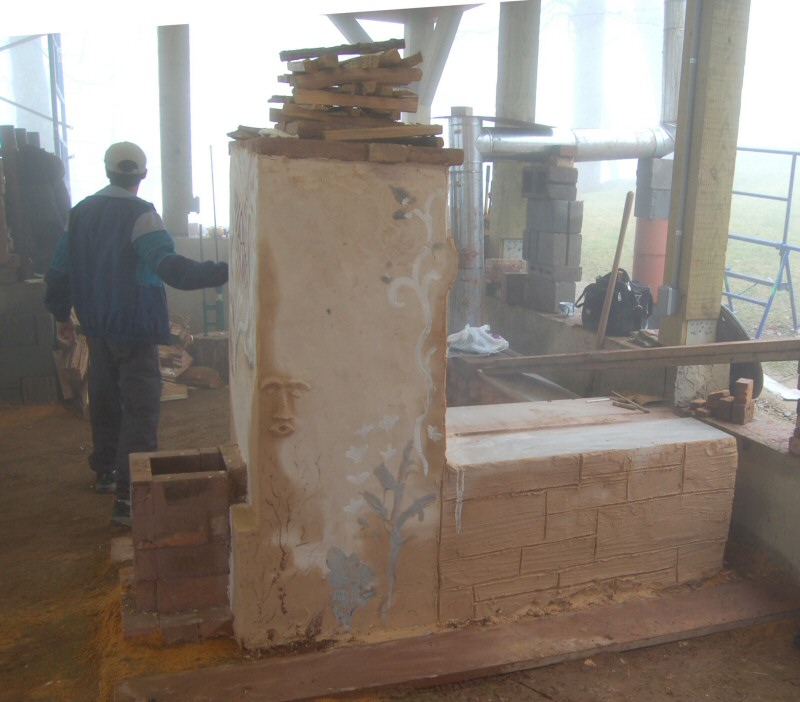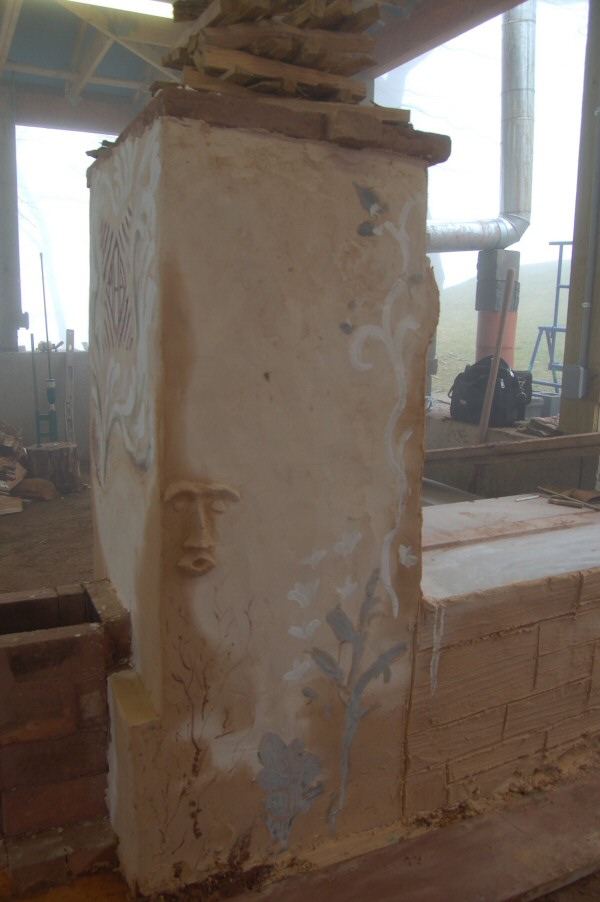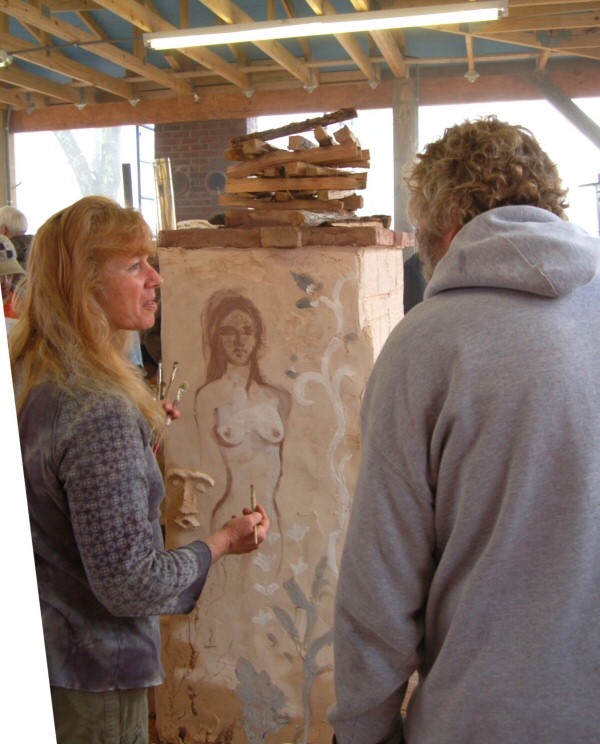 ---
See also,
2008 Photo Report
2007 Photo Report
2006 Photo Report
2004 Photo Report
2003 Photo Report
2002 Photo Report
2001 Photo Report
2000 Photo Report
1999 Photo Report
1998 Photo Report
1997 Photo Report
This page was last updated on May 3, 2009
This page was created on April 18, 2009
Back to: