2005 MHA Annual Meeting
Small Commercial Pizza Oven Workshop
with Pat Manley
2006 Backyard Oven with Peter Moore
2004 Cob Oven with Tom Trout
2007 Experimental Bake Oven with Alex Chernov
2003 French Bake Oven with Norbert Senf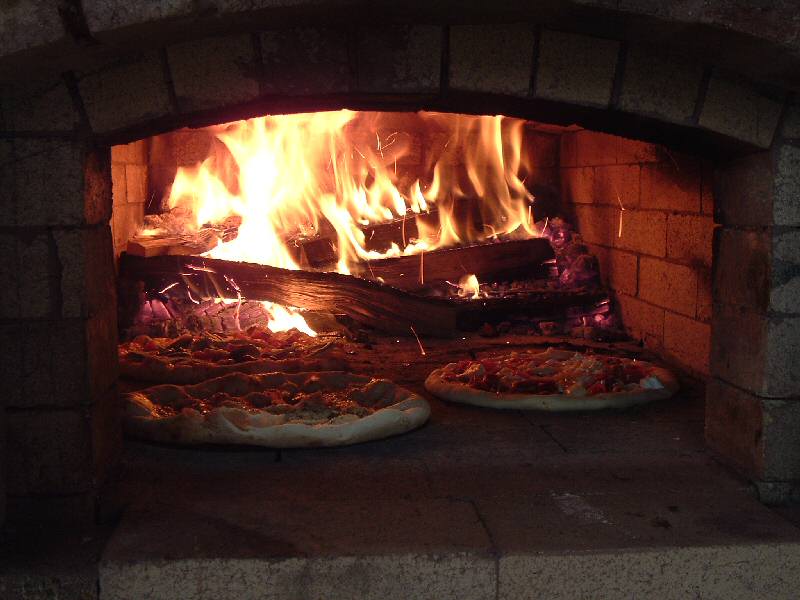 Photo Credits:
Alex Chernov, Rainer Stoll, Lynne Overk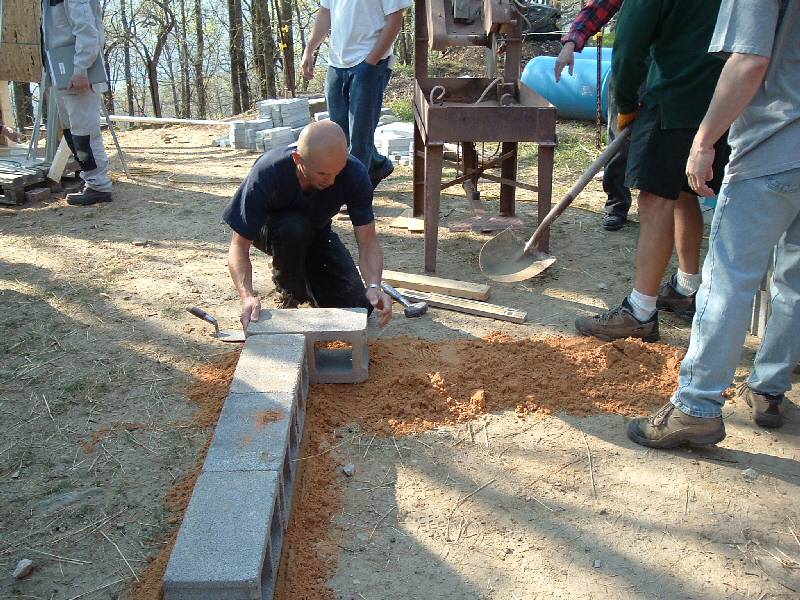 Laying out the base.
This oven was temporary, so the base is dry laid.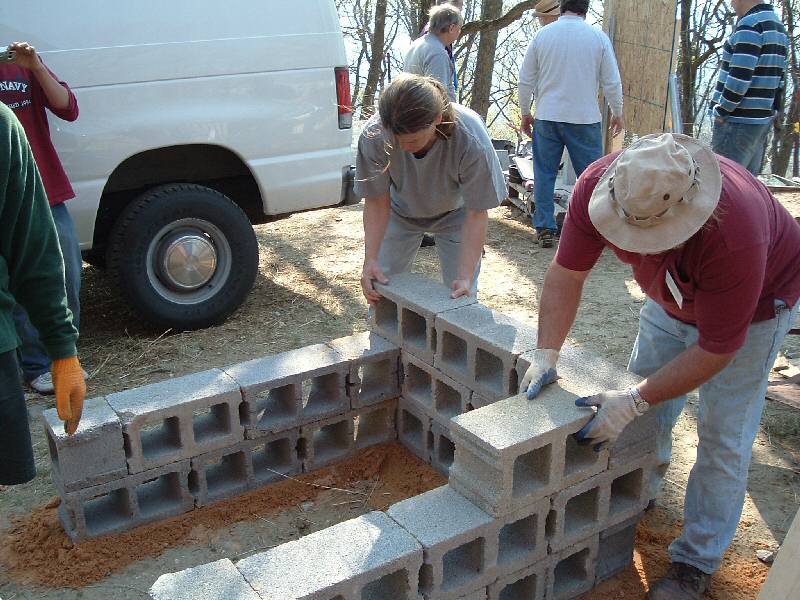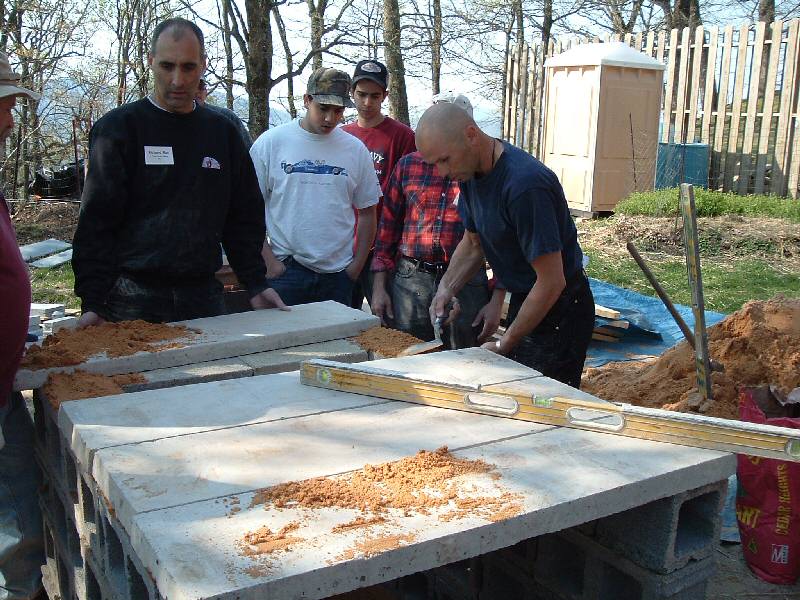 Precast corbel slabs are used to form the subhearth.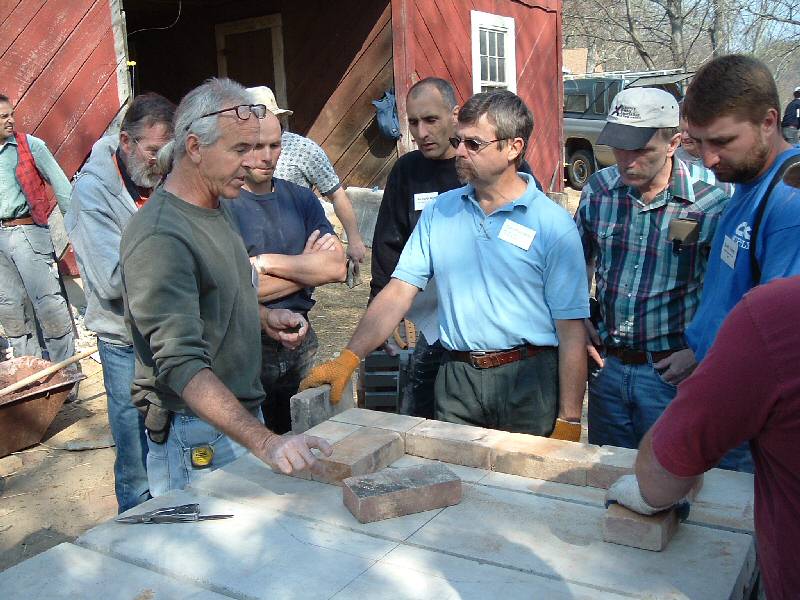 Pat Manley explains the layout.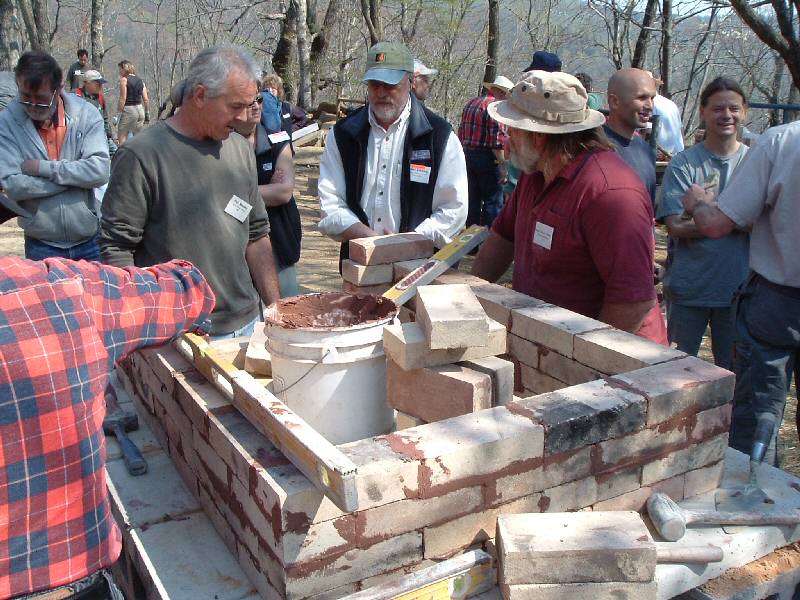 Firebricks are set in clay mortar. Redart clay, in this case.
A permanent oven would be set with air-setting refractory clay mortar such as Sairset.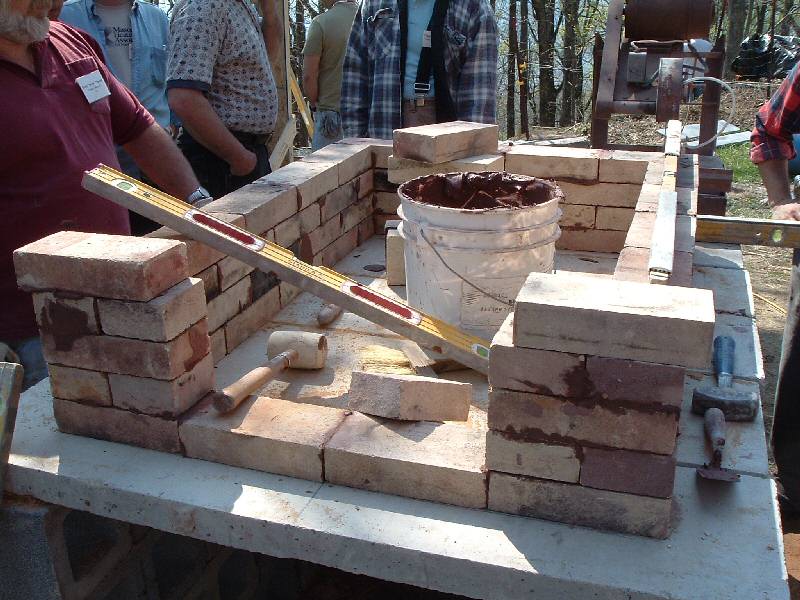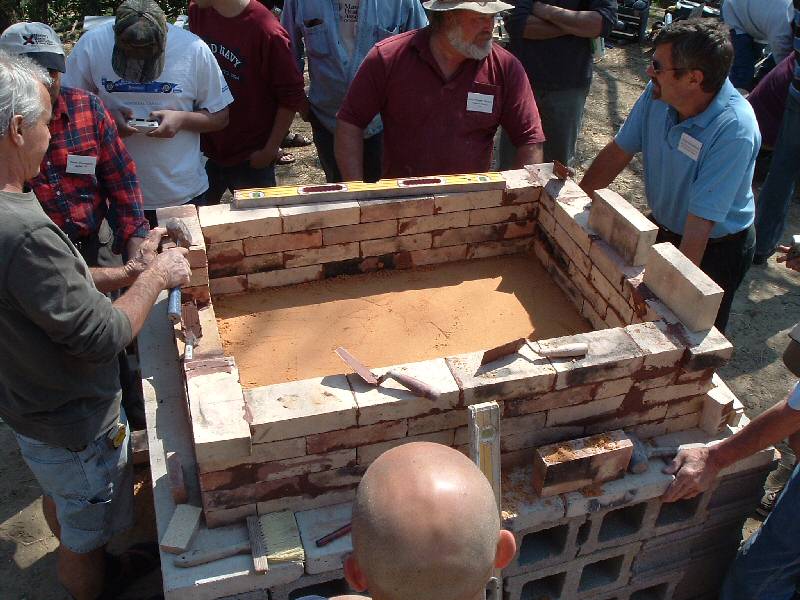 The hearth is dry laid onto a sand bed.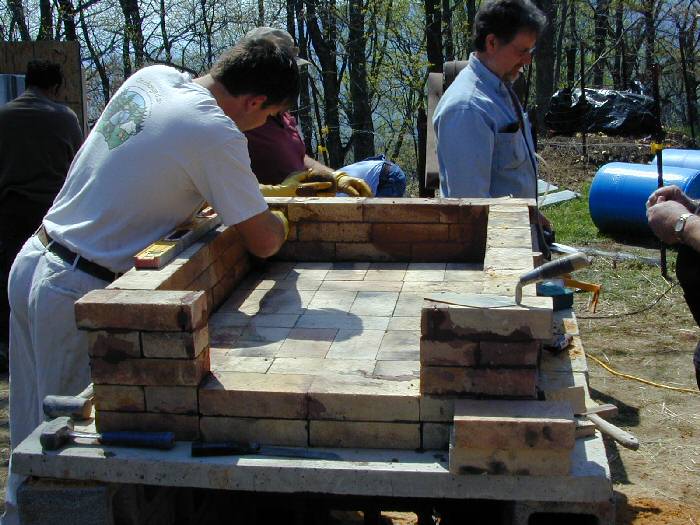 Forming the door arch.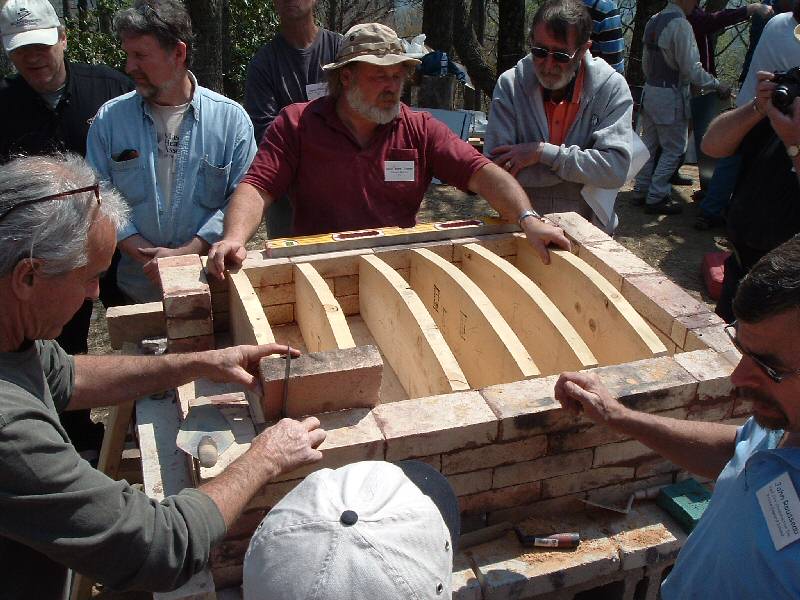 Pat checks the angle for the skew course that will spring the vault.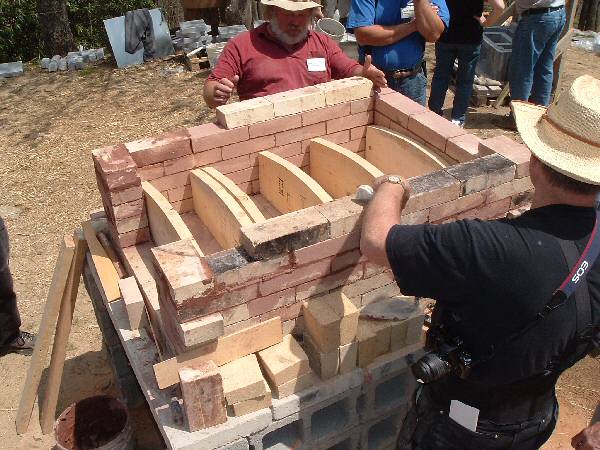 Setting the skew course.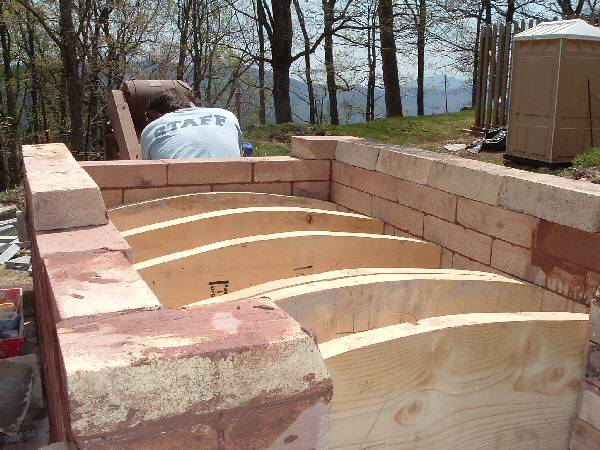 Note the angle on the skew course.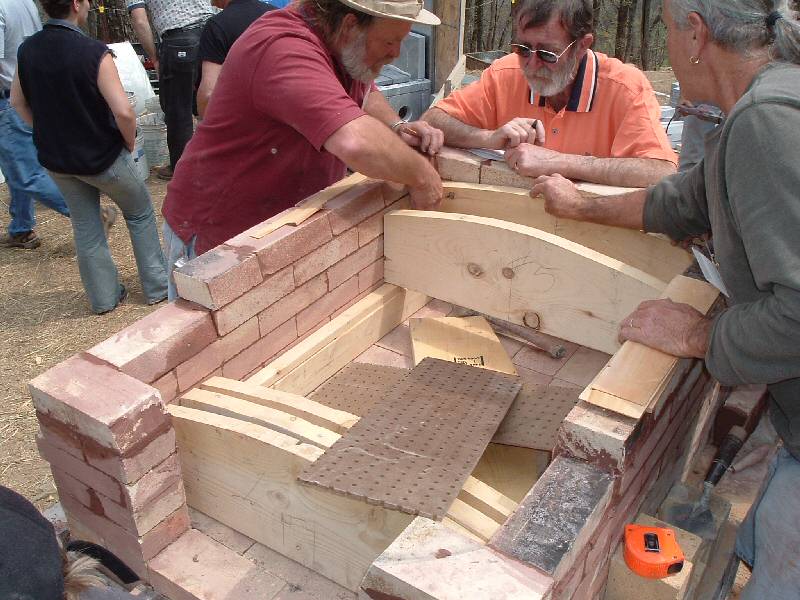 Setting up the centering for the oven vault.
Note that the front skew brick is dropped by one course.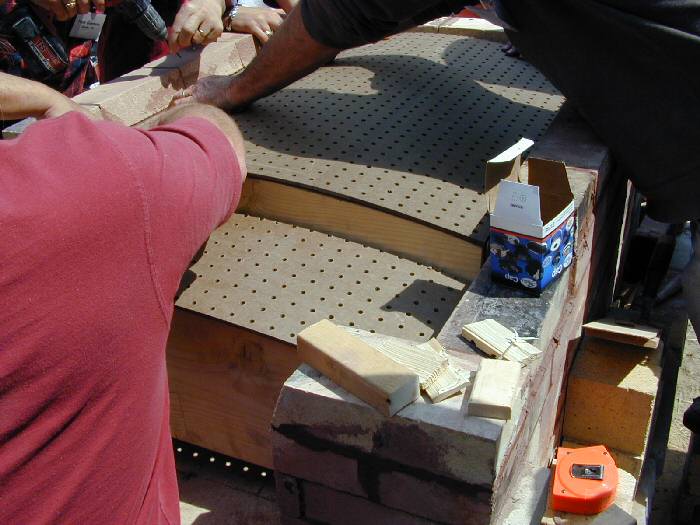 The centering is topped off with pegboard. Notice the dropped vault in front.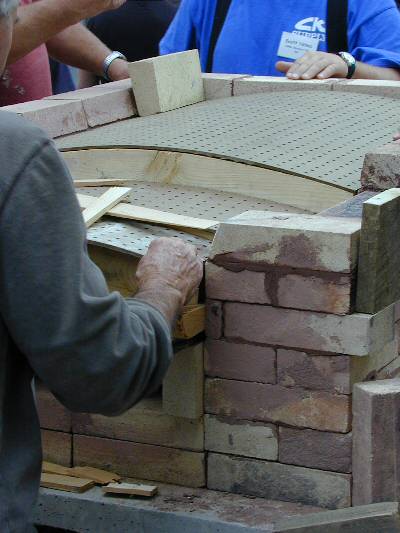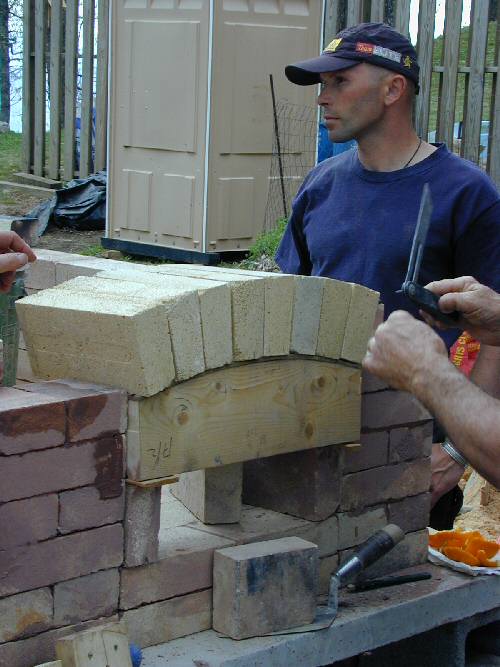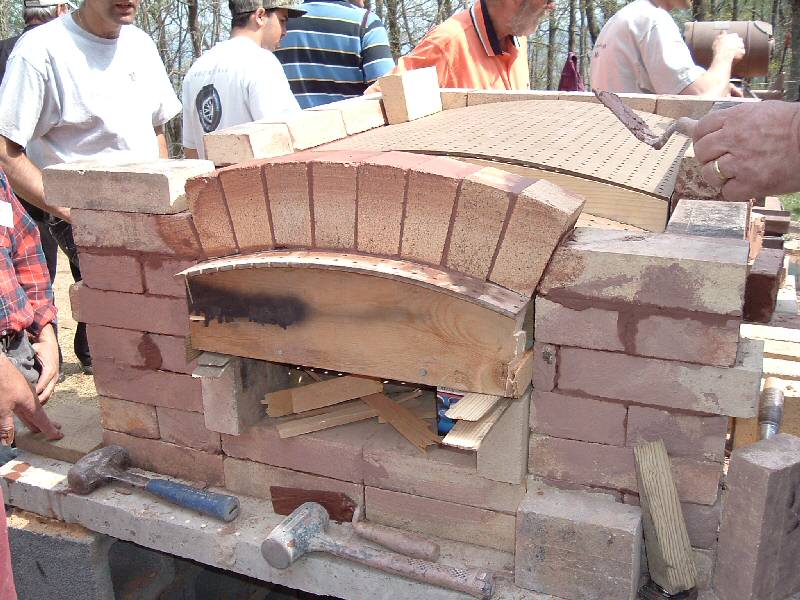 Firebrick arch above door.
About half the bricks are "No. 1 Tapers" - a standard refractory industry product.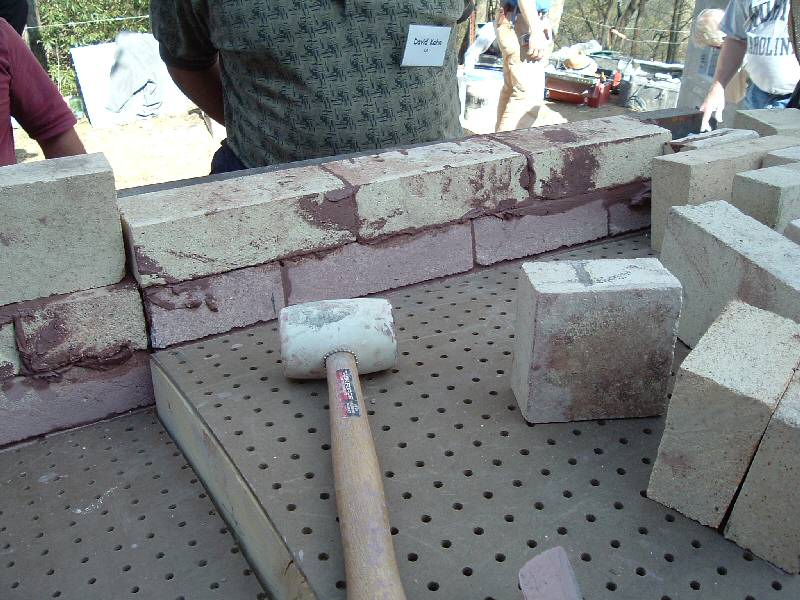 Setting up the bond and spacing for the vault.
Note the use of tapered bricks.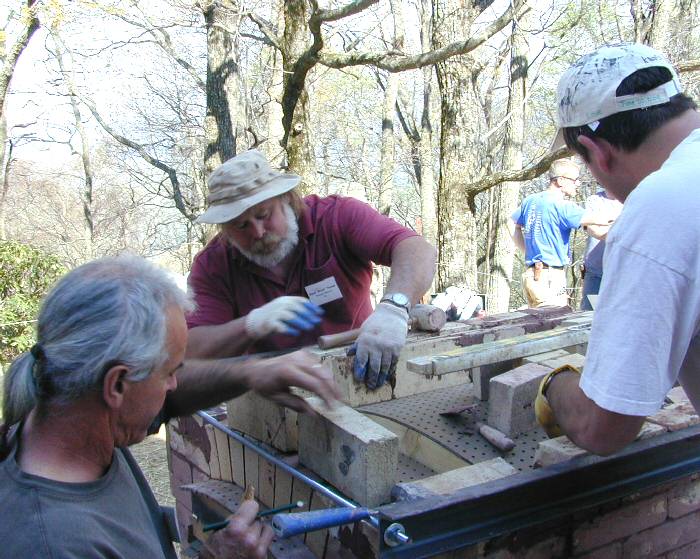 Note the steel "harness" that takes up the side thrust from the vault.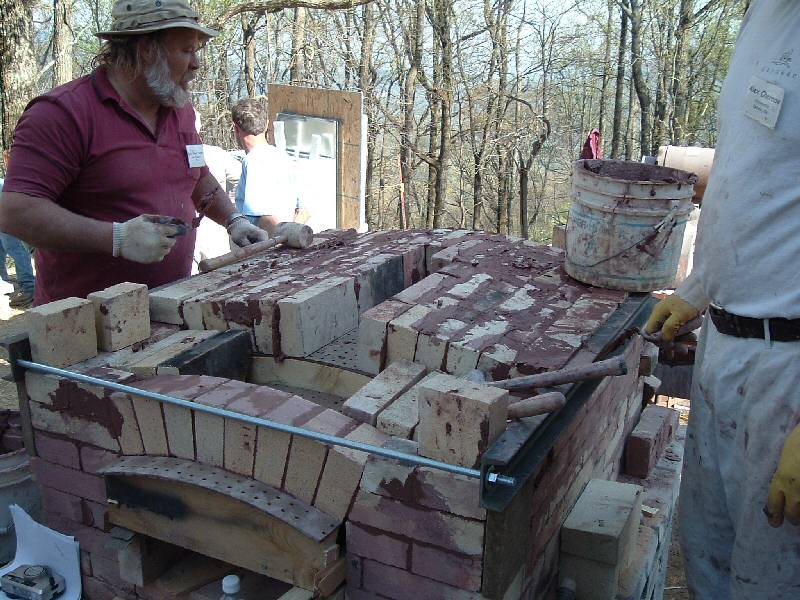 Better view of the steel harness.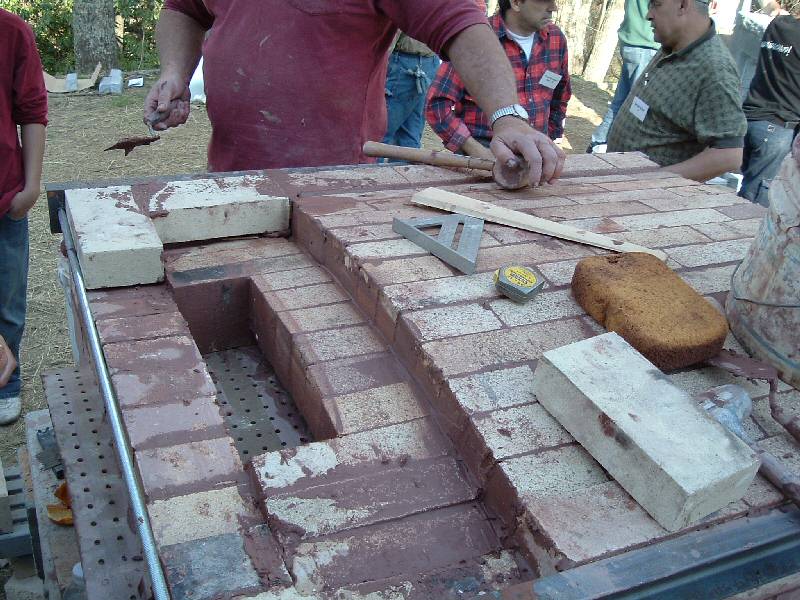 Gas exit slot, behind the front door.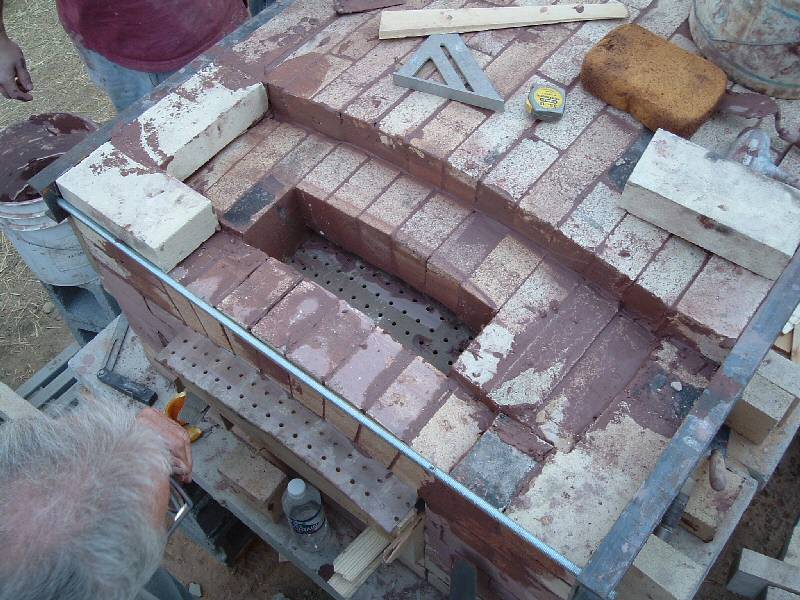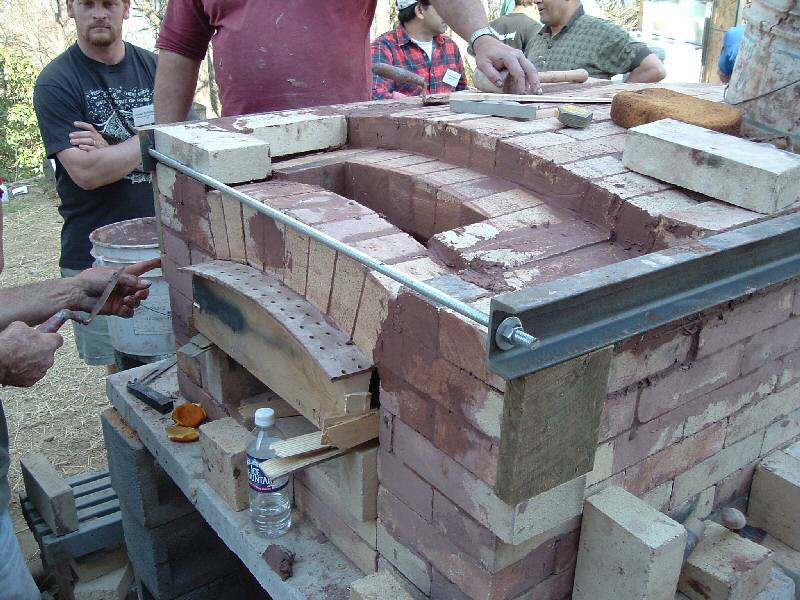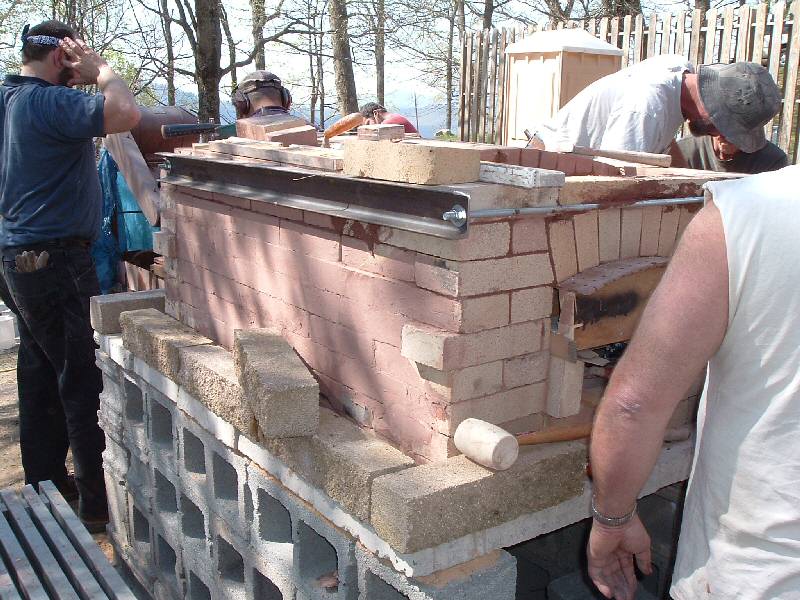 Laying out the brick facing.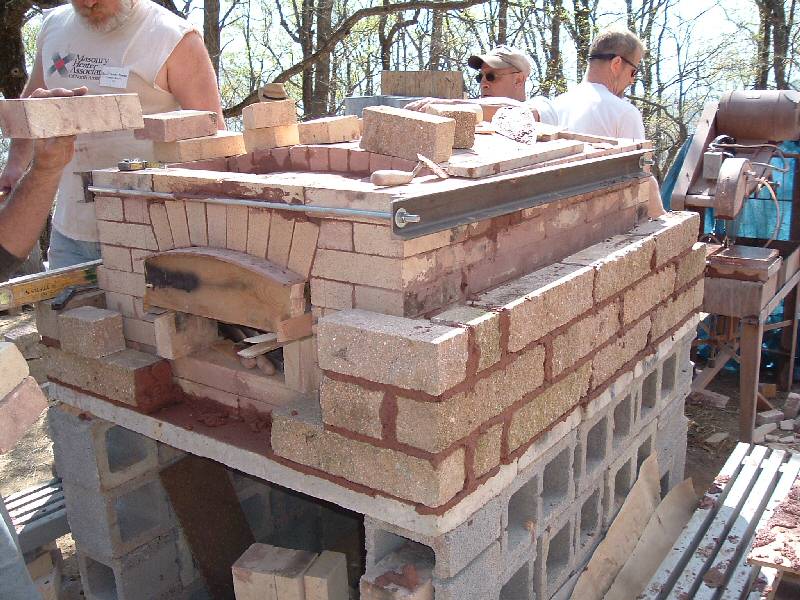 For this oven, the brick facing is set in clay/sand (adobe) mortar. This would work for a permanent oven indoors. Adobe mortar
will not handle water.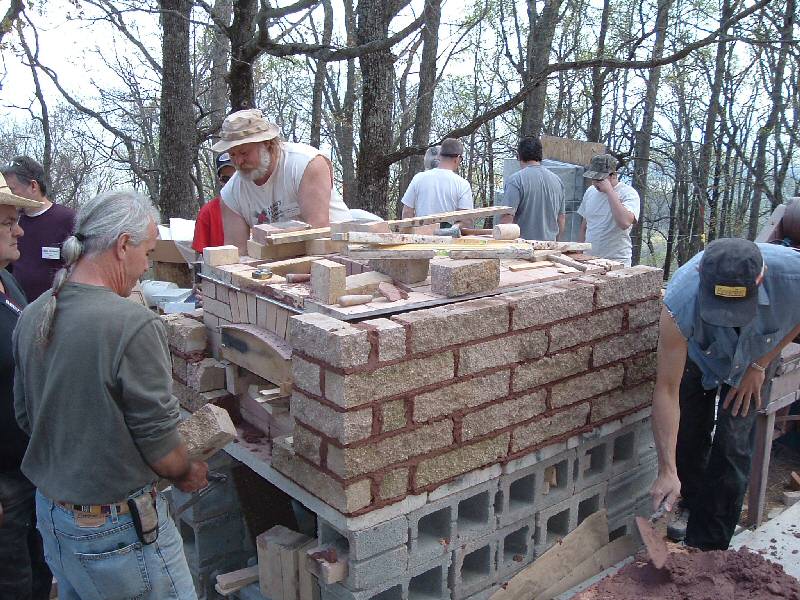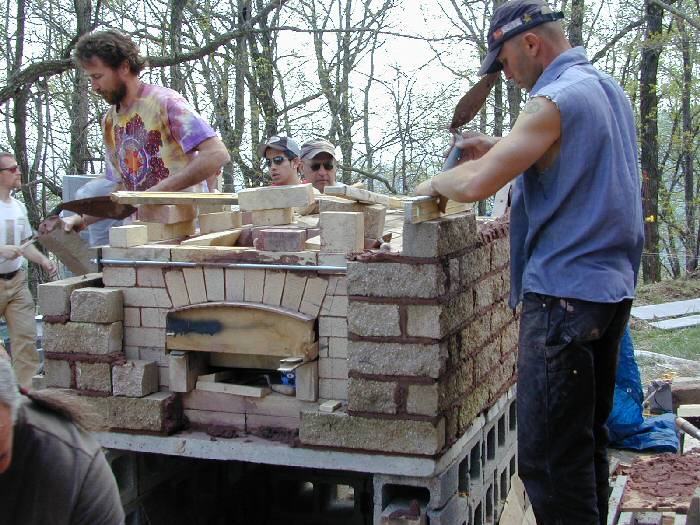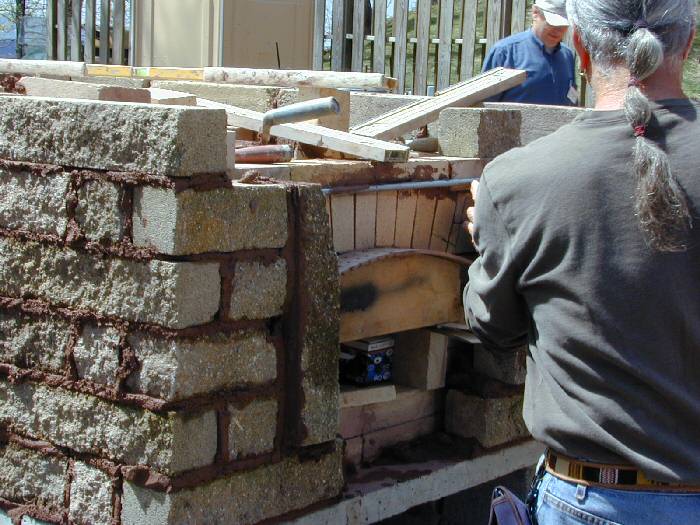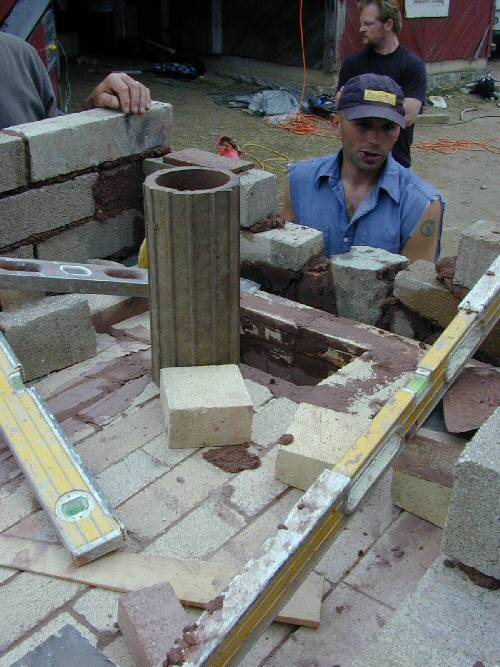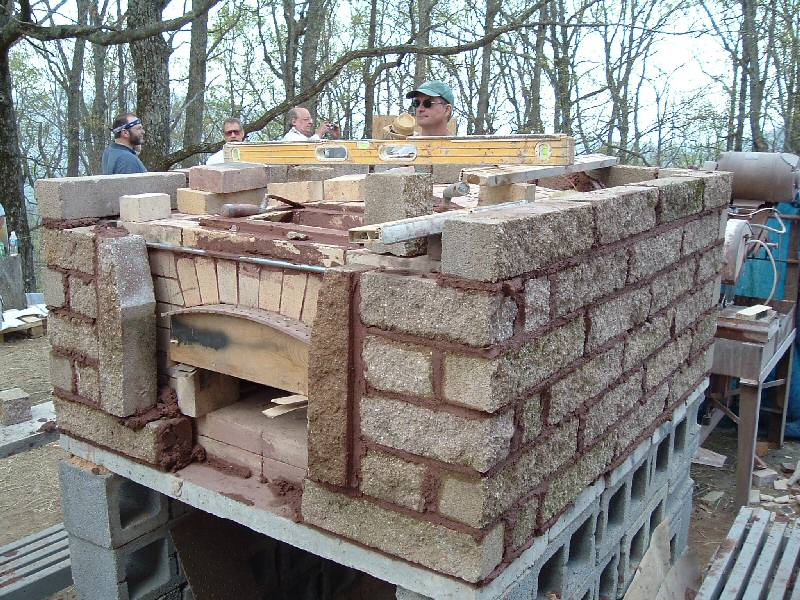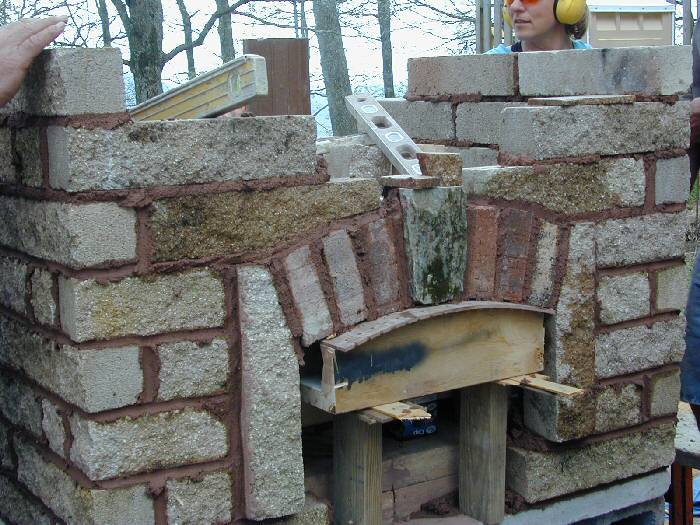 Soapstone keystone in place.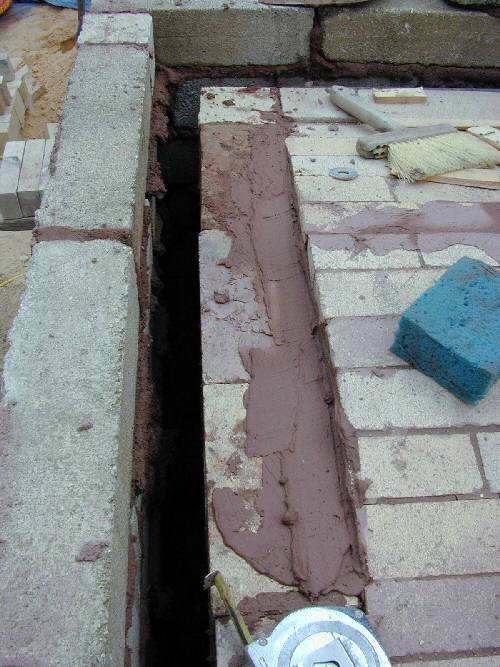 Air space between oven and facing. In a permanent installation, this would be
filled with insulation such as vermiculite or rockwool.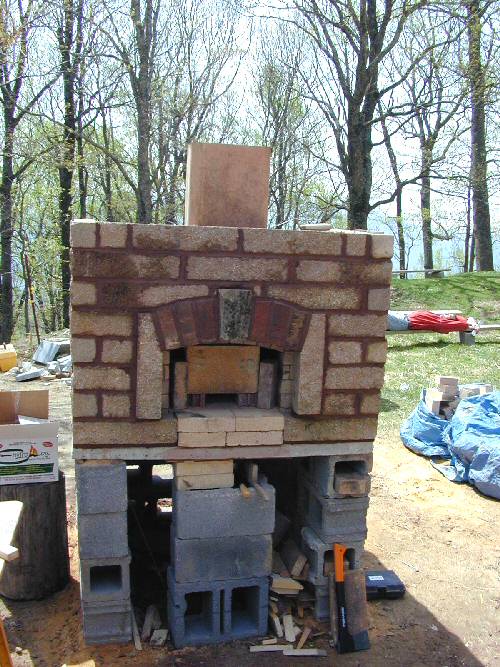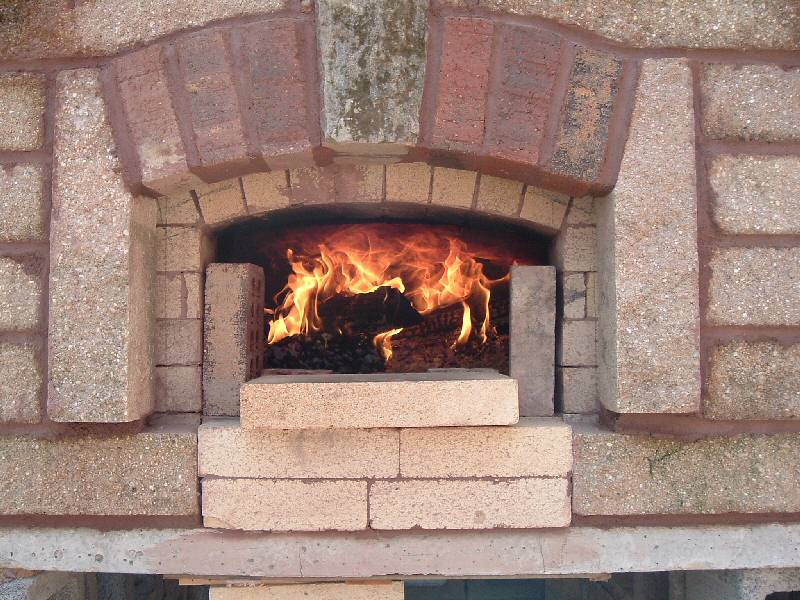 Curing fire.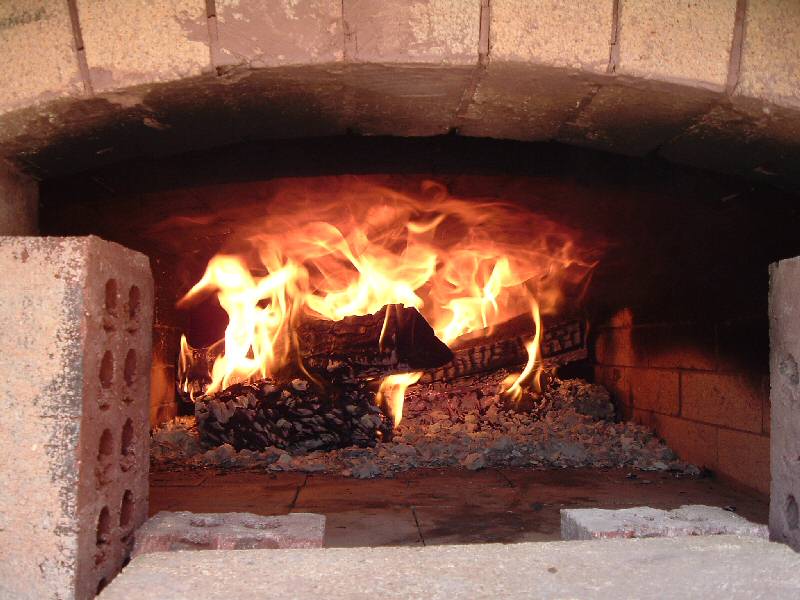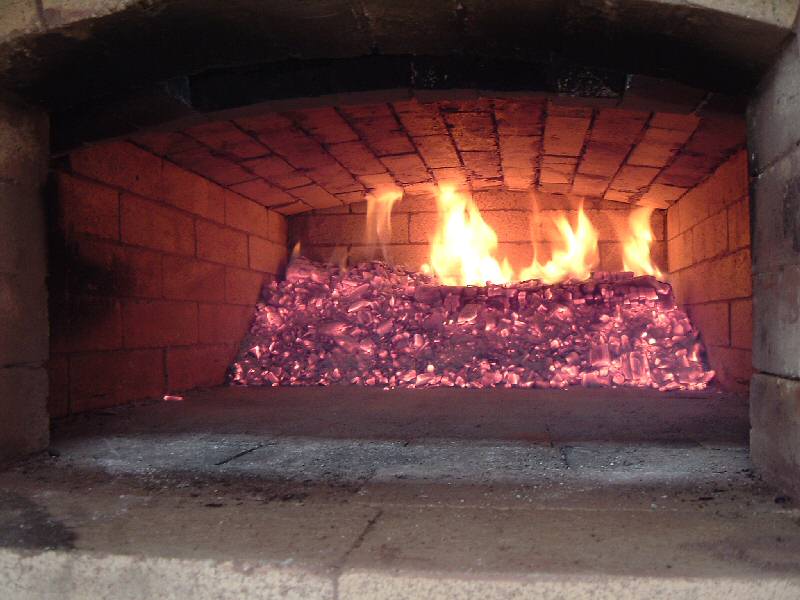 Note that vault is burned clean, except for a cooler patch toward the front.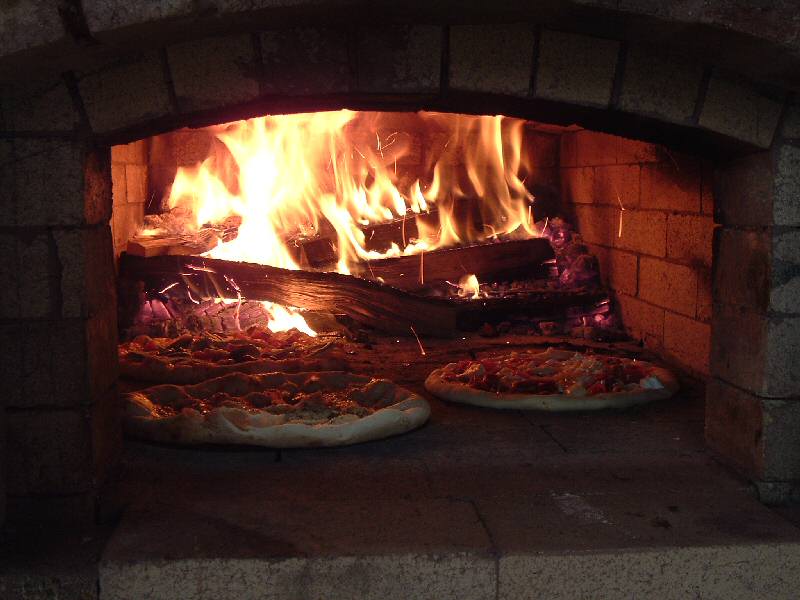 The ultimate pizza. It bakes in about 2 minutes, with browned toppings and a seared crust.
Cold air is rushing in on top of the pizzas, so they are being baked by radiant heat only, plus conduction from the hot hearth.
The only way pizza.can be cooked like this is in a direct fired masonry oven.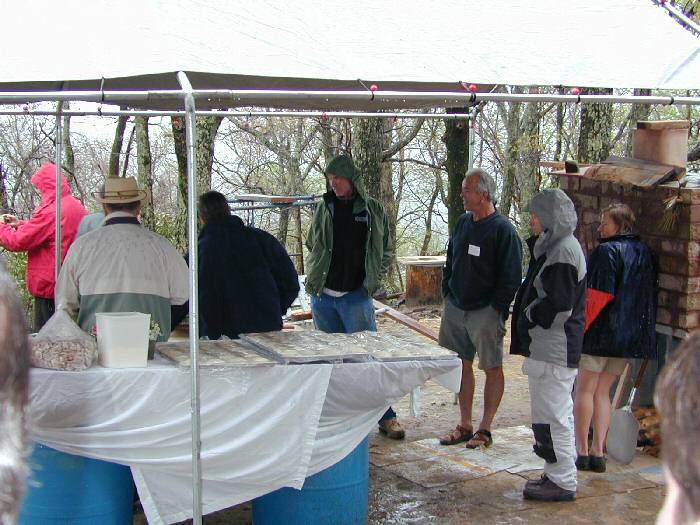 The rain tent is set up to handle the unpredictable Smokey Mountain weather.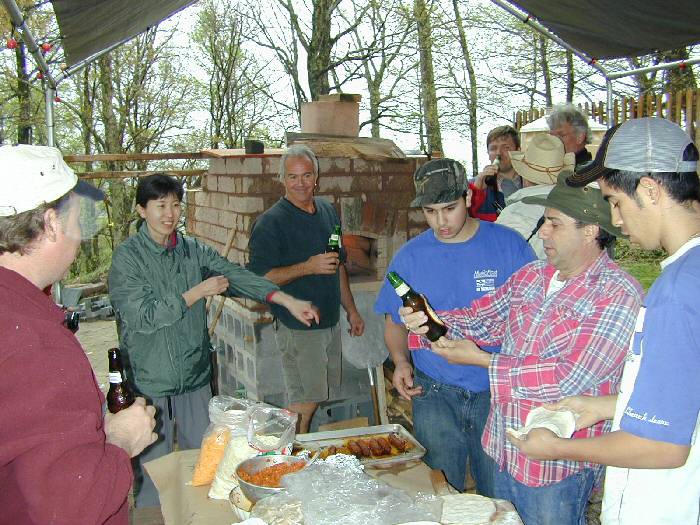 The annual MHA pizza party is now a Wildacres tradition.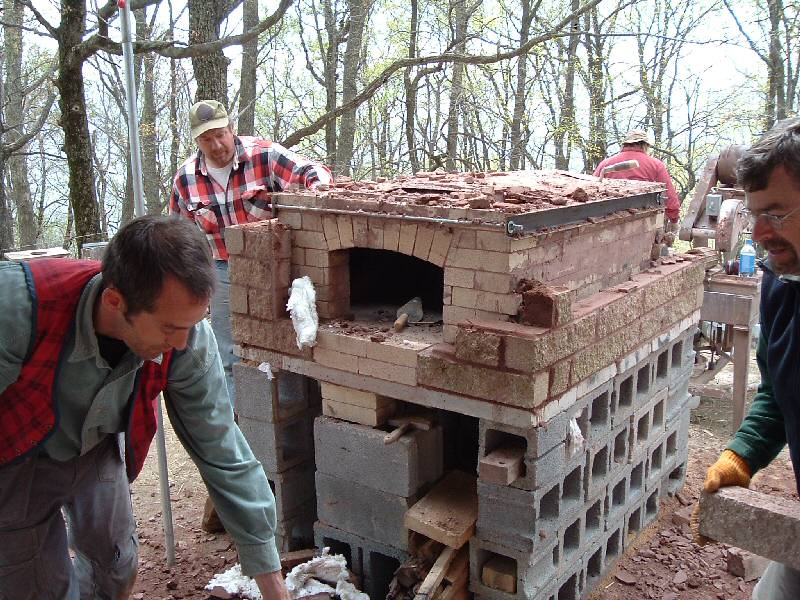 Teardown.
Already thinking about next year's pizza and beer.
See also,
2004 Photo Report
2003 Photo Report
2002 Photo Report
2001 Photo Report
2000 Photo Report
1999 Photo Report
1998 Photo Report
1997 Photo Report
This page was last updated on August 25, 2009
This page was created on May 4, 2005
Back to: