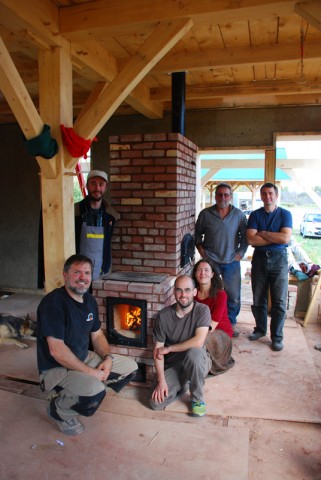 Nov 11/14
Hi, Norbert.
Here are some pictures from a workshop on a "Russian Rocket" single-skin heater I did in September in St. Paul, AB, which is near Edmonton. The workshop was held in the Blue Quills First Nations College and was organized by their Natural Building-Science Apprenticeship Program Coordinator, Michael Hollihn.
The goal was to show an inexpensive and sustainable way for building an efficient and comfortable multifunctional heating system for people of the First Nations. Since compliance to Building Codes is not a requirement on the reserves, a single-skin heater was selected as and appropriate inexpensive model.
We used reclaimed clay brick (thanks to a MHA member Derek Kowalchuk for helping sourcing them in Edmonton!).
For cook-top we also used reclaimed cast-iron pieces from a rusty used wood stove, laying on the college property. The cook-top this way is quite larger, than the Pisla one we used at the WA workshop, resulting in about 16×20″ overall cooking surface. Dimensions of the heater were increased accordingly half brick to 24″x54″.
Brick plugs are used for clean-outs. The only puchased hardware were grates, firebox ad ash box doors and dampers. The doors could also have been substituted with something reclaimed, but the organizers opted for larger nice glass doors.The heater was built in a timber-frame model building with straw bale in-fill.
We had total of 5 people plus myself working on the heater through three days. With exception of one person, no one laid any brick before. We completed the heater in about 22hrs of work.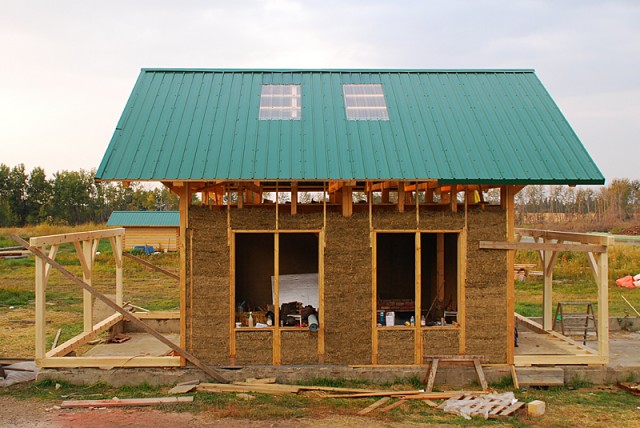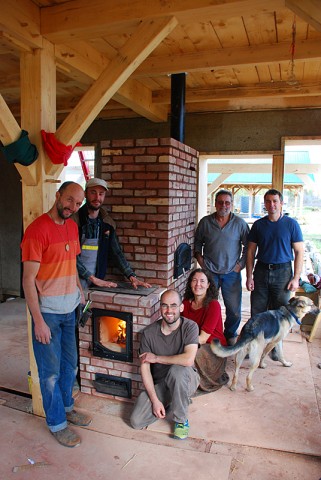 See also: Russian Rocket workshop with Alex Chernov, at Wildacres
Best,