The founder of a new Russian village «Az Grad» www.azgrad.ru  located 40 km from Omsk, a businessman Andrey Nikitenko,  manager of  "Siberian Pyramid" is  dealing with research and implementation of new technologies into modern structure of society and everyday life of a man, which is one of the key trends  in the activities of project institute InTeG.
Being a unique technology in the world, the technology of free gas movement in bell stoves invented and developed by I.V. Kuznetsov is considered in Az Grad most promising.
Since10.09.2012 till 24.09.2012 г. Non-commercial Partnership «Kuznetsov's Stove System Development» has conducted an international training workshop for the stove builder beginners as well аs qualification increase and certification of experienced stove builders who construct stoves in accordance with the inventor's concepts.  34 people took part in the workshop including 20 newcomers, 9 guests and 4 people responsible for its organization. Experts from Russia, Spain, Ireland and Tadzhikistan took part in it. Konrad Kuegel, managing director of a large German company Wolfshoeher Tonwerke GmbH & Co.KG,  E.S. Bystrova, head of the company representation office in Russia, and D.S. Starostin, project manager  got acquainted with the Russian technology.  The company manufactures a broad variety of high-quality chamotte articles for the stoves in 7 countries of the world.  We are grateful to them for the design of Kandern bread baking stoves furnished to aid in the development and construction of baking stoves of continuous operation.
The workshop was shown on TV and transmitted over the radio by the Federal TV and radio company Omsk – 12 channel.
News: http://gtrk-omsk.ru/news/detail.php?IBLOCK_ID=3&ID=96444
It shall be pointed out that Noncommercial Partnership is a public organization that carries out works free of charge usually using labor force of the people being trained.  Usually a customer has to be found who is interested in some stoves of different purpose to be made, who will finance the preparatory works, buy the materials required, provide accommodation and food for the workshop participants.  Our aim is to cooperate in the development and improvement of the stove system useful to people, the society and the state. Financing of the work of tutors, nutrition of the workshop participants and guests and organizational charges, etc. is to be made using the fees of the people being trained. At the same time some of the participants did not need to pay any fees or their amount was substantially reduced. Due to various reasons, the number of the participants was insufficient to perform the amount of work declared. Due to this professional stove makers who construct stoves in accordance with the inventor's concepts, were involved for performing the jobs. This made it possible not only to build the stoves planned but also to build additionally a large multi-purpose stove for café or restaurant. The trip for all of them was at a loss as the fund raised was sufficient only for compensation of travel charge and a small fee for tutors. Their labor was compensated by the knowledge acquired at the workshop. Many of them passed certification and got an Expert Certificate (KIV series) that provides admission to performing jobs in accordance with the technical concepts of I.V. Kuznetsov in construction the following stoves:
baking stoves;
multifunctional heating and cooking stoves of various purpose;
bath stoves.
Some of the stove builders expressed their wish to become members of the Partnership and follow its aims and tasks:
Contribute the development and improvement of I. Kuznetsov stove system;
Provide help in spreading information on new efficient household and industrial stoves manufactured in conformance with I. Kuznetsov system, meeting modern requirements, energy saving and world standards.
The newcomers-trainees have not only covered the theoretical and practical course regarding construction Kuznetsov's stoves but under the leadership of the tutors by the created brigade have built two complexes:
outside complex comprising heating facilities, cooking range, Russian teplushka, cauldron, barbecue, and smoking facility;
multifunctional restaurant heating stove with the functions of Russian teplushka and barbecue.
The trainees have got an attendance certificate (IVK series) signed by I.V. Kuznetsov certifying their attendance of the workshop.
In the evening of October 15, 2012 the baking stove for baking bread/ pizza comprising two chambers with temperature adjustment facility for continuous baking of bread was put into operation. The stove comprises a heat exchanger for hot water supply. For the Russian stove lovers the possibility of firing the stove and cooking in a Russian way was preserved.  In the bread-baking chamber various temperature modes were tested successfully.  We baked potatoes in their jackets, bread and pies.  At the moment over two stoves there is no building, therefore they cannot be tested at full power.
For construction work, brick M200 was mainly used, manufactured by Kema plant in Chelyabinsk.  It goes without saying that to construct baking and other stoves with refractory lining is very simple, especially when we use products manufactured by Wolfshoeher Tonwerke GmbH & Co.KG.  Local clay and sand were used for masonry mortar of external coat. «Cedima»  stone cutting machines (Germany) were used for brick dressing.
Enterprise «Vladimirsky gonchar»  manufactured original memorable  glazed  tiles,
We would like to thank Andriyan Kolyaganov, Director of «Vladimirsky gonchar».
BREAD-BAKING STOVE CONSTRUCTION
The photo features: I.V. Kuznetsov, author of the stove design, and A.A. Nikitenko, a businessman with a brigade of stove builders after putting the stove into operation.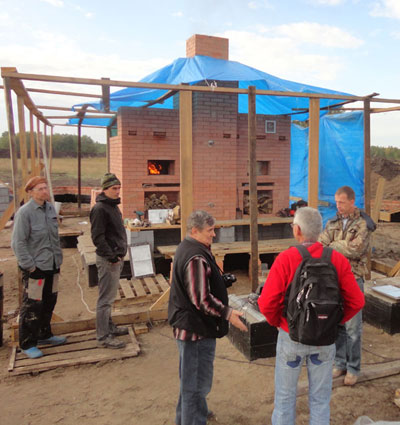 Front view of bread-baking stove. In the foreground   E.S. Bystrova, head of representation office of German company Wolfshoeher Tonwerke in Russia and I.V. Kuznetsov
First tests.
The photo featuring: Mr. Konrad Kuegel (Germany), Iban Aranzabal Uriarte (Spain), Ramunas Lekstutis (Ireland), I.V.Kuznetsov and S.V.Kirilenko. Exchange of opinions. It should be pointed out that during all modes of stove operation practically there was little smoke.
For more details here: http://stoveur.ru/index.php?option=com_content&view=article&id=33
STOVE CONSTRUCTION OF PUBLIC BATH:
Iban Aranzabal Uriarte is satisfied.  He intends to develop bath business in Spain using our stoves.
BIC RusSaun Az Grad, bath stove with corner fireplace and hot water supply heat exchanger.
For more details here: http://stoveur.ru/index.php?option=com_content&view=article&id=31
CONSTRUCTION OF OUTSIDE COMPLEX WITH HEATING FACILITIES
Heating multifunctional stove with a function of Russian teplushka (cooking range, cauldron, baking chamber) and barbecue
For more details here: http://stoveur.ru/index.php?option=com_content&view=article&id=34
RESTAURANT STOVE
As could be seen from above photos, the system of free gas movement as regarded by I.V. Kuznetsov, makes it possible to design a great number of different stoves for various functional purposes.  Mr. Konrad Kuegel could not positively answer the question asked by I.Kuznetsov whether it is possible to make similar stoves using another system
For more details here: http://stoveur.ru/index.php?option=com_content&view=article&id=35
HERE ARE WE.
Putting of baking stove into operation.
Theoretical class
Tired but satisfied
In the photo: I.V.Kuznetsov hands over an Attendance Certificate confirming participation in the workshop held by Non-commercial Partnership "Kuznetsov's Stove System Development".  Many of the young stove builders point out that although they had studied at various training courses that lasted 1 to 2 months, and that they had spent quite a big amount of money, they did not manage to get such a result they got during this practical workshop.
The aim of the practical workshop: to provide a theoretical course and teach the stove builders in practice how to build I. Kuznetsov's stoves in accordance with his design concept was ACHIEVED.  Working practically 12 hours a day with a good wish and persistence, young stove builders after respective preparation and under the guidance of the tutors managed to construct two stoves by themselves.  According to decision of  I. Kuznetsov and the commission support the young stove builders were provided with respective Certificate.
For more details here: http://stoveur.ru/index.php?option=com_content&view=article&id=32
The results of the workshop held in Omsk could be found at:
http://gtrk-omsk.ru/news/detail.php?IBLOCK_ID=3&ID=96444 .
MASTER CLASS ON BRICK CUTTING.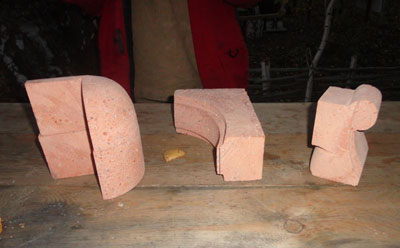 A remarkable master Alexander Anatolievich Tarasov from Omsk (Also «aleksandr-ta»), conducted a master class on brick cutting.
The report was prepared by:
M.I.Martsynyuk
E.M. Martsynyuk