From: Alex Chernov
A week of creative exchange with Austrian Heater Professionals.

This story has its beginning in January 2012, when Lars Helbro, John Fisher, and myself were invited to a round table evening with a group of Austrian heater professionals after we visited Austrian kachelofen expo in Wels. This informal group consists of heater builders, ceramists, hardware manufacturers and designers who, beside being professionals, maintain great level of cooperation and sharing  of ideas , facilitating friendly creative atmosphere and stimulating professional development of each person involved. The atmosphere of the evening was relaxed, warm and very friendly with lots of interesting conversations and laughter shared between drinks and wonderful homemade food. Ideas and experiences were shared; examples of work shown and conversations didn't die out till deep into the night. It was just like Wild Acres, but in Austria. This round table evening turned out to be a definite highlight of our trip. We felt very lucky to have met all these great people and find a new source for learning and inspiration. It was also great to find that even such strictly regulated and highly competitive kachelofen building area as Austria can nurture open source principles which are the basis for creative process of the highest level.
MHA is excited to announce a presentation and workshop by three professionals from this group as part of the 2013 MHA Annual Meeting. Austrian Master Stove Builders Paul Polatschek and Luis Wegscheider and stove designer/project consultant and coordinator Stefan Polatschek present the following program:
An overview of contemporary techniques and principles of grundofen/kachelofen design and construction in Austria; overview of contemporary materials and examples of their use.
Example of how proper design and planning tools make heater design, planning, presentation and construction much more efficient. Example of collaboration between heater builder and designer/consultant in projects completed by Stefan-Paul Polatschek team.
 A workshop on a hand-built grundofen, designed in the air-gap system in compliance with Austrian KOV calculation and UZ37 standard. The air-gap system facilitates great freedom of the outer shell's (facing) design allowing creation of the heaters of virtually any shape without relationship to shape of the core. The workshop will introduce North American heater masons to new solutions and techniques for heater building while creating a stove similar to the one pictured below: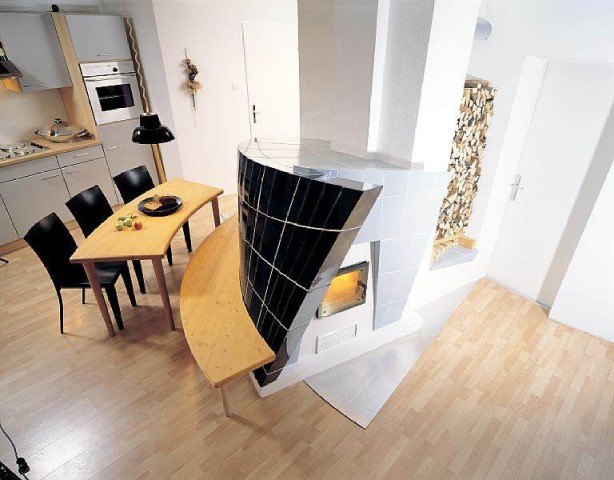 Informal conversations and creative exchange during the entire week.
Workshop presenters short bio:
Paul Polatschek and Luis Wegscheider , both 28, are Master Stove Fitters who grew up in Tirol and apprenticed in Lower Austria and Tirol respectively.  Paul and Luis enjoy an on-going collaboration and act creatively together like a match in combination with a striking surface to improve craftsmen's life. Paul founded his company Die Hafnerei at Krems at the age of 21 and continues his successful career with 6 employees helping him in his current operations. Die Hafnerei has recently incorporated local ceramic workshop Ronthal Ceramics with own small Grundofen series Round www.round.at , www.diehafnerei.at , www.ronthal-keramik.at
Luis Wegscheider has recently decided to leave custom stove fitting career he began at age of 24 in favor of full-time involvement in stove product development in cooperation with a professional producer. Today, he is a leader of the producer's technical development department, having created his own Austrian UZ37 combustion chamber used in his small Grundofen series Heisser Luis and working on some super-innovative products scheduled to be introduced to the market in the near future.
Stefan Polatschek: A team player aged 58, who runs his consulting, planning and design office, doing work mostly for wood-fire related projects in cooperation with key industry players. Stefan grew up in Tirol, where he got the first-hand experience with ceramic in his younger days. Stefan now lives at Krems, Lower Austria. www.polatschek.at