Pompey's Knob revisited
A week in the Blue Ridge Mountains
with the stove masons of MHA
By Jay Hensley
Summary
Seismic
Homeowners' Manuals
Website
Lopez Labs
Dennis Jaasma
John Crouch
Wildacres 2000


Top

Whe rest of the nation sweltered, 20 Masonry Heater Association of North America (MHA) members caught the cool breezes atop Pompey's Knob at Wildacres retreat in the Blue Ridge Mountains of northwestern North Carolina. They gathered July 3-10 for the intense week of meetings, work sessions and hands-on training that have characterized their last three annual meetings in this remote and idyllic setting.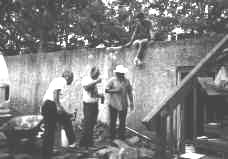 Attendees included 14 members from the U.S., five from Canada and one from Austria, plus MHA executive director Bev Marois, Trudy Champrey from Maine Wood Heat Co. (there to represent Albie Barden), and two guest speakers/consultants: Dr. Dennis Jaasma, wood-heat researcher from VPI (Virginia Polytecnic Institute) and HPA's director of government affairs John Crouch.
Most of us arrived Thursday evening in time for supper—you don't miss a meal at Wildacres if you can help it. All late-comers had to do was mosey down to the dining room and ask plaintively, "Is there any food left?" to be fed a delicious meat-eater's or vegetarian meal, complete with chocolate cheese cake. I didn't arrive 'til dark, having been lost in the mountains for about an hour—even some of the locals didn't know the obscure shortcut I thought I had learned last year.
We got right down to business Friday morning around the long table in the library of the building across from the rustic lodge where we all stayed. Now and then the delightful strains of bassoon music floated in the windows, as for the third year in a row we shared the retreat with a large and enthusiastic group of bassoonists.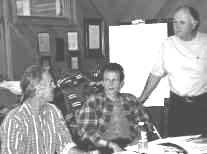 The lunch bell at noon, and later on the supper bell, signaled welcome respite from our arduous attention to MHA affairs. Evening and early-morning hikes, pre-breakfast coffee sessions, after-dinner get-togethers over beer and snacks, and time to do some reading or watch the sun go down behind the mountains meant it was not all work.

Top
Here is a brief accounting of what we did over the next six days:
• Welcomed four new members: Maria and Ernst Kiesling, Nova Scotia;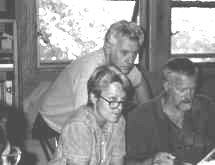 Jim Sanders; North Carolina;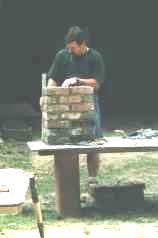 Gerald Fischer, Austria (in the U.S. on a work permit);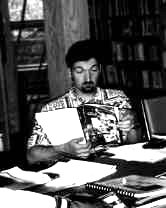 • learned that our MHA web site averages 20,000 "hits' per month;
• held productive sessions with VPI's Dennis Jaasma and HPA's John Crouch.
• devised a strategy for working with the air-quality regulators;
• started the revision process on our MHA 4-color brochure;
• changed some wording of several building codes and the ASTM standard;
• considered a slight revision to our official masonry heater definition;
• worked on homeowner's manuals for masonry heaters and bake ovens.;
• participated in a work session that taught us what's involved in retrofitting a masonry heater into a tri-level house;
• learned about soapstone fabrication;
• were coached on various design and construction aspects of masonry heaters;
• watched or participated in a hands-on lesson in stone setting, which resulted in a rock wall for Wildacres;
• took the first steps towards producing a heater-design manual;
• discussed ways to raise more money through grants, donations, dues, etc.;
• discussed creating an advisory board;
• decided to start a workshop registry;
• reviewed the completed seismic research report on masonry heaters;
• were updated on masonry heater emissions testing at Lopez Lab;
• ran the MHA certification program's bricks-and-mud test and written exam;
• re-elected our officers for another term: Pat Manley (Maine), president; John LaGamba, (Ontario), vice president; Norbert Senf (Quebec), secretary; and Rod Zander (Connecticut), treasurer;
• made tentative plans to build a huge bake oven for Wildacres next year. . .
• and a whole lot more!
Those killer air-quality regs
Air-quality regulations are a topic of immense concern for masonry heater advocates. Because many regulators do not recognize the positive environmental clout of masonry heaters, they often get lumped in with wood stoves and fireplaces and subjected to "no-burn" days and exclusion from new construction.
This was not what the U.S. Environmental Protection Agency (EPA) had in mind, for these folks recognized early on the cleanburning aspects of masonry heaters. Witness this excerpt from the 1988 EPA Regulation that Norbert Senf unearthed recently:
"The intent of the committee was to exempt from the standards these appliances [i.e.. masonry heaters] which rely on clean-burning air-rich conditions and which have high combustion efficiencies." (Federal Register, Feb. 1988, EPA 40 CFR Part 60.)
Where regulators and code officials understand the concept and significance of a hot, clean burn, heat storage in the masonry mass and a slow release to the living space, they do the right thing.
For example, masonry heaters are permitted in the carefully-engineered Canadian R-2000 houses; Washington state granted masonry heaters an exemption from the air quality regs eight or 10 years ago; and the complicated new Minnesota residential mechanical code also allows masonry heaters, which pass the code's performance test with flying colors. For the first time in a North American building code, masonry heaters are listed as very different from other wood heat.
HPA's John Crouch told us that out in the San Francisco Bay area, it took an HPA-arranged demonstration with a pellet stove to get its clean-burn properties across to the regulators. Based on that, the draft of a Berkeley ordinance now being considered says, "EPA-Certified only, or any pellet stove." But there's no "wiggle room" to allow other technologies to come make their pitch.
John also reminded us that "by the time an ordinance gets to the city council level, politics take over and it moves a long way from technical arguments."
And Dr. Jaasma, who runs VPI's combustion lab and has emissions-tested some of our heaters, advised us to "get more of the information about masonry heaters into the trade journals, or you'll fight the battles over and over again."
A plan of action
As Norbert remarked, "I think it's ridiculous to be testing masonry heaters. They're so far below the PM standard, so clean. . ."
Nevertheless, we had to find a way to get that point across to others. After much discussion, we decided on a strategy for working with the regulators: We'll build two generic and very basic masonry heaters that conform to the official MHA definition, then have them tested to the latest California emissions test and fueling protocol. The results should satisfy the most stringent of regulations.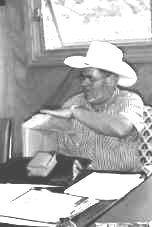 As soon as Jerry and Norbert can schedule a workshop to this end, in November or December, we'll announce the dates on our web site and in the trade journals. MHA members and anyone else interested in helping and/or learning more about the heater-building process will be welcome to attend.
MHA position paper
Also, we plan to put in regulators' hands a copy of our recent position paper, prepared with the help of Canadian wood-heat consultant John Gulland. It includes that illuminating quote from the 1988 EPA Regulation, explains why and how air quality regulators can permit masonry heaters, summarizes the results of emissions testing of masonry heaters, and introduces MHA's Certified Heater Mason program.
Our next big push will be to get the MHA-Certified Heater Mason credential recognized and accepted by the air quality regulators. John Crouch thought this would be a tough call. HPA has worked hard to have site-built heaters accepted, but regulators have never bought the idea of certifying the builder. "You need Maine, Ontario or Quebec to buy this concept first," he said.
MHA's heater masons
A majority of MHA's 46 members are "stove masons," the European term for craftspeople who hand-build masonry heaters (also known as contraflows, kachelofens, grundofens, tile stoves, ceramic stoves, Russian fireplaces, and fireplace-furnaces.) A few of these members supply modular core kits that can be laid up and finished on site by a qualified mason. There are also brand-name, factory-made heaters available.
Last year, with the help of John Gulland, MHA put in place a tough certification program for its craftsmen members, with the goal of keeping them and their work from falling through the regulatory cracks. Jerry Frisch (Washington) and Rod Zander (Connecticut) completed their requirements during last year's annual meeting and became the first two members to earn their MHA-Certified Heater Mason credential.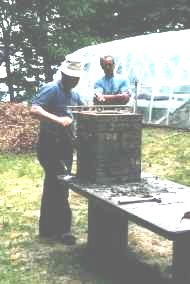 Since then, nine more have become certified: Steve Bushway (Massachusetts), Dann Carnes (North Carolina), Tim Custer (Ohio), John Fisher (New Hampshire), Norbert Senf (Quebec), Ben Sotero (California), Heinz Flurer (Utah), Frank Sotero (Nevada), and Gary Hart (Missouri). Steve, Tim and Gary are sweeps. Dann is a hearth retailer.

Top
Masonry heaters & earthquakes
Conclusion of the Stabilization Report on seismic research with masonry heaters was that gravity holds the heaters. They do not need extra reinforcement.
Western States Clay Products Association had paid for an engineer to work with Jerry on devising and trying out different reinforcement methods. They used wire cages, steel rods, etc., but what they learned was that a masonry heater doesn't need reinforcement unless it's supporting its own masonry chimney.
Even so, for heater masons in areas where AHJs are unwilling to accept this statement, the report includes instructions and specifications for using rods and a plate to stabilize the heater.

Top
Homeowners' manuals
Another project Jerry had worked on for us were two homeowners' manuals, one for masonry heaters and one for bake overs. We gave these a thorough going-over, made some revisions and suggested a few others. We agreed that this would be an excellent customer handout that each heater mason could easily adapt and/or add to for his own use. Especially important are the break-in instructions.

Top
Web site update
Web master Norbert Senf updated us on MHA's internet site. A gathering place and information exchange for members, it's also a storehouse of information on this art form that heats your home. It has a virtual mall where people can look at a variety of member-built heaters, and a list of MHA heater masons is available for the asking.
With a total of 300,000 "hits" in two years, Norbert called that "pretty good bang for our buck." Members often get job leads from the site.
Norbert added a bookstore this past year. The Bread Book, his the latest offering, is selling well. (JayNote: Documents from Wildacres '99 are now posted in the Member's Lounge, along with my own extensive notes from the week.)
Masonry heaters & outside chimneys
The official definition of a masonry heater that we developed last year at Wildacrs includes this stipulation: "The body of the masonry heater and its chimney do not penetrate an exterior vertical wall of the building."
There have been some challenges to this statement as it pertains to the chimney, not because this isn't the ideal situation, but because there are so many "cold" exterior chimneys out there. So, we decided this needs to be left to the individual heater mason, who can on occasion reline/insulate/downsize/enclose an exterior chimney to make it work satisfactorily with the heater.
An exercise in retrofitting
We had a great let's-pretend session, under Rod's direction, planning to build and install a masonry heater in Frank Sotero's tri-level house. Frank drew a floor-plan for us showing the different levels and construction factors. They worked out all sorts of details, including the dimensions and placement of the heater, which would feature a bake oven opening into the kitchen on the next level. In the process, I discovered how much these guys need to know, and do know, about the construction of a house.
They decided on a prefab chimney, with the current masonry chimney still to serve the woodstove, which would be moved to a basement locaton.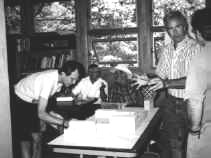 Soapstone fabrication
Sunday afternoon, Rod gave a demo with soapstone. Soapstone is easy to cut, shape and work. As an experienced carpenter, Rod particularly prizes this quality. To cut the soapstone, he uses a 10-foot wet saw in his home workshop. He also has a block saw for out on the job. "There are various ways "to put water to it," he said. Most of the carving and polishing is done by hand.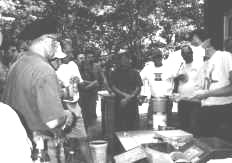 He showed how he was making a recessed niche in one of his soapstone heaters, first using chisel and hammer to carve it out. Next, he demonstrated using an electric sanding block to start smoothing out the surface, wearing a face mask (a must!) over nose and mouth to protect his lungs from soapstone dust.
Maria Kiesling, who makes the tiles for the kachelofens her husband Ernst builds, tried her hand with the electric sanding block, working industriously for the next 15 or 20 minutes.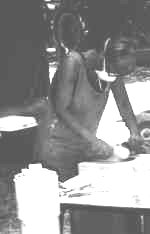 Silicone carbide sheets similar to sandpaper are used to get the desired finish, starting with 80 grit and working up to as fine as 600. The finer you polish soapstone, the more it shows scratches. A 200-grit gives a "honed" finish that is very satisfactory and not so much work. You can use the finer grits to "sand" out scratches and stains.
Soapstone mini-heaters
Pat Manley had brought one of his unfinished miniature soapstone masonry heaters, complete with heat channels, and let us try our hand at polishing the components with small silicone carbide sheets of different grits.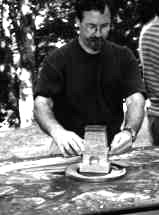 Dipping the sheets in water as you work washes out the surface-clogging dust and keeps the dust down as you work. After you graduate to finer grits, the surface becomes smooth as silk. Pat uses a file to begin smoothing out the heat channels and rounding off the outside edges and corners.
He said, "I use these models as sales tools. I show it to the client in pieces, then stack it and light a candle in it. By the time I go home, the surface is almost too hot to touch."
He also makes less-expensive miniatures without the channels, but can still use these to demonstrate the heat-storing capacity of soapstone. He set his little heater on the library table Monday morning and lit a candle in it, giving our meeting a hitherto-missing ambiance.
Creating a workshop registry
We decided to compile and publicize a workshop registry. Members are invited to notify the registry if they have a job where people at different levels could participate. Some could be paid; others might pay for the learning experience.)
Bev said she already has a list of masons who would be interested, and Trudy said Albie Barden does about five workshops a year.
Norbert said, "There's tons of stuff going on that we could tie into—straw bale and cob workshops, etc." Rod suggested we try to put a masonry heater in a Habitat for Humanity house." And Pat thought we might be able to tie a grant in with one of our workshops.
"No show" for masonry course
We had no takers for a pilot course for sweeps, designed to give them one-on-one training with an MHA master mason and exposure to masonry heater basics. That was disappointing. At least six of our MHA members gravitated to this craft from the chimney sweeping trade, something sweep and MHA-Certified Heater Mason Gary Hart from Missouri calls "a natural progression."
We decided to try again next year, offering the course to masons, too. Norbert said, "A mason may never have seen a masonry heater, but if he's on the ball and is interested, he can do it!"
The brothers Sotero
Masons Ben and Frank Sotero are prime examples of this. Ben received a flyer on masonry heaters in the mail one day. He threw it away. A few days later a neighbor asked him about masonry heaters! Ben said he'd get back to him, and started learning about the craft.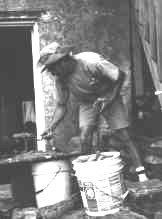 "That was five years ago and the neighbor's project is just now getting started," he said. Meanwhile, Ben built bake ovens, joined MHA, and got his kid brother interested. Now they're both MHA-Certified Heater Masons.
************************************************
It was Sunday afternoon at Wildacres Retreat atop Pompey's Knob in the Blue Ridge Mountains of northwestern North Carolina. On this third day of the week-long annual meeting of the Masonry Heater Association of North America (MHA) last June, stove mason and association secretary Norbert Senf of Shawville, Quebec led a discussion on emissions and the principles of a clean burn. In the process, he updated us on masonry heater emissions testing carried out at MHA member Jerry Frisch's Lopez Lab in Everett, Washington.
Norbert took up the masonry trade 32 years ago. With his roots in fireplace construction, he began designing and hand-building masonry heaters in 1980. Many sweeps first met him during the Northeast Regional Convention in Albany in 1990, where he laid up his Heat Kit modular core heater for an overflow crowd. It was for most of his audience their first look at the inner workings of this centuries-old wood-heat technology that came to us from Europe in the late 1970's.

Top
How Lopez Lab came into being
At Wildacres, Norbert briefed us on the 1991 short course on Masonry Fireplace and Heater Emissions Testing and Combustion Design held for MHA members at OMNI Environmental Services in Beaverton, Oregon, one of the best stove-testing labs in North America. OMNI's Prof. "Skip" Barnett taught the course. (JayNote: SNEWS , The Chimney Sweep News magazine ran in-depth coverage of this event in the December '91 and Jan.-Feb. '92 issues, still in print).
Attendees found themselves on the cutting edge of environmentally-sound woodburning technology and had an opportunity to run one of the testing protocols on a fireplace built at OMNI by MHA members.
"That's when we decided we'd have to get into the testing game ourselves," Norbert said. This was feasible because Skip had developed an accepted testing protocol for wood stoves, the Condar Method, which he also adapted for the self-testing of masonry heaters.
The Condar Method is an official test method in Oregon, known as Oregon Method 41. The results are automatically correlated with the EPA's 5H method by a data-logger computer hooked up to the testing system.
Jerry Frisch, who' had attended the course, proceeded to buy a Condar Sampler, a balance, moisture meter, gas analyzer and other miscellaneous equipment. He incorporated the testing lab into his workshop and named it Lopez Lab. After the initial $4,000 to $5,000 investment, he found he could do the actual testing of each unit "for peanuts."
That spring he and Norbert teamed up to do quite a bit of testing, as well as R & D based on the test results. They've been testing masonry heaters off and on ever since and have kept records of all the procedures and their results.
It's a boring job. . .
They discovered very quickly that "all the theorizing about wood fires changes when you start measuring things." But getting good emissions data is basically a boring job. You need a baseline of data and strict controls in place. (They'd rather build masonry heaters any day!)
Here's some of what they learned:
• Wood size and wood load have as much influence as anything.
• The Finns had said grates were a good idea. "So we had started building masonry heaters with grates," Norbert said, "but testing didn't bear it out. We didn't get good numbers, so we abandoned grates."
• For clean combustion, you have to get up to temperature fast.
• Carbon monoxide is an indicator of bad combustion. You can crack the door 1/2 inch at the start to eliminate a CO spike.
• The whole ignition sequence is critical. They got their best results when they put their kindling in front at the base of the fireload, which was laid in cross-cross layers, and with combustion air coming in from the front at the base of the fire–box. They'd light it and run outside and look up at the chimney, and there was just steam coming out!
• Stacking is important. . . and wood size. Criss-cross stacking with a 50-to-60-pound load of 8-inch logs split in half is an excellent scenario.
When asked about the top-down burn, Norbert said it didn't work as well in the few tests they did, "but it might be advantageous with the right air supply."
His impression is that the top-down fire works better in stoves and fireplaces.
Low emissions
In efficiency tests with a new prototype air supply, they got 3 to 5 percent more efficiency with air coming in at the bottom "under the flap" and with the kindling right there (as described earlier). When the air flap is closed, there's still a 1/4-inch slot of air aimed right at the coals to get them burned up.
Also, a built-in grate in the floor of the firebox and with an air control on it is a really good scheme for burning up the coals so you can close it down.
This "best results burn," routinely gave them a Condar emissions number of 1.5 g/kg, about the same as for pellet stoves.
The MHA Position Paper has a summary of all the masonry heater testing to date. (Available from MHA.)
Norbert showed us a little Lego toy, the Mindstorms Robotics Invention System. "I'm trying to figure out an application for it in automating combustion air supply," he said.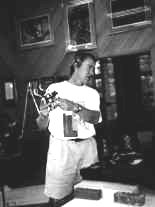 -------------------------

Top
Dr. Dennis Jaasma on emissions testing
A few days later one of North America's top experts on residential wood-combustion emissions, Dr. Dennis Jaasma, helped us sort our way through the various emissions testing methodologies used for woodburning stoves, fireplaces and masonry heaters. A mechanical engineering professor at Virginia Polytechnic Institute in Blacksburg, he is head of VPI's Combustion Lab and also runs his own private Energy and Emissions Consulting company.
Dennis first became involved with wood heating and testing in 1979. He found that wood heat was typically "very dirty, with a lot of room for improvements." At that time he had not yet heard of masonry heaters.
His philosophy on wood-heat testing is that it should be "accurate, inexpensive and the measurement of particulates as simple as possible." He developed the dilution tunnel method, which he found to be the most accurate way to measure an unsteady source—variation in stack flow, temperature, etc.
He has helped wood stove manufacturers set up their own in-house test facilities, putting tools in their hands so that they can save money and know what happens when people buy and use their stoves.
Dennis used the dilution tunnel method for testing masonry fireplaces and masonry heaters at VPI in 1989, an emissions study jointly funded/supported by the Fireplace Emissions Research Coalition made up of fireplace manufacturers, MHA and WHA (the old Wood Heating). Similar, but separate, methodologies were developed for fireplaces and masonry heaters, so that the results could be correlated.
For the VPI testing, a crew of MHA members built the masonry heaters, as well as two conventional brick fireplaces. The test results showed very low particulate matter (PM) numbers for the masonry heaters (a Heat Kit contraflow heater and a Dietmeyer, Ward and Stroud grundofen heater), as well as decent numbers from a Rumford fireplace tested.
One thing MHA was hoping to get at VPI was a "real world" fueling protocol for their heaters, but that didn't happen. When I asked Dennis about this, he said that using dimensional lumber —4x4, 2x4, etc.—with a 19-23 percent moisture content is the fueling protocol regulators are more likely to accept than a less-repeatable test with cordwood.
Dennis and Dr. Jay Shelton together developed what is known as "the VPI Sampler" emissions testing method for masonry and prefab fireplaces. In this method, you set up a sampler which captures condensate in a test tube, then draws sample gas through a filter into a tank. You weigh the filter and other parts of the sample train before and after to determine the amount of particulate. A thermocouple determines by stack temperature when the sampler is on.
The VPI Sampler is a field measurement method which involves leaving the equipment in a home for a one week period. At the end of that time the equipment is retrieved and emissions for the week can be determined. "Using this method, "Dennis said, "we could do it cheaper and better than some of the other testing methods being used."
Crested Butte field studies
Back in 1988 Dennis became involved in the emissions testing of uncertified old-technology wood stoves in Crested Butte, Colorado. He shared with us a brief history of that project.
The first year's study was carried out under contract to the town itself. The PM numbers they got from conventional old-technology wood stoves averaged 22 g/kg (grams per kilogram) of particulates. Two new catalytic stoves they tested gave better numbers, 5 g/kg or less.
The second year, with EPA now involved as one of the sponsors, they monitored 17 EPA-Certified wood stoves —12 "cats" and five "non-cats"—and these stoves averaged 10-11 g/kg.
"We monitored Crested Butte stoves during four winters and the average g/kg numbers got worse each time,"Dennis said. "Why are they getting worse?" we wanted to know, and we proposed a new type of study to find out why."
(Dennis said that every study did not necessarily involve the same stoves as before, although efforts were made to study stoves that had been previously tested.)
Their latest study, completed in '98 , involved retrieval of stoves from the Crested Butte area to determine if performance in the field was due to the fuel, the operator, the stove, or whatever. They brought back to Blacksburg a dozen stoves and wood from their individual woodpiles.
Operated according to the manufacturers' instructions, six of the stoves performed at a level that meant the stove was okay—below 9 g/kg—and fully capable of outshining the conventional stoves by 50 percent or better.
Of the other six stoves, which had failed to produce decent emissions numbers the first time around, one passed using fuel with reasonable moisture content, instead of unseasoned wood from the home woodpile. A second reflunked after needed repairs were made, and a third stove passed after being repaired. Two were unrepairable and were not retested.
The sixth stove was repaired, retested, and flunked again, with the fuel loaded according to manufacturer's instructions. They loaded the fuel differently, retested it, and this third time it passed.
The presumption and eventual conclusion was that the problem of a dirtier-than-expected burn lay usually with the operator.
Four new EPA stoves
In a separate study unrelated to Crested Butte, they bought and tested four new EPA-Certified stoves. Burning mixed cordwood—Douglas Fir and Black Locust—the stoves averaged about 10 g/kg and under, which Dennis said, "is about what you should expect in the field with conscientious operation of these four stoves."
This particular simulated field study was carried out at Dennis' private lab. The results caused Norbert to comment on how ridiculous it was that we were having trouble getting masonry heaters accepted when they typically burn from five to ten times cleaner than even the best of the cordwood stoves out there.
"Develop a core technology"
"The more the same the heaters are, the sooner you'll get them accepted," Dennis said. "Develop a core technology, even if there are variations, so it's acceptable to the regulators." He also suggested that we concentrate on getting more of the information about masonry heaters into the trade journals.
-----------------------

Top
John Crouch, slayer of dragons
As director of government relations and emissions specialist for the HPA (Hearth Products Association), John Crouch fights the good fight on many fronts. His role in preventing wood heat from disappearing from the culture has been significant. When the opportunity arises, he coaches air quality regulators on the differences between wood stoves, fireplaces and masonry heaters.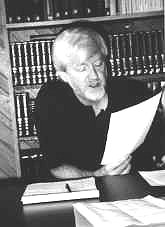 He worked us into his tight schedule, found his way to Wildacres from the Charlotte airport three hours away, and spent Tuesday evening and Wednesday morning with us.
John gave us a very brief history of HPA and EPA's hearth-related activities. He also discussed with us our continuing dilemma in getting masonry heaters understood and accepted by the regulators and code officials.
HPA, which evolved from the Wood Heating Alliance in 1991, represents hearth products and a wide variety of hearth and home accessories. It has a current membership of about 2,200 companies, including 360 manufacturers.
In 1985, a few years before hiring on at WHA, John owned a hearth store in Castle Rock, Colorado and soon became intrigued by the regulatory scene. Colorado was the second state, after Oregon, to impose emissions regulations.
On the federal level, the U.S. EPA decided not to try to regulate wood stoves, but the agency was subsequently sued by the National Resources Defense Council, which forced it to do so. All the court order said to regulate was wood heating stoves.
As part of that court order, WHA became involved in "Reg Negs" (regulatory negotiations) with the EPA and had a fair amount of input into the wood heating regulations. Cookstoves (anything with an oven) were given a two-year exemption, but EPA never got back to them. Coal stoves, fireplaces and central furnaces were also excluded. "At the time, in 1987, it looked like a good deal not to be included," John said.
WHA's position was, "We want clean air, too, and the hearth industry has redesigned its wood stoves to that end."
Canada has cleaner air
John told us the Federal Clean Air Act drives regulations in this country., but John said Canada has no clean air act. "Instead there's a Canadian Council of Ministers of the Environment, made up of reps from each province, working on a particulate standard. The air in Canada is much cleaner than in the U.S. They believe that wood smoke from wood heating is third after dust and forest fires as a pollutant. But the numbers are squishy and, in my opinion, there's little documentation behind it."
"The next emissions issue is dioxins and furans, especially in Canada," John said. "The Canadians will be conducting dioxin testing on wood stoves this fall."
The regulatory scene here
"The U.S. particulate standard drives everything that happens at the local level, or is an excuse for it, " he said. The new PM 2.5 standard was adopted in July '97, but it must undergo a 5-year science review before it's actually put into effect. They're committed to using all-new PM monitors, and it will take about three years to deploy 1500 of these.
The PM 2.5 standard will get more and more communities into action on clean air. In many communities the easiest target is often the house that is not yet there, or new construction. It's hard for builders and homeowners , however, to have much political impact.
John reminded us that new emissions standards aren't just about wood smoke. For example, road dust and other particulates generated by heavy truck traffic are also included in the toxic mix that can invade and damage our lungs.
Minnesota code update
There's been a delay in the date the recently-enacted Minnesota Energy and Ventilation Code goes into effect—April 1, 2000 instead of July 1, 1999. The HPA vigorously opposed the code because of its bias against wood-heat appliances and its mind-boggling complexity.
The delay will reportedly give homeowners, architects, builders and others opportunity to become familiar with the code, understand what it means and how it can be implemented.
The new code is made up of four prescriptive options which basically tell the builder how to build the house. As a group, the prescriptive paths severely limit the installation of woodburning appliances. "But our efforts at least created a good performance-path for building a house," John said.
And despite the code writers' bias against wood heat, John and the North Central HPA reps managed to get masonry heaters accepted in the list of appliances applicable in a performance-tested house. Which means that for the first time in a North American building code, masonry heaters are listed as very different from other wood heat.
The Minnesota code is still very biased in favor of direct-vent gas. John is hoping the code will change one more time. "We want one more shot at this," he said. " We want to keep as many hearth products in this as possible."
One thing that bothers him is the idea that manufacturers can self-certify what negative pressure their product can work on. There's no established third-party protocol on how to run a negative pressure test, and he thinks there needs to be.
"HPA's position on ventilation is that houses should have balanced ventilation," John said.
HRVs and the open fireplace
Norbert commented that people like sealed combustion better than an HRV. He also noted that a wood-heat-simulation computer program he developed and worked with under a Canada Mortgage and Housing Corporation grant about 10 years ago proved that "in the tightest house in the world with a HRV, an open fireplace works, provided that you don't use a flue liner larger than 8x12 modular or 8-inch round."
He added, "It's insane to build a house that won't work with an open fireplace!"
Masonry heaters in R-2000 house
"We got masonry heaters accepted into the engineered R-2000 houses in Canada," Norbert said. "It's a performance standard that tends to migrate into the codes. . . The government backed mandatory training for R-2000 builders and gave them a $6,000 subsidy on their first house."
Right now masonry heaters are accepted in Canada, Minnesota, Washington state, and elsewhere around the country where communities have no anti-woodburning ordinances in place and/or the AHJ's are open to reason.
But MHA is worried about what's happening in California, where at least two ordinances in the formation stage do not differentiate between masonry heaters and masonry fireplaces.
According to John, "Regulators, particularly in the western states,don't have a clue on masonry heaters, so you're right to separate them by definition from all masonry fireplaces."
He thinks our new MHA Position Paper, which speaks directly to the regulators, should prove helpful, and he applauded our plan to build two very basic generic masonry heaters this fall and have them tested to the N. Sonoma, California protocol.
But in the long run, he thinks our best course of action would be to get masonry heaters certified and heater mason certification accepted in one of the Northeastern states where there is a concentration of MHA members, masonry heater owners and advocates.
We gave him a copy of our Position Paper and he took it with him, promising to read it on his flight to the next trouble spot (dragon) on his agenda.

Top
Plans for Wildacres 2000
Ernst and Maria Kiesling, who emigrated from Austria to Nova Scotia a few years ago, plan to present a program. Maria will demonstrate making kachel stone (tile) from start to finish, while Ernst hopes to bring a scale model of one of their custom-designed kachelofens.
We are pursuing the possibility of building a huge bake oven for Wildacres. If we can schedule this project, it should be a big drawing card. Also in the works: A training school for masons
We adjourned shortly after re-electing our officers for another term: Pat Manley (Maine), president; John LaGamba (Ontario), vice president; Norbert Senf (Quebec), Secretary; and Rod Zander (Connecticut), treasurer.
o o o
Thursday morning after breakfast, we said our farewells and headed out, reluctant to leave these good companions, but eager to get home.
One afternoon Norbert and John Fisher and I had slipped away for a few hours to a used bookstore in Little Switzerland about six miles away. There I unearthed a paperback gem, Racing Alone, by Iranian-born architect Nader Khalili.
It's an absorbing, lyrical odyssey of his five-year quest (ultimately successful) to find a way to fire a hand-built mud house of the desert, transforming it into a stone-hard ceramic dwelling that would withstand earthquake, rain or flood, wind and time. I showed it to Norbert. "Oh, that's a GREAT book!" he said. "We've discussed it on the internet."
I spent my first two days at home reading it, spellbound, before I unpacked, checked my mail or listened to my phone messages. . . A fitting finale to my Wildacres week. —© Jay Hensley
--------------------------------------
© Jay Hensley 1999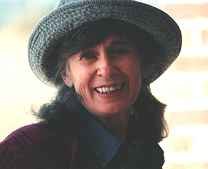 o o o
Tap into a wealth of information about the MHÅ and masonry heaters on the internet at www.mha-net.org, or by calling (802) 728-5896.

This page last updated on March 26, 2000
This page created on November 7, 1999