Le Panyol Bake Oven Workshop
May 10, 2001
at Wildacres Retreat,
Little Switzerland, North Carolina
Instructors: Jean Pivard and Albie Barden
Photo Report by Norbert Senf
See also:
Albie Barden's comments on the lePanyol oven
Le Panyol's website.
Books on building brick and clay bake ovens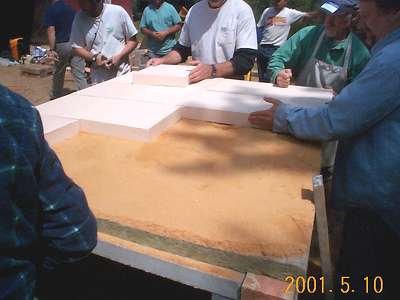 The hearth bricks are dry laid in a bed of sand. Underneath is a layer
of insulation.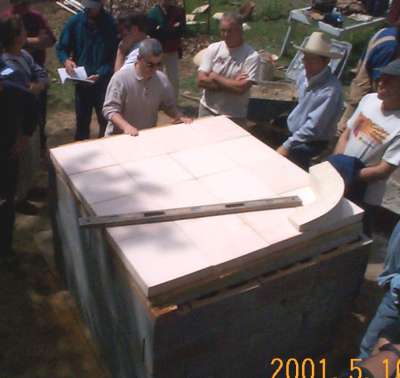 Finishing the hearth. Le Panyol hearth bricks are considered to be
the best in the world. They have enough porosity to absorb water vapour
and keep pizza from sticking.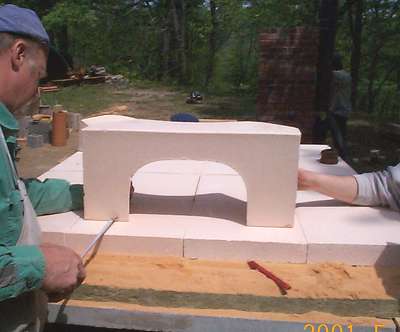 the door arch is set up.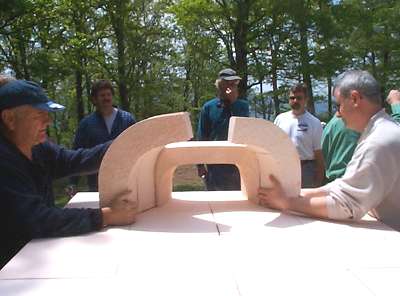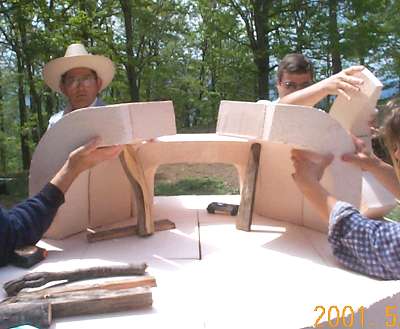 The oven sections look like orange slices. Note temporary bracing
with sticks. Another methods is to set up the keystone first and set
the other stones to it.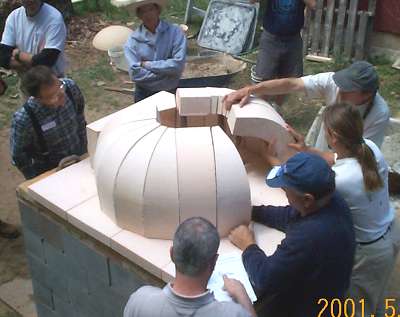 Completing the dome. Sections are normally set dry and grouted later with
clay, and then parged with a thicker clay mix.
This oven was not grouted, as it was only temporary.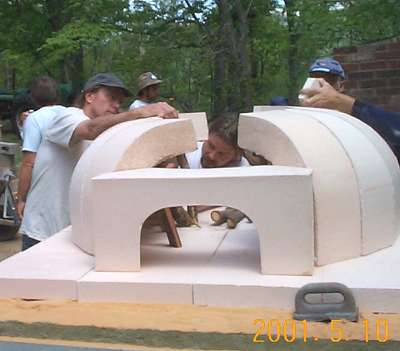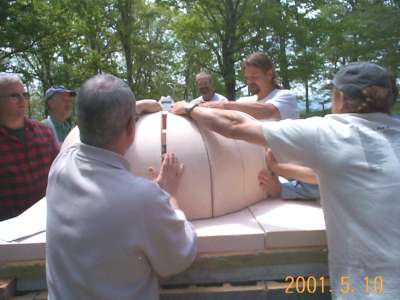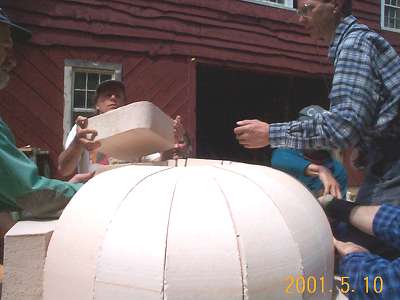 Setting the keystone.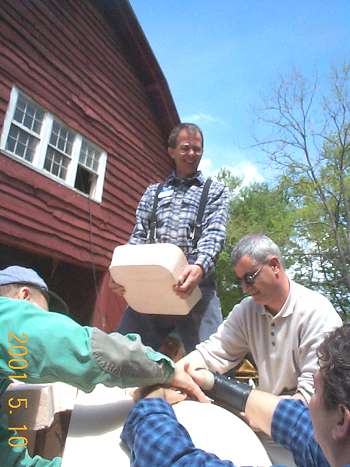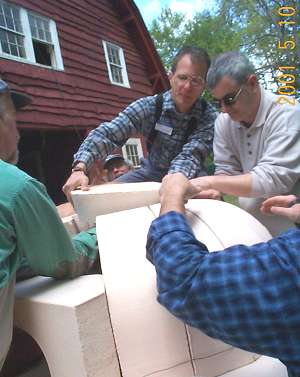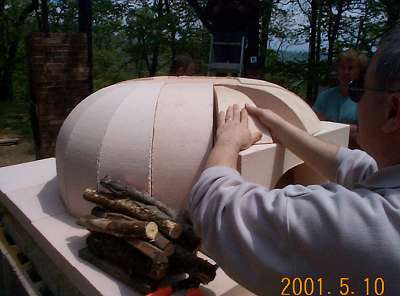 Smaller bricks above the door complete the dome.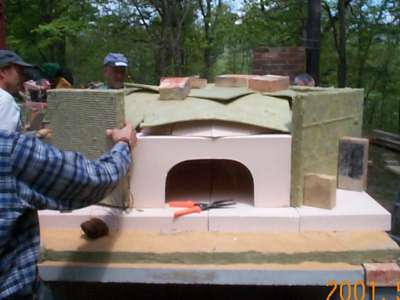 Dome is insulated. In France, grog or sand is used instead of insulation.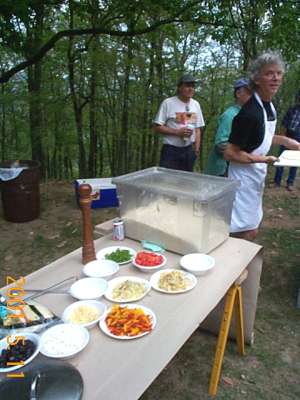 The highlight of our meeting was the Panyol oven test.
The only way to test it properly was to make some pizzas.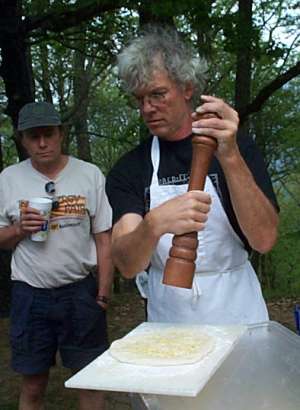 Tom Trout was the pizza chef.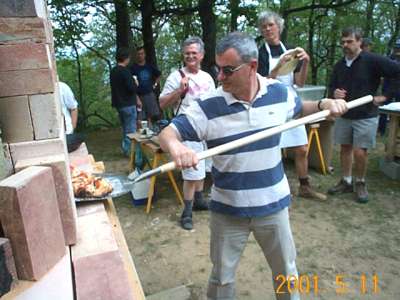 Jean Pivard loads a pizza.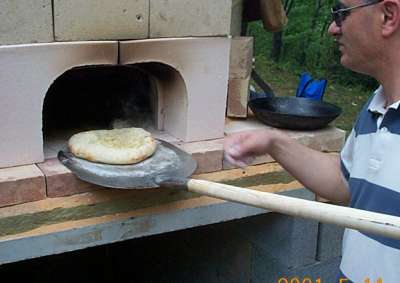 The first one looks good. This one has garlic, olive oil, salt and pepper.
No cheese, because the oven is too hot yet. It took about 3 minutes
to bake.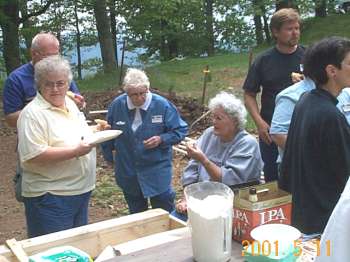 The lapidary group was sharing Wildacres with us. We decided
to invite them down for a pizza party. They are suitably
impressed with the final product.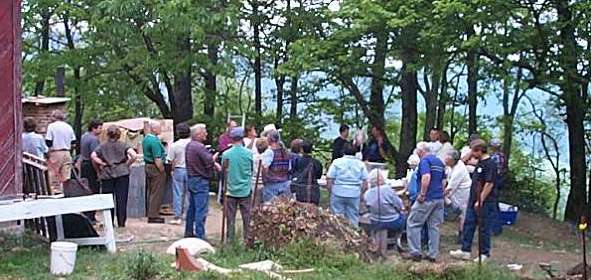 We cooked 40 pizzas. Everyone was impressed with the oven's performance.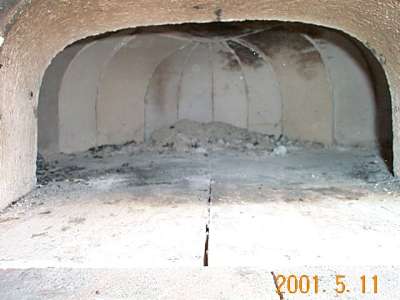 Four hours later the oven temperature was still 600 F.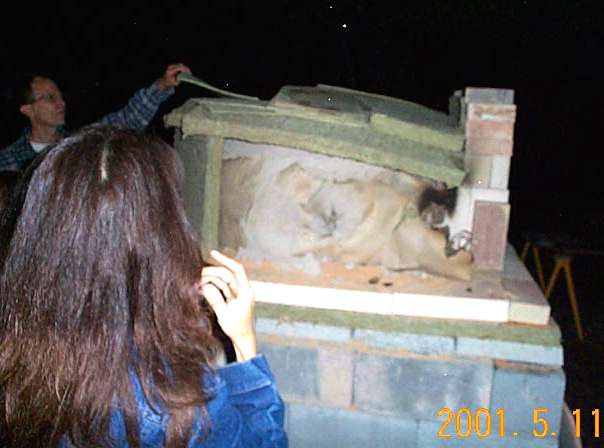 Dismantling the oven. Shown is the insulation over a layer of paper and clay. In a permanent oven
the pieces would be mortared together.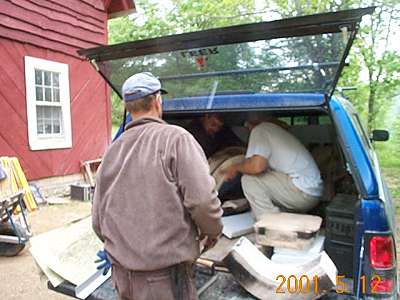 David Moore takes the oven home for the kitchen in his new house.
See also,
2000 Photo Report
1999 Photo Report
1998 Photo Report
1997 Photo Report

This page last updated on May 7, 2002
Back to: