Small Contraflow Heater Workshop
May 9 - 12, 2001
at Wildacres Retreat,
Little Switzerland, N.C.
Note: Jerry Frisch's heater plans for this workshop
can be downloaded at the MHA Members' Lounge
A burn test was conducted on this heater. The results are available here
Also see: Photo Sequence by Carl Oehme (2008)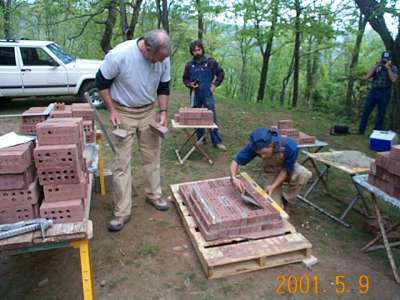 Heater base. Outside finished dimensions are 36" x 24"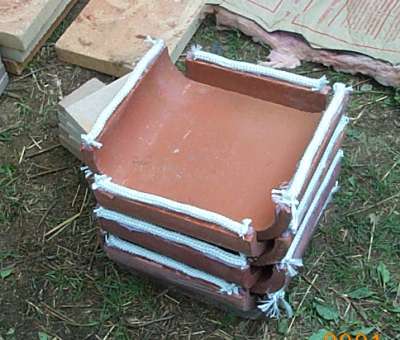 The downdraft channels are lined with clay flue liners.
Cross section of downdraft heat exchange channels is 4" x 13.5".
Liners were cut from standard 12" x 16" flue liners.
Fiberglass rope is siliconed to the liners as to provide the primary
expansion joints for the heater.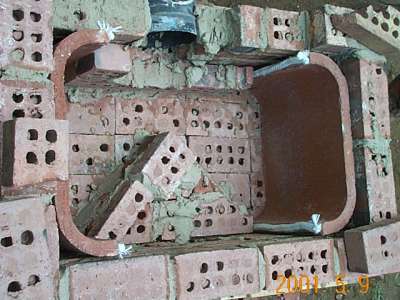 Heater base run. Downdraft channels exit to rear into an 8" round
stove pipe. Triangular piece in front is to support firebox floor.
Clay bricks are laid up in clay/sand (adobe) mortar.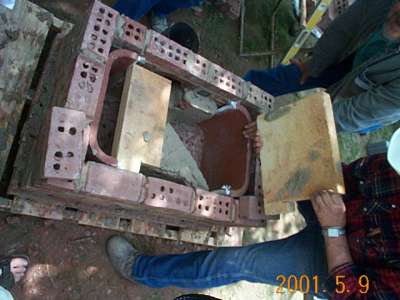 Firebox floor consists of two firebrick slabs. Note 1.5" combustion
air slot notched into front of slabs.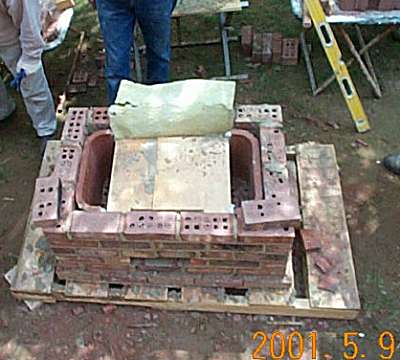 Firebox floor in place. Note rear expansion joint created by
1/4" mineral wool blanket.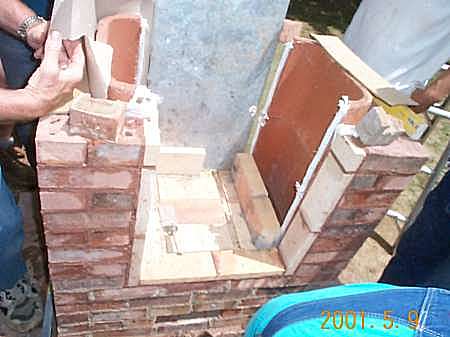 Second set of heat exchange channels in place. Temporary sheet metal in
rear keeps expansion joint material in place. Right side and right rear side were
done in mineral wool, and left side and left rear side were done in cardboard
for heat transfer comparison purposes. Note cardboard being adjusted on left
side.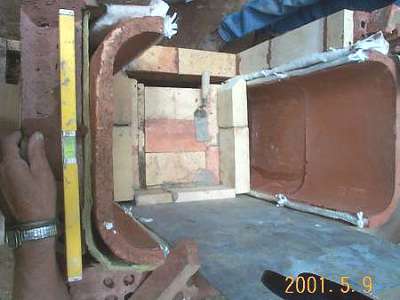 View from above. Note void at corners between mineral wool and
brick facing. Some masons slush this solid with mortar to improve heat
transfer and gas tightness.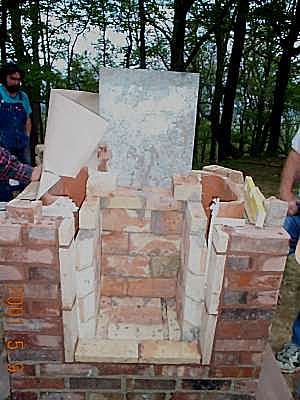 Firebox is built. Rear firebox section consists of a
2.25" firbrick on edge plus a 1.25" firebrick on edge
to meet building code requirement for 8" overall
wall thickness. Different expansion joint materials
visible left and right.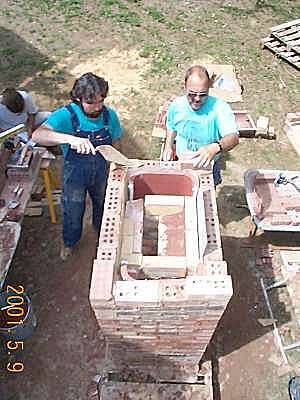 Firebox at throat level.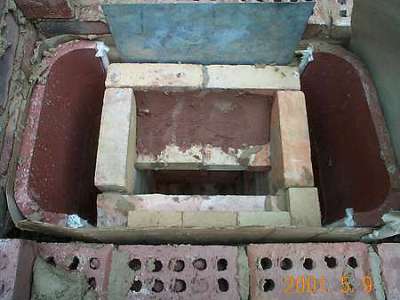 Firebox throat detail.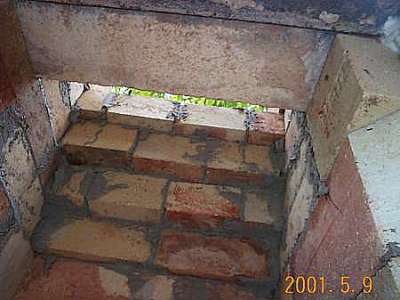 Throat viewed from inside.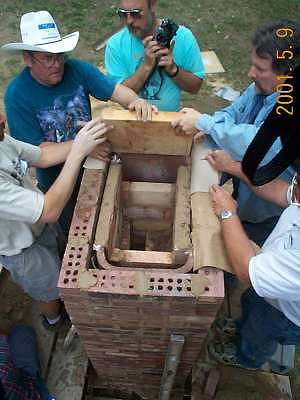 Firebox ceiling slabs being installed.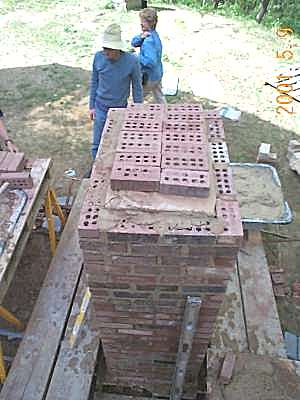 Ceiling slabs are capped with mineral wool and bricks.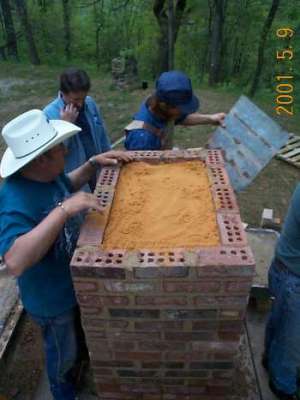 A layer of sand is added.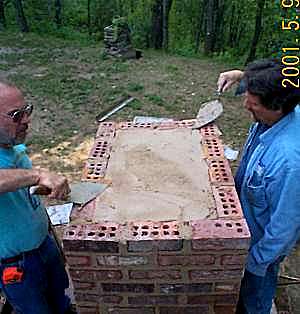 And a final mortar cap. Often, cement mortar is used
for this final cap and a piece of mesh is embedded in it.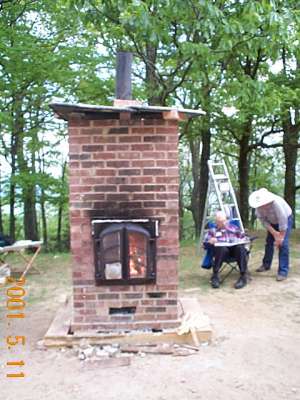 A curing fire was lit in the heater. Once the heater was
completely dry, safety testing commenced. Five full
loads of oak with 13% moisture content were fired back
to back. Surface temperatures on the heater exceeded 300 deg. F.
See the test results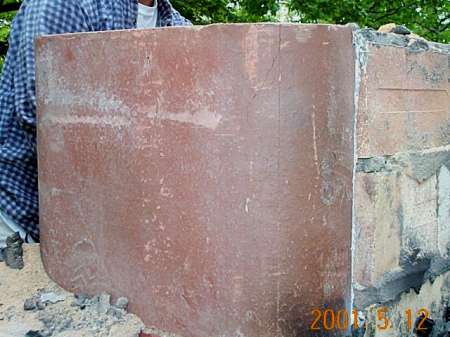 The next day, the heater was dismantled. To most people's surprise, only the
top clay flue liners had minor cracking at one top corner.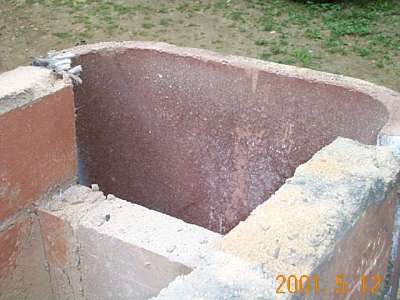 View from inside. The flue liners are burned completely clean at
the top of the heater.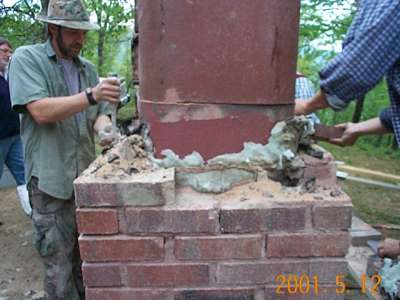 The mineral wool insulation is intact.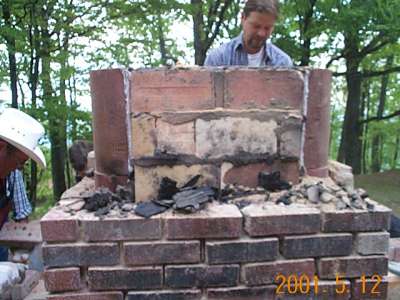 Rear of heater. Cardboard char on the left side, intact mineral wool
on the right. Testing indicated that the mineral wool side ran cooler
than the cardboard side.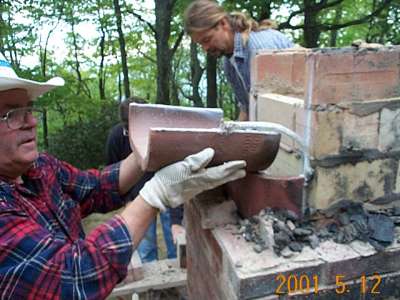 Dismantling the channels. The silicone had vaporized, indicating
that temperatures throughout the flue liner exceeded 700 deg F.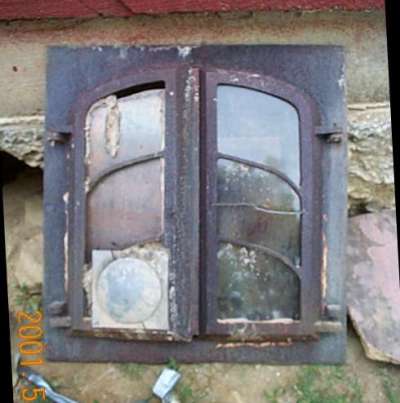 Jerry brought along an old door that was used at Lopez Labs for most
of the original heater testing 8 years ago. It was an early prototype
casting for the Heat-Kit door. We called it the "Urban Decay" model.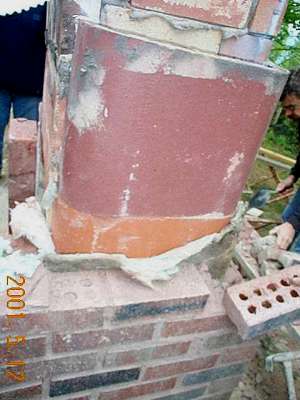 Lower heat exchangers are completely intact with no
indications of stress.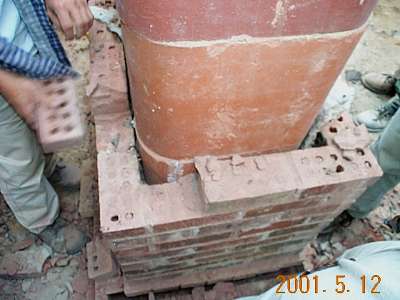 Air void visible at corners. With mortar slushing, surfact temperatures
would have been even higher.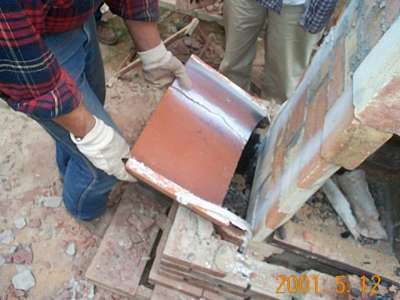 Middle channel. Original liner was cracked and siliconed back together
prior to installation. White streaks are residue from vaporized silicone.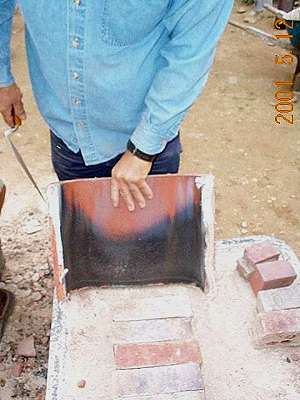 Lower liner. Silicone is intact. Note slight soot deposit
that would have been present in all liners but burned off.
Edge of soot trace shows temperature distribution along
liner, i.e., slightly hotter at the center.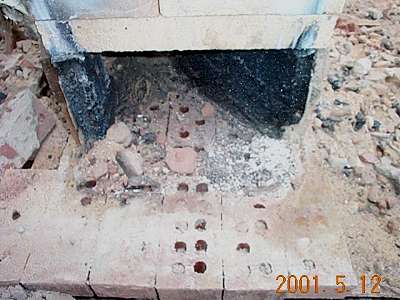 Base run. Slight blackening, but no deposits. Small amount of fly
ash at right.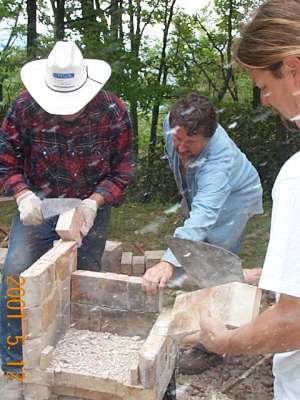 Dismantling the firebox. Two types of clay mortart
were used for the firebox construction: Redart and
Superior Clay fireclay. The Superior Clay fireclay
had a better bond.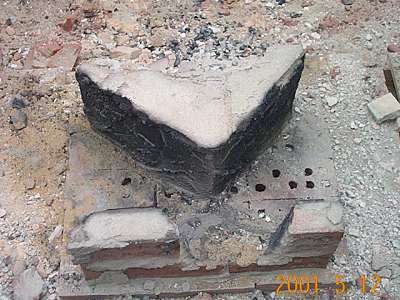 View of base run from rear.
Also see: Photo Sequence by Carl Oehme (2008)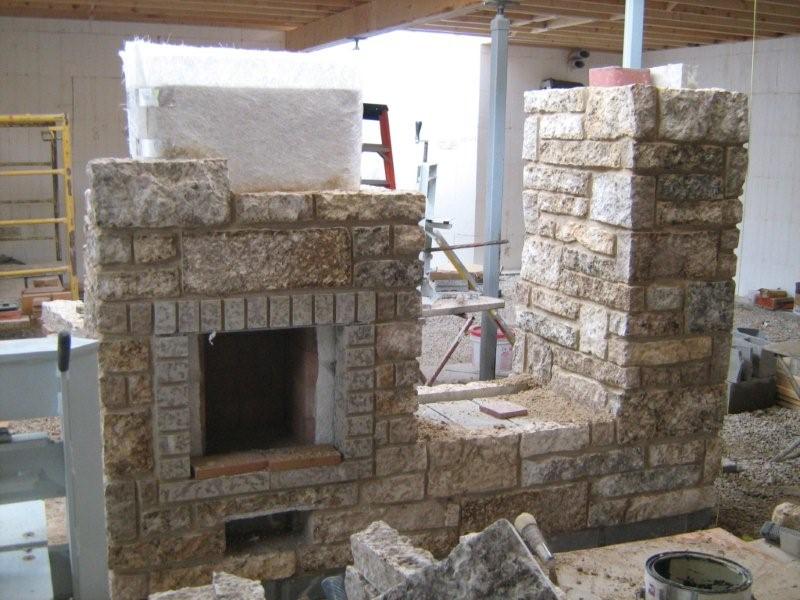 See also,
2001 Photo Report
2000 Photo Report
1999 Photo Report
1998 Photo Report
1997 Photo Report

This page last updated on June 1, 2008
This page created on May 11, 2001
Back to: