Custom Masonry Heater Workshop
With Rod Zander and Jerry Frisch

July 26 - Aug 2, 2004 at MHA Headquarters, Randolph, Vermont

Photo Credits: Jay Hensley, Scott Goodman, Gary Hart, Norbert Senf
also: read Jay Hensley's full report on the workshop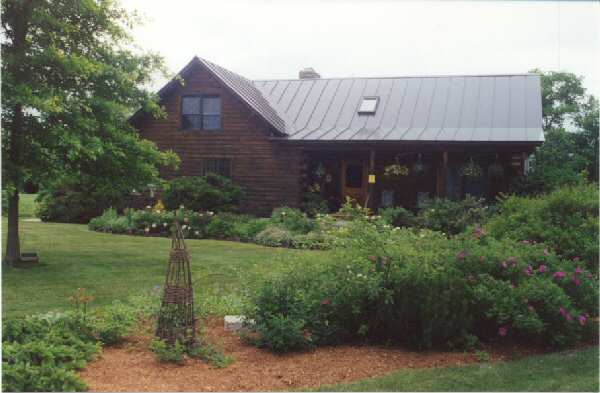 MHA Central - Bev and Dick Marois' Log Home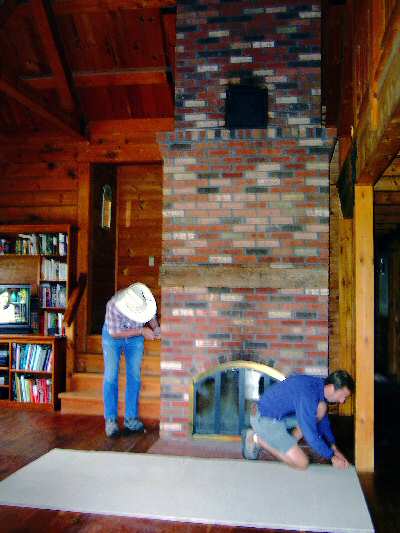 Jerry Frisch and Korey Hart start prepping the worksite.
There is an existing TESS fireplace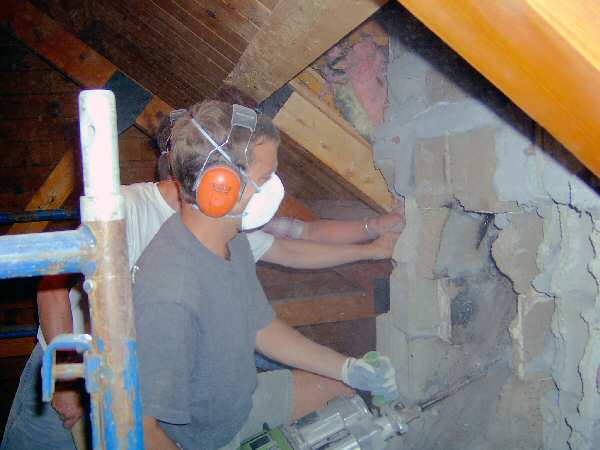 Demolishing the TESS fireplace. Korey Hart is on the jackhammer.
The demolition took two days, with lots of hands.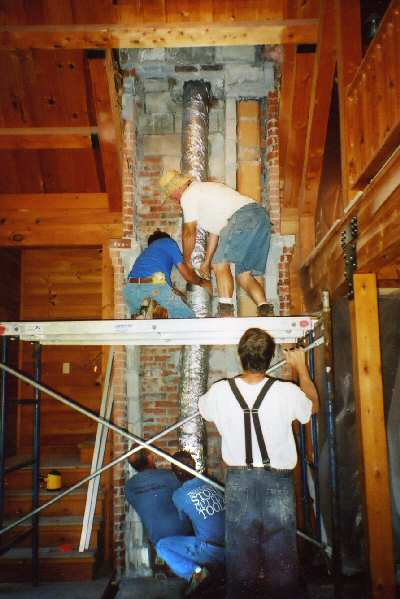 Gary Hart (bottom left, blue shirt) leads the installation of an
insulated stainless flex liner in the original chimney chase.
Clay furnace flue visible on the right.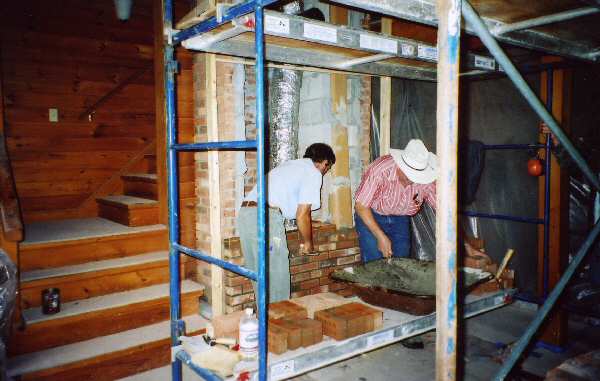 Walt Kelley and Jerry Frisch lay up a new chimney wall.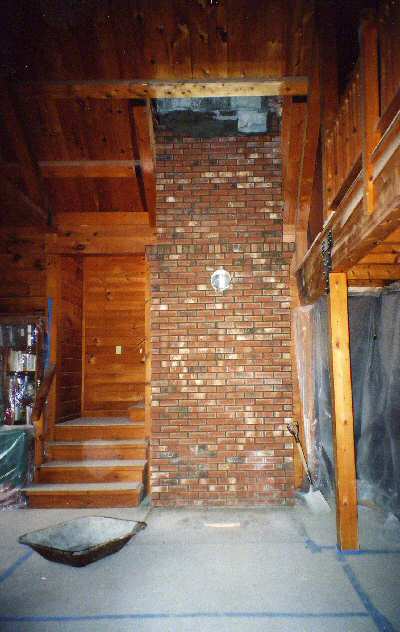 Rebuilt chimney, minus the TESS. Ready for a custom masonry heater.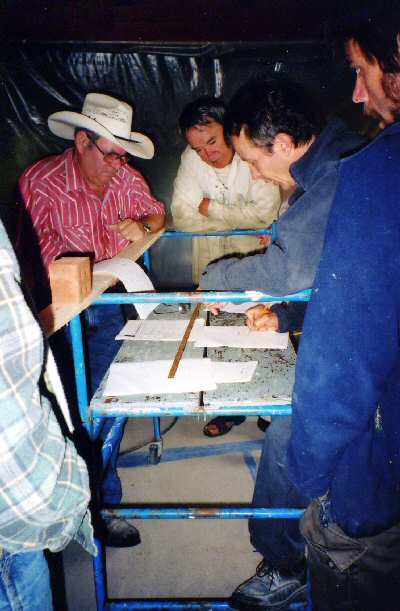 Rod goes over the heater design with the crew.
Jerry Frisch and Norbert Senf look on.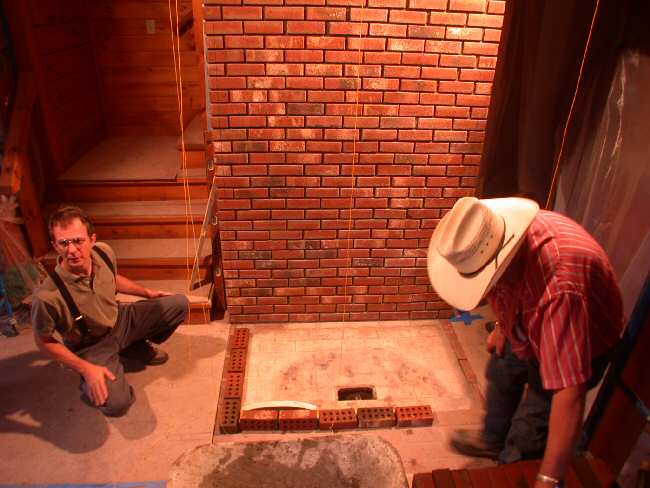 Plumb lines in place. Dry brick layout.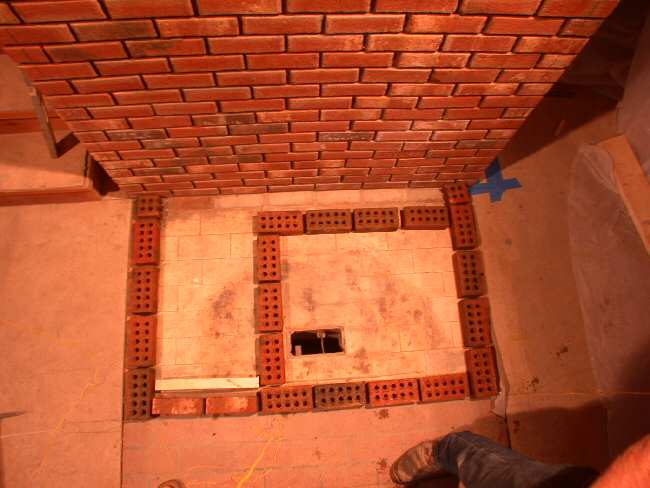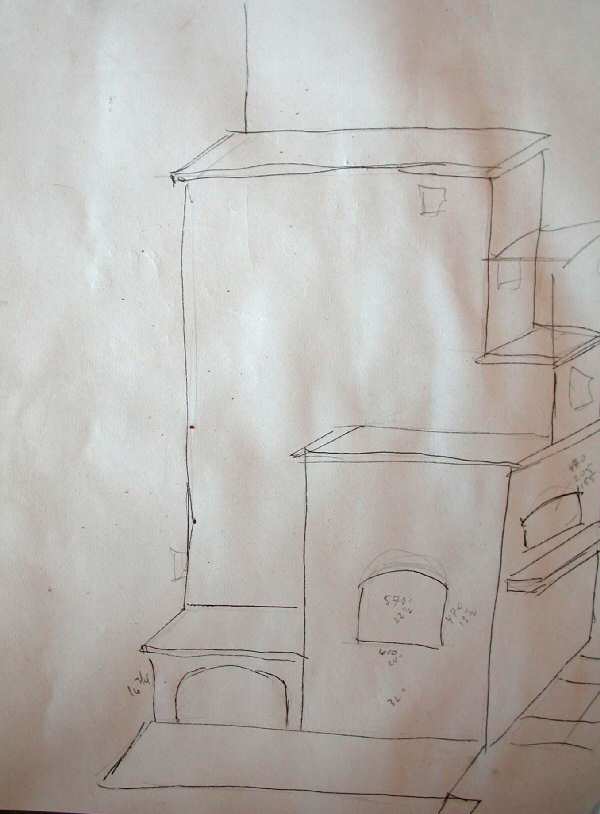 Design drawings. Isometric view.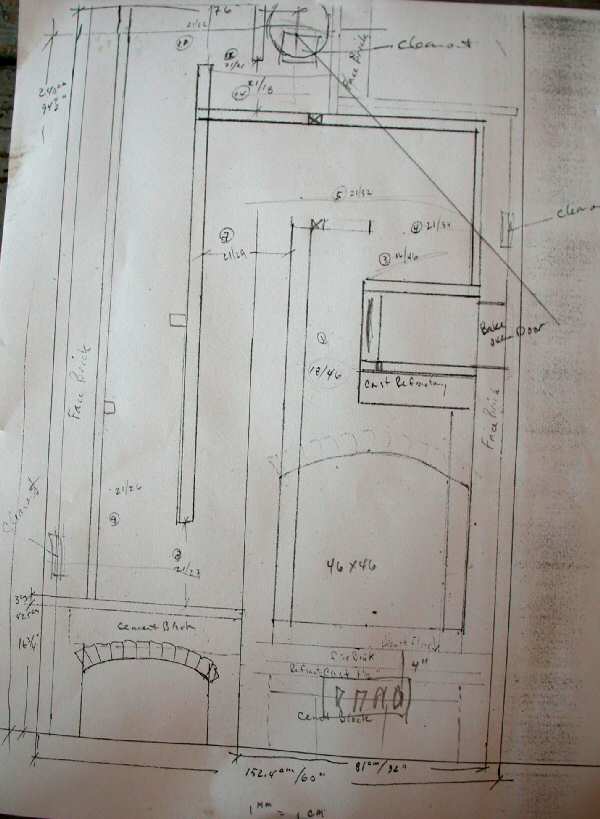 Front section.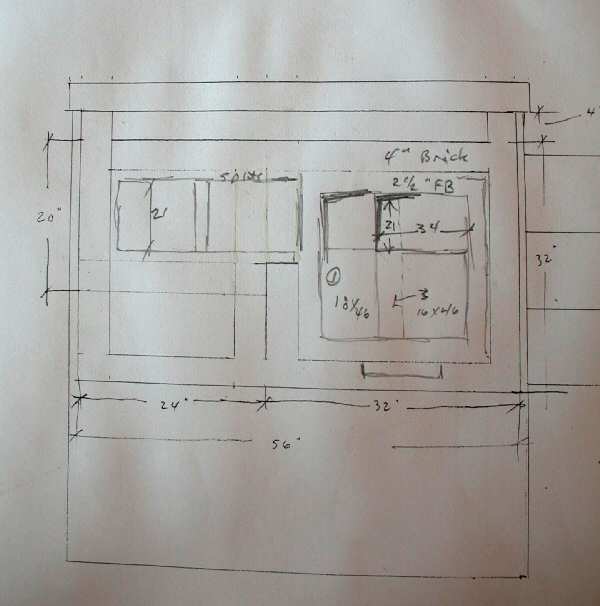 Plan.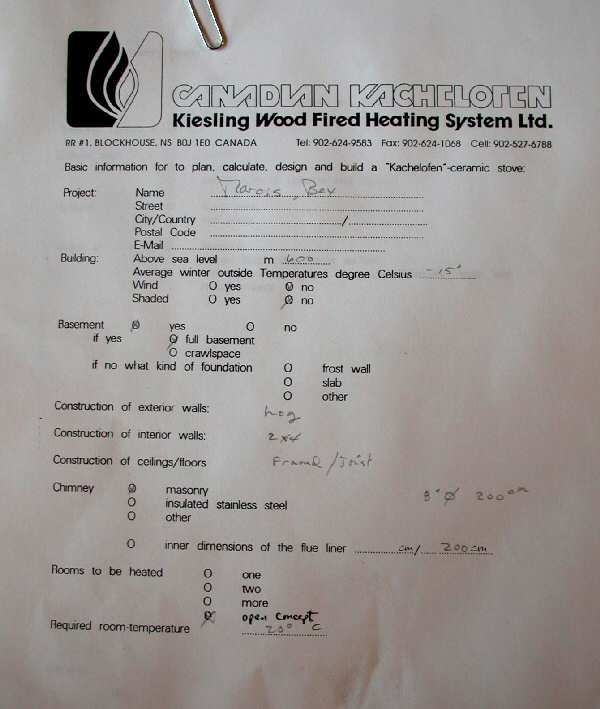 Heat load calculation. This heater follows design principles that Rod learned from Ernst Kiesling.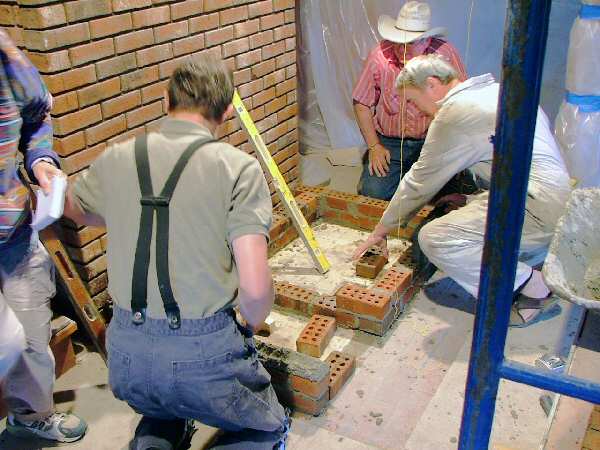 Rod, Norbert and Jerry start the build.

4" convection channel at the rear. Unheated bench on the left, with air channel to the 4" convection chase
between the chimney and heater.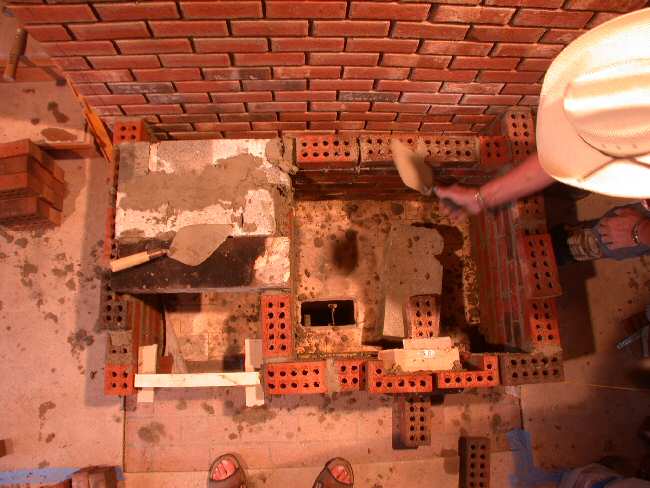 Capping over the bench.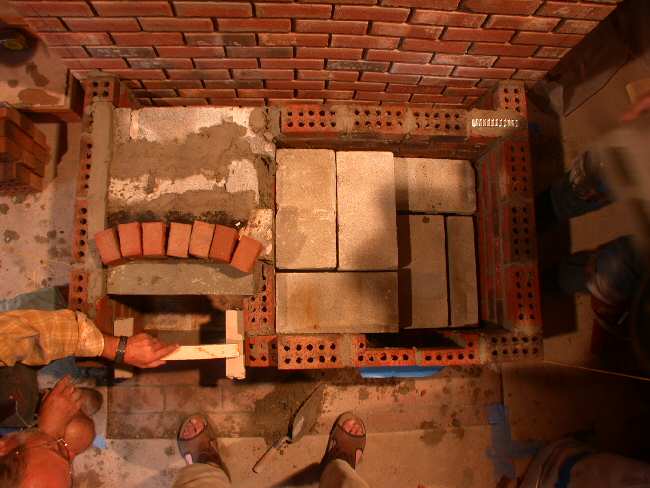 Ready to lay up arch at front of bench.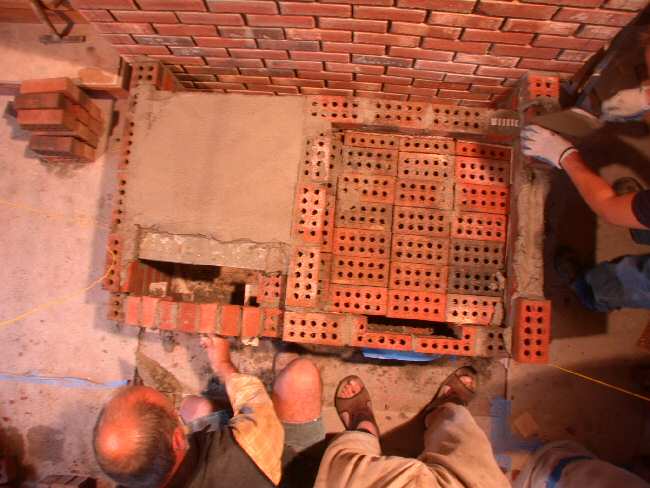 Firebox is on the right. Air channel visible at the front.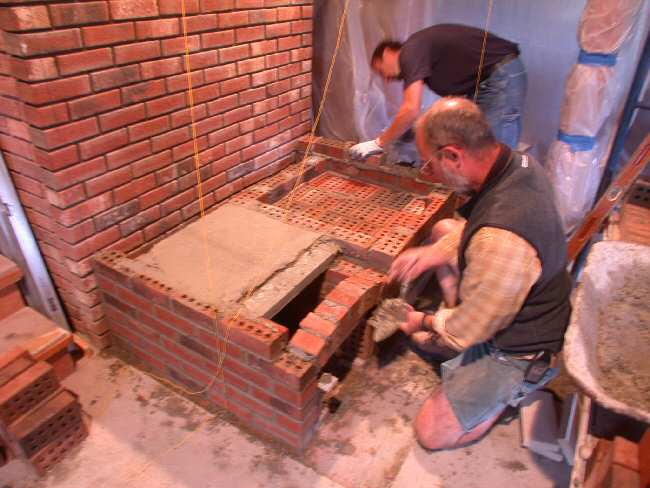 Gary Hart lays up the bench arch.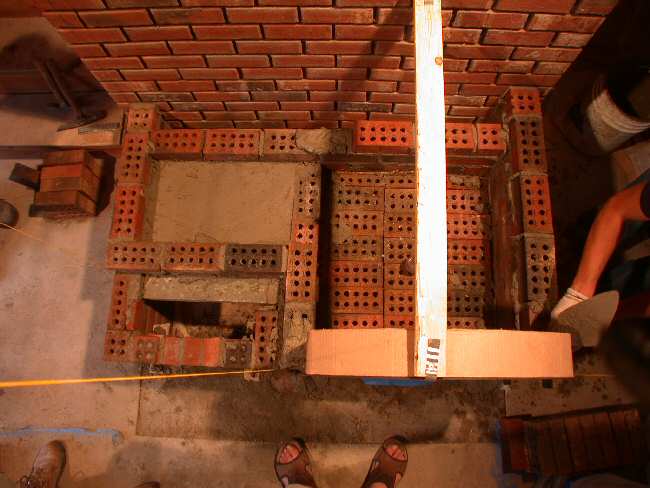 Firebox door set in place with 2x4 support.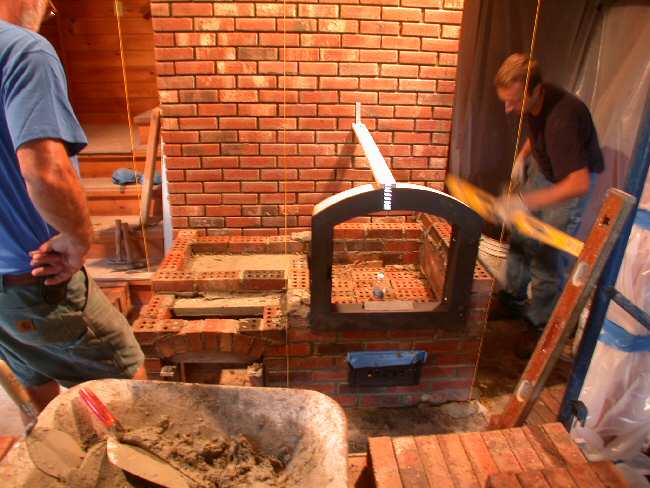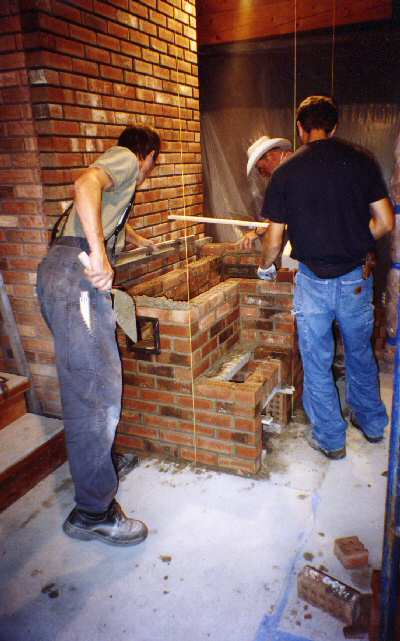 Channel cleanout visible.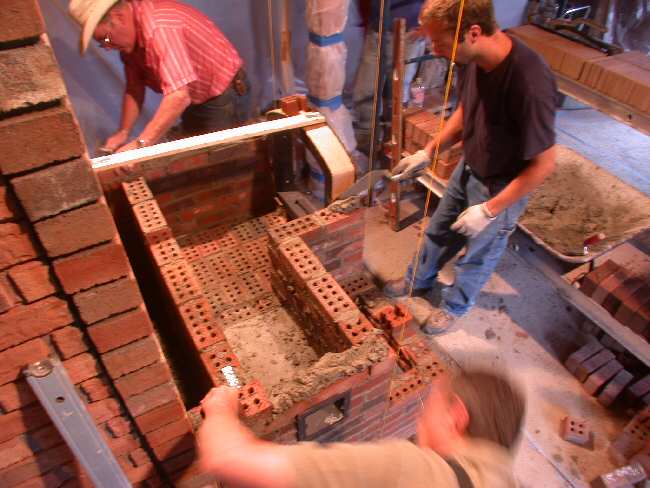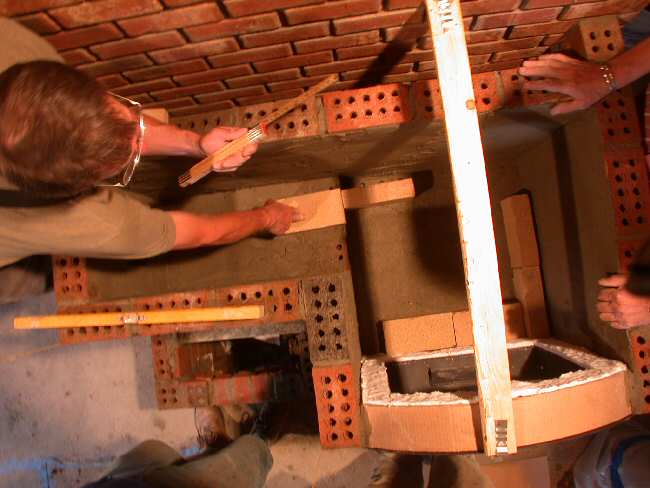 Laying out the firebox on the right and heat exchange channels on the left.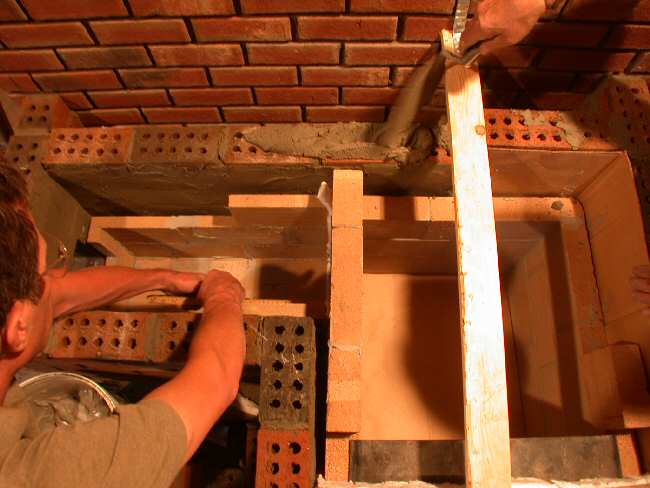 Firebox is lined with 2.5" firebricks.
Bottom of heat exchange channels is lined with 1.25" firebricks.
Note cardboard expansion joint between firebox and brick facing.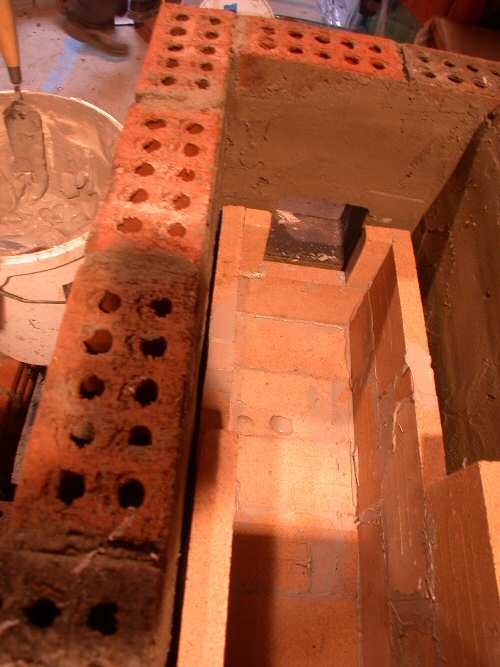 Interior view towards cleanout.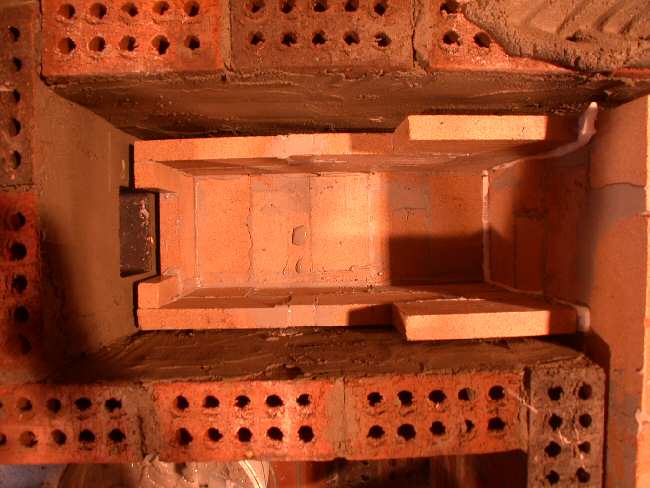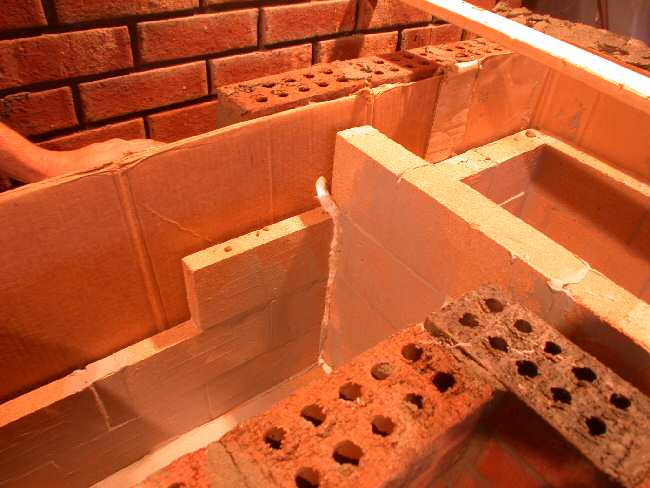 Expansion joints. Note the ceramic fiber expansion joint where the 1.25" firebrick wall butts into the
2.5" wall.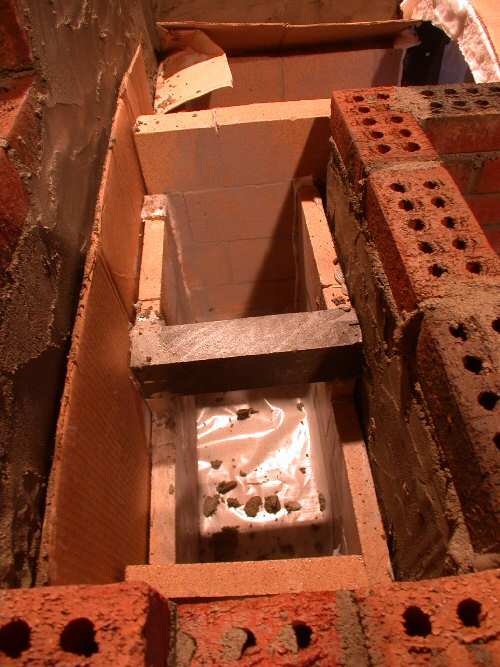 Divider visible between two heat exchange channel. Gases cross
over under the divider.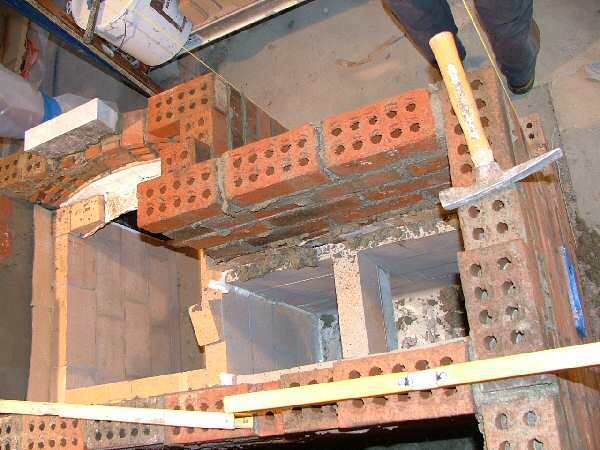 Scott Goodman on the wetsaw.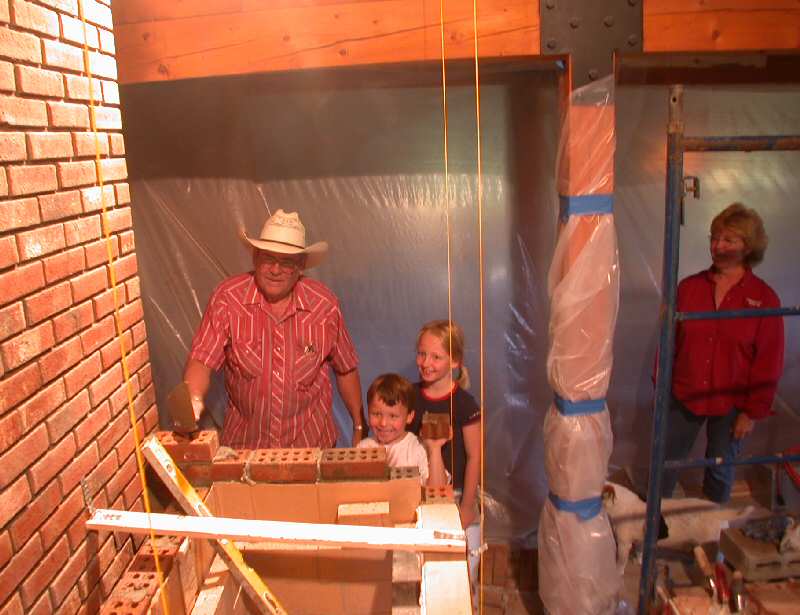 Bev's grandkids Carter and Danielle lay bricks under Jerry's careful supervision.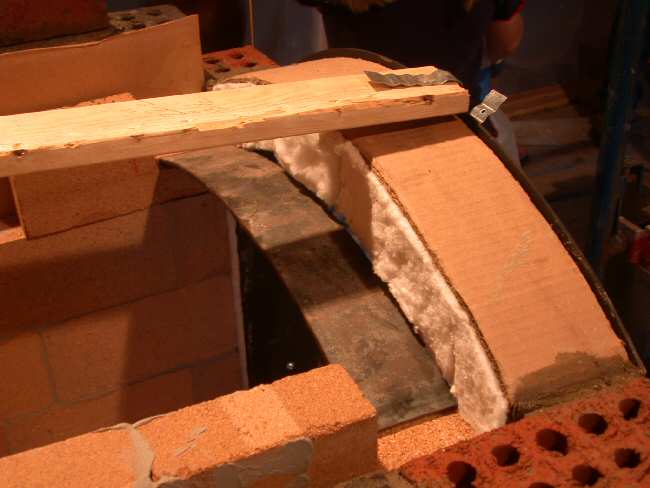 Expansion joint above the firebox door.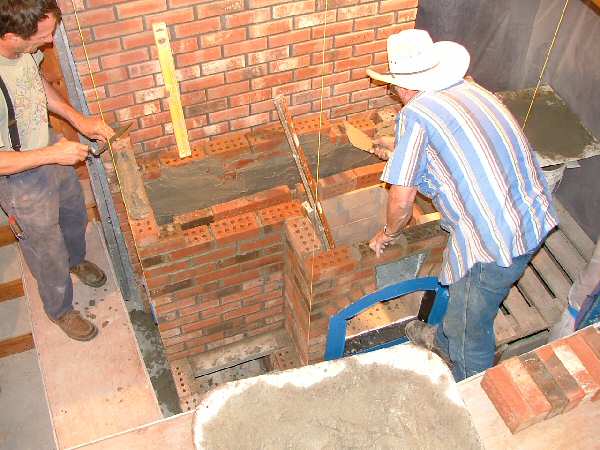 Looking down the heat exchange channels.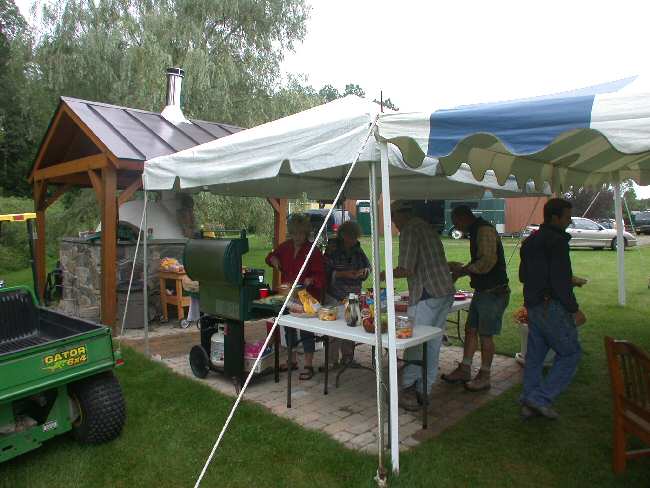 Lunch time.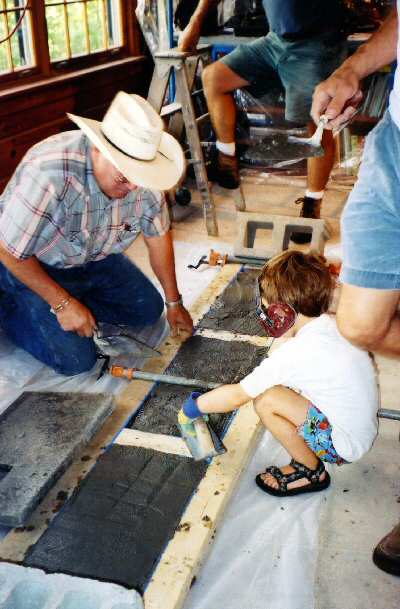 Carter helps Jerry cast refractory slabs.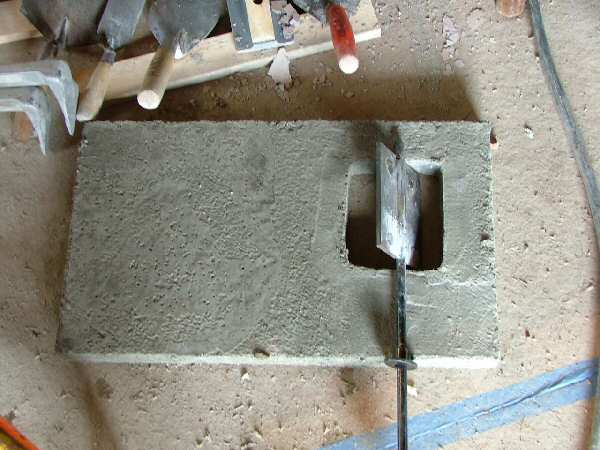 Site cast bake oven ceiling with bypass damper.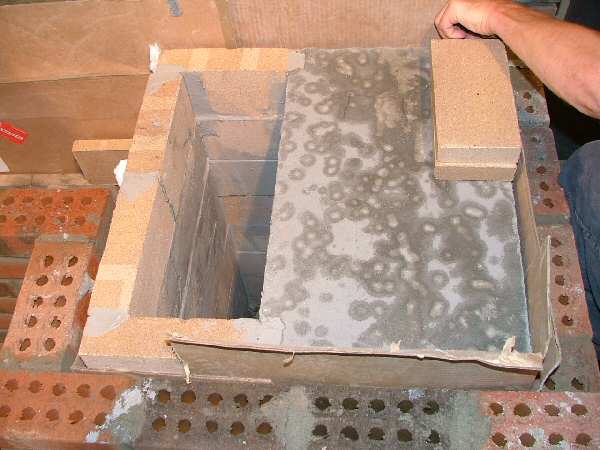 Firebox ceiling, which is also the bakeoven floor. Gases exit the firebox on the left.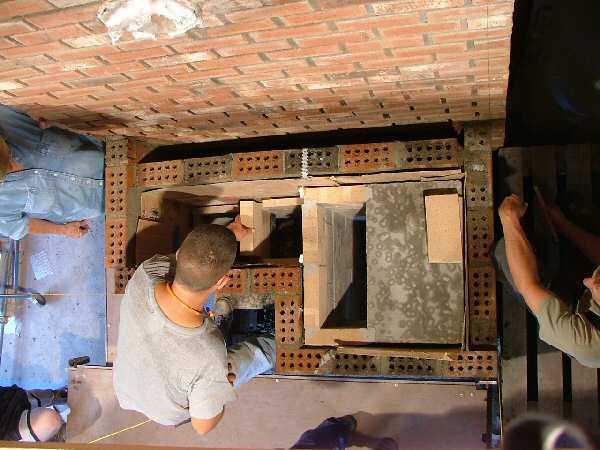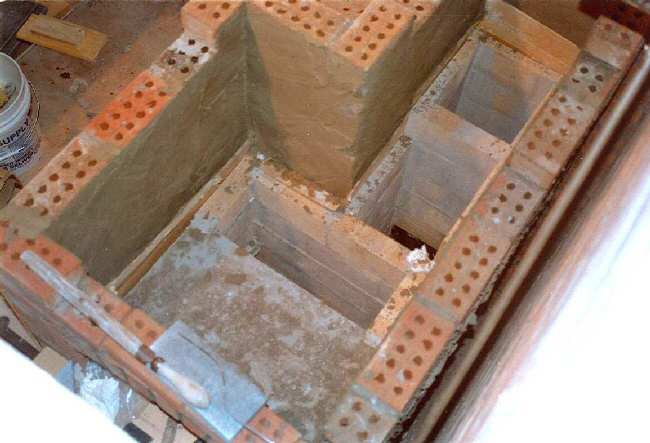 Bake oven floor is towards bottom of photograph.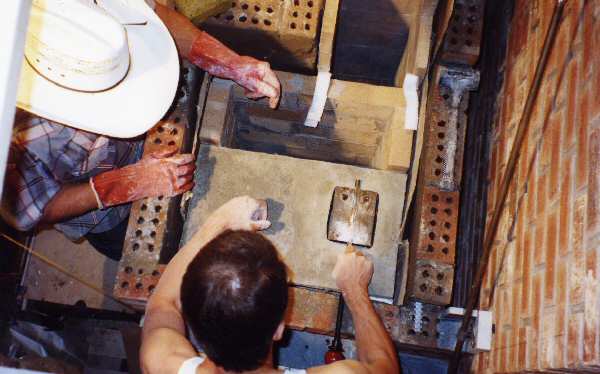 Bake oven ceiling.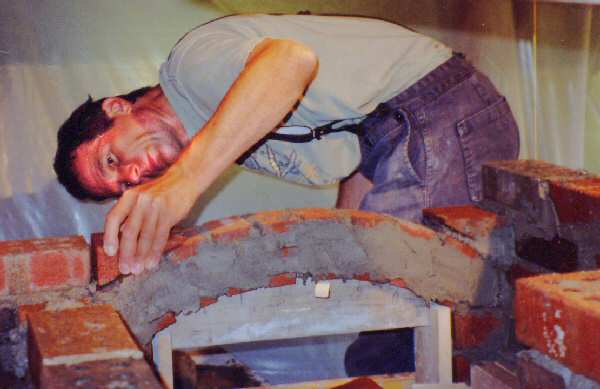 Rod Zander works on the bake oven arch.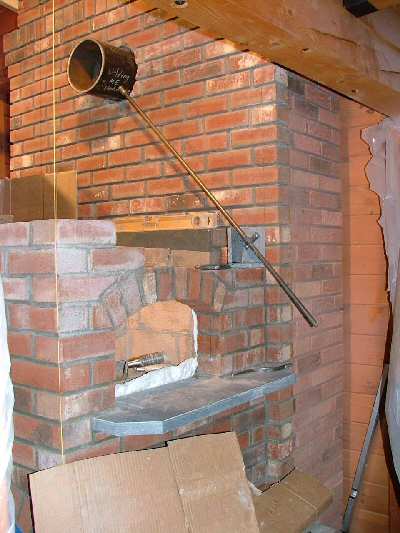 Chimney connecting thimble with pivoting shut off damper.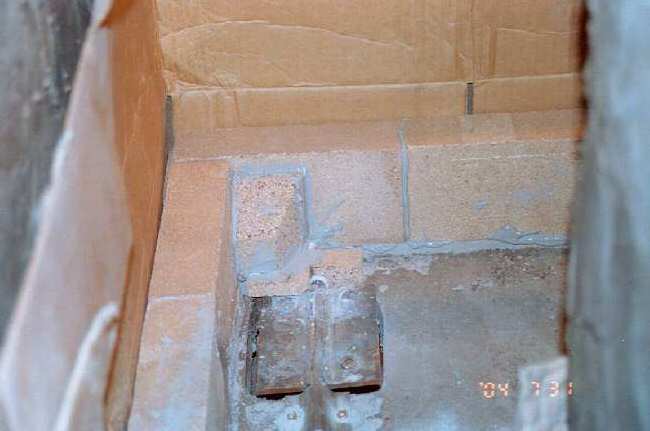 Oven bypass mounting.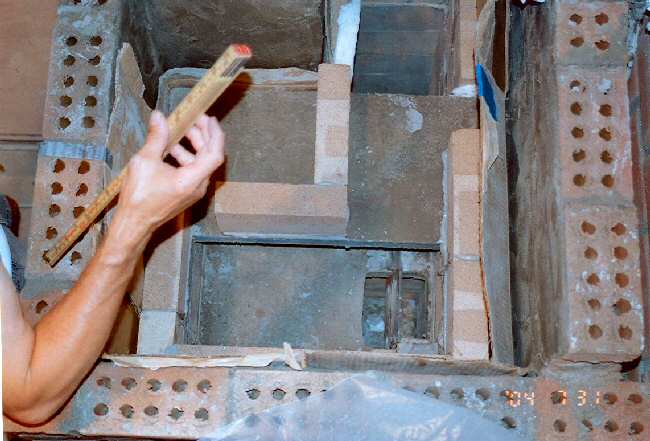 Oven exit, gases heading towards downdraft channel.
This part of the design was modified from the original drawings.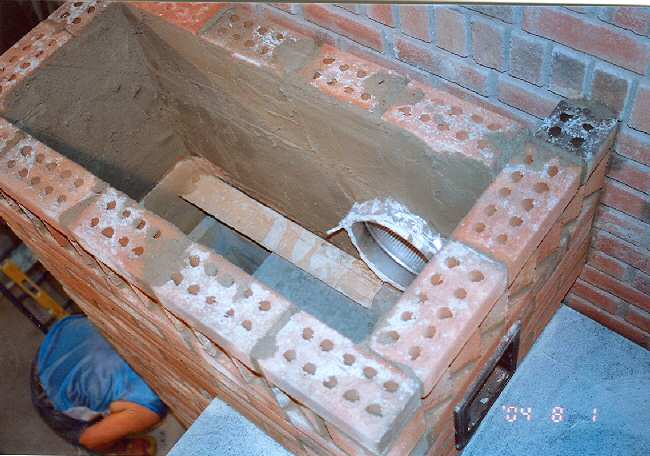 Chimney connection. Cleanout visible at bottom.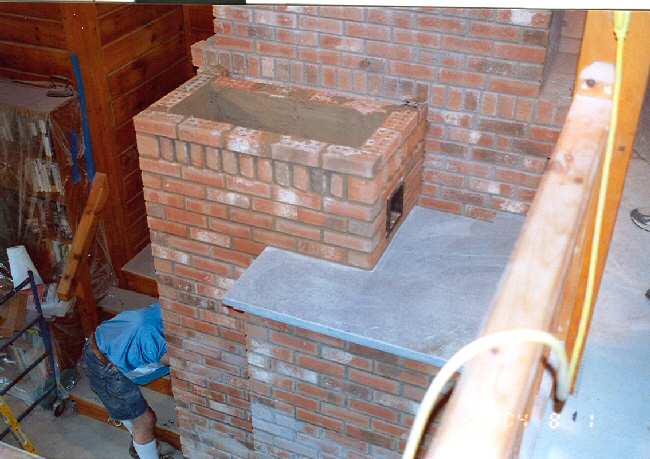 First soapstone capping slab is in place.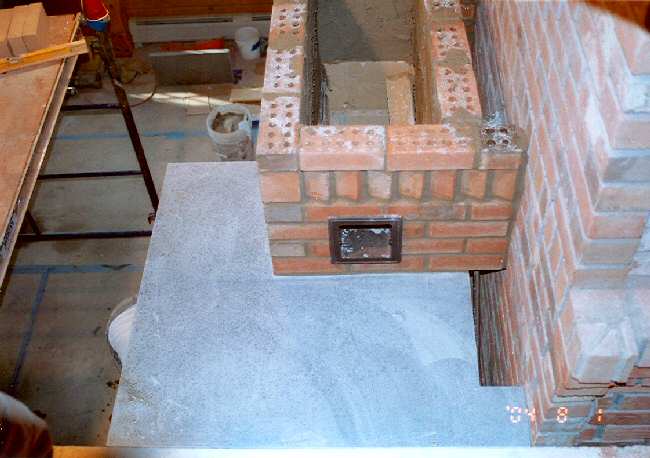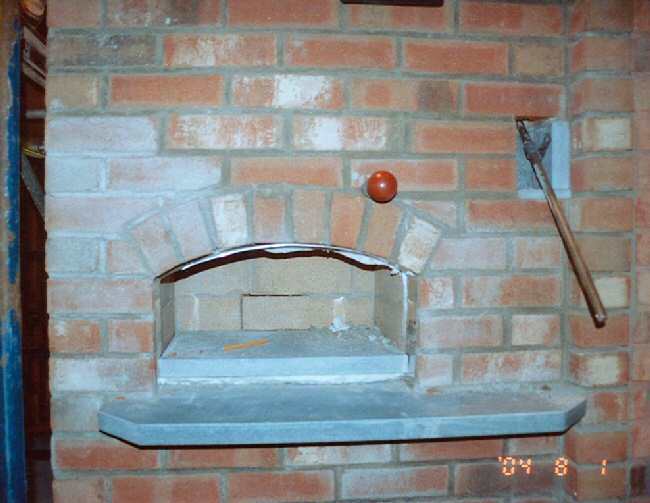 Bake oven. Red knob is bypass damper, which optionally allows flames to go through the oven.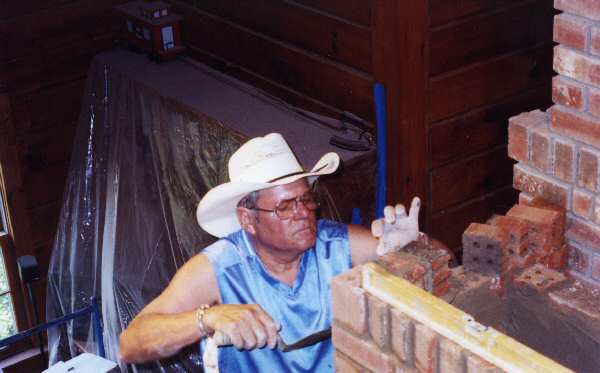 Jerry applies a finishing touch to the facing.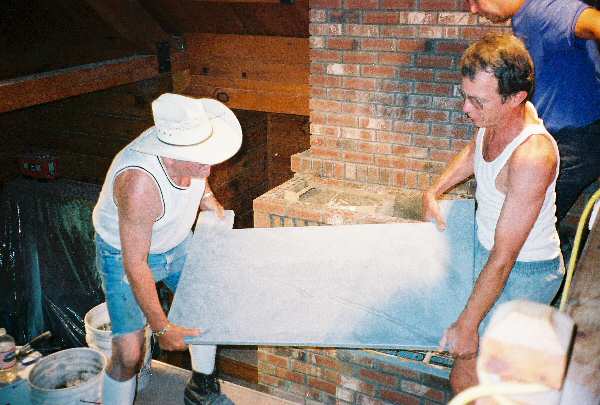 Installing the second soapstone capping slab.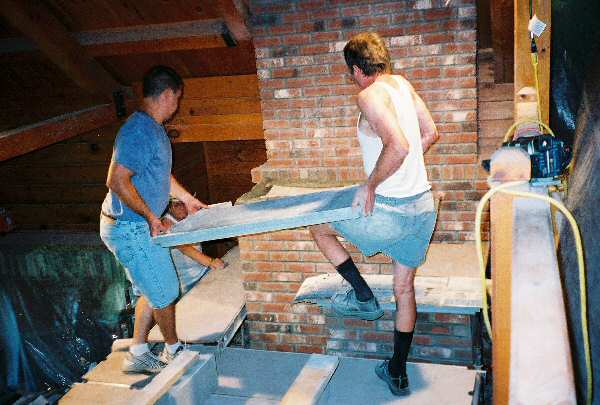 Second try, after a refit.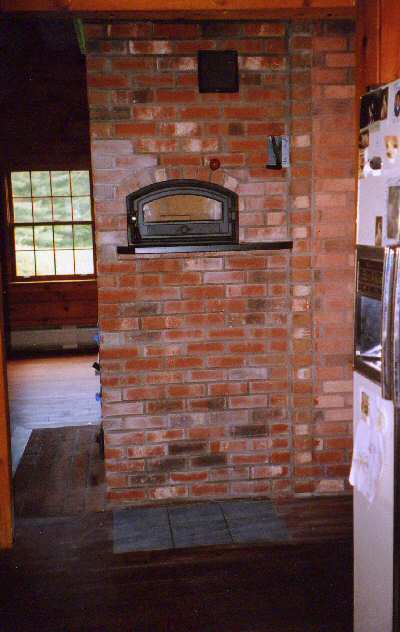 Finished heater viewed from bake oven side.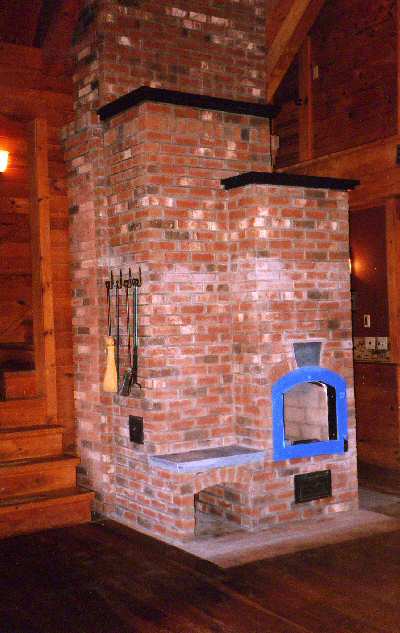 Almost finished.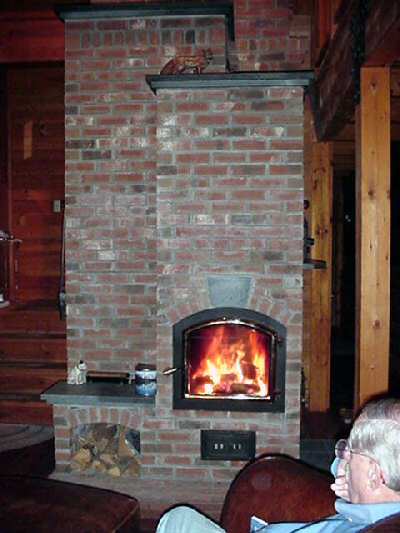 Dick Marois enjoys a fire.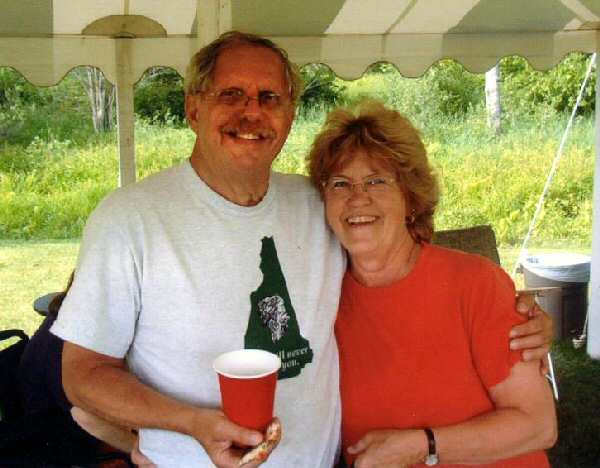 The happy owners.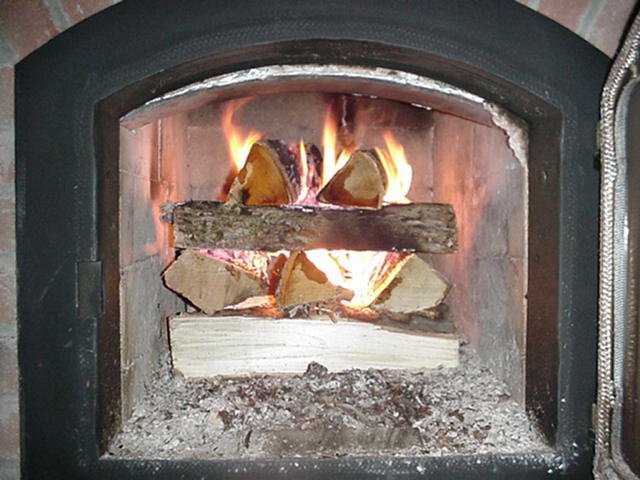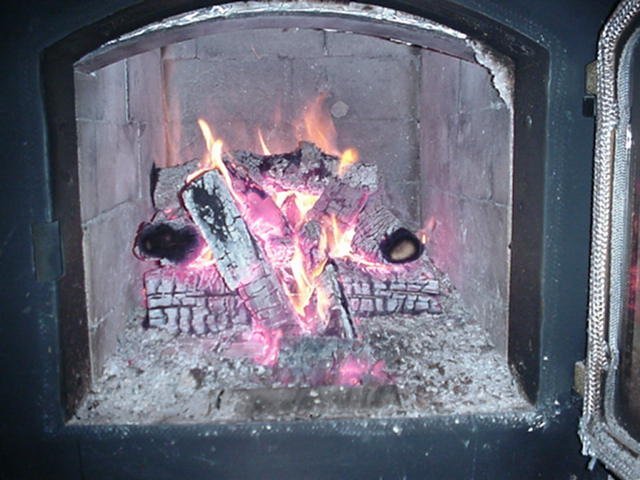 ---
This page was last updated on April 4, 2005
This page was created on April 2, 2005
Back to: