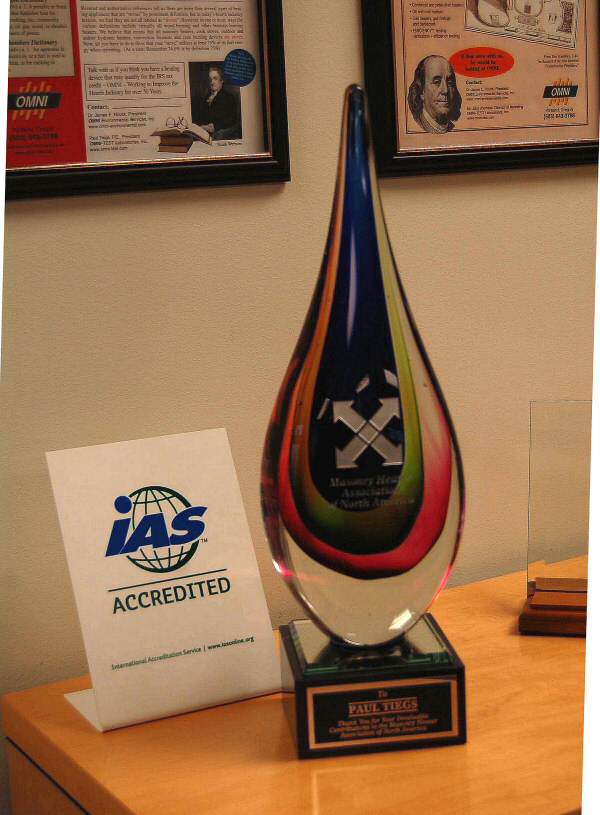 There was a memorial gathering for Paul Tiegs at OMNI-Test Labs on Friday, December 7, 2012 in Portland, Oregon.
MHA President Steve Bushway and I flew to Seattle, and drove down to Portland with Jerry and Jim Frisch, to pay MHA's respects. Paul was the President and CEO of OMNI, which is one of the most highly regarded EPA-accredited woodstove testing facilities in the United States.
Paul was a great friend to MHA, and to the masonry heater cause. The photo shows an award that Paul received from MHA last year, and which was on prominent display in OMNI's lobby.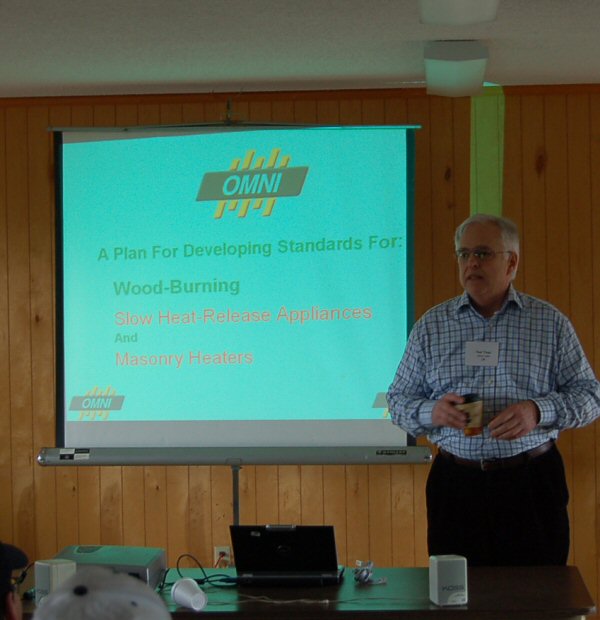 2007 MHA Meeting at Wildacres. Paul updated us on the current state of the ASTM fueling protocol, and the regulatory prognosis for emissions.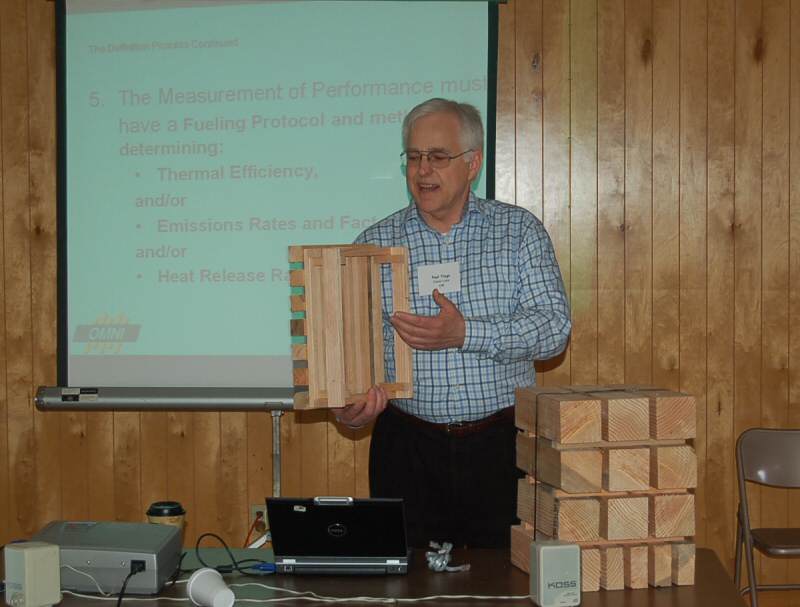 He brought along two official ASTM fuel cribs. I took them home and used them for testing:
Test 1, Test 2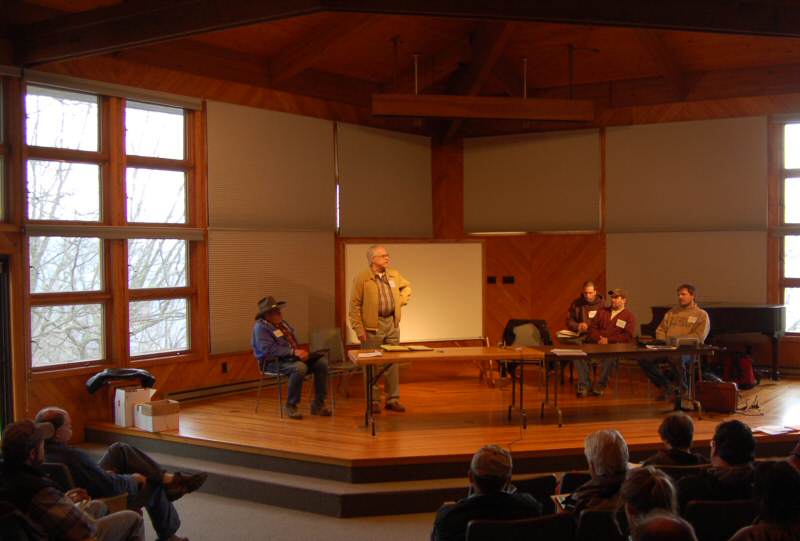 Paul also attended our 2009 meeting. He gave a talk, and also met with the technical committee to work out final details of the MHA Technical Standards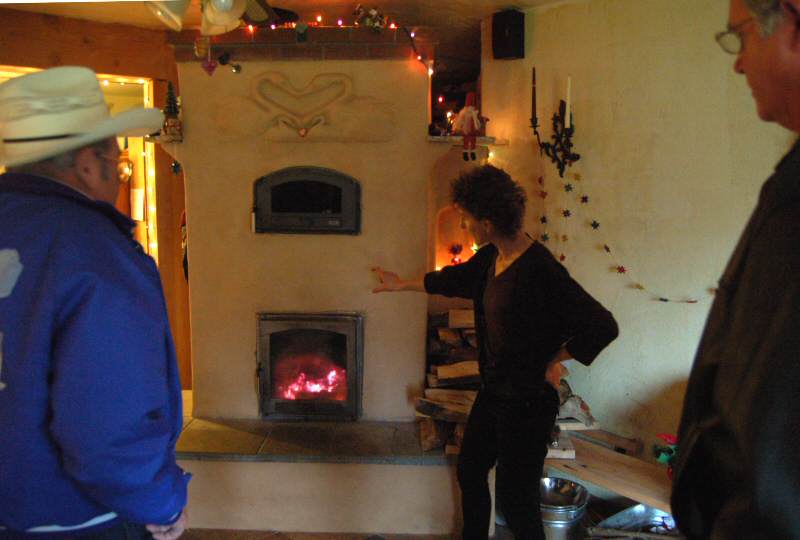 December 6, 2012:
Jerry picked me up at Seatac airport the previous night. We met up with his brother Jim in the morning and drove to MHA member Poppy Sandoval's house in Richland, about an hour south of Seattle. Here, Poppy is showing us the clay plastered heater that she built and got approved by the Washington State Deparment of Ecology, which is located in nearby Olympia.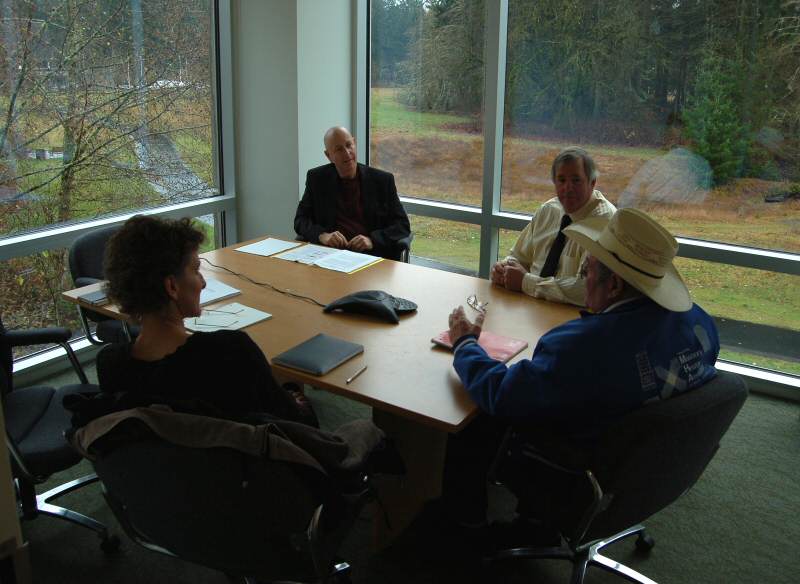 Washington State Department of Ecology in Olympia, WA

Rod Tinnemore is the Wood Stove Coordinator, Air Quality Program, at the WSDE
We had a very productive meeting with him, reviewing outstanding issues in the current EPA NSPS (New Source Performance Standards) revisions scheduled for this year. Masonry heaters will likely be included for the first time.

In the past, Washington has shown itself to be a leader in woodstove regulation, often with earlier and tighter standards. Historically, these standards have been recognized as models by EPA.

After the meeting, we dropped Poppy off at home, picked up MHA President Steve Bushway at the airport, and headed down the I-5 to Portland on a typical rainy winter West Coast day.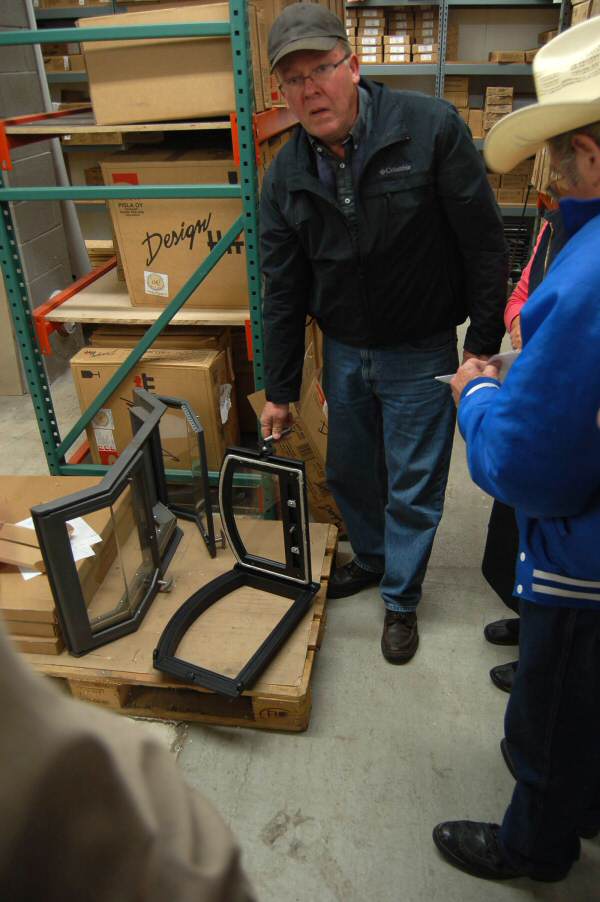 We stopped off at MHA members Northstone Heat Supply in Battleground WA. Jerry needed to pick up a door for the portfolio 2'x3' heater that will be built in Las Vegas in February at World of Concrete Expo. The plan is to build the heater as shippable, and send it back to Jerry's lab for testing and tuning. It may go to OMNI for testing also, and is a strong candidate for MHA's entry into the Wood Stove Decathlon.

In the photo above, Pekka Halme shows us a new taller Pisla bake oven door.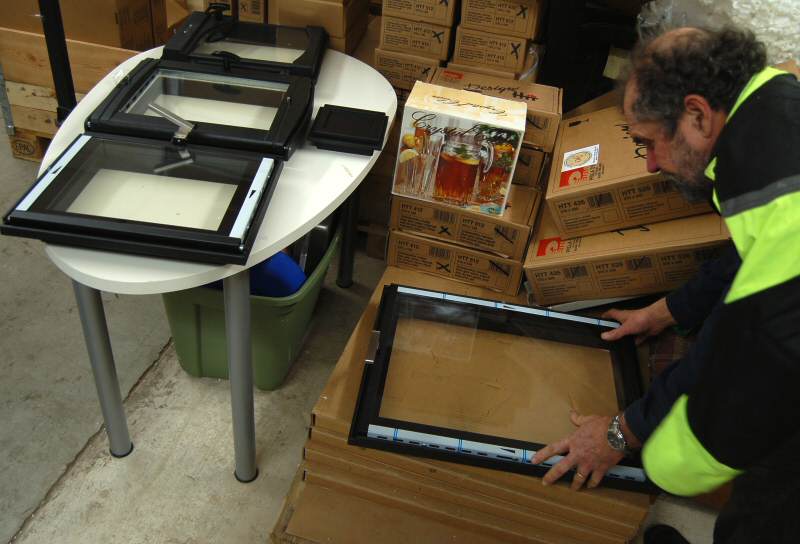 I was very excited to see this new door in the Pisla 600 series.
The Pisla 602 has a width of 22", perfect for more of a fireplace look with 22" wide fireboxes.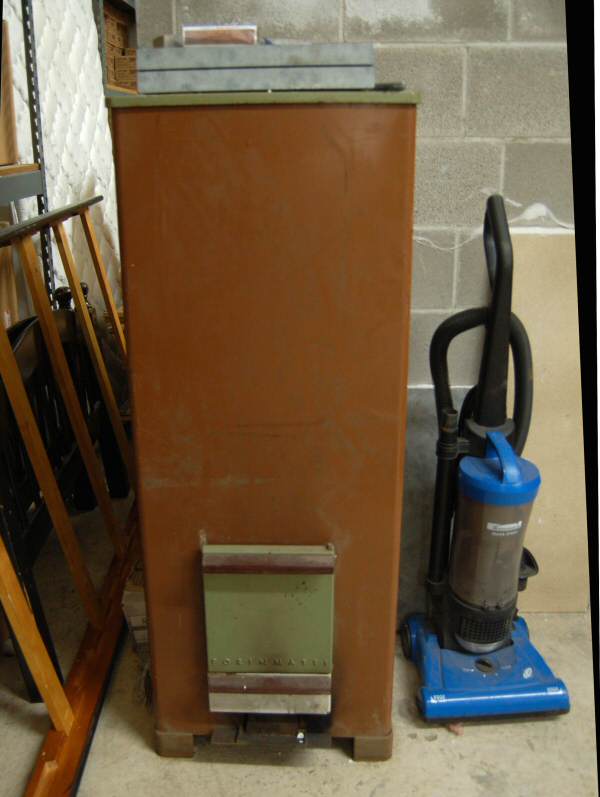 60's vintage Finnish room heater with sheet metal skin.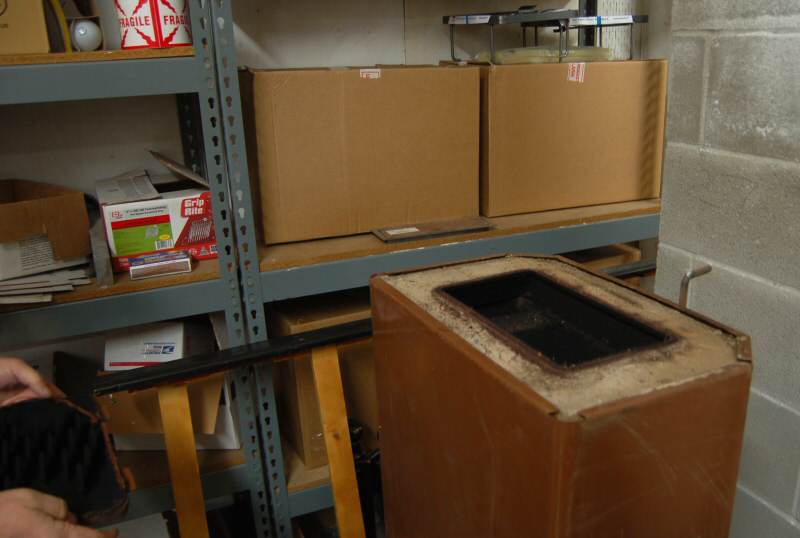 The skin is used as a form for the 2.5" castable refractory mass. Firebrick channels inside for bottom exit, small
cookplate on top.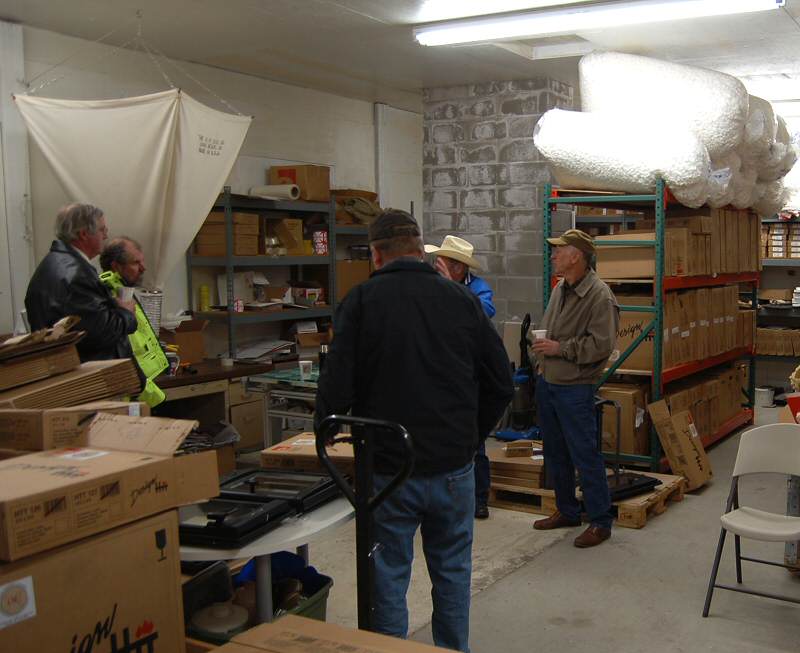 At the right is long time MHA member Stan Homola, who lives in nearby Woodland WA. Stan went to school with Sue Halme, Northstone co-owner.

After picking up hardware, we hit the road for Portland, where we stayed at a hotel close to OMNI and the airport.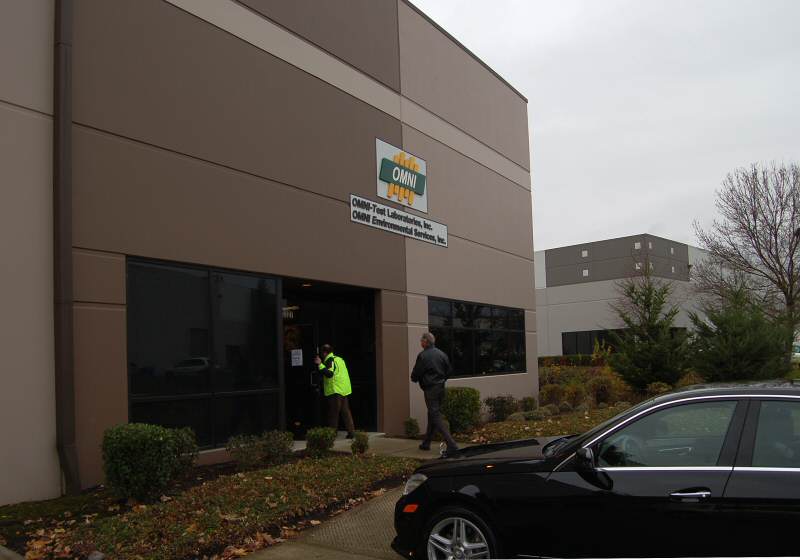 The next morning, we had an early meeting scheduled with OMNI staff. The memorial gathering would be later in the day, at 1:00 pm.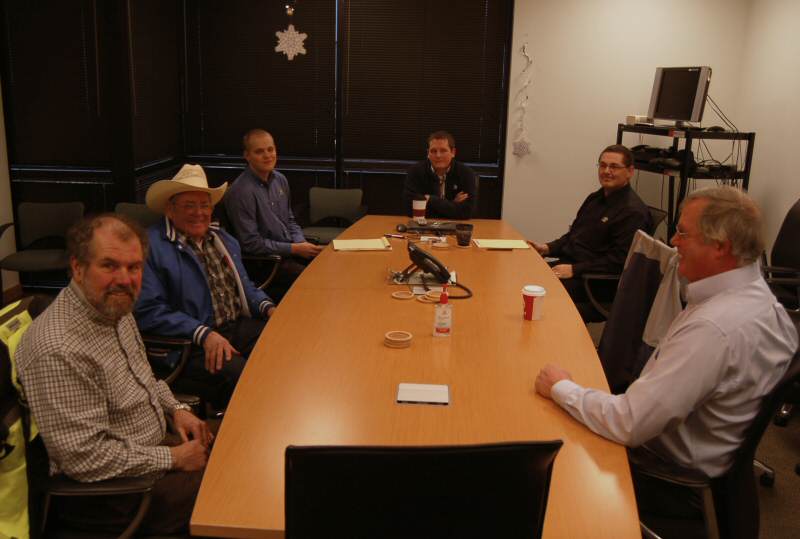 Alex Tiegs, seated at the upper left, is Paul's son. Alex has been to Wildacres a couple of times.
We had a very productive meeting, discussing the status of a new batch of improved Barnett (Condar) samplers OMNI is developing, and discussing testing issues and finalizing the MHA Technical Standards. We also discussed the Woodstove Challenge.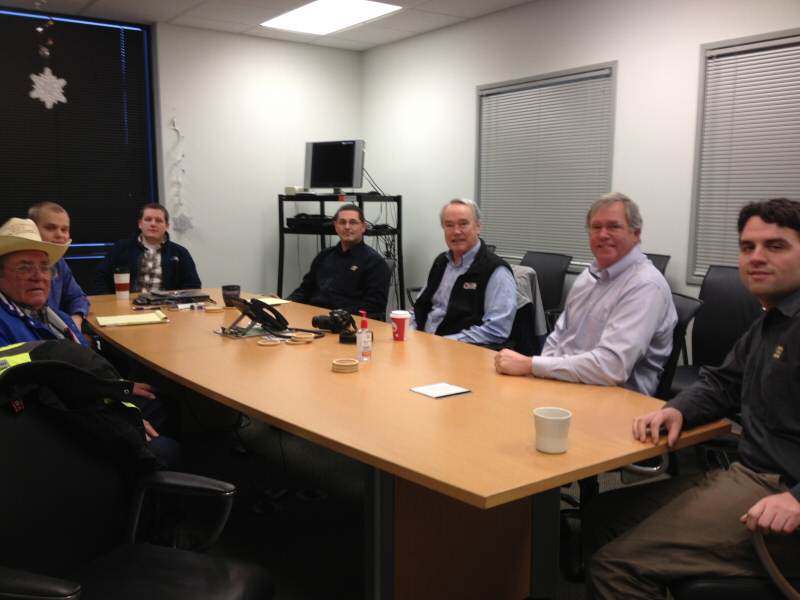 From left to right: Jerry Frisch, Alex Tiegs, Emissions Manager Jeremy Clark, Lab Technician Timothy Hertel, Norbert Senf, Jim Frisch, Safety Testing Manager Jeremy Buttons. (Not shown: MHA President Steve Bushway).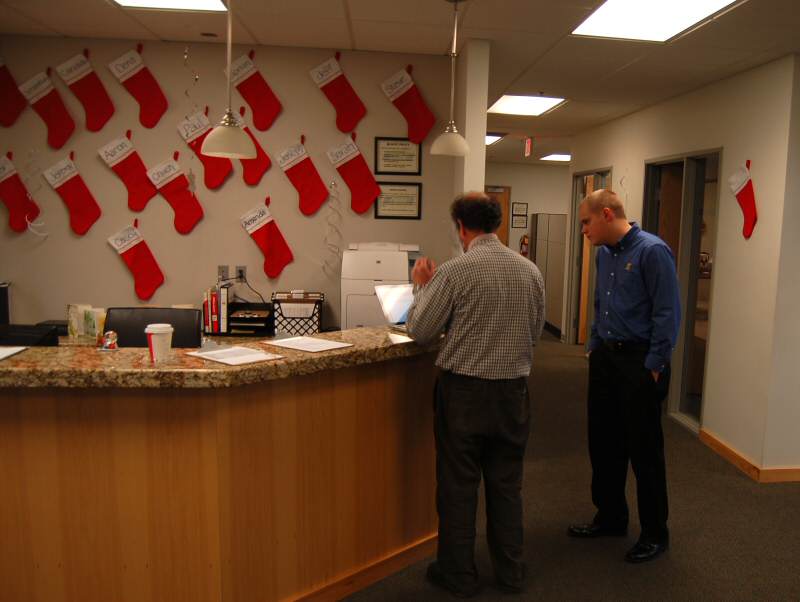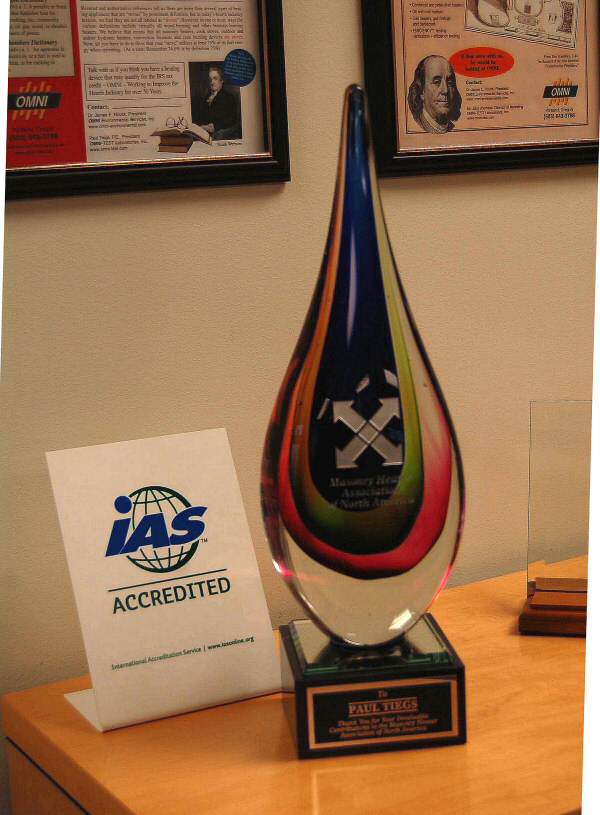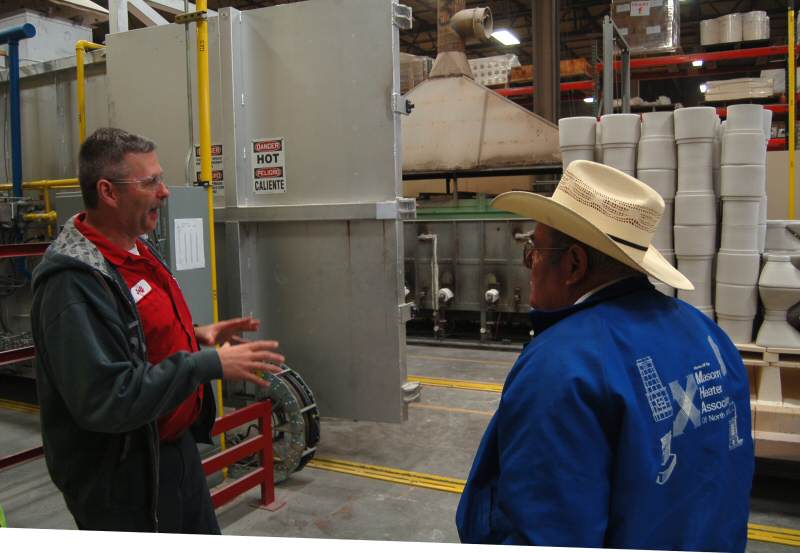 After our technical meeting we had several free hours before the memorial. We paid a visit to High-Temp Refractory Precast near the port of Portland. Jeff McBryde gave us an extensive tour. They have very good prices on insulation, refractory mortars and also manufacture kiln shelves as well as large industrial castings for the steel industry, etc.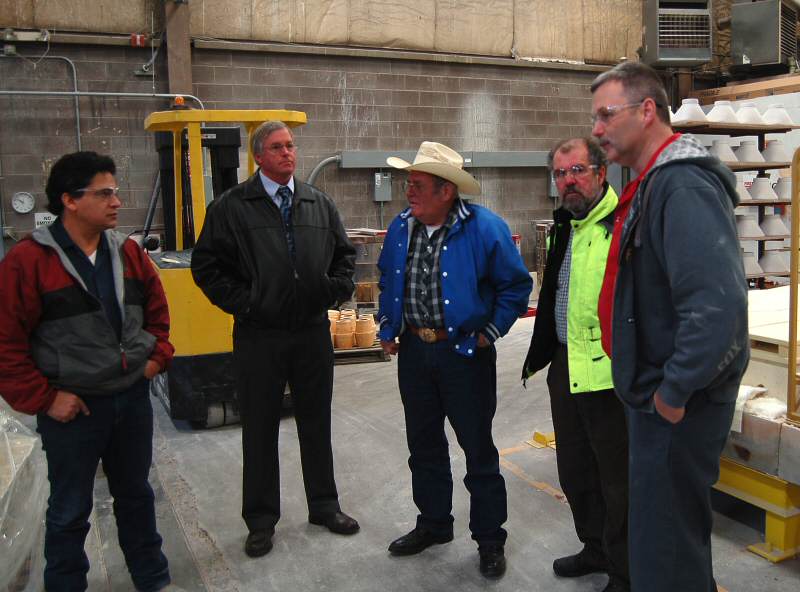 They manufacture both castable refractory pieces using proprietary castable mixes, and clay based products. All products are fired in giant car kilns, including the castables.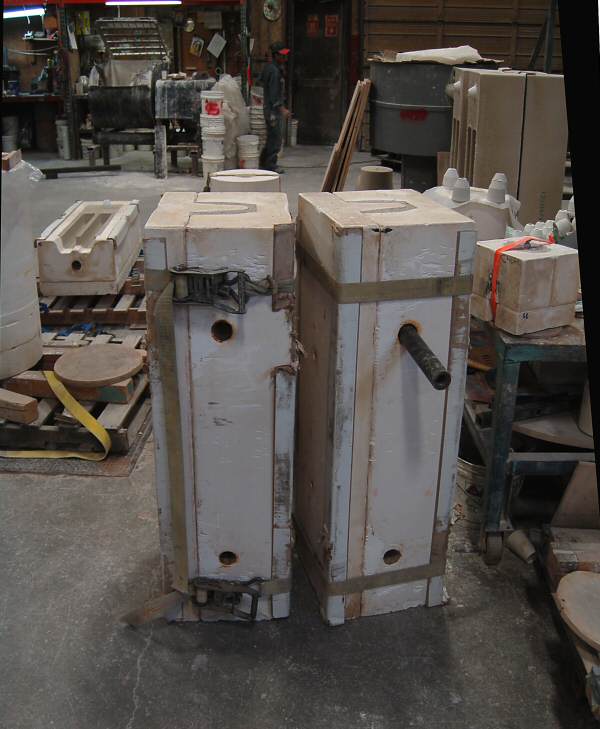 Plaster molds for hydrostatic casting.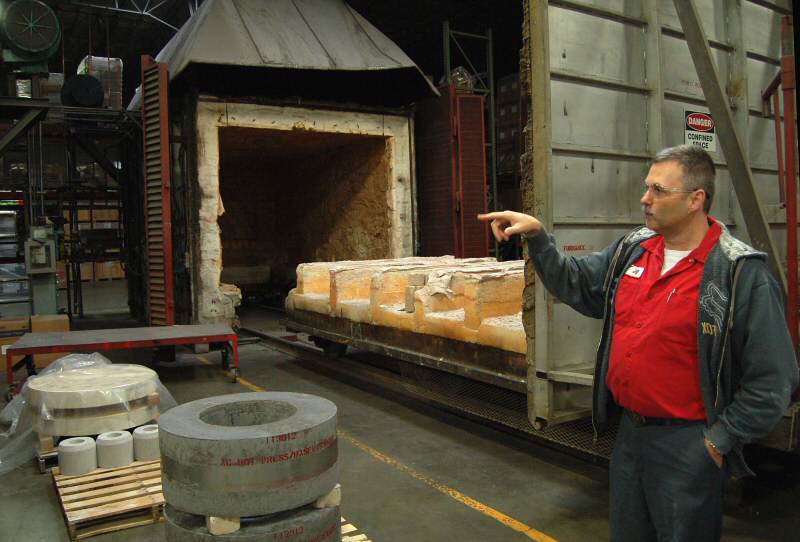 One of many kilns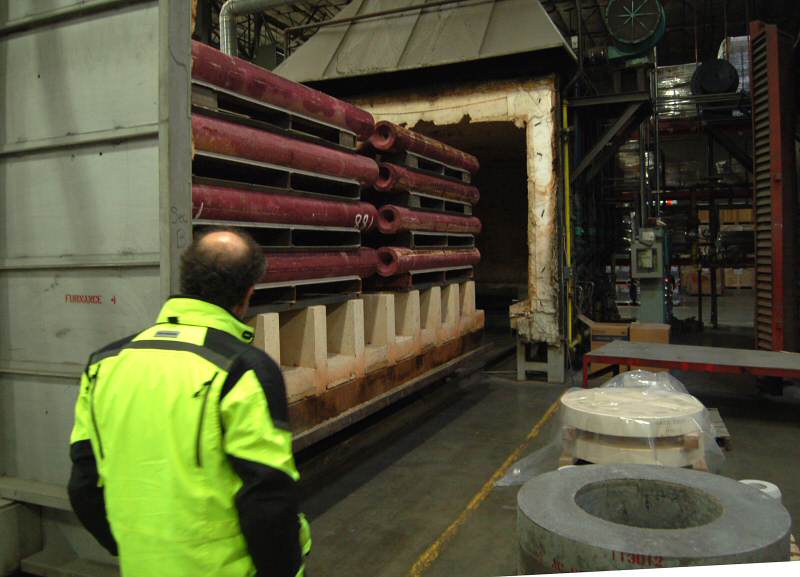 Lances for the steel industry. They are lowered into the molten steel to inject gases. As they wear, another section is
screwed to the rear of the old one.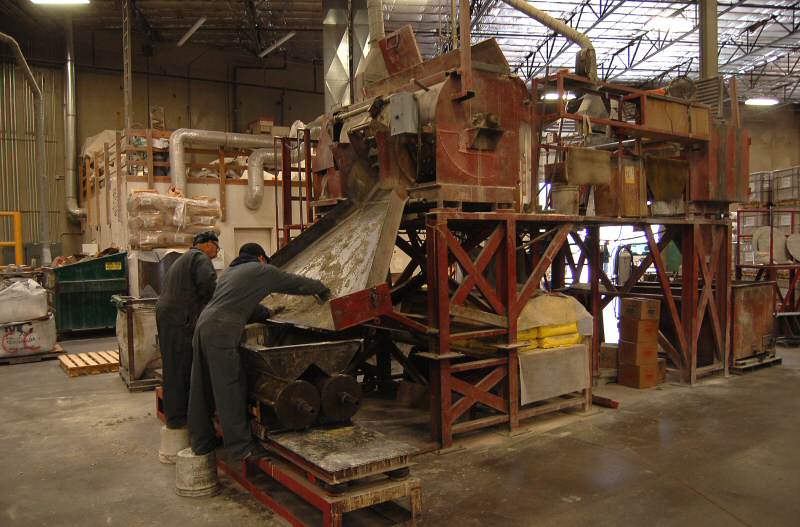 Mixer on top, dumping castable refracory into a large steel mold. The mold is sitting on a vibrating table.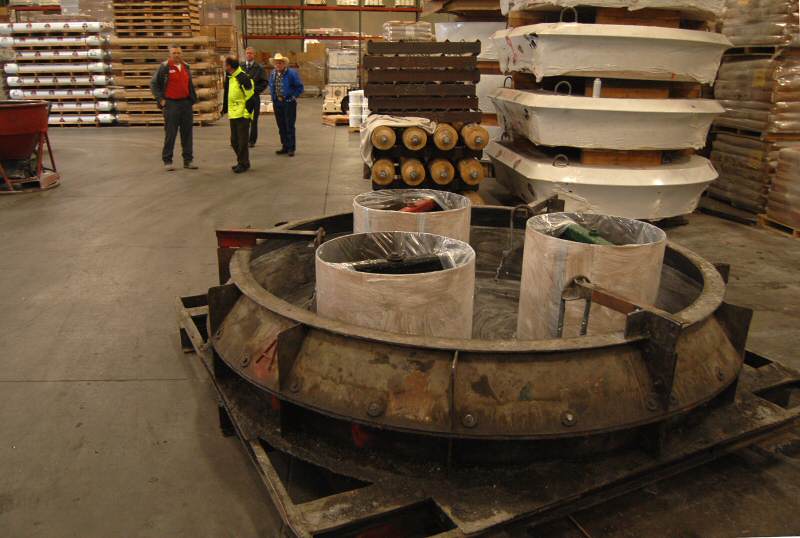 Steel mold supplied by a client for an industrial furnace casting. The mold has been smeared with release agent.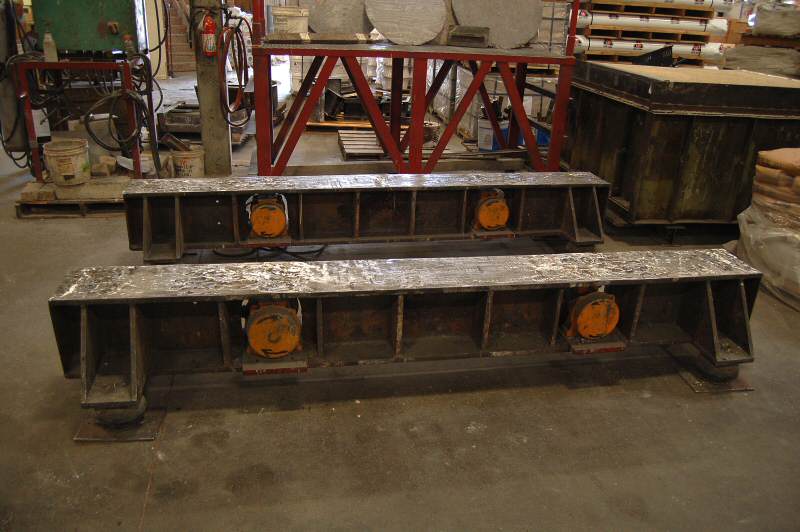 Large vibrating table. Each rail has two vibrating motors. They rotate in opposite directions, which gives an up and down vibrating motion, rather than a rotating one.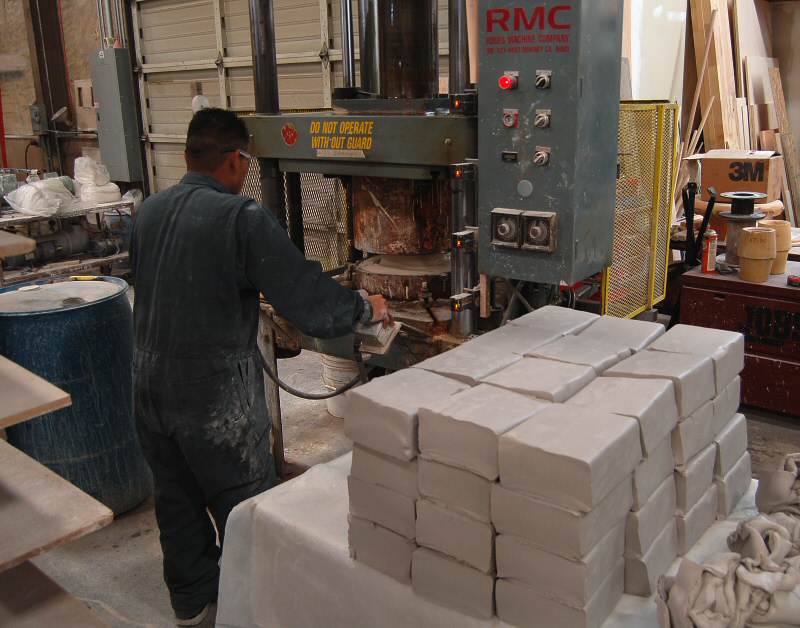 Pressing clay into refractory shapes.

The pressure brings up water to the surface of the clay, which acts as a release.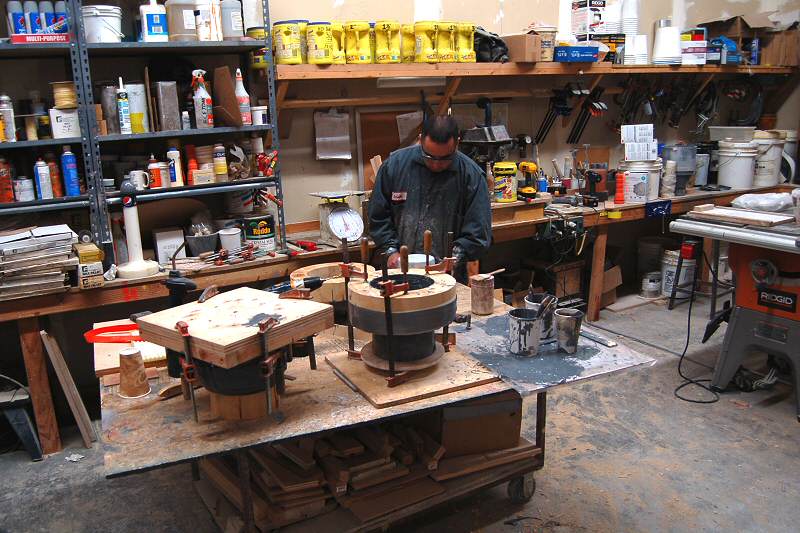 Mold and pattern shop.



Smalll castings area. Notice the Hobart mixer. I have seen these used for mixing extremely dry low cement castables.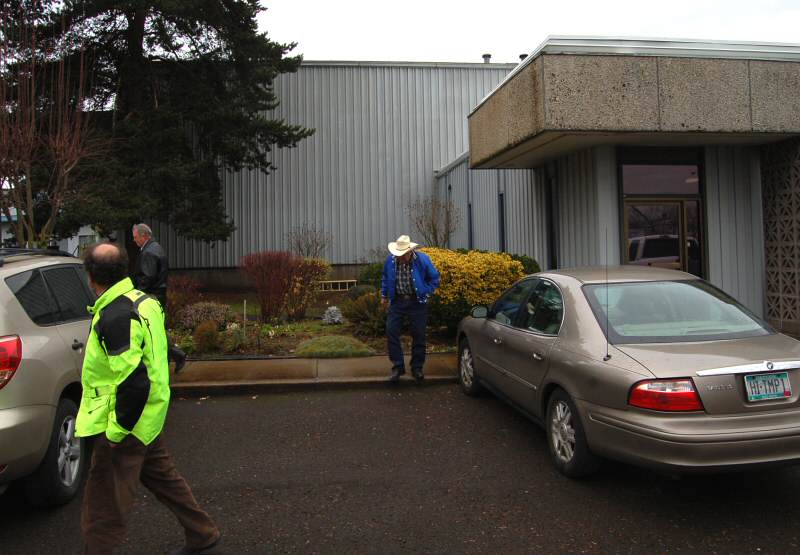 Time to head back to OMNI.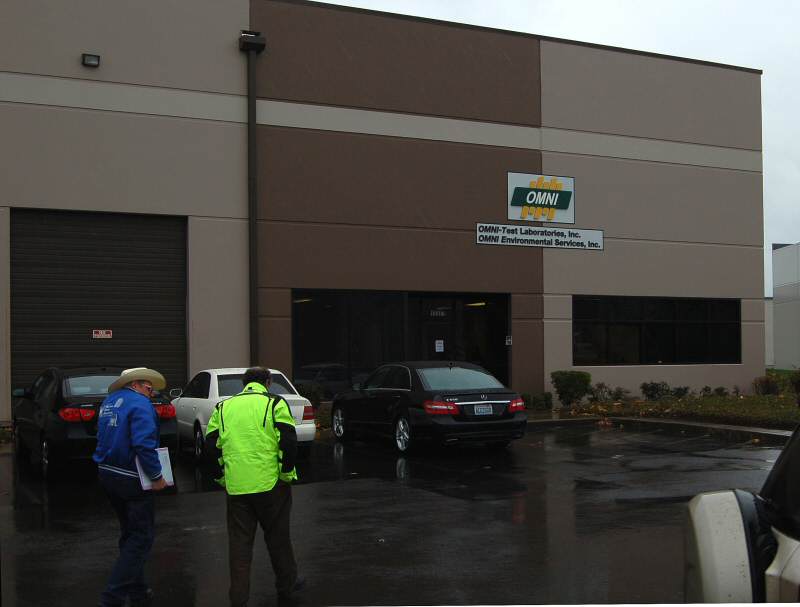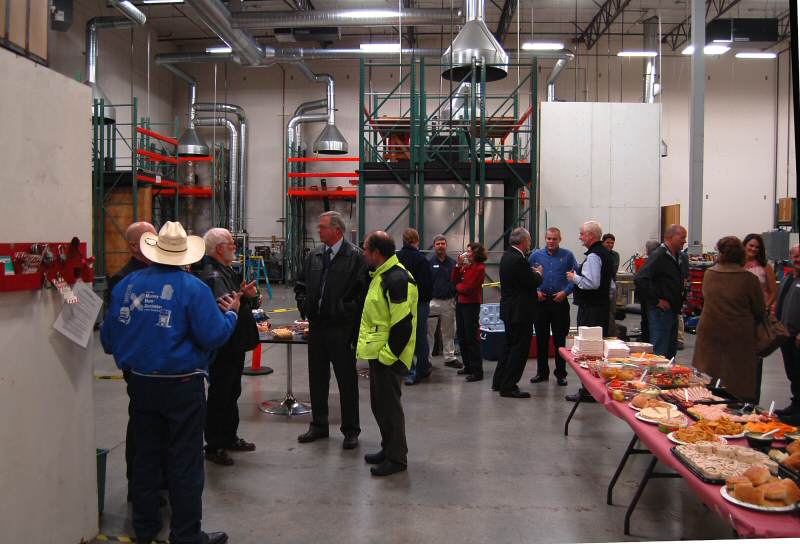 Memorial gathering to honor Paul Tiegs. In the front conference room, there was a slide show presentation on Paul's life.
We had an opportunity to offer our condolences to his family, and reminisce. It was also good to see many old friends.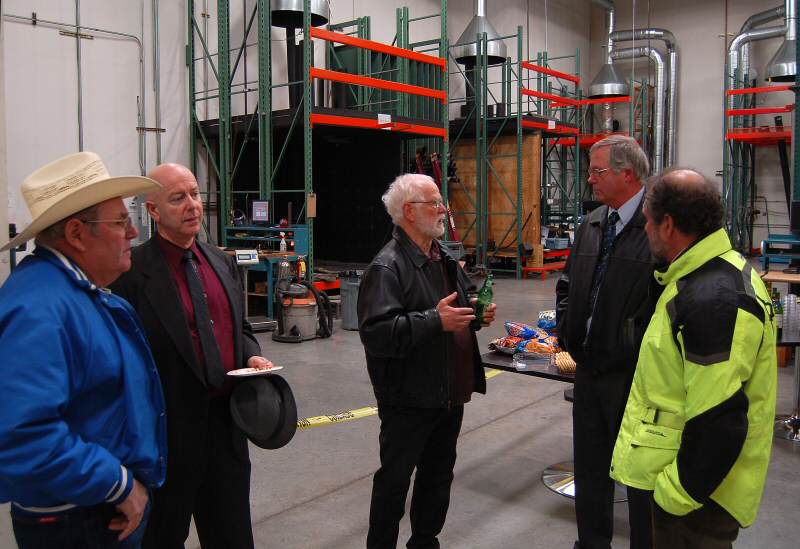 From left to right:
Jerry Frisch, Rod Tinnemore, Jim Buckley, Jim Frisch, Steve Bushway.
Four dilution tunnels are visible in the background.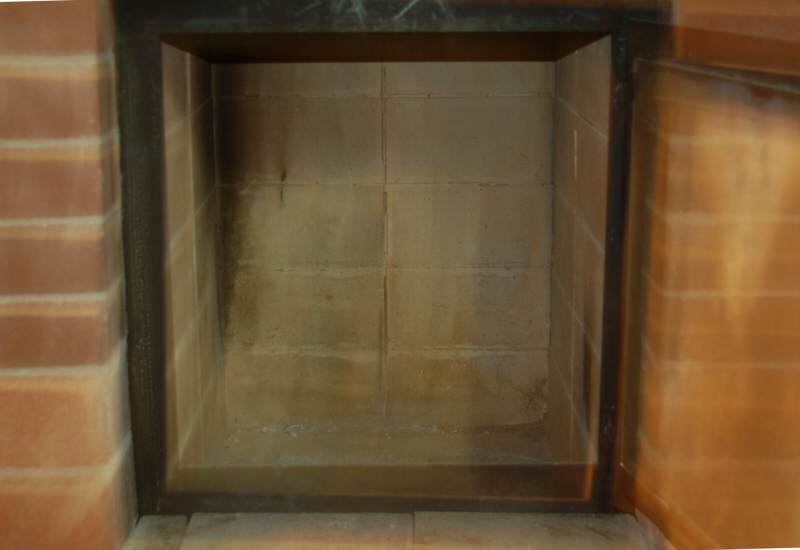 After the memorial gathering, we headed back up I-5 to Everett. The next morning, we met at Jerry's lab in Marysville, to do some hands on testing, sort of a good way to honor Paul.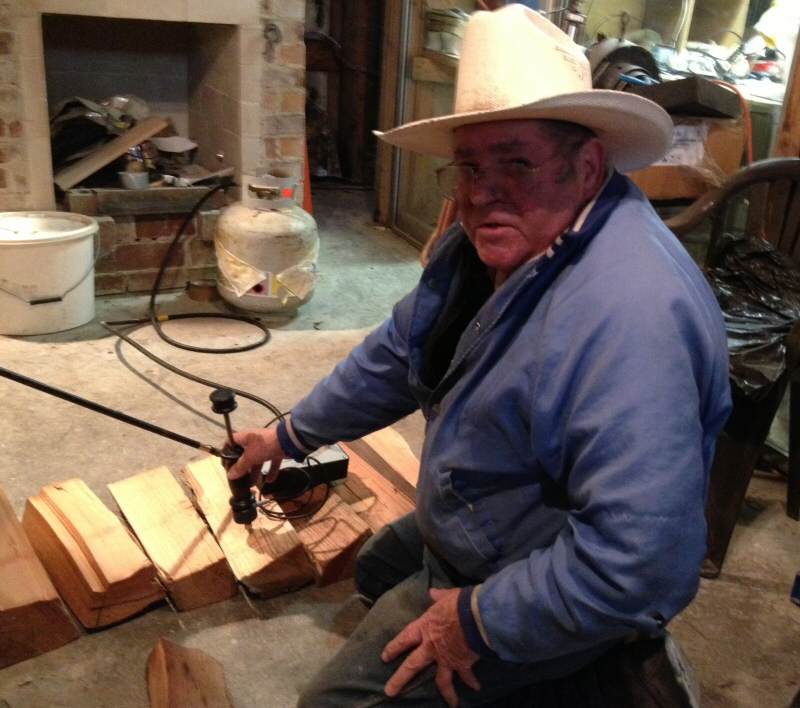 The goal was to check out the Clear Skies retrofit catalyst.
We started with a cold heater, no catalyst. Here, Jerry checks the moisture content of the fuel.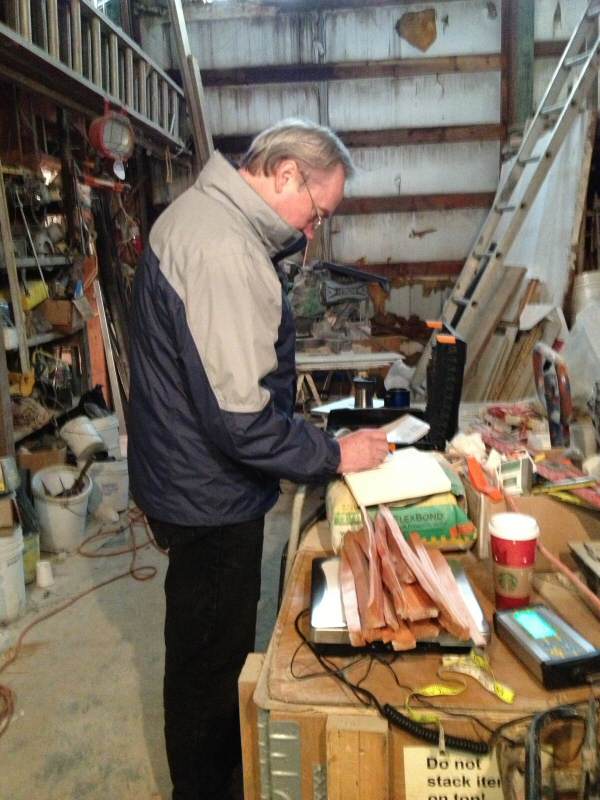 Weighing the kindling.



Fuel pieces are numbered and stacked in firebox in a prescribed order.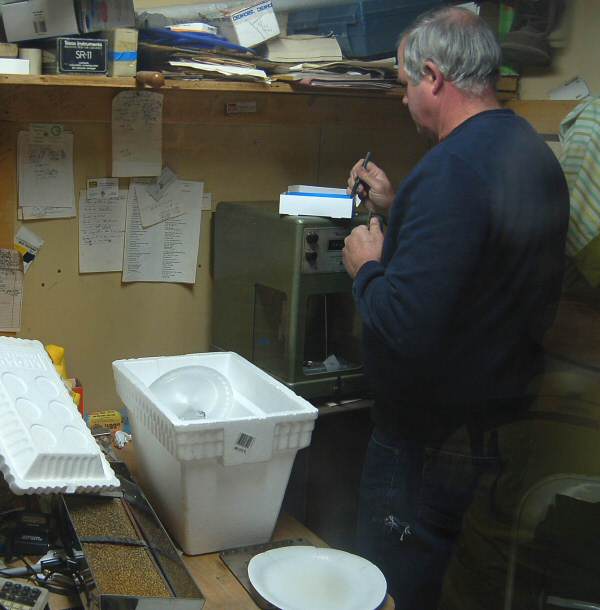 Jim Frisch weighs the filters for the Barnett/Condar emissions sampler.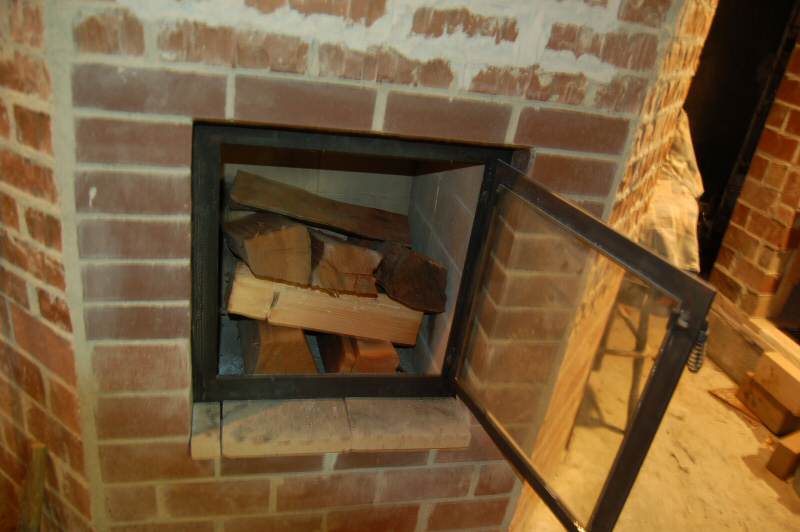 First fuel load stacked.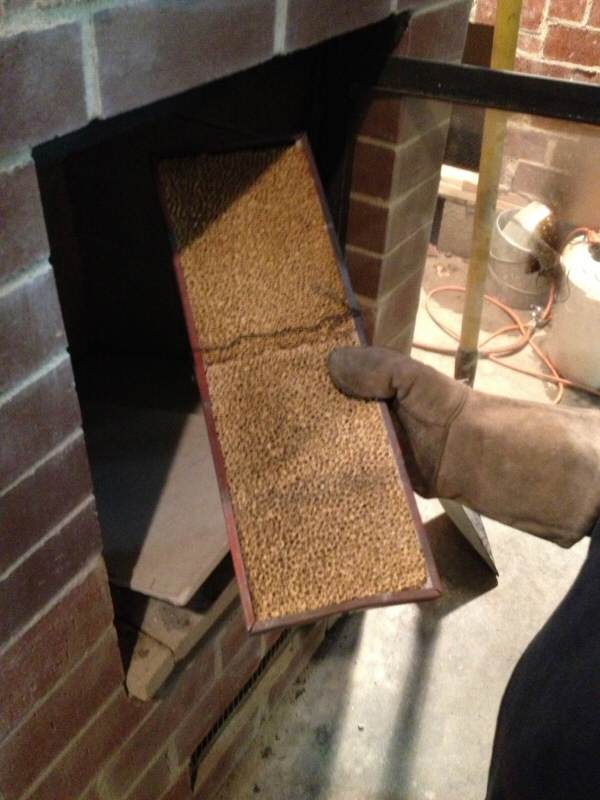 After lunch, Jim Frisch inserts the Clear Skies catalyst into the (still hot) firebox.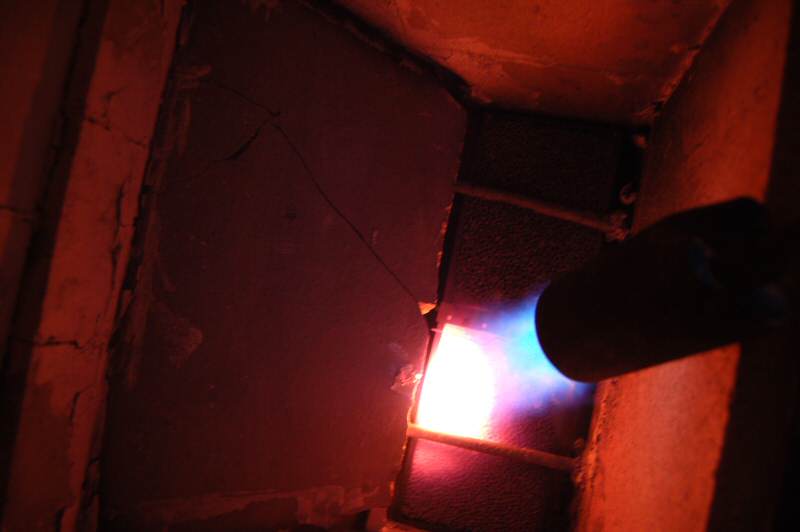 Looking up into the firebox throat. Jerry preheats the catalyst.




This page was last updated on January 11, 2013
This page was created on December 11, 2012

Back to: