Attendee List for Wildacres 2017
Agenda for Wildacres 2017
Design/Build Contest for Wildacres 2017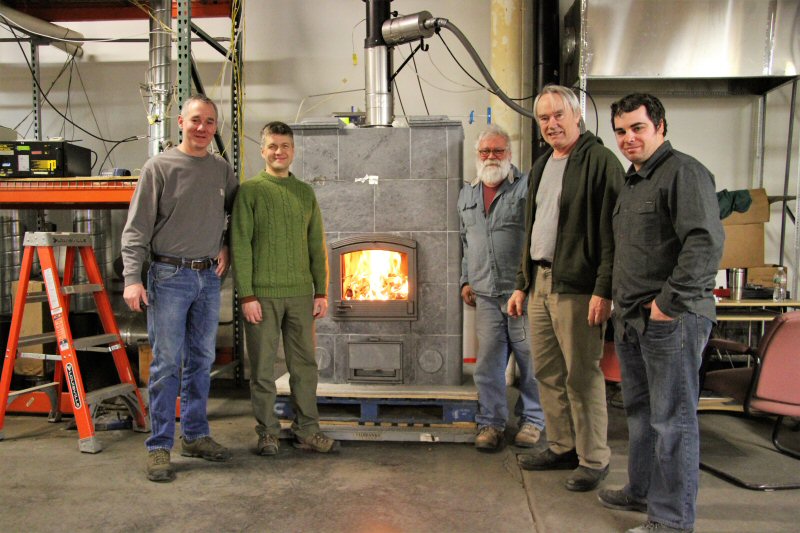 Manufactured heater test method exploratory testing, Hearth Lab Solutions, Randolph VT.
Left to right: Mark Champion, Boris Kukolj, Chris Prior, Norbert Senf, Jean-Francois Vachon
photo credit: Mark Seymour
R-Value Calculator from the
Alberta Masonry Council

Manufactured Heater Test Method Development Testing at Hearth Lab Solutions, Randolph Vermont
This is the first time that the Condar portable dilution tunnel has been run with EPA Method 5-G on a masonry heater for a one-on-one comparison
Crispin Pemberton-Pigott is a member of the MHA Technical Committee
Check out his 2015 Ontario Stove Testing Camp
Presentations from the Albany NESCAUM Emissions Conference, Nov 30 -- Dec 1, 2016
MHA Projects Page Update (2016 projects added)

Dale Hisler
From: Ron Pihl <ron@warmstone.com>
Date: Sat, Feb 4, 2017 at 8:17 PM

Dale Hisler (Hisler = Heat Maker in German) died yesterday. Sorry to send us such sad news.
Ron
by
Firespeaking

by Firespeaking
Manufactured heater test method development
- manufactured heater fueling protocol development testing by EPA in co-operation with MHA.
- left to right: Mark Seymour, Boris Kukolj, Mark Champion, Chris Prior, Jean-Francois Vachon
- the testing was done at Mark Champion's lab in Randolph VT.
- Feb 2/17: preliminary results summary. Check back later for more details


- Red oak cordwood,
- using proposed manufactured heater default fueling specification (under discussion)
- compare with white birch cordwood testing at Mark Champion's lab (above)

Stacked Heatkits by Alexandre Paquin, Lac Des Ecorces, Quebec

Open fireplace with oven by Igor Kuznetsov
Boilers. Via Facebook (Mihail Markin)

Time lapse video, top down burn - 60 lbs oak @16% moisture
First tests of a proposed new cordwood testing protocol, using the
MHA Research Heater

Jan 10/17 Sensor locations specified by Daniel Lehmann for handbuilt heater
calculator development and verification testing. MHA research heater.
Download Sketchup model

Contraflow heater my Marcus Flynn
Wakefield Quebec, off grid house, 2005. Reclaimed bricks ca. 1900

Oven with open fireplace by
Igor Kuznetsov

Cool video of an Eco-labelled firebox burning 2x cleaner than a pellet stove
by Homestead Heat
this was the first eco-labelled (Austrian) firebox tested by MHA.

Posted to Facebook by Karoly Borbely, Hungary
8" Damper by
Marcus Flynn
Stacked heaters with tight chimney clearance, using 8" O.D. stainless flue liners.
Sketchup model by Masonry Stove Builders

by Firespeaking
Multifunction Stove/Fireplace/Oven/Smoker/Tandoor
Heater by
Tony DaSilva
Connection for ICC 8" stainless flue liner
Sketchup model by Masonry Stove Builders
MHA Technical Committee Progress Report, Nov 15/16
Huge archive of technical information on wood gasification
page 1
,
page 2

French Oven Design Book
Community Oven by Red Clay Construction
Mount Allison University, Sackville, New Brunswick
Infrared Images of Double Bell heater
by Saulius Prabulis, Poland
Heater by MHA member
Kari Rale
36" x 36" Vaulted oven by
Stovemaster Inc.
Toronto. Design by Stefan Polatschek.
Cedar trim hides low sloping roof with water pour-off at rear.

New product from Firespeaking
Mini steam boiler by
Igor Kuznetsov
Outdoor cooking complex by Igor Kuznetsov
From left: oven, pizza oven, smoker, cooktop, boiler, heating complex



Bill Reiche, Mason

Pizza Oven with improved air system
by Igor Kuznetsov
Multi-function oven by
Igor Kuznetsov

Construction Video
Multi-function oven with heat regulation by
Igor Kuznetsov
Contraflow Heater by
Marcus Flynn
Reused La Prairie bricks from the 1950s




by Igor Kuznetsov
Silicon Valley Innovation Institute
Find out why biochar producing stoves will become the next big thing.






American Institute of Architects Newsletter
49" x 63" Small Commercial Oven Core
3-D Construction Sequence in Sketchup (Masonry Stove Builders)
Using Sketchup to solve a cleanout access issue.
Bench connection is angled at 15 degrees to provide
access to bench tuning brick at chimney/heater connection
Verifying the access
Sketchup model by Masonry Stove Builders