Triple Skin / Contraflow Heater in Japan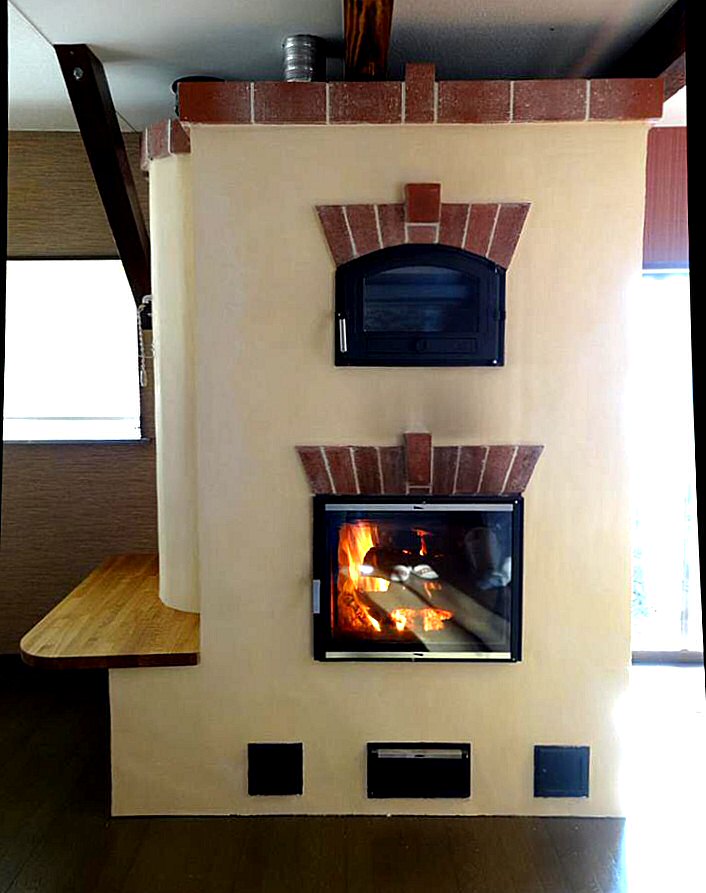 Contraflow heater with 22" replaceable firebox, white oven and small heated bench.
Two upstairs radiant panels.
To be finished in traditional Japanese clay plaster. For MHA member Aki Yoshimizu, who attended
Wildacres 2013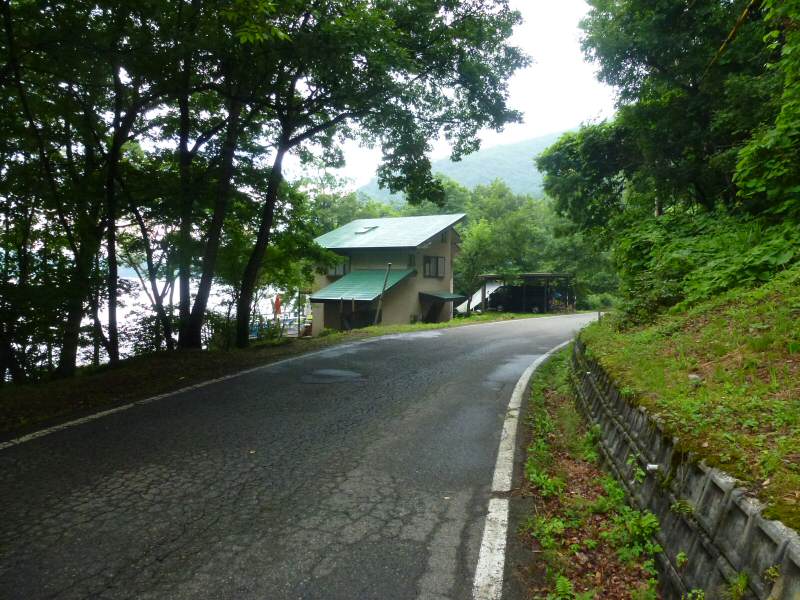 Aki's weekend lake house in Nagano prefecture. It was built by his father, after retirement.
It is uninsulated and almost impossible to heat in the winter with kerosene fired hot air heaters. Nagano gets as low as
-15 C (0 F) in the winter.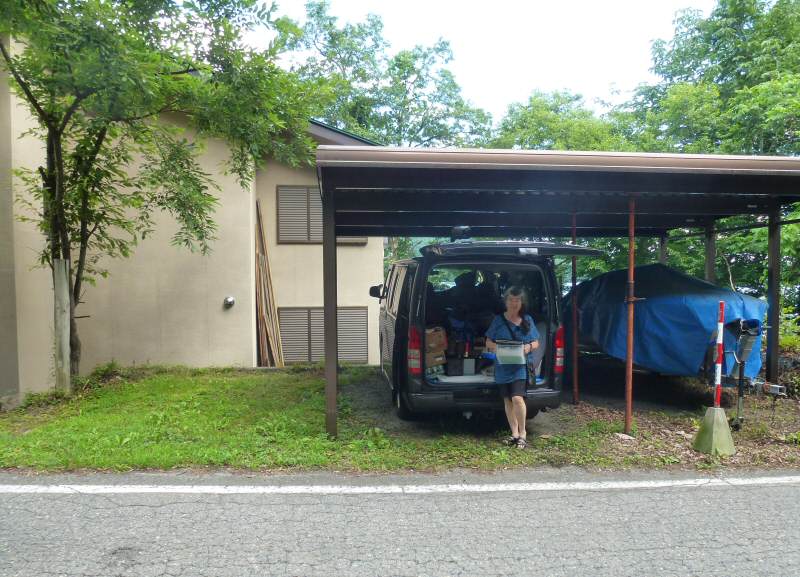 Aki picked us up at Narita airport, and we spent a couple of great days in Tokyo. Nagano is a three hour drive, and we
stopped on the way to see
Matsumoto Castle
. Check back soon for a separate photo story on a lot of cool Japanese
non-heater stuff.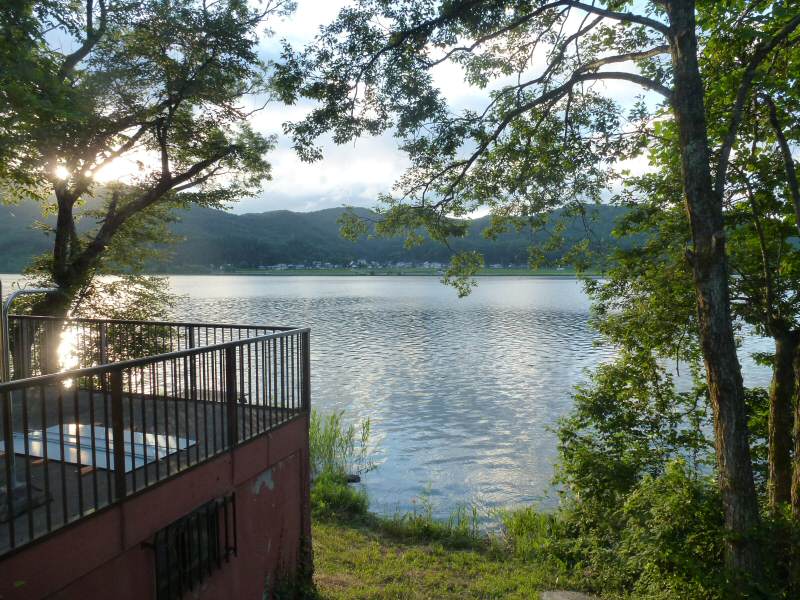 View of Lake
Kitzakiko
as you step out the door of the worksite.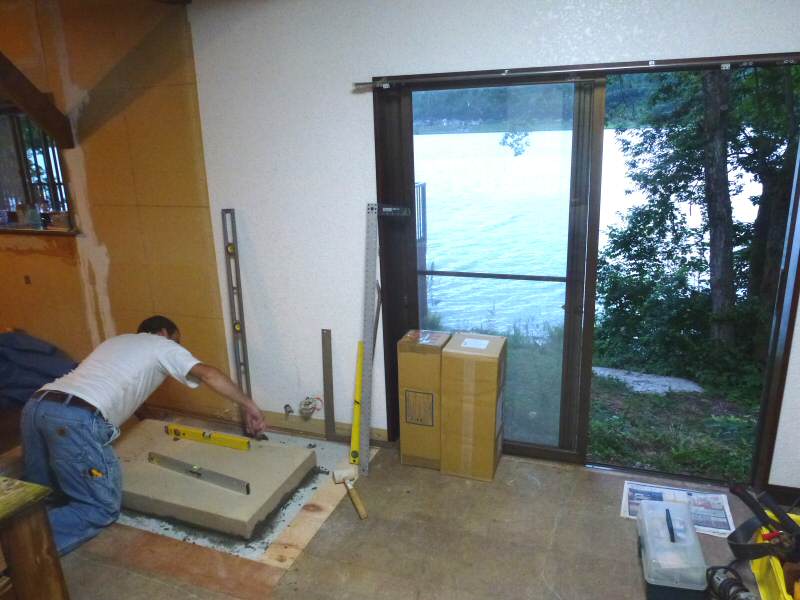 Brian Klipfel lays out the insulated base pad that Aki had precast. This is the 22" handbuilt contraflow core from the

MHA Heater Plan Portfolio
, modified with the new Heatkit bottom end, and a slightly modifed air system.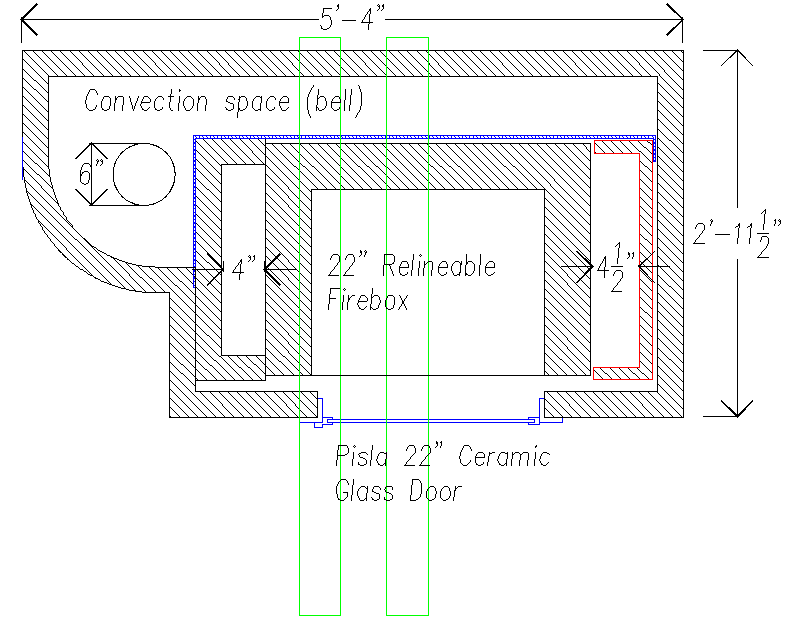 The rear and left side of the core are used to drive a closed loop convection system that is very similar to the

Austrian triple skin system
built at
Wildacres in 2013.
However, the convection engine will be used to drive two radiant
panels in upstairs bedrooms, thus making the house habitable in winter. The first six feet of chimney is heavy gauge
single wall steel, for additional heat exchange into the convection system.
The second skin in this sytem is 0.7 mm mild steel sheet, shown on the drawing in blue. This will give considerably
faster response for the upstairs panels, as well as saving footprint space. Clearance between the rear of the heater
and the combustible exterior house wall is 2".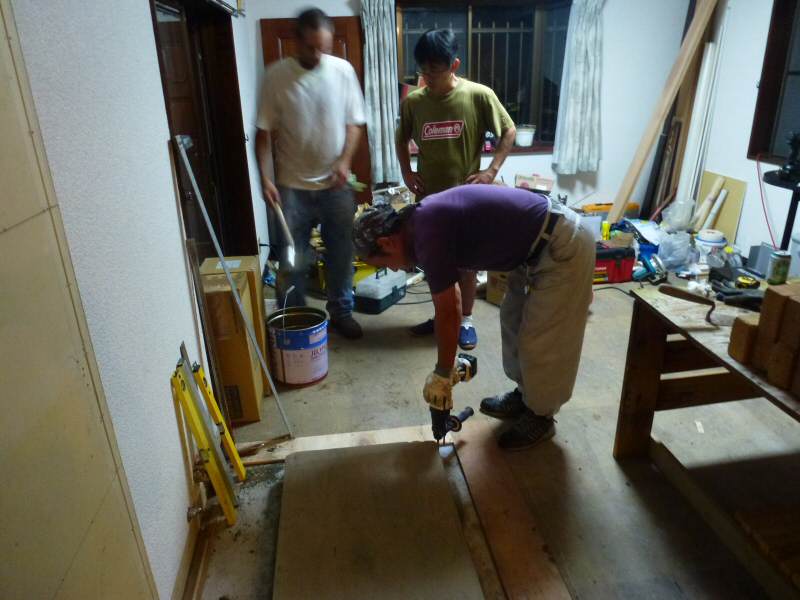 Aki's friend Tsuyoshi from Hakuba came by to drill holes in the foundation for seismic anchors. He also helped
Aki build the foundation.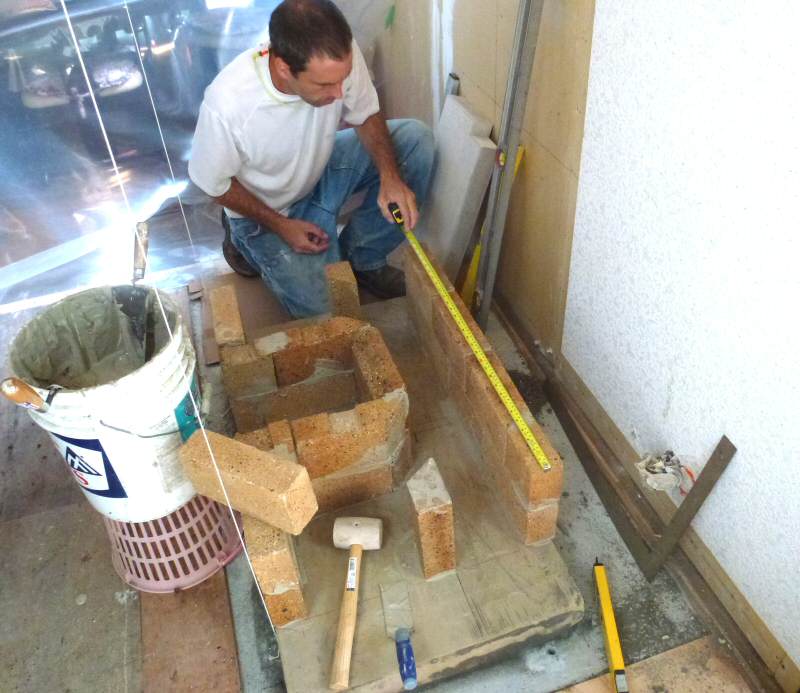 New Heatkit bottom end, based on a design by
Eric Moshier.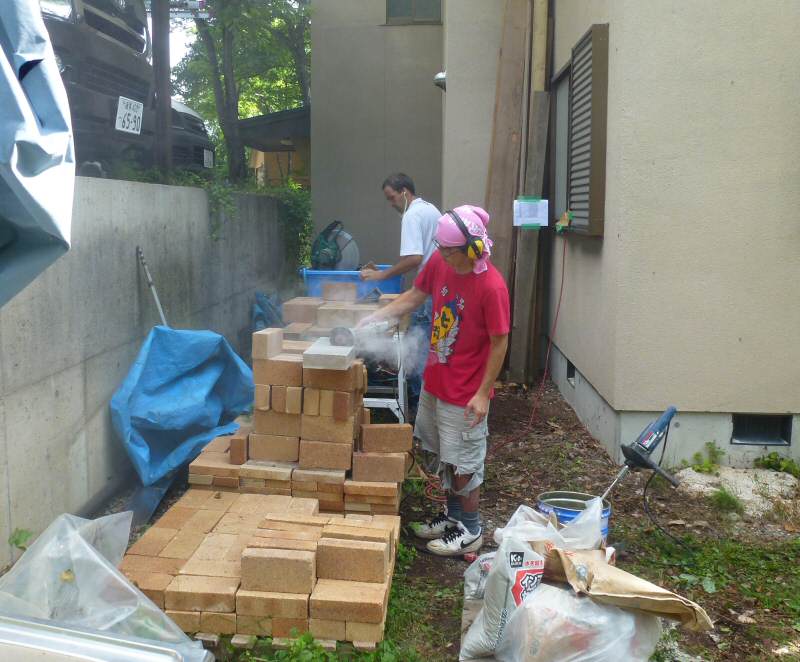 Brick cutting setup. A chopsaw with a 14" wet/dry diamond blade sits inside the blue tub. A garden hose has been rigged to keep
the blade wet. The tub drains into a bucket. Firebrick cut list is taped to the post behind Brian. Download the cut list.
Right behind Brian is a window into the workroom to hand the bricks through.
Chinese firebricks from a Tokyo building supply caused us a lot of grief. They varied 1/4" in thickness. Later we found some
pretty nice Japanese firebricks at a local farm and garden supply in Nakatsuna.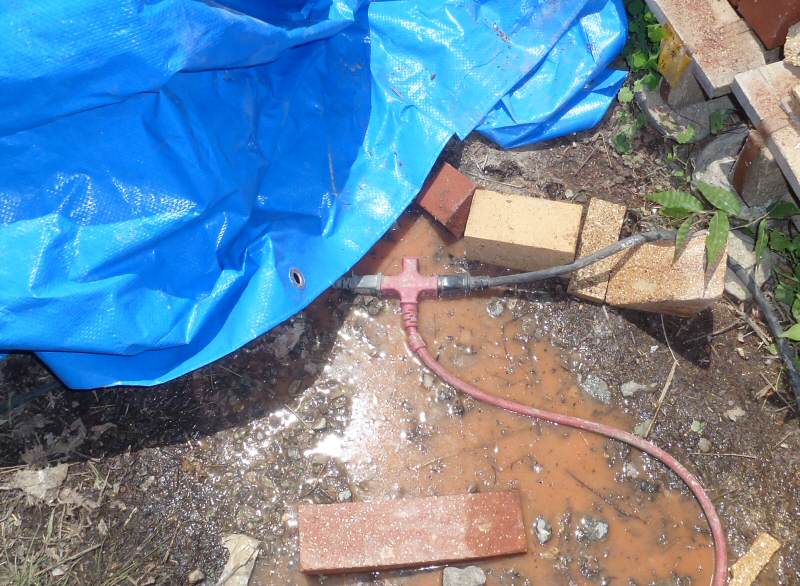 No biggie - the voltage in Japan is only 100 V ;-)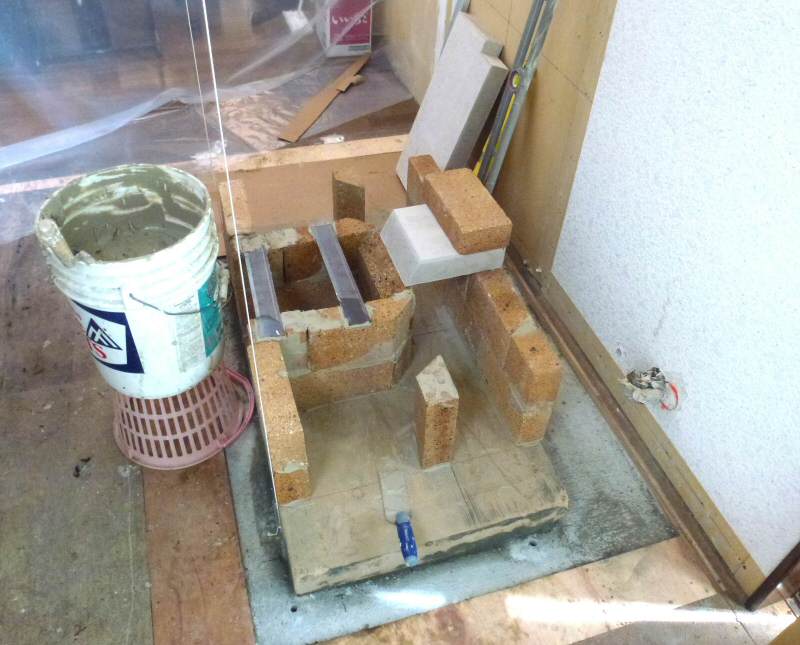 New firebox subfloor design uses 4 slabs and is adjustable. We cut the rear grate width in half from the MHA design.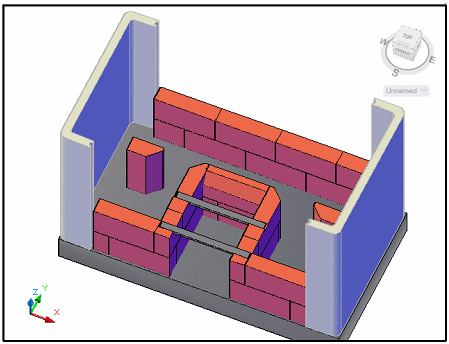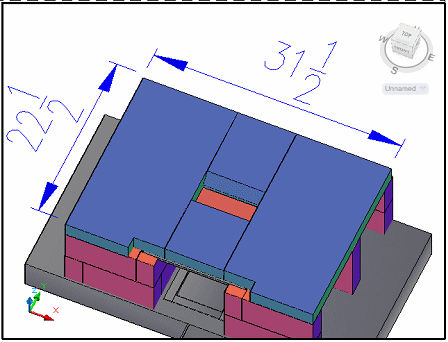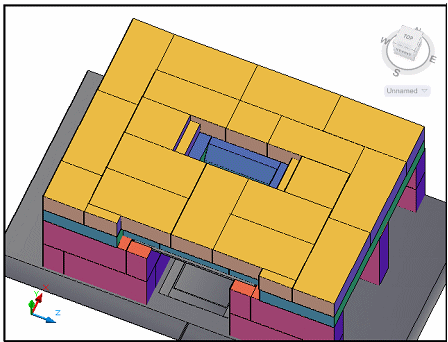 For additional bottom end details, see
this link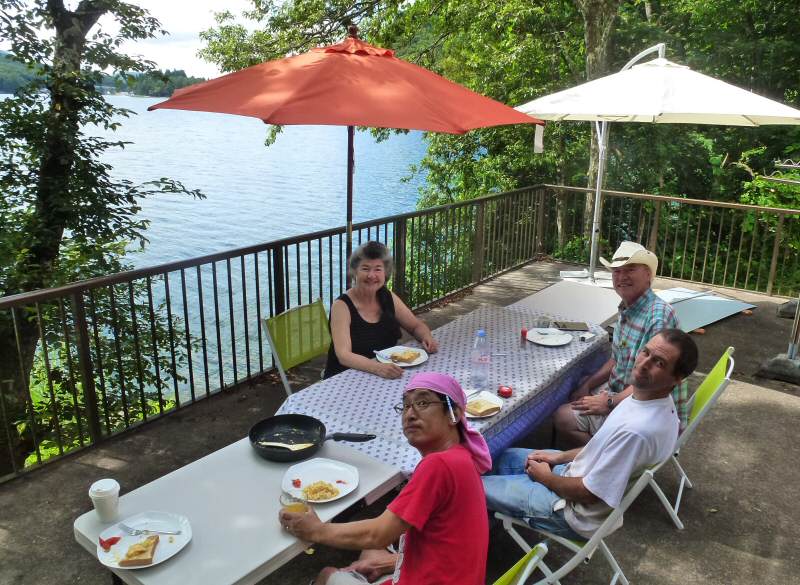 Breakfast on the deck. Ready to build the core.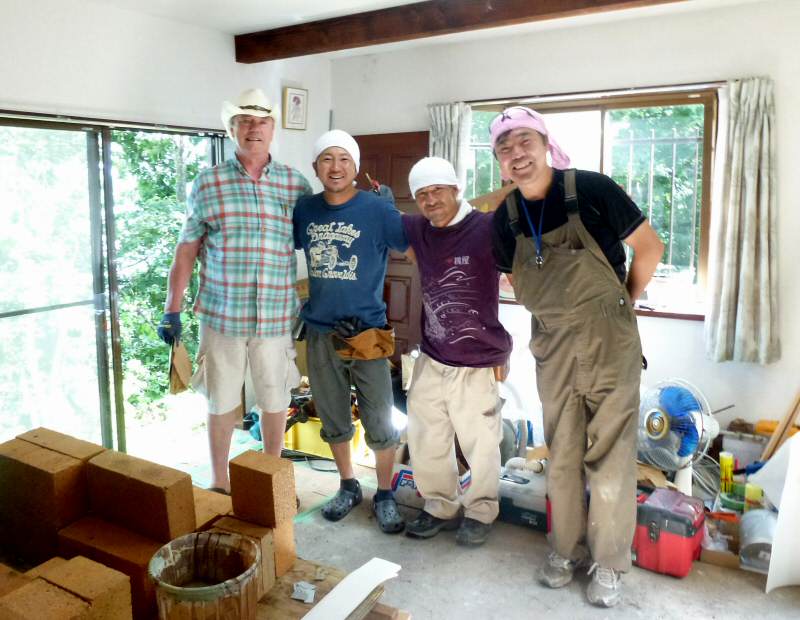 Three guys showed up to help out and learn about masonry heaters.
From the left: Norbert Senf, Mamoro Ooishi, Yuuichi Kada, and Takeo Onozawa.
Mamoro is a chimney sweep and woodstove sales guy from Hokkaidou. Yuuichi is a mason and garden craftsworker
from Aichi, about four hours away, and Takeo (Ono) is a chimney sweep from Nagano.
They met while doing volunteer
work after the Tsunami.


Ono had just returned from Everett, WA, where he took the MHA
HMED
course with my old friend Jerry Frisch.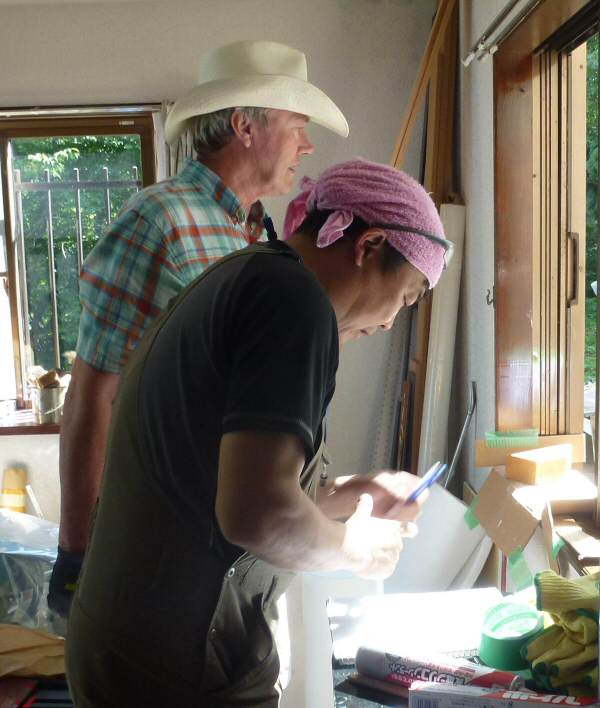 Ono speaks English. He and I would co-ordinate the tasks, Ono would make very careful
notes, and then discuss them in Japanese with his co-workers.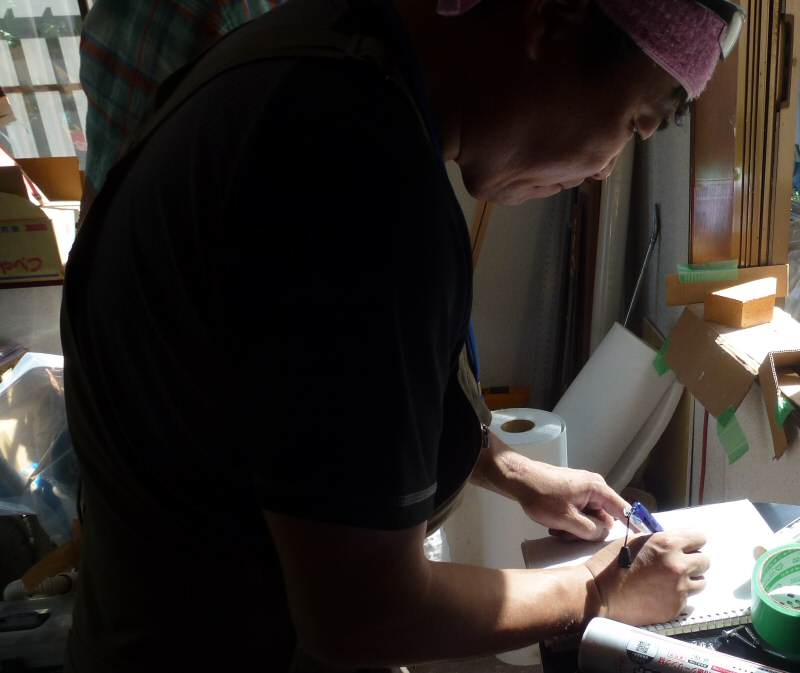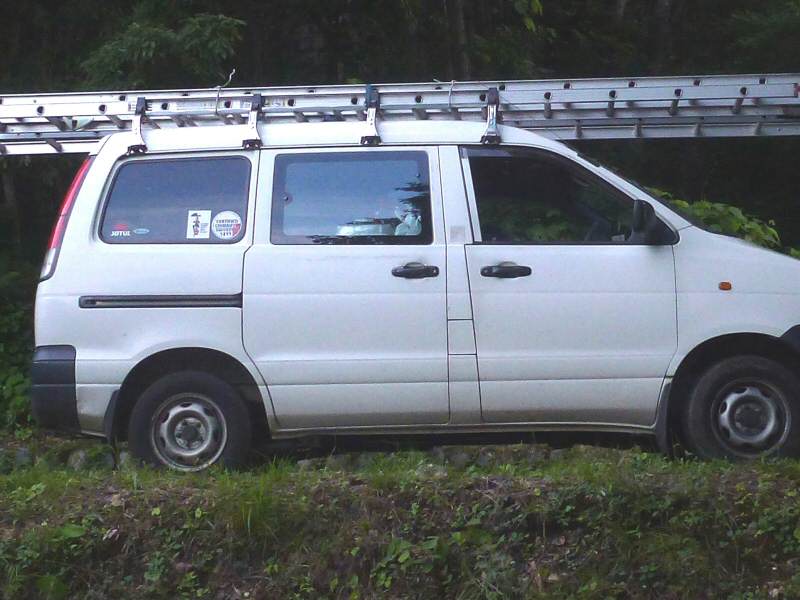 Ono displays an American CSIA certification sticker in his van window. He is quite busy. Woodburning is considered
an aspirational lifestyle in this region, beautiful skii country about 3 hours northwest of Tokyo. In contrast, northern
Japan is less affluent and woodburning there is promoted more for its economic benefits, as well as the
environmental benefits of being renewable (when burned cleanly).

Hikary Fukuzawa is a forester in northern Japan, who attended the annual MHA meetings in 2003 and 2006. Check out
his great presentation on Firewood Life.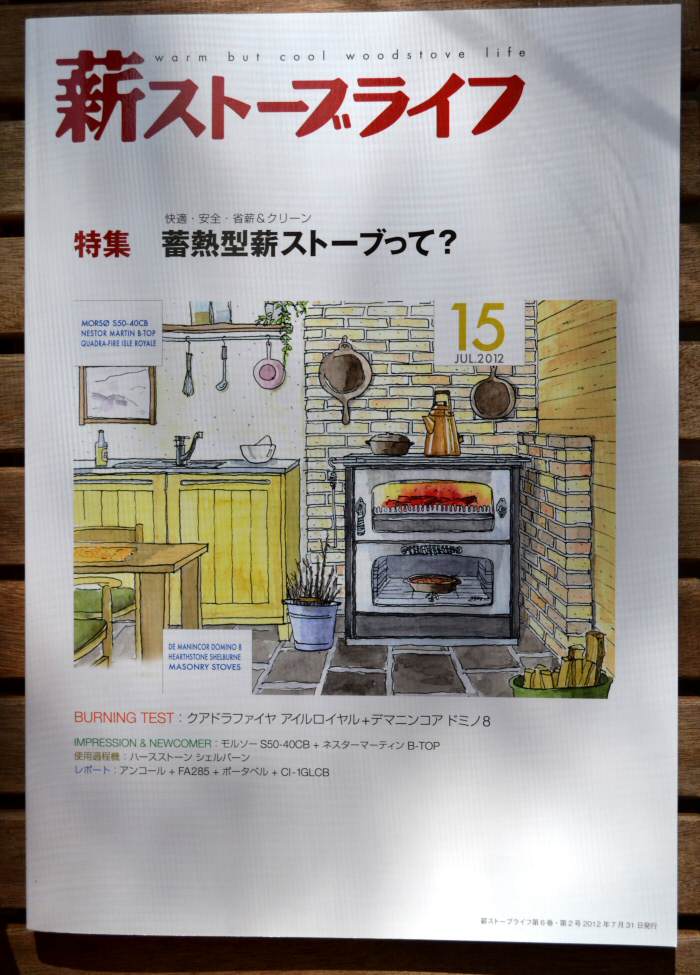 Quarterly glossy Japanese woodburning magazine. "Warm but cool woodstove life".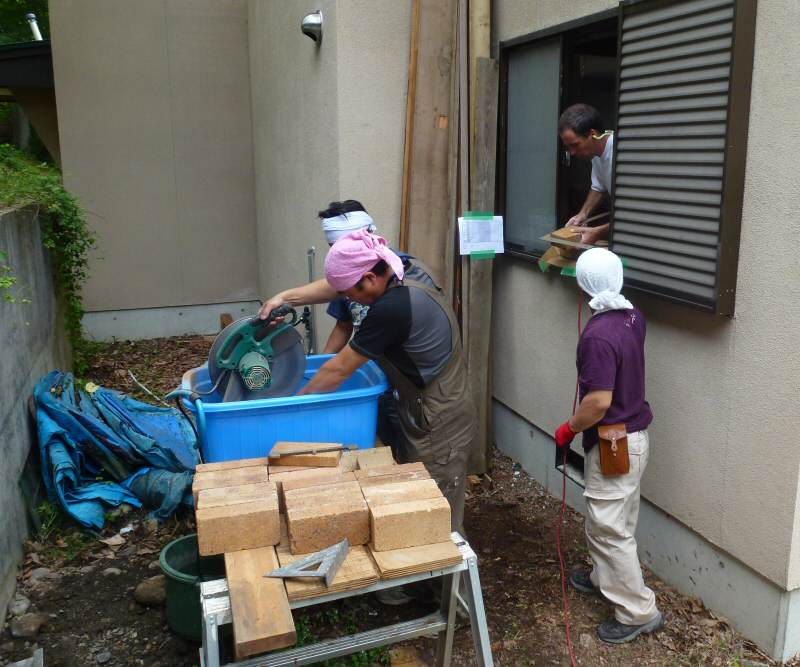 The Japanese crew were meticulous workers. They picked up new tasks quickly and executed them as professionals.
Brian is at the window, checking a brick for square.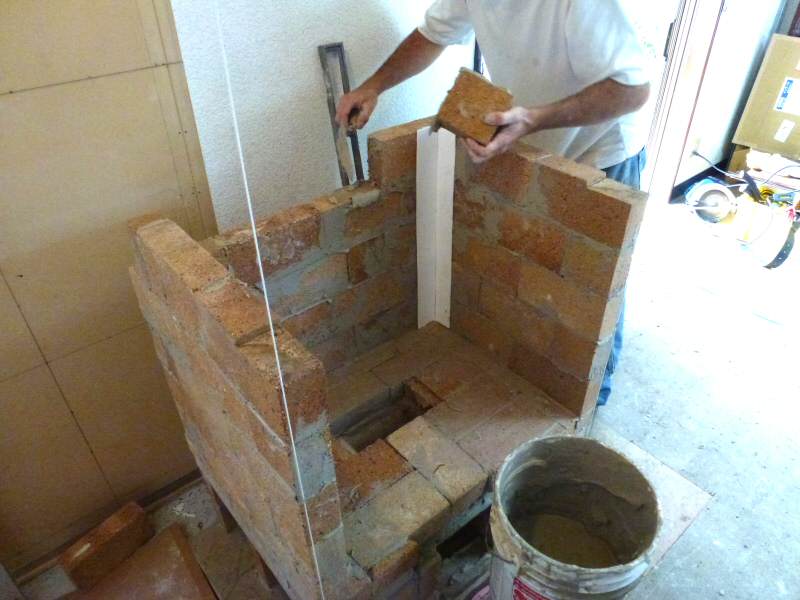 !!#?%$*** Chinese firebricks.
Note the ceramic paper expansion joint between the outer (shown) and inner (see next photo) firebox shells.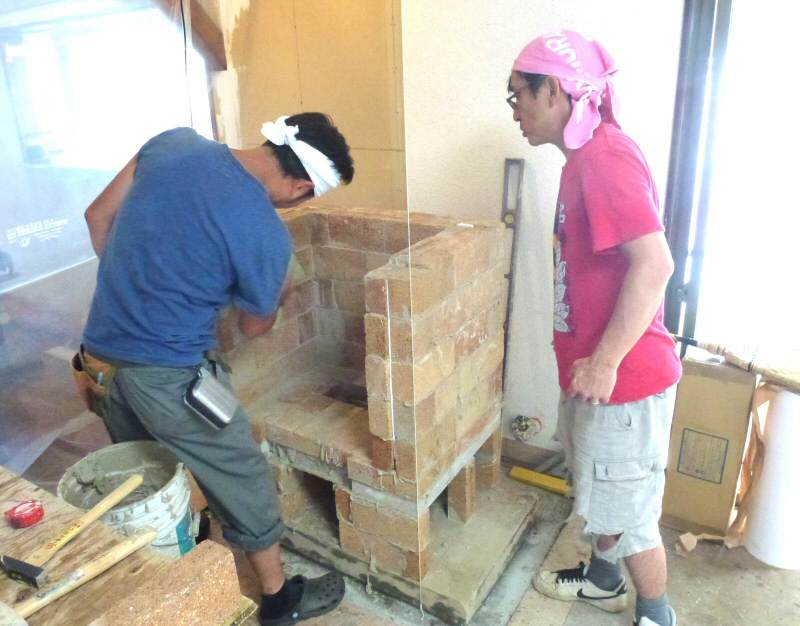 Mamoro washes the firebox.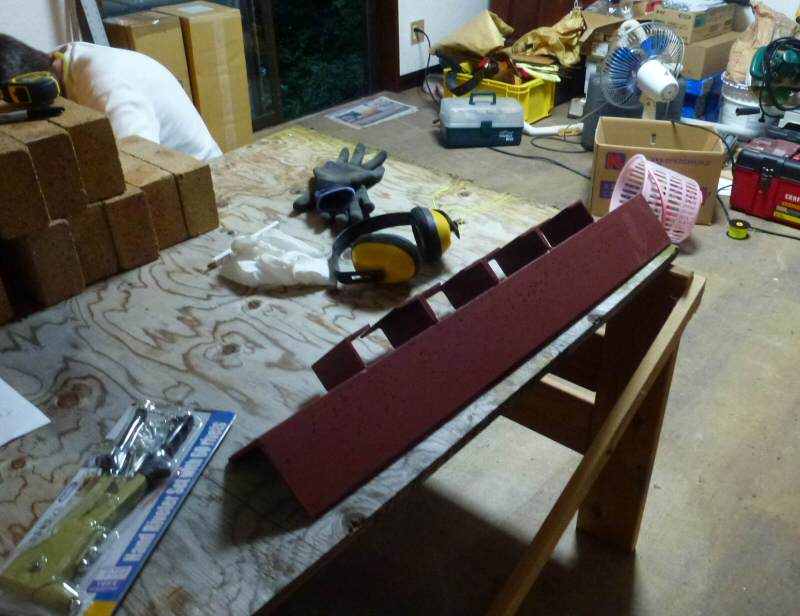 Steel Heatkit style firebox lintel with brackets for firebrick split heat shields, fabricated locally.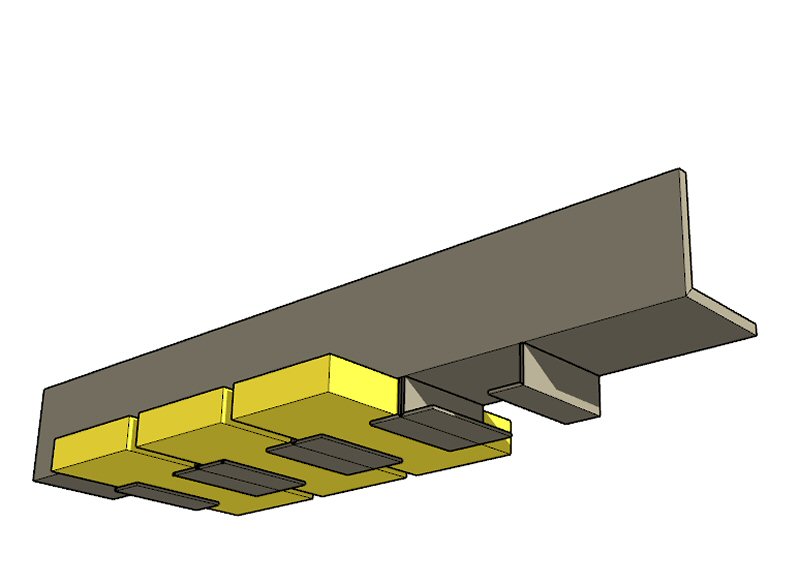 Firebox lintel detail. The 1.25" firebrick "splits" act as heat shields to protect the angle iron as well as the firebox
door frame.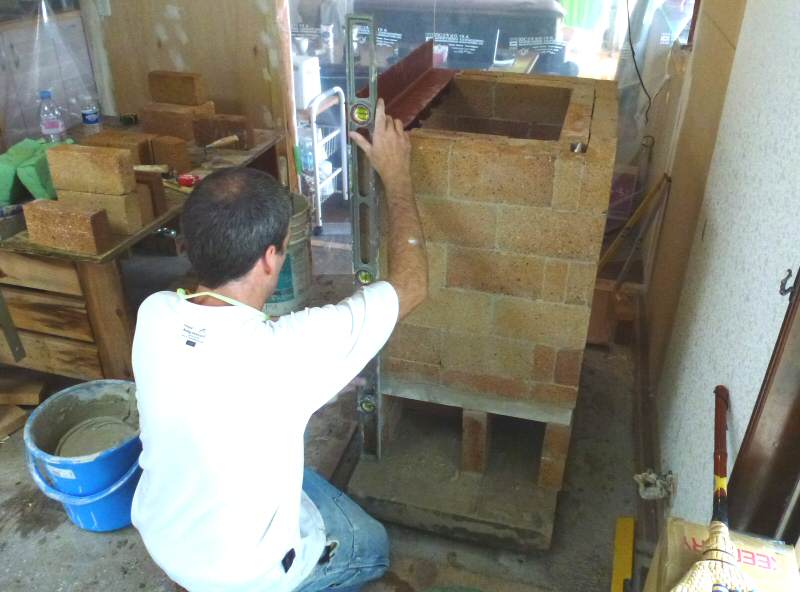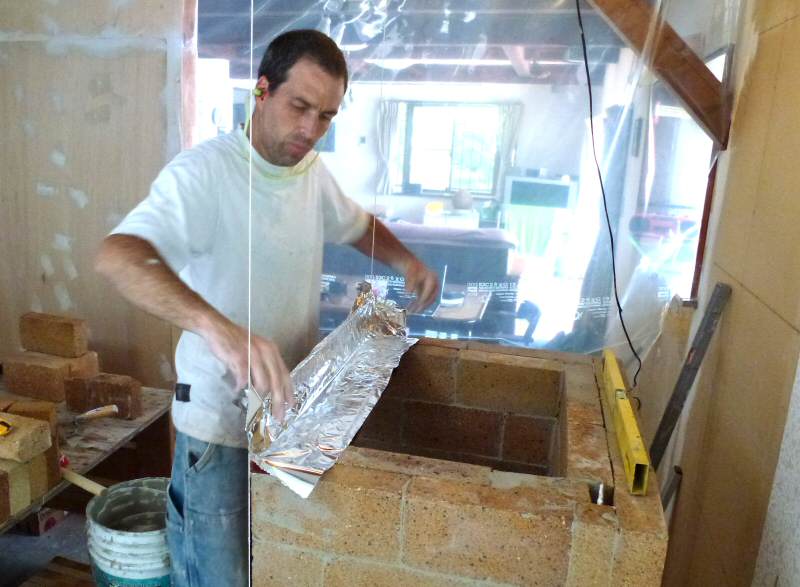 Aluminum foil slip joint.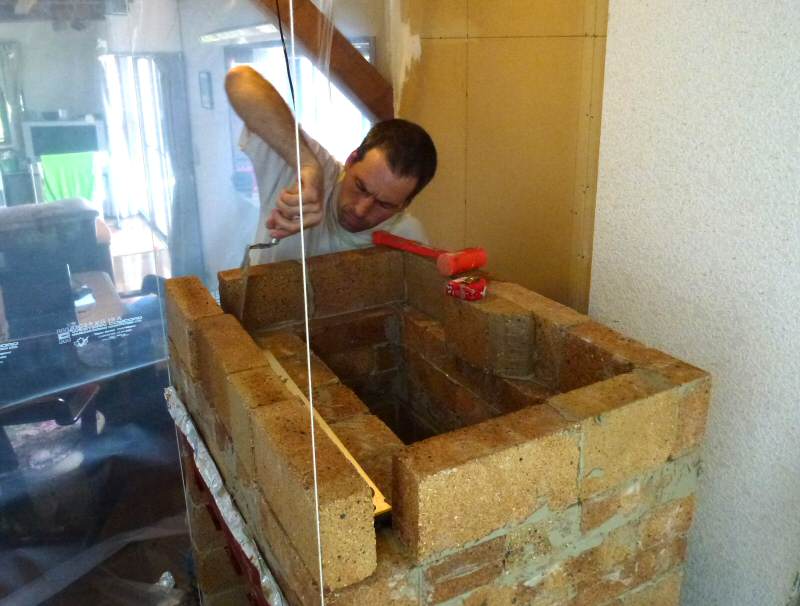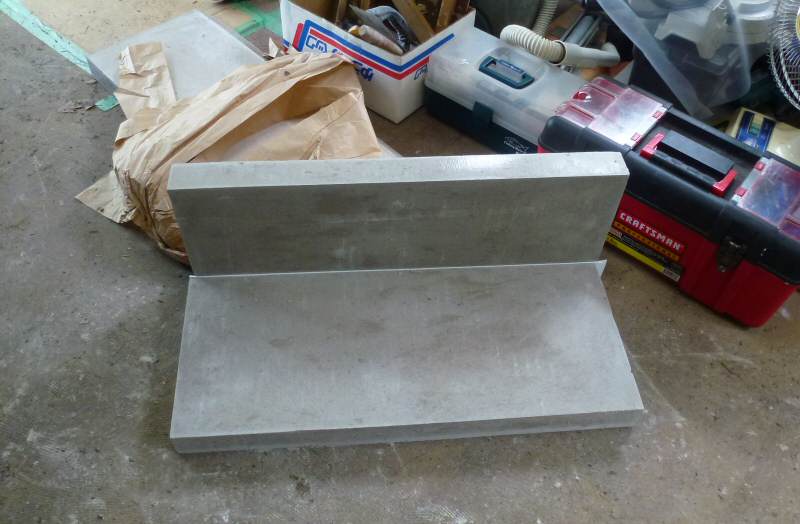 Precast refractory oven slabs. Aki is a carpenter by trade, and built beautiful molds from Japanese forming plywood.
He used a stinger to vibrate the mix, and the castable refractory was excellent quality with a glossy finish.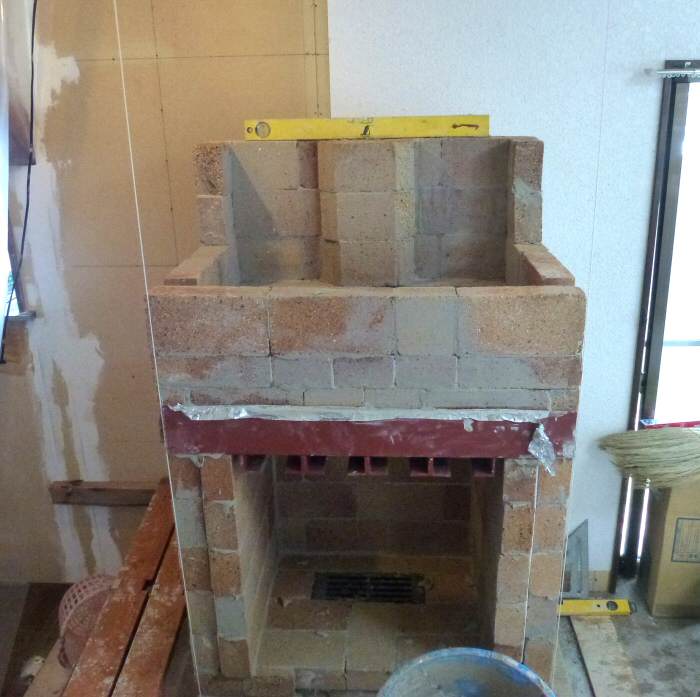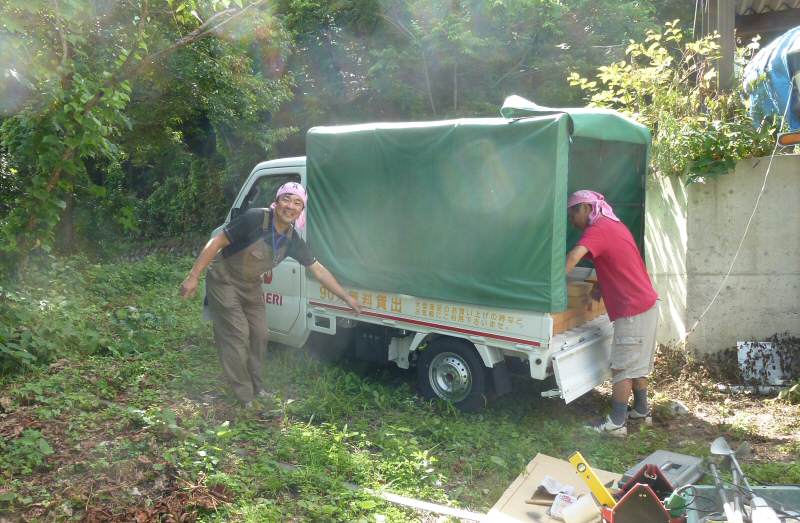 More firebricks, better quality this time. The local farm and garden supply will lend you this truck for free for 90 minutes.
700 lb payload, 50 mpg, $9,000.00 new. They are everywhere.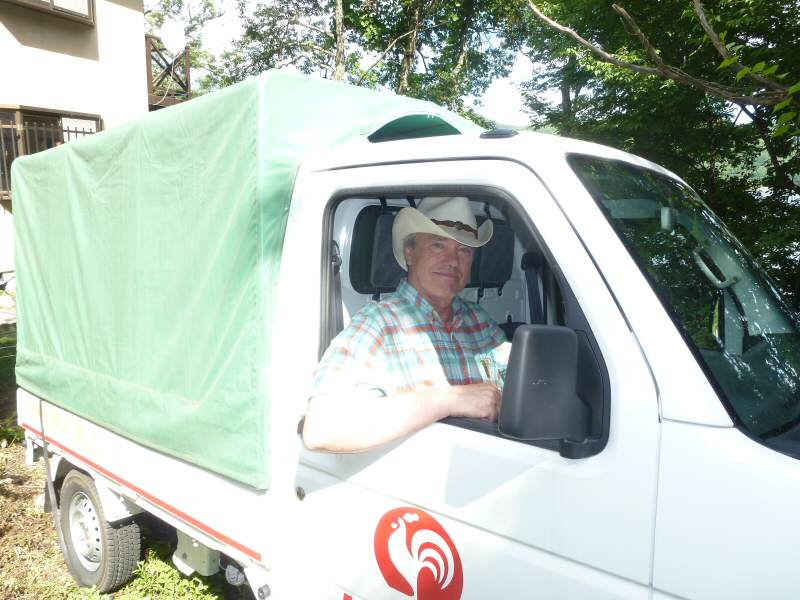 Japan is right hand drive. My knees were touching the dash - smaller people are more environmentally appropriate.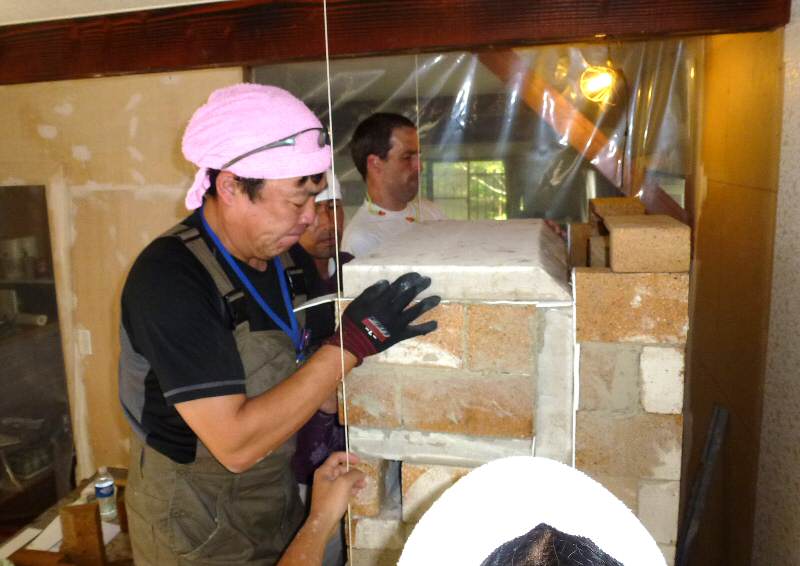 Lifting the ceiling slab on to the white bake oven. Oven interior is 27" x 13.5" x 9" high, plus 4" in depth for the facing.
The slot about 12" below Ono's hand is a hot gas bypass to provide heat to the oven floor.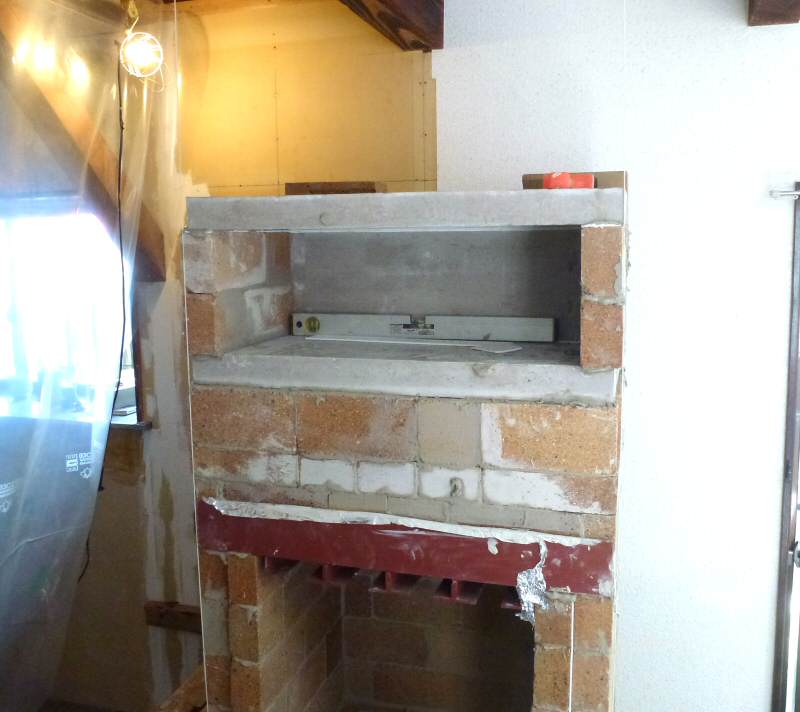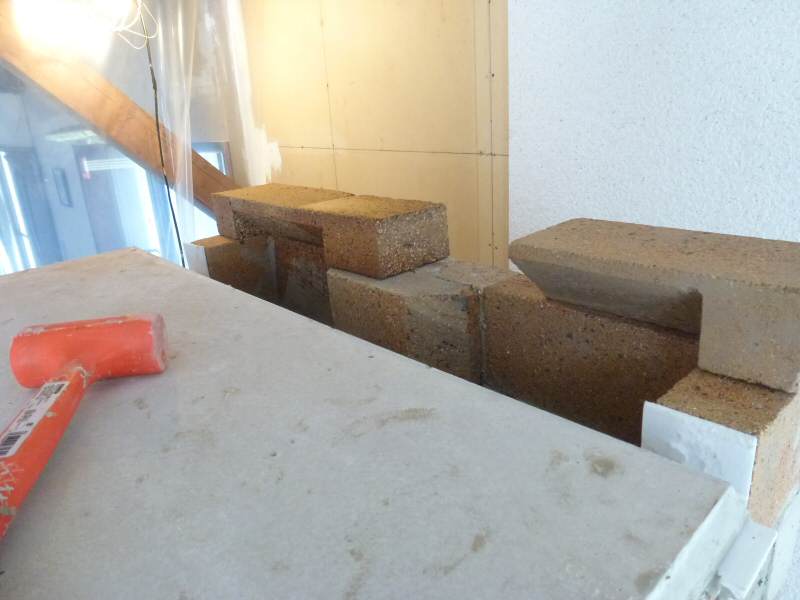 Updrafting gas channel directly out of the firebox, behind the oven.

Starting the ceiling transition, which will carry the precast refractory ceiling slabs.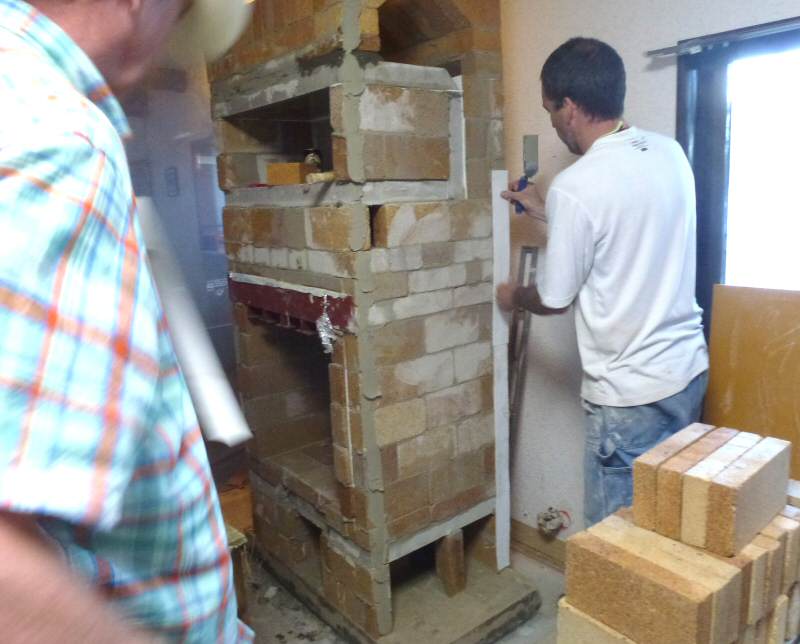 Gluing on 1/8" ceramic paper expansion joint for the side downdraft channels. These expansion joints are critical and
need to be executed properly to prevent cracking of the facing. They allow tight contact between the face and the core,
without using cardboard. We did use some cardboard, just to be sure with the shiner facing, and the long
distance to do a callback ;-)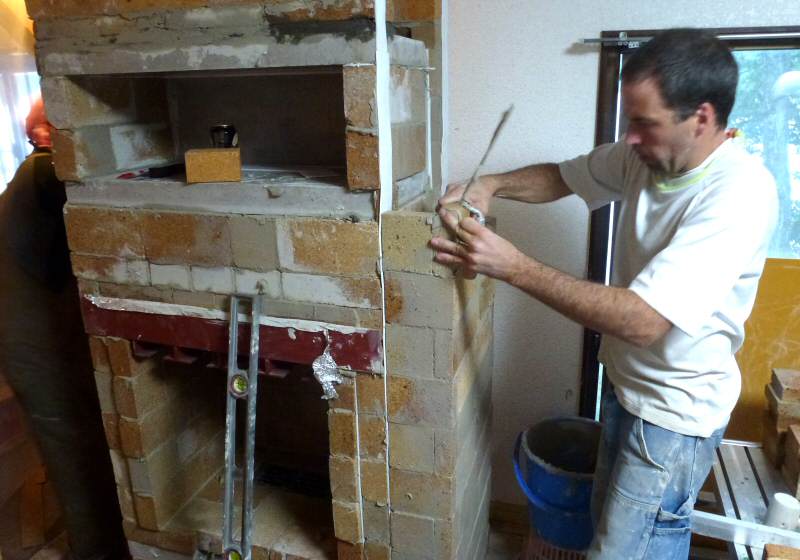 Building the right side channels from splits, same as the portfolio heater.
On the left side, we used full firebrick shiners (2.5"), because of the double wall construction with the sheetmetal. We
tightened the
left channel 1/2" to balance the sides with the simplified bottom end, and also make it more modular to
the brick size.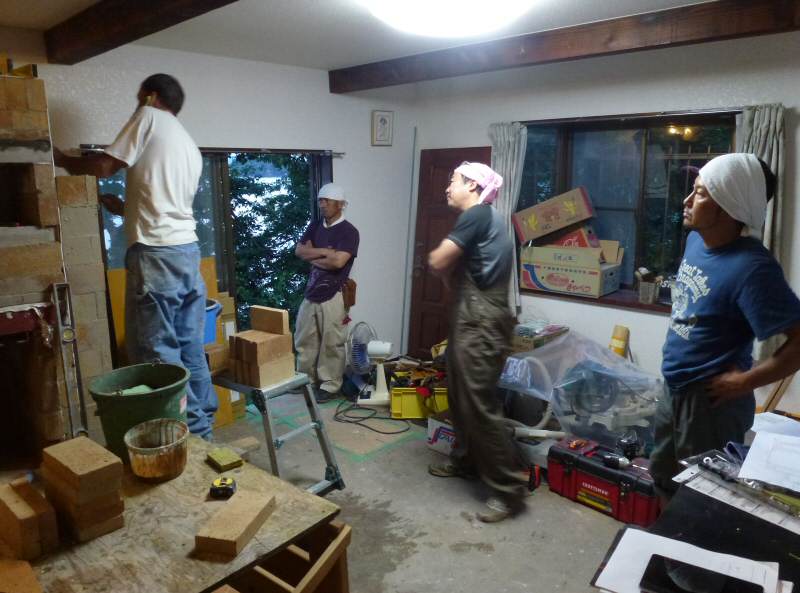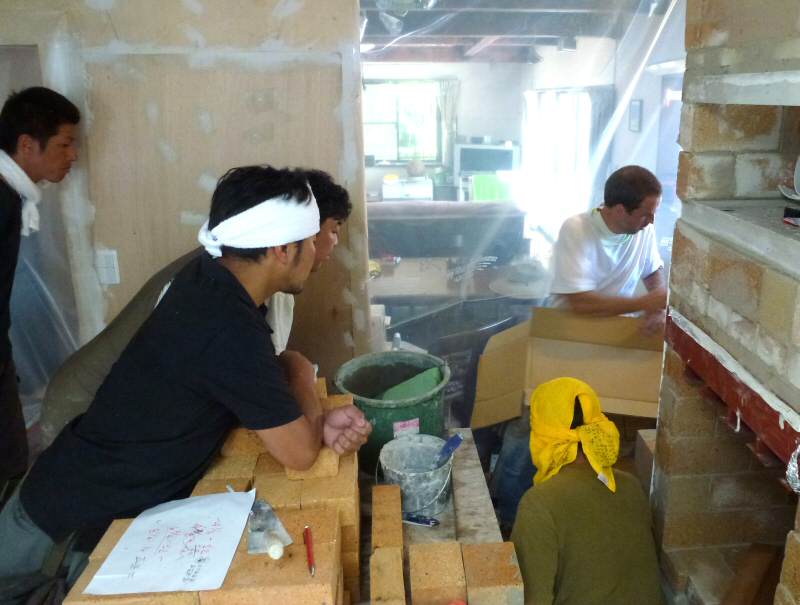 Brainstorming the chimney connection details.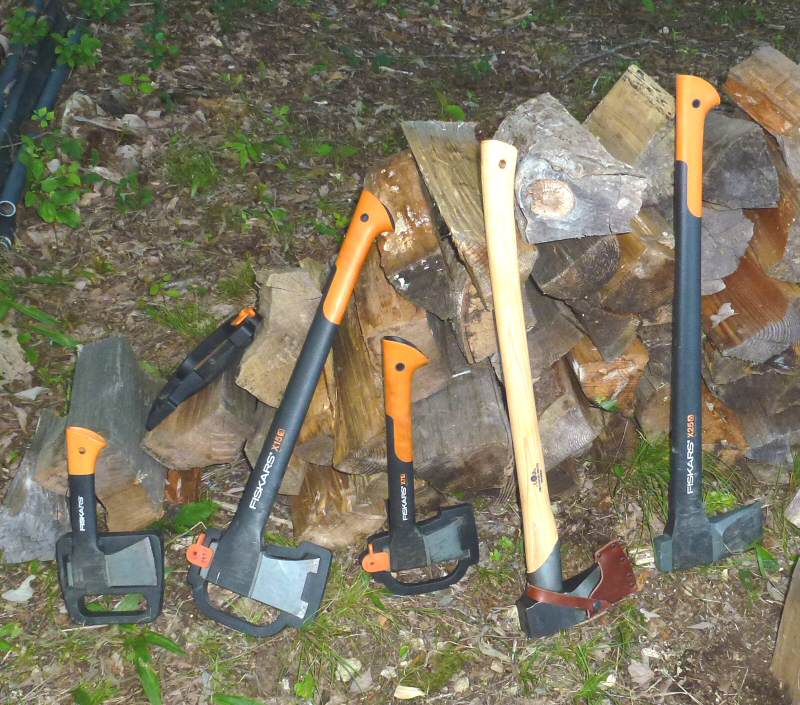 Saturday night. Time for a party. Check back for delicious details.
A fine selection of Swedish steel, including a hand forged Gränsfors Bruk splitting axe.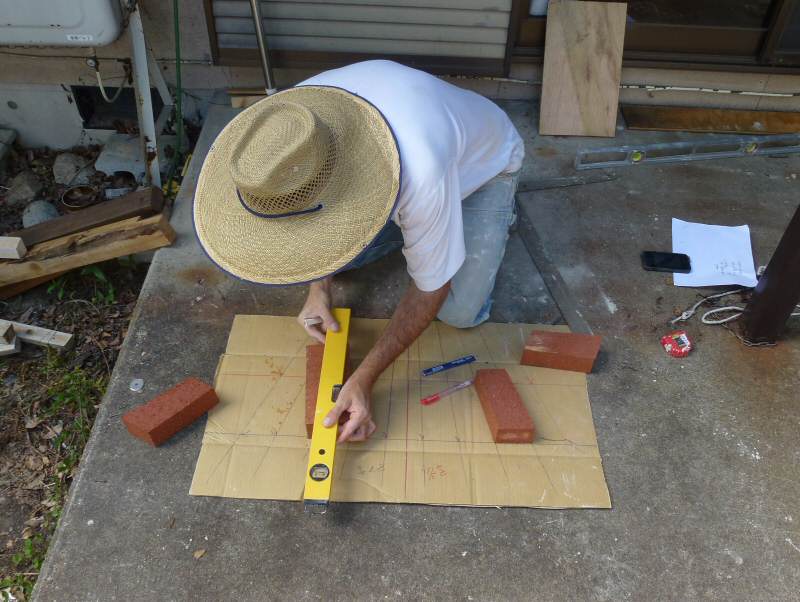 Laying out a jack arch to bridge the opening above the firebox door. Brian had intended this to be structural
only and covered with plaster, but we decided to leave it proud of the face so that it would be a decorative feature.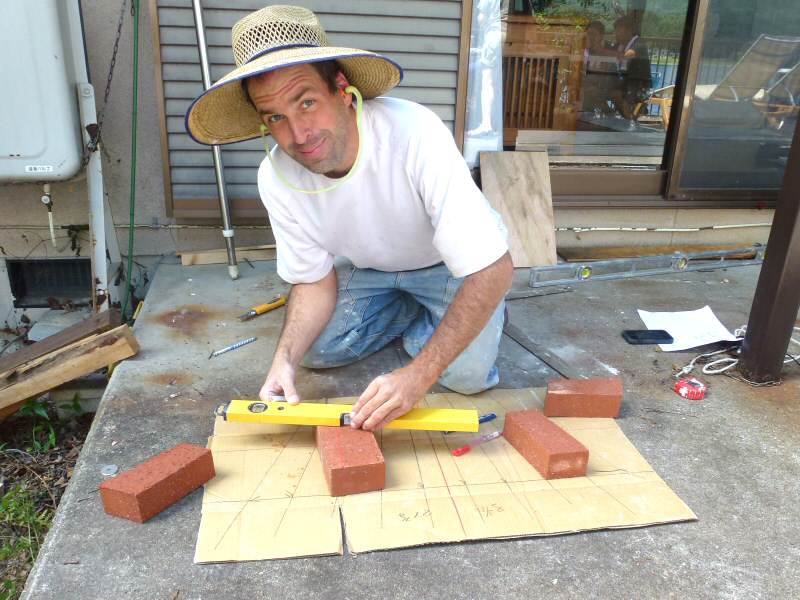 Aki gave Brian this hat, which used to belong to his father. Back then, the hats were made in Japan using traditional
methods. The quality of the weaving was exquisite.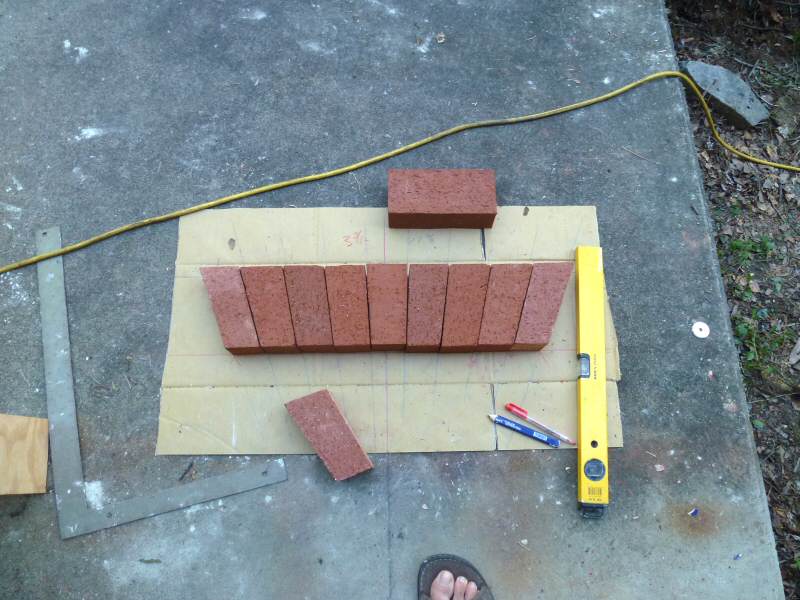 Brian showed the Japanese guys how to mark it out to his template and cut it, and they did a perfect job.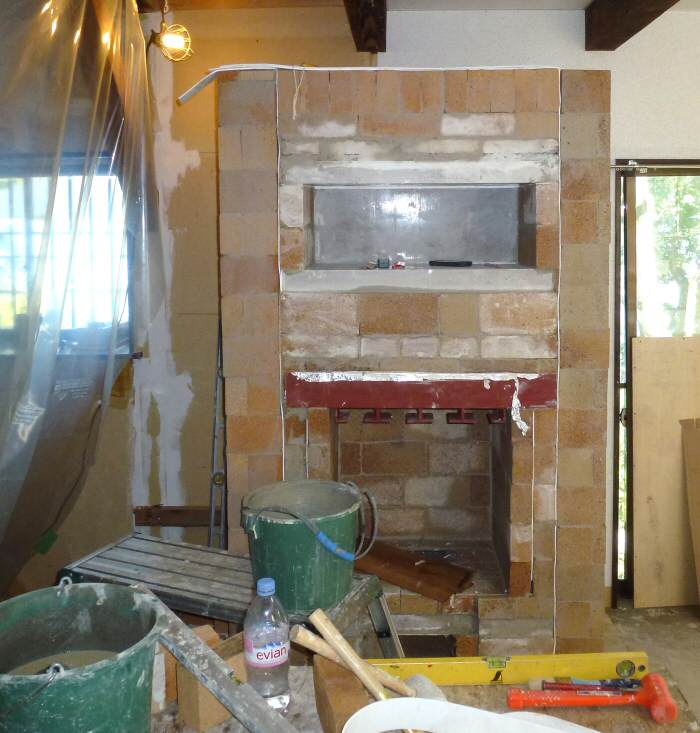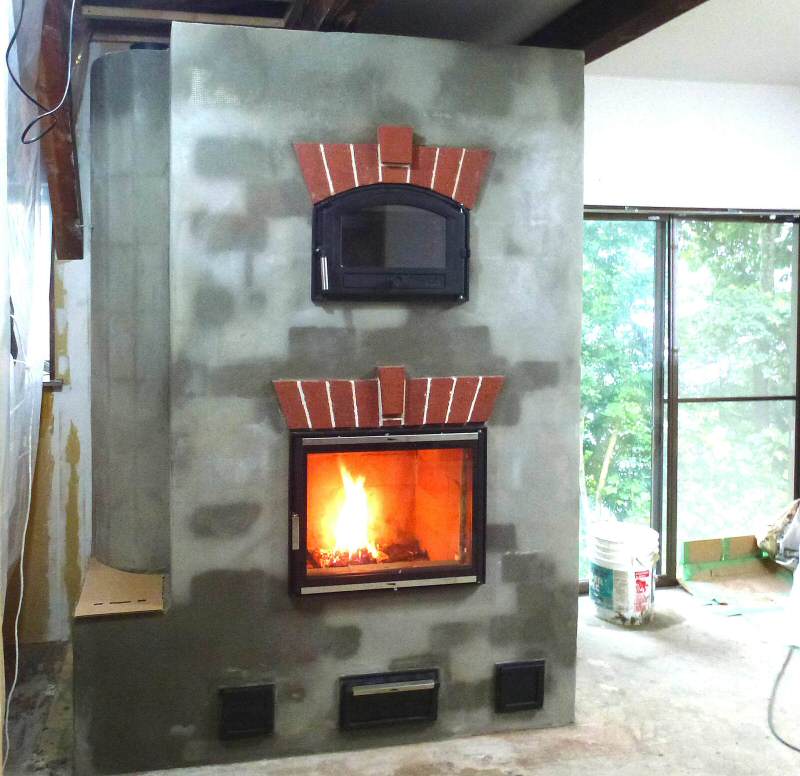 End of Part 1
Go to Part 2
This page was last updated on April 5, 2020
This page was created on August 4, 2013
Back to: