The 2022 annual meeting of the Masonry Heater Association of North America will be held in April from the 11th to the 17th. The annual meeting is for members only. This is a week-long event that offers educational opportunities for professionals and non-professional masons and homeowners. This one-of-a kind all-inclusive event and includes:
Lodging (double occupancy)
Meals
Seminars
Clinics
Workshops
Demonstrations
Auction
Pizza Party using built wood-fired bake ovens
See below for full list of Workshops & Seminars.
Cost of the event per person is $500
Registration is now open for "Full Voting" members and will start for "Affiliate" members on Jan. 1st. This event has been a sell-out in years past and registration is on a first come first serve basis.
Open the link below to register for the Annual Meeting
Registration Form
For more information contact the MHA office.
---
2022 AGM Workshops & Seminars
(Workshops and Seminars are subject to change)
LIME SEMINAR & Lime Workshop – (C.E.U. = 5 credits) Lime kiln construction and firing workshop. David Zeltwanger will lead a workshop building a small lime kiln which upon completion will be fired to produce quick lime.  the product we make will be available to stucco some projects and demonstrate stucco techniques. We will have opportunity to discuss how lime finish is different from Portland based products and how it can be utilized in modern projects. The build will proceed quickly from day one so that the firing process can be completed (23-36 hours) in time to generate usable quantities of quicklime. Volunteers will be needed to feed the fire through the night. Please volunteer if you are willing to take a shift firing the kiln through the night.
Bread Making, Start to Finish by Richard Miscovitch, author of "From the Wood-Fired Oven: New and Traditional Techniques for Cooking", will present:  Simple and easy bread recipes, fuel and firing ovens, temperatures, and types of heating (i.e. radiant, convention, etc.)
Masonry Heater Basics  This is a presentation for those who are not entirely familiar with masonry heaters. The main topics are:
What defines masonry heaters and how do they compare to other heating appliances?
How do hand built units compare to kits and manufactured units?
What are the main firebox designs and the main heat exchanger configurations?
How to use a masonry heater and care for it? How are they regulated? How are they tested?
Stoneworking Basics (C.E.U. = 5 credits) Learn the basics of how to utilize stone for masonry purposes. You'll learn splitting/trimming/dressing, laying techniques and tools needed to accomplish a finished stone project.
Building A Small Room Contraflow Heater Hands-on course that will allow the novice bricklayer to practice laying firebrick during the design and construction of a Finnish contra-flow heater core.
Firebrick Pizza Oven Hands-on by Jon Santiago. In this workshop we will build a medium sized firebrick oven specifically aimed at live-fire high-temp pizza baking. The skills and concepts covered in the class would be equally applicable to personal projects or commercial applications. In the process of building, we will cover the basics of oven theory (thermal mass, insulation, air flow), materials choices, and the nitty-gritty of details and techniques relevant to the actual build.
Cookstove + Masonry Heater Hybrid, Collaborative Project Hosted by Max Edleson. (C.E.U. = 5 credits) The impetus of this project is to create a single unit that combines a functional cookstove with immediate heat production with an efficient firebox for prolonged masonry heat storage. We will draw from medium-sized "batch-box" development and use bypass dampers as switches to significantly alter the flow through the heater depending on the output desired. An important part of the project will be to experiment with an open-source flow for project development. To learn more and participate, visit https://www.firespeaking.com/project/cookstove-masonry-heater-hybrid/ .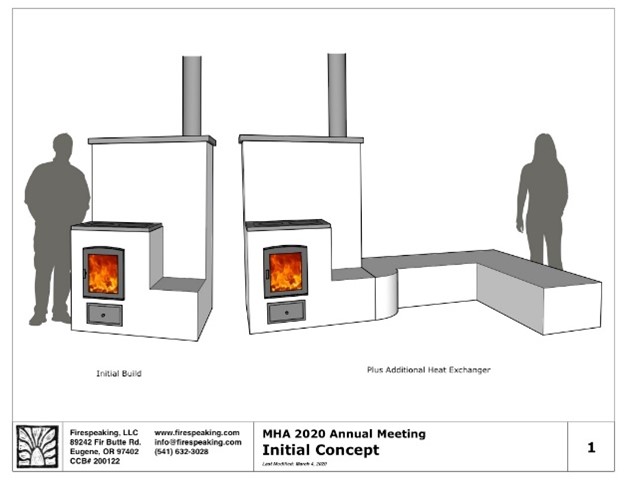 SketchUp Clinic For Beginners by Boris Kikolj (C.E.U. credit 1) SketchUp is a popular Computer Assisted Design program that is free of charge and easy to use. It's the perfect program for heater masons as it allows to quickly create site specific drawings. It's also perfectly adequate for masonry heater designers. We will learn to use the basics tools and get familiar with the design process. Must have Sketch Up downloaded on your computer and have a mouse with scroll wheel.
Masonry Skills Clinic by Mike Ellis, Dan Peltier. The bricklaying clinic will give non-masons a chance to get on the line and learn the basics of bricklaying in a relaxed atmosphere and others a chance to brush up on their skills or even learn some new ones. Learn the basic motions it takes to lay brick in a real-world scenario and how to use the tools in a practical application.  There will be several different stations to expose participants to various bricklaying scenarios.  Skills that will be covered are how to gauge brickwork, lay out bond, tool selection and use, different techniques of laying a brick and anything else you may want to know.
Business Round-Table" by Jon Santiago. "Cracker-barrel" style forum to discuss the nitty gritty of running a business. Prompts and time-limits will guide the informal discussion and allow members to share experience and advice (or questions) on a range of topics including pricing and estimating, contracts, insurance, marketing. I'm interested in developing an ongoing "business council" to provide year-round business-focused support and development for members. This will help to gauge interest and set the course for future activities.
Gasifying Rocket Mass Heater with sculpted earth facing by Jim Schalles. (C.E.U. Credits = 5) This presentation will feature a batch box rocket stove that has been adjusted for producing and harvesting charcoal.  This stove will produce heat via combustion and gasification but will be outfitted with a sliding hearth to help rake coals into to a snuffing chamber. Facing material to be sculpted from local Wild Acres clay soil amended with aggregate.
Design and Construction of a Firebrick Built, Vaulted Arch, Wood Fired Oven) by Pat Manley. Workshop will begin with an introduction to all of the various materials (firebricks, insulations, forms, hardware, etc) we will use to build our oven, along with where they are used in the oven and why. Over the course of a few days, we will build the oven, with ongoing discussions daily of how the oven is used, understanding thermal mass, etc, and then fire it up to use for our fiesta de pizza at the end of the week. We will build the oven with clay and sand "mortar", for easy deconstruction and clean up the next morning.