The MHA Heater Plan Portfolio

The Masonry Heater Association has designed, built and tested seven masonry heater plans which are now available for purchase.

The portfolio includes seven sets of detailed plans for the:
Finnish Contraflow core (22″ relineable firebox, white bake oven, 34″ x 52″, brick-by-brick 3-D assembly sequence)

Double Bell System Heater (35″ x 73″, brick-by-brick 3-D assembly sequence)

Finnish Contraflow (Small room heater 24″ x 36″)

Medium Size Corner Finnish Heater

Kakelugn (Swedish Heater)

Custom downdraft heater with bake oven by Jerry Frisch

Materials list for each heater above

Austrian Kachelofen heater

Click here for more details, and to purchase
T
he
B
ook of
M
asonry
S
toves
:
Rediscovering an Old Way of Warming
by David Lyle

The classic work by the late David Lyle. David was a charter MHA Member and one of the best-informed people in the US in the wood heat field. He considered himself a Masonry Heater Researcher and considered his territory as Global.Superb historical treatment of the development of masonry heating.The Book of Masonry Stoves represents the first comprehensive survey ever published of all the major types of masonry heating systems, ancient and modern. Detailed plans and building information are include in the book. As a complete introduction to masonry stoves, it will help many people rediscover the economic and personal pleasures of heating with wood – an old way of warming – using masonry stoves. 192 pages.


$35.00
Click here to order
"So, you want a wood-fired oven to bake bread and have pizza parties? What should you build? How does it work? What else can it cook? As an oven-builder I hear these questions a lot, but the books I can recommend for cooking with fire say little about ovens, and the ones about bread and ovens don't take you very far with cooking.
So I'm glad to now be able to recommend Richard Miscovich's From the Wood-Fired Oven. He speaks with the authority of a professional baking instructor (and cook), an experienced mason, and a neighborhood baker; he also writes well, takes beautiful photos, and has a wealth of stories to tie it all together. He's worked with leading professionals in many fields, and teaches from extensive experience with bread, pizza, meats, vegetables, desserts, etc., as well as ovens, masonry, fire, heat, and more."–Kiko Denzer, author of Build Your Own Earth Oven
___________________________________________________________
The New Woodburner's Handbook:
A Guide to Safe, Healthy, and Efficient Woodburning
by Steve Bushway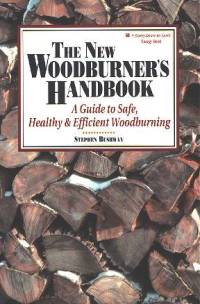 MHA member Steve Bushway has written an excellent manual on the current state of the art in wood heating,
including new technology such as masonry heaters and EPA-certified woodstoves.160 pages softcover.
$20.00
_______________________________________________________
T
he
B
read
B
uilders
by Daniel Wing and Alan Scott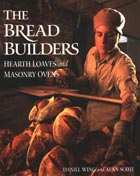 Definitive work on hearth breads, including the most complete description of building a bread oven available in print.Mandatory reading for bread fans. Extensively researched.
254 pages softcover. $32.00
___________________________________________________________
Build Your Own EARTH OVEN
by Kiko Denzer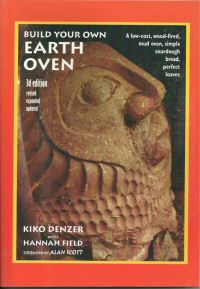 Eight simple steps to a basic mud oven. A clear and concise manual on building an earth friendly oven that will bake your bread and pizza.
Covers all the details and also introduces you to building with earth… all you need to know about the materials and processes.
Paperback, 7 x 10, 132 pages $14.00
MHA Homeowner's Manuals now available
Homeowner's Safety Manual and Burning Guide for Masonry Heaters – 3 pages
Homeowner's Safety Manual and Burning Guide for Cook Stoves and Bake Ovens -4 pages
Available for $7.50 (for both)
Green Heating with Masonry Heaters Power Point presentation on CD
by MHA Member Marge Padgitt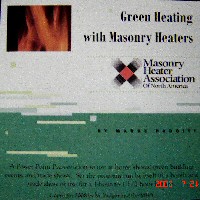 A Power Point presentation for professionals heater masons to use at home shows, green building events, and trade shows. Set the program to run by itself in a booth at a trade show or use for a 1-hour to 1 1/2 hour lecture. $25.00
Masonry Fireplace and Chimney Handbook
(Third Edition)Now available…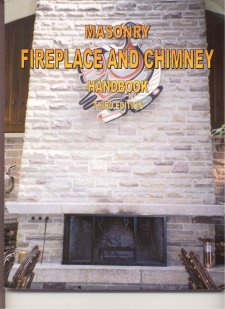 The third edition of the Residential Masonry Fireplace and Chimney Handbook as published by the Masonry Institute of America is now available.
This in-depth resource should be considered a must-have for those involved in the construction of masonry fireplaces and masonry heaters. This revision includes a new section addressing masonry heaters and a multitude of drawings, diagrams and photos. The 8 1/2 x 11, 174 page handbook includes codes and energy requirements, design, specifications and construction data for residential masonry fireplaces. $25.00
To order one of our books or manuals:
Pay with Pay Pal by clicking on any of the "Add to Cart" buttons. Keep adding to the cart until you are finished shopping. You can use your Pay Pal account or any major credit card. Shipping is automatically calculated and is based on a percentage of the total.
We do not accept checks or credit cards by mail.
Orders being shipped out of the U.S.- please request total for the books you want to order BEFORE using the buy it now Pay Pal buttons. We will give you the total and then you will pay online.
Sorry, no orders to Africa, South Africa, Mexico or China at this time.
We ship to the U.S., Canada, and Europe
E-mail Richard Smith, MHA Executive Director regarding out of country orders or questions about ordering or books.
The Book of Masonry Stoves – $35.00
The New Woodburner's Handbook – $20.00
The Bread Builders – $32.00
Masonry Chimney Rebuilding – $15.00
Homeowner's Safety Manuals – $7.50
Build Your Own EARTH OVEN – $14.00
Masonry Fireplace and Chimney Handbook – $25.00
Green Heating with Masonry Heaters CD – $25.00
MHA brochures (members only) 100 for $20.00
All Prices are US Dollars.
The Bread Ovens of Quebec
by Lise Boily & Jean-Francois Blanchette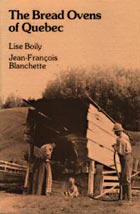 This unique study of the role of the bread oven in rural Quebec society also gives complete instructions on how to build a traditional outdoor bread oven. 115 pages, many illustrations.
Free Download (33 Mb)
Standard for Chimneys, Fireplaces, Vents and Solid Fuel Burning Appliances
by National Fire Protection Association.
Available from Amazon Books.

Stoves for People : Proceedings of the Second International Workshop on Stoves Dissemination
by Roberto Caceres.
Available from Amazon Books.
The Forgotten Art of Building and Using a Brick Bake Oven:
A Practical Guide
by Richard M. Bacon.
Available from Amazon Books. Lime Mortars Preparation and Use of Lime Mortar. An Introduction to the Principles of Using Lime Mortars
by Scottish Lime Centre. This informative 60-page book draws together existing information on traditional lime mortars for the benefit of specifiers and craftsmen working with traditional masonry-built structures in Scotland and around the world. This is one of the most informative books ever written in the usage of traditional lime mortars. Available from Taylor Publishing and Elk River Press.
The Chimney and Hearth Pro's Resource Book, 2nd Ed. by MHA member Marge Padgitt
The Chimney and Hearth Pro's Resource Book is for the chimney sweep, chimney builder, or hearth retail business owner who knows the trade but needs help with the business side. The author has created 200 pages of contracts, work orders, diagrams, proposals, marketing ideas, employment applications, non-compete contracts, an employee manual, and more that every manager or owner needs to operate their business. What's Inside: Employee Non-Compete Contracts Sample Employee Manual Employment Application Work Orders Job Descriptions Standard Operating Procedures Evaluation Tips Sample Evaluation Reports Industry Suppliers & Manufacturers National, Regional & State Organizations International Associations Sample Estimates & Contracts Educational Opportunities Educators and Consultants Legal Issues Waiver of Lien Help for Homeowners Marketing Ideas That Work Your Website E-mail Tips Professional Proposals Forms, Drawings, and More.  Buy at Amazon
Last modified: March 2, 2015, by norbert
Created: September 20, 2011, by exec-dir