Flemish bond pattern oven by Gene Padgitt and custom tile bake oven and cookstove by Jessica Steinhauser
The MHA Bake Oven Committee works on the new HMED Wood-fired Oven Building program course for masons, new codes and standards for residential wood-fired ovens, an oven plan book, and bringing awareness of ovens built with natural materials to the public. If you would like to assist the committee please notify us.
Committee Chair: Marge Padgitt
The committee is collecting oven plans, drawings, photos, and descriptions of work for the new oven plan book to be published by the Masonry Heater Association. We are looking for submissions for this book and will accept brick oven plans and cob oven plans. If you would like to submit a project please contact Marge at ympadgitt@yahoo.com or 816-461-3665
Links with more information:
MHA Bake Oven Contest Winners 2013
MHA Bake Oven Contest Winners 2012
MHA Bake Oven Contest Winners 2011
MHA Bake Oven Contest Winners 2014
 Books about wood fired ovens and baking:
Click here to order
"So, you want a wood-fired oven to bake bread and have pizza parties? What should you build? How does it work? What else can it cook? As an oven-builder I hear these questions a lot, but the books I can recommend for cooking with fire say little about ovens, and the ones about bread and ovens don't take you very far with cooking.
So I'm glad to now be able to recommend Richard Miscovich's From the Wood-Fired Oven. He speaks with the authority of a professional baking instructor (and cook), an experienced mason, and a neighborhood baker; he also writes well, takes beautiful photos, and has a wealth of stories to tie it all together. He's worked with leading professionals in many fields, and teaches from extensive experience with bread, pizza, meats, vegetables, desserts, etc., as well as ovens, masonry, fire, heat, and more."–Kiko Denzer, author of Build Your Own Earth Oven
The Bread Builders
by Daniel Wing and Alan Scott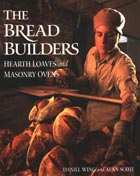 Definitive work on hearth breads, including the most complete description of building a bread oven available in print.
Mandatory reading for bread fans. Extensively researched.
254 pages softcover. $32.00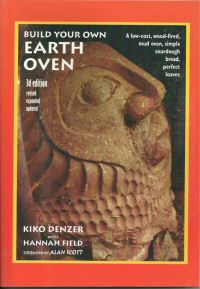 Build Your Own
EARTH OVEN
by Kiko Denzer
Eight simple steps to a basic mud oven. A clear and concise manual on building an earth friendly oven that will bake your bread and pizza.
Covers all the details and also introduces you to building with earth… all you need to know about the materials and processes.
Paperback, 7 x 10, 132 pages $14.00